As I mentioned in a previous post, Internet connectivity while in the RV is somewhat difficult to come by. WiFi is often available, but usually worse than cell coverage.
I decided to address this by purchasing a Ubiquiti NanoStation M2 and a Ubiquiti airGateway. The M2 is a powerful commercial wireless radio that contains an integrated antenna and can transmit with much more power, and receive weaker signals than consumer tablets and cell phones. Because I want a clean mount and footprint, I purchased a Ubiquiti Window/Wall Mount. The mount is designed for the M2, but I was able to use 1″ long drywall screws (due to coarse threads) to mount the airGateway to it as well. I have it powered up through the included PoE injector, which is also mounted on the same. I only had a 3′ Ethernet cable, and 1′ would have worked better, but 3′ wrapped around the backside of the M2 nicely and is hidden from the front. The entire assembly looks like this: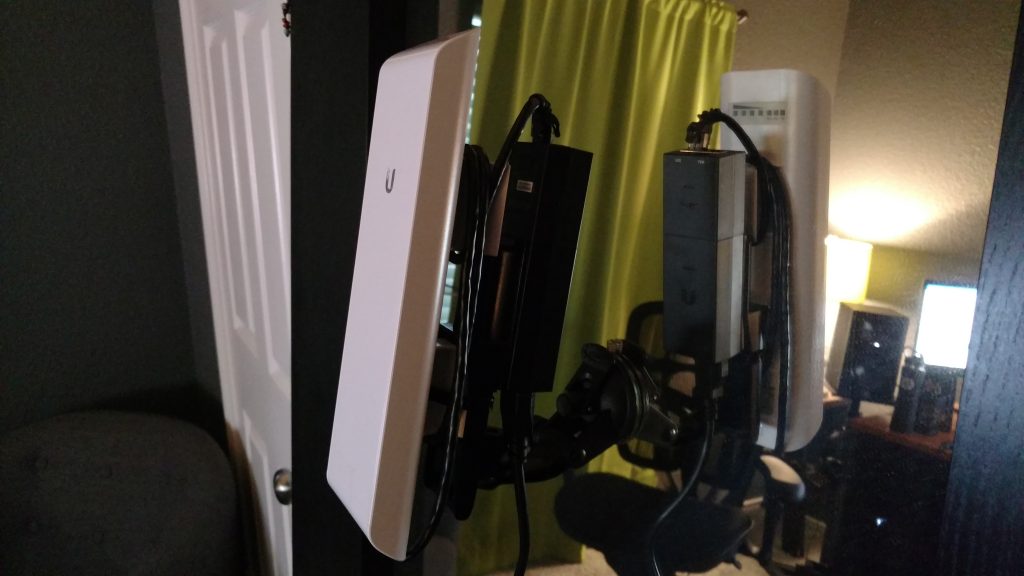 I configured each device in bridge mode and gave them static management IP addresses. The M2 radio is in station mode, and connects to the camp (or other) WiFi. It then bridges the connectivity to the ethernet interface, which is on the WAN side of the airGateway. Since the airGateway is also in bridge mode, the WAN side is bridged to the LAN side which is in access point mode serving up a custom SSID, for example "WifiBooster". When we connect/ authenticate to that SSID, our machines are fully bridged up to the camp WiFi and we have access to the Internet.
It's pretty simple to jump on the M2 and change the SSID each time we roll into a new camp, and the interface is simple: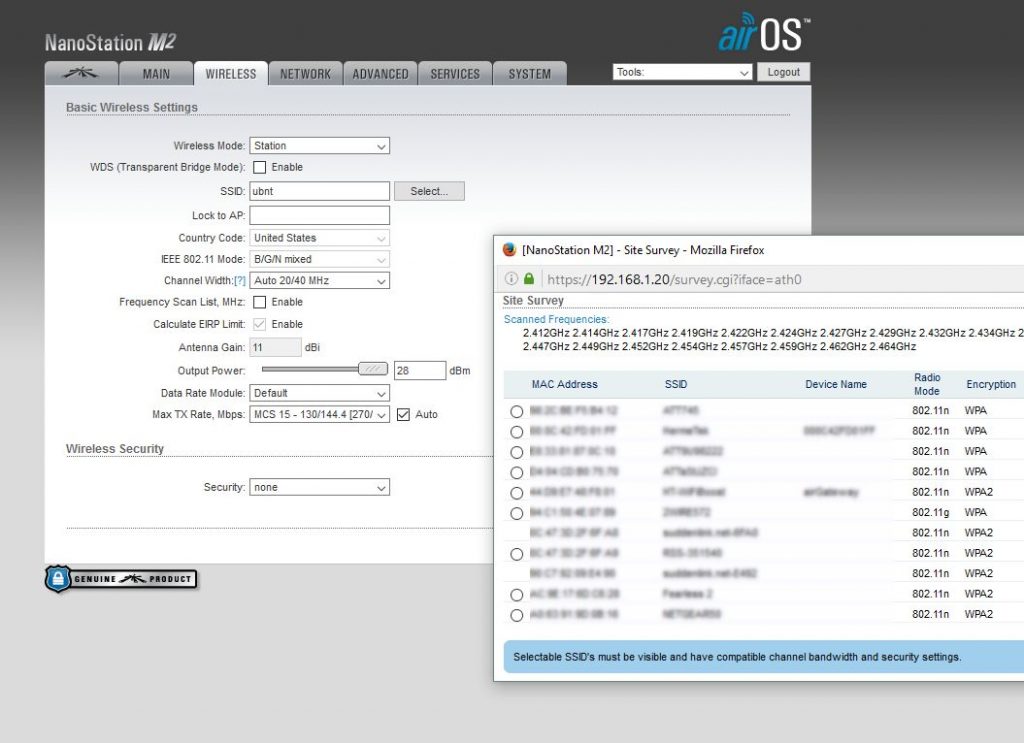 The suction mount can be replaced with a screw mount, also included, so I may consider permanently attaching it somewhere in the RV. I'm not sure yet. And with any public WiFi source, I recommend using a trusted VPN to encapsulate all of your traffic. If interested in detailed instructions about the configuration of the devices, leave a comment.
[amazonjs asin="B00HXT84DG" locale="US" title="Ubiquiti Networks Airgateway Indoor AP (AIRGATEWAY)"]
[amazonjs asin="B00HXT8K4O" locale="US" title="Ubiquiti Networks Nanostation2 Mimo Cpe Airmax (NSM2)"]
[amazonjs asin="B004EHUR8U" locale="US" title="Ubiquiti Networks NanoStation Window/Wall Mount"]
[amazonjs asin="B005LLQUDY" locale="US" title="Monoprice 1FT 24AWG Cat5e 350MHz UTP Ethernet Bare Copper Network Cable – Blue"]