I ordered a Cognito PISK3008 kit and wanted to have the shop installing my Kelderman install it. They didn't have time (or supposedly tools) to complete the install, so I tackled it myself today.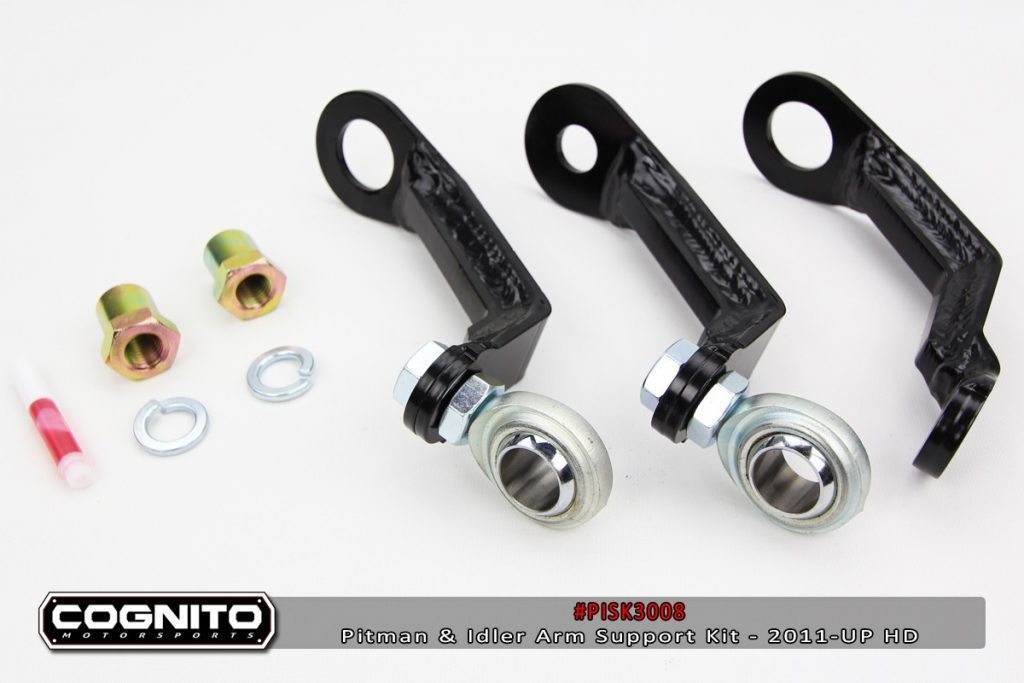 It consists of three brackets (you only use two, one is an alternate to address inconsistent factory parts) that you put under the pitman and idler arms to provide more support for them and keep the center link from moving forward/aft, addressing a design flaw that is exacerbated by larger or heavier than factory tires.
The parts look simple but getting them in and reinstalling everything is a fairly large job. I had to order some special tools – 30 and 46mm wrenches, and a pair of 15/16″ wrenches – and use some of the massive sockets I've already accumulated to do the work. I decided to test out my impact and was using it on everything (works great!) but when driving one of the shank nuts (gold, above) through the ball joint at the end of the bracket and onto the drag link it bolts onto I over-tightened it and caused it to crush and swell out. I removed it, and had to hammer it out with an old socket to get it apart (usually moves freely). After mulling over it for a while, and determining that there is no way it actually relies on the ability to move freely there, I decided to reinstall it with plenty of thread locker to hold it in place and torqued it to the appropriate specs. I'll keep an eye on it and order a replacement ($11 for the part, but nearly $20 for ground shipping) if I think it will be needed.
The main purpose of the kit is to prevent premature wear of the pitman and idler arms, but one of the other things it does is firm up the steering. The factory steering has a lot of play in it and is subject to bump steer, so I had a steering stabilizer installed to help that when doing the front level. The steering was improved, but there was still a lot of room for improvement. I retained the steering stabilizer but had to move it down to underneath the bracket (they interfere with one another). After installing the PISK the steering wheel feels much tighter and resistant to irregularities in the road. It's another instance where aftermarket parts fix what GM should have done to begin with.
That being said, I'd still buy a GM over a Ford or Dodge diesel any day. They all have their shortcomings, and I still think GM is the best of the bunch.
Suspension/ wheel upgrades are now 100% complete. Overall, I feel it was worth it and am very happy with the results.