We wanted to spend Dec 26 – Jan 2 out in nature, but waited too late to find a site. Our top choices were Big Bend National Park, followed by the State Park and Maverick Ranch out there; if those weren't available we were going to hike up to Palo Duro Canyon State Park or go out to Garner State Park. But alas, none of them had any availability when we tried to book them at the end of November. We had waited too long.
Changing directions, we found a "luxury" park outside of Houston called the San Jacinto Riverfront RV Resort. It advertised being on a river, with hot tubs at each of the individual "Deluxe Riverview With Spa" sites. They had one of those sites left, so we booked it and headed there the day after Christmas.
It is a very large park with approximately three hundred sites, and though I don't think it is planned, the nicest rigs tend to be the ones nearest the river. They supposedly have strict requirements for newer and nicer rigs only, but outside of the few rows nearest the river, we saw several poorly maintained trailers, some in considerable states of disrepair. We didn't speak to everyone in the park, but didn't see any rigs coming or going, and the few people we did speak to assumed that we moving in long-term. It didn't feel like a destination park and though it is nice to have the hot tub and river view, we probably won't go back. It has the distinct feel of a residence park that just happens to accept destination travelers.
The park was nicely landscaped, with a lot of palm trees and nice grasses for dogs, though we didn't see any off-leash areas, like we've seen at other similar area parks such as the Rayford Crossing RV Resort. It has some very neat colorful cabins near the water, and some smaller cabins in a tiny house like community on the other side. Laundry facilities and bathrooms were clean, but nothing to write home about. The pool was closed, even though it was plenty warm to swim this December, but looked beautiful and we would have loved to see it open. The gym facility needs a lot of updating: it consists of a treadmill and an elliptical (if I recall correctly) that worked fine and some old, mismatched consumer grade weights. They had a Bowflex that had worn out bars, at 210# it felt like 80#. The one redeeming piece of equipment was a plate loaded weight machine with a nice dip station in the corner. If they're not going to spend $10K for properly functioning commercial gym equipment, I'd almost rather them not have a gym at all. The store had a basic selection of necessities, but there is a full grocer about a mile down the street that we opted to go to when we needed odds and ends.
As for the site we rented, it was nice. It was probably the widest pad we've ever had; it consisted of a gazebo with hot tub, plenty of space for the RV and the truck to sit side by side. The roadside of the trailer was facing the river, so we didn't benefit from the river view unless we were in the hot tub. The hot tub was nice, and rather than run treatments they seem to flush water out between guests. Unfortunately that means that after a few days the hot water of the tub under the insulated cap got a little stale, and we requested that they treat or replace the water in it. They replaced the water and, the day we left, the issue was back. We had a bright light next to the hot tub that I can't decide if it was nice to have, or annoying. It was almost blinding when sitting at the wrong angle in the hot tub, but it was also nice to have the light. This is nitpicking, but I'd rather have rope lights on the gazebo and that the light moved to the other side of the roadway.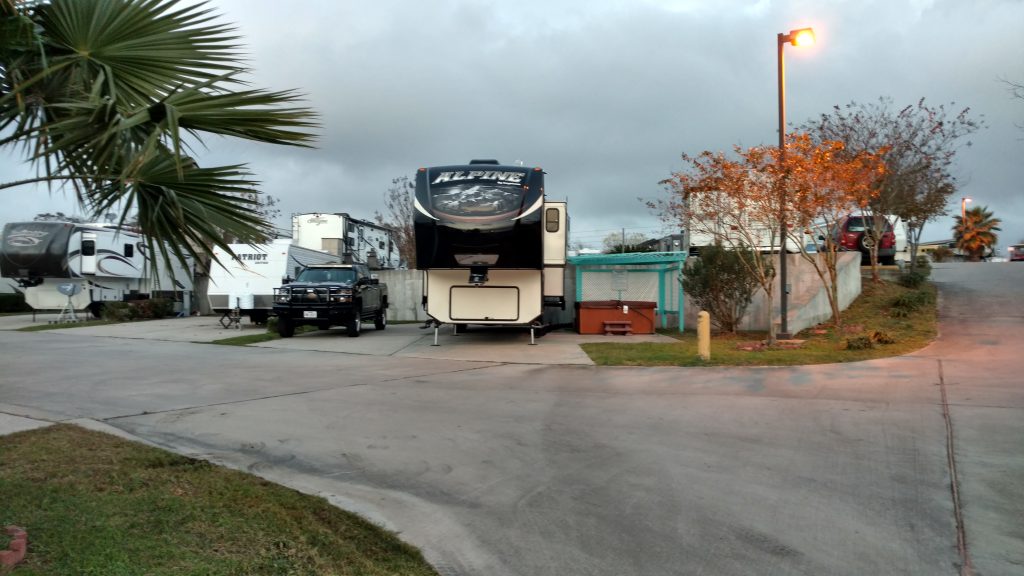 The river itself has a boat launch and nice 150′ fishing pier. We saw a lot of people fishing off of it, but didn't partake ourselves. The river appears to be a shipping channel with several barges across the way and tugboats moving them in and out of dock. While they were far enough away that the noise wasn't disturbing, it was interesting to watch, and a telltale sign of the condition of the water. Additionally, several signs announced the swimming in the river was prohibited. There were fireworks on New Years, on both sides of the river and off some of the barges. While it wasn't a focused, collaborated show, it was a great view for bringing in the new year.
Overall, it was a decent park but after discussing it, we're unlikely to go back. Even given the complaints we mentioned above, we'd probably give it four out of five stars if not for the price. We can mostly overlook the older trailers and the "permanent" resident nature of the park. But $379 for the week ($359+$20 extra for the third dog, which is ridiculous since the third dog doesn't require anything additional from them) it is simply too expensive to overlook the fact that the park is full of poorly maintained rigs and is more mobile-home community than destination resort. Three out of five stars.
---
Until this resort, we've rarely used our washer/dryer combo. But after finding that air drying our bathing suits on the shower door was insufficient, we took to washing or at least drying our bathing suits daily in the unit. We have the Level-Up hydraulic system on our RV, and have been happy to date with the amount of motion that the RV has. I have looked into king pin tripods and JT Strongarm stabilizers, but the tripods have mixed reviews and the JT Strongarms don't work with our hydraulic rams, and it just wasn't that important to us. The laundry machine introduces a lot of motion though, and if we start using it with any consistency, as I think we will after getting more familiar with it, we definitely want something more. So I found a system similar to the JT Strongarms, named Steadyfast that does work with the rams. They were running a good deal for new years so I ordered the set. I haven't installed it yet, but will detail the install in a blog post in a couple weeks. I doubt I'll get around to installing them until the 20th.