(Physical keys, for those of you who work with cryptography). Between the house, trucks, RV, toolboxes, storage cabinets, bike locks, hitch locks, and all the other locks I've collected for various things, my key ring has grown to an unmanageable size.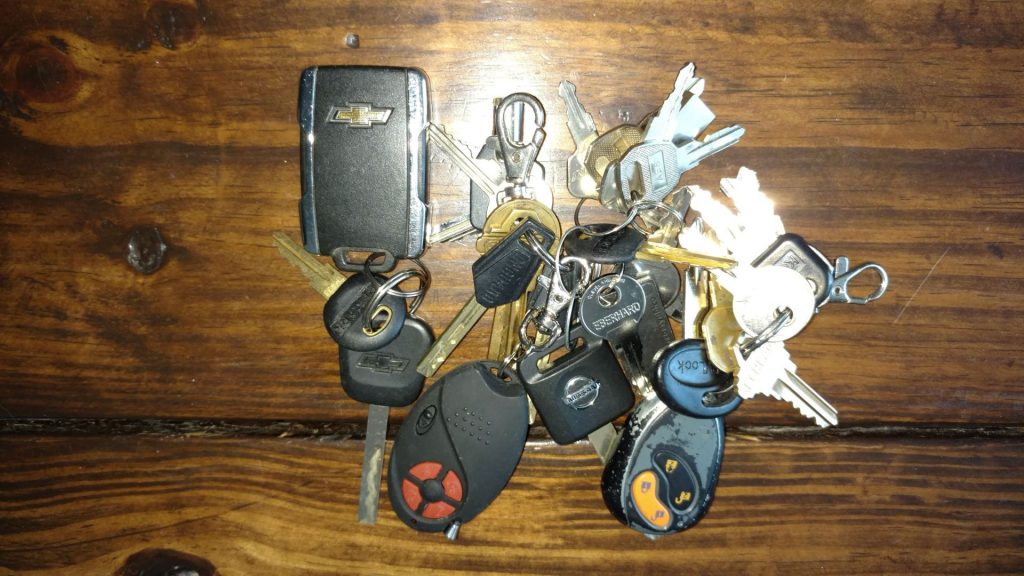 I've been planning to find a good solution for quite a while, but have kept procrastinating it. Finally, I looked around online last week and found KeySmart.
[amazonjs asin="B01L6TU16G" locale="US" title="KeySmart Rugged Key Holder | Multi-Tool Style Compact Key Chain and Key Organizer – Black"]
It's sold as a base kit, then you can add expansion kits or accessories as required to achieve the desired result. In my case, I had to buy quite a few accessories, so it turned out fairly expensive. Especially expensive when you think of it as a key chain. But not so much, when you consider the result.
I separated my keys by most often and least often used, and found quite a few that I hardly ever touch. I threw those on a new ring to keep separate from my EDC (every day carry) keys.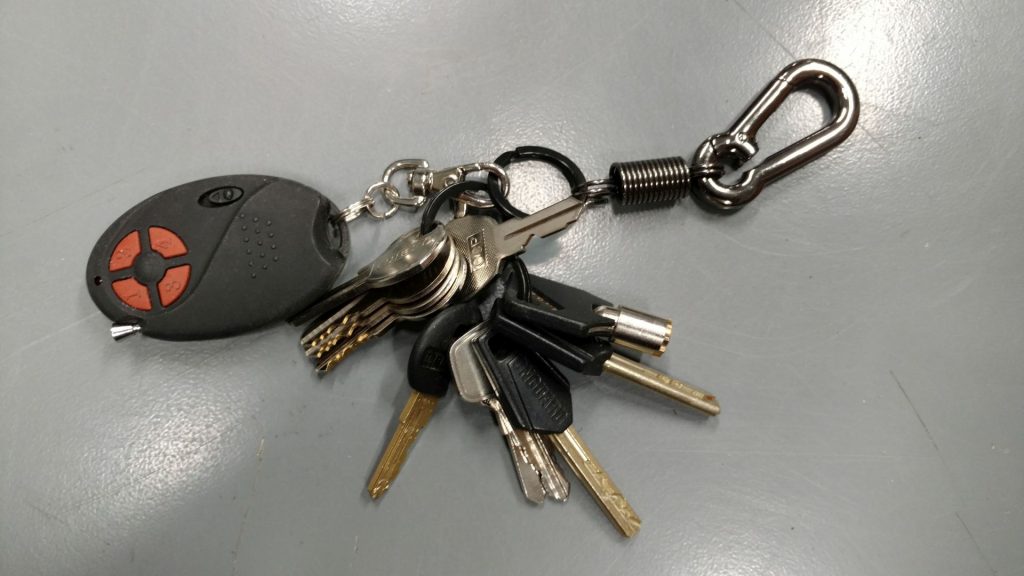 Then I went to work putting all rest into the KeySmart. It recommends only to put metal keys in it, because plastics can inhibit the movement, but I needed to organize my plastic keys and they seem to work well. The few of them that did have rough surfaces that would grab, I either removed the plastic and drilled through the remaining metal, or smoothed and reshaped the plastic with an angle grinder (what was easiest to get to, though sandpaper would work just fine).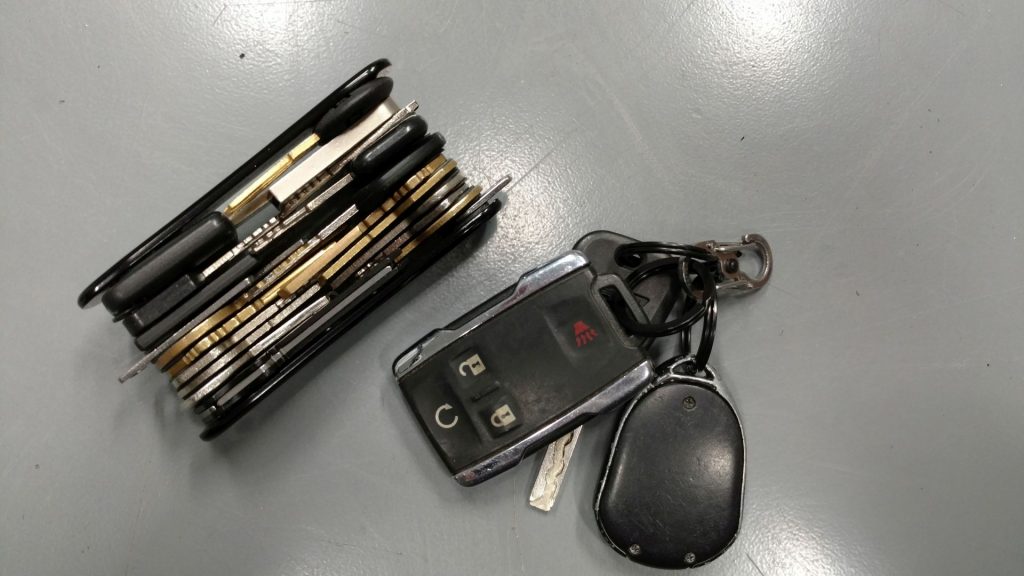 I also sorted it the keys so that my truck keys and RV key fob are on a separate ring, primarily because they wouldn't fit in the KeySmart, but also because I can just carry that ring if I don't want to carry the KeySmart in my pocket. I'm using one of their quick connects to quickly and easily attach and detach them from one another.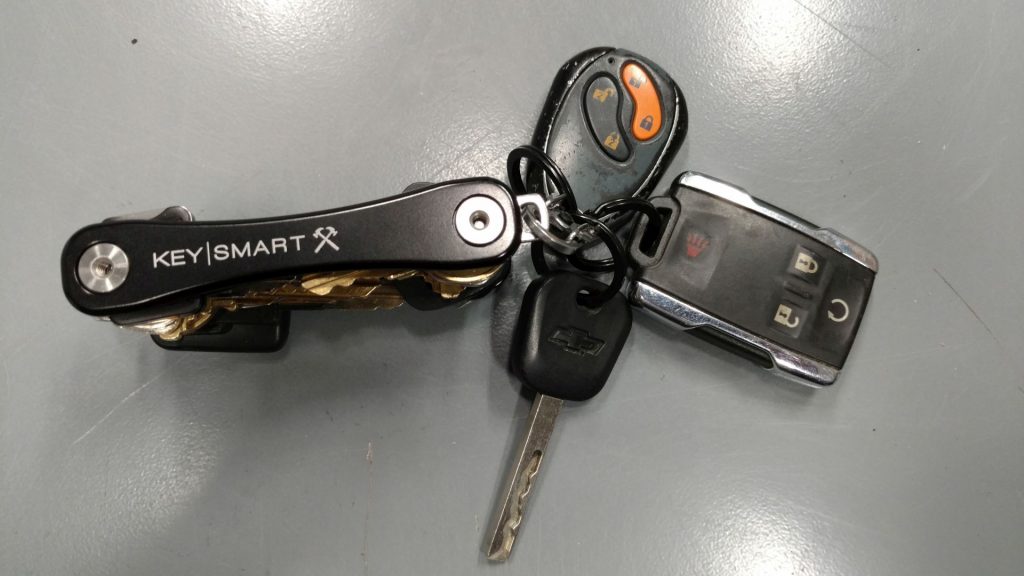 They keys can be used just like a Swiss Army or similar folding pocket knife. It works great and I recommend it to those who have lots of keys. I think it would also be a neat gift idea, for people who are difficult to gift.
I also added this to the ring, which I thought would be useful. It's a small folding SOG brand knife embedded into a key:
[amazonjs asin="B00LUHR71W" locale="US" title="SOG Key Folding Knife KEY-101 – 1.5″ Blade, Black Stainless Steel Handle"]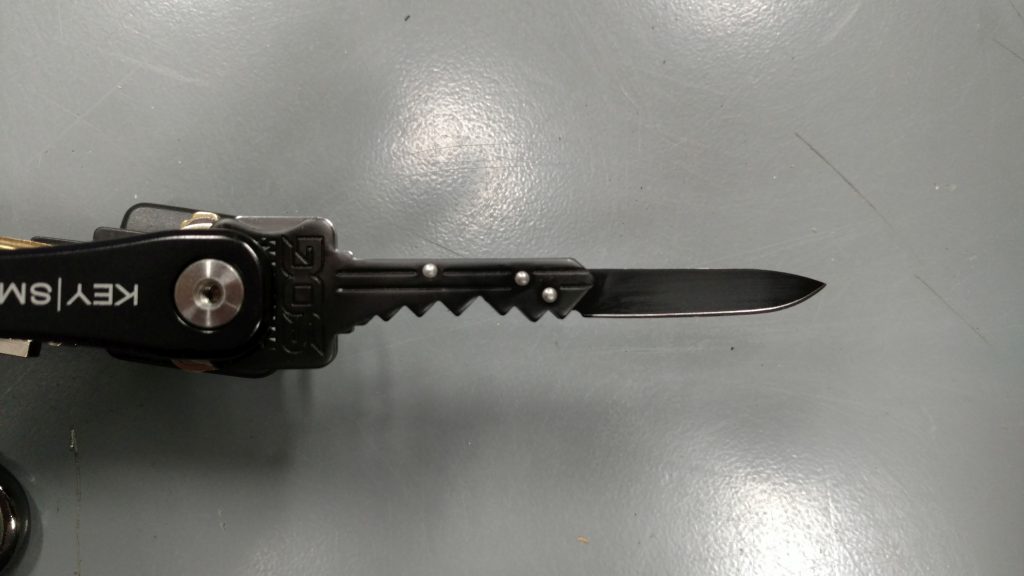 All of the accessories I used to assemble my ring, including the quick connect, are official KeySmart ones. But I did buy some nice flat rings from another company that came in useful.
[amazonjs asin="B01LYYVZL2″ locale="US" title="Shapenty 1 Inch/25mm Diameter Metal Flat Split Key Chains Rings for Home Car Keys Attachment (Black,10PCS/Box)"]
I'm happy with the end results of this project, but don't look forward to having to take it apart to add or remove keys. It isn't as easy as throwing them on a new ring, but is probably worth the hassle.