A few years ago some friends and I were discussing the merits of self-sustaining lifestyles. Our mutual feeling is that consumer culture can be a disastrous thing when unbalanced by the inability to develop and manage things for yourself. Whether you buy the majority of the things you use or not, it is critical that you don't lose the ability to feed, house, and provide for yourself. We all started hobby gardens, and they've successively grown each year as we learn more about them. This year, Kelly and I decided to significantly ramp up production using techniques found in a few books we read, including Mini Farming: Self-Sufficiancy on 1/4 Acre by Brett L. Markham.
[amazonjs asin="1602399840″ locale="US" title="Mini Farming: Self-Sufficiency on 1/4 Acre"]
Note: ours has the added complications of our extended RV trips where we are not around, and our rock-hard, unworkable soil. We're addressing those with raised beds and pots (addresses soil and decreases weeding), a greenhouse, and automated irrigation.
First, I decided to get new soil for the raised beds we built last year for Square Foot Gardening, and build up the beds. Then I decided to get a greenhouse. I spent a lot of time looking at all sorts of outfits, but not only were they absurdly expensive, they were questionably built. I contacted Atlas Manufacturing, a commercial greenhouse outfit in Alapaha, GA, and was able to have them build a commercial-style/quality greenhouse to my specifications for about half what I would have spent on a nice consumer hobby house the same size. It has plastic sheeting for roof and walls instead of polycarbonite siding, but a better frame, more versatility with roll-up curtain windows, and uses off the shelf greenhouse parts for when I need them in the future. I set it on top of a frame made from pressure treated 4×4 posts, and filled the area with crushed granite over a layer of weed blocker. I'm not usually one to complain about assembly, but this was a pain. Probably compounded a bit by the fact that it was being assembled over two days in the pouring rain and on what turned into a mud pit. Nothing was pre-drilled, and it required the use of something like five hundred self-tapping screws.
[amazonjs asin="1591865484″ locale="US" title="All New Square Foot Gardening II: The Revolutionary Way to Grow More in Less Space"]
After building the greenhouse, we went to planting. Right now we have a couple hundred 6″ pots, twenty one-gallon pots, thirty two gallon pots, and some other misc ones full of seeds, as well as the raised beds, and other beds around the yard. We also have some plants that came in their own pots, and am waiting on some fifty five gallon pots for transplanting into. In total, we had seven yards of soil delivered to our house for the raised beds and greenhouse pots this year. We planted most things about a week ago, and have been finishing up throughout the week. Here are the photos: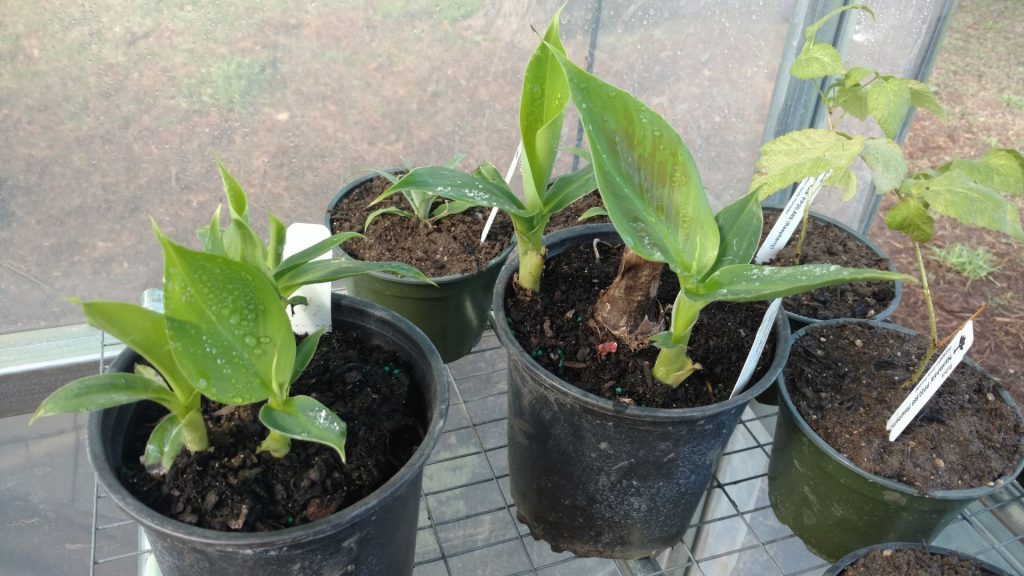 In the foreground are our two banana trees, in the background (and partially obscured) are two pineapple plants, and on the right a couple raspberry bushes just starting out.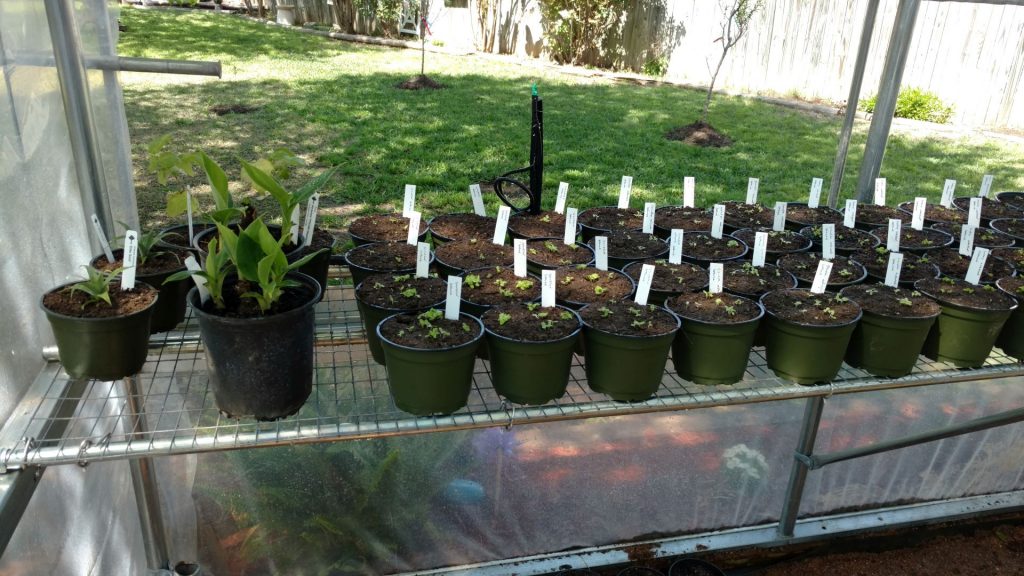 This includes the same as above, but also captures several types of lettuce we have growing.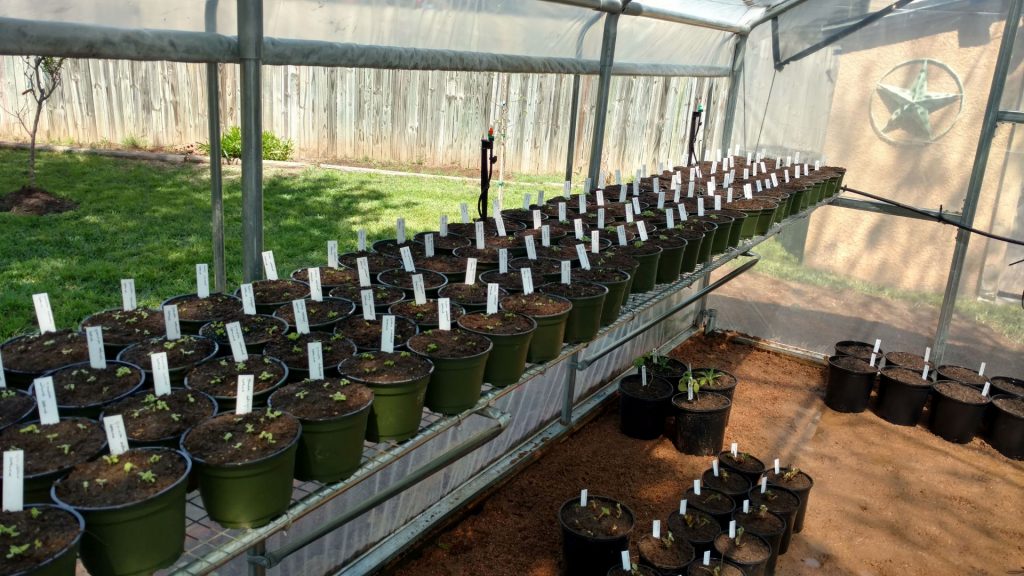 This is the rest of that row. You can see lots of sprouts. Peppers are at the very end, which aren't showing above the soil yet, but I did scrape a little soil off the top of one to verify that they are growing and should break ground soon.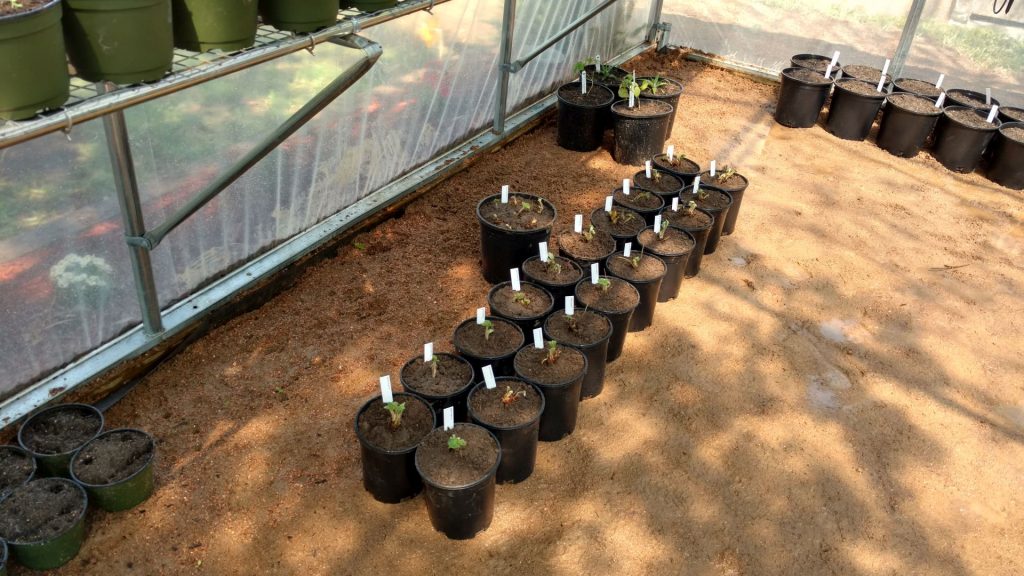 We have twenty-seven strawberry plants on the floor. I have twenty in one-gallon pots, but seven sharing a two-gallon, as an experiment to see how dense we can get them to grow (aka I ran out of pots and decided to toss them all into one).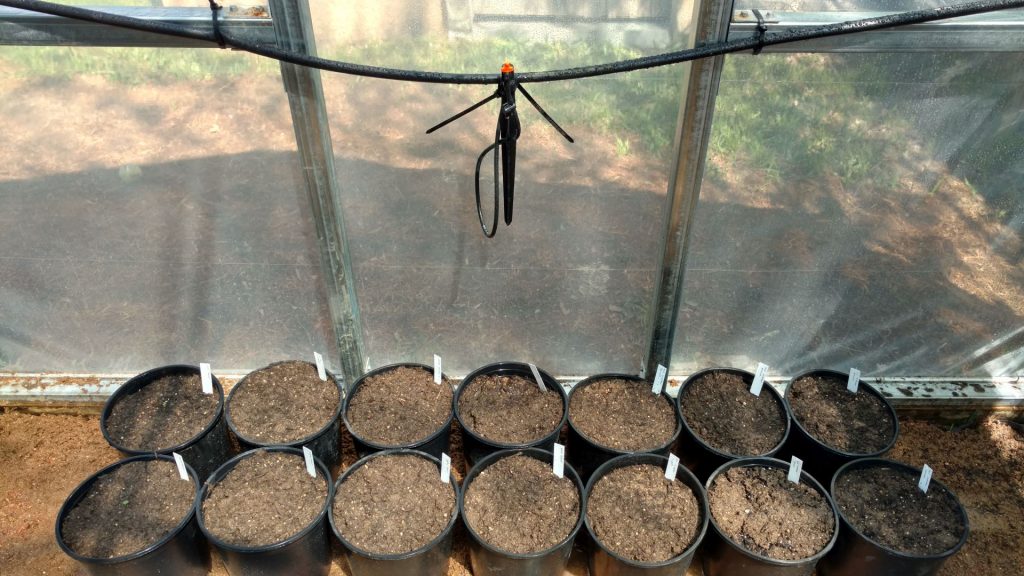 Kale and spinach.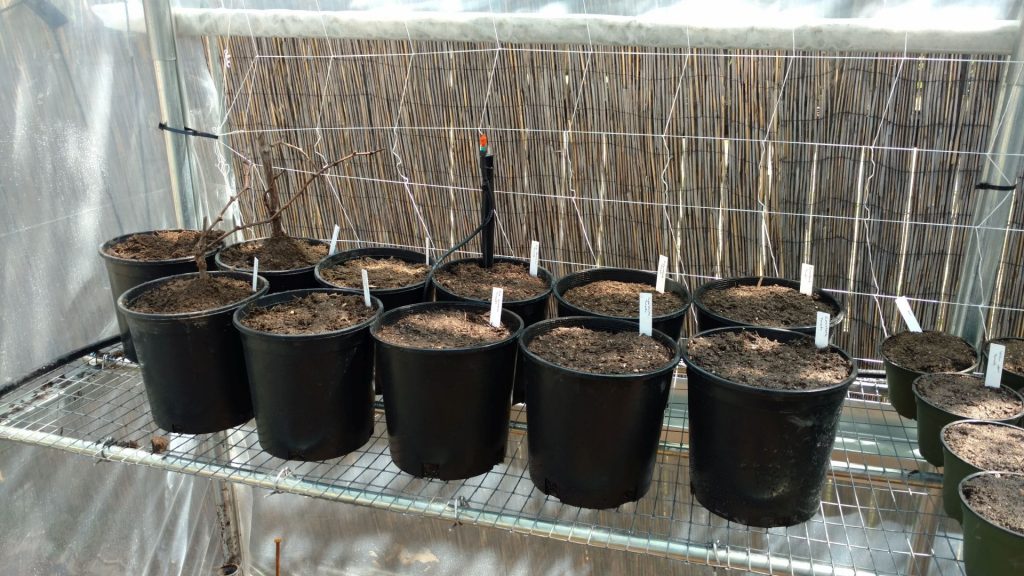 Grape vines on the far left, then tomatoes.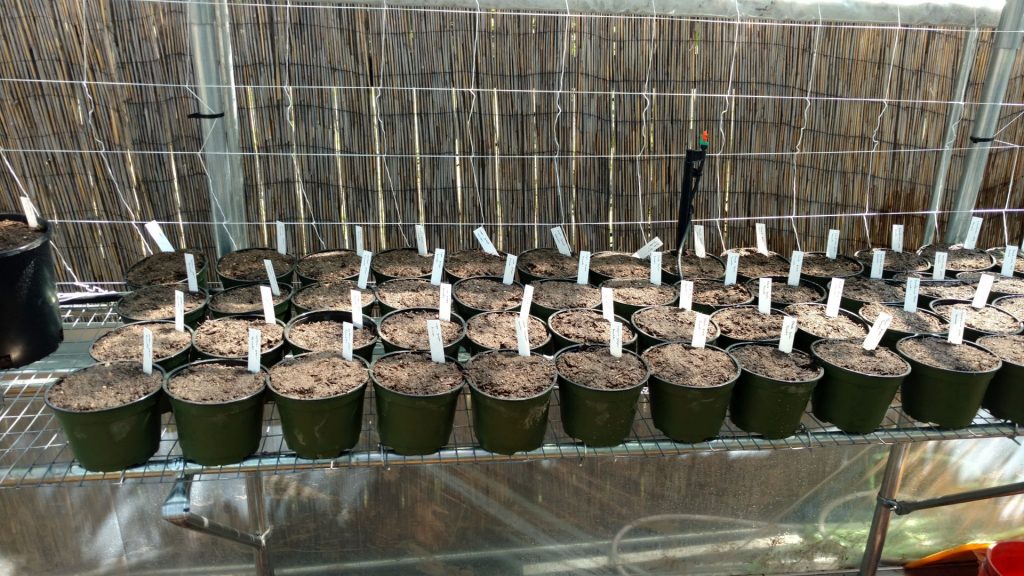 More tomatoes. Similar deal with the peppers. They aren't above ground yet, but I scraped some soil off one plant to check the status and they're working on it.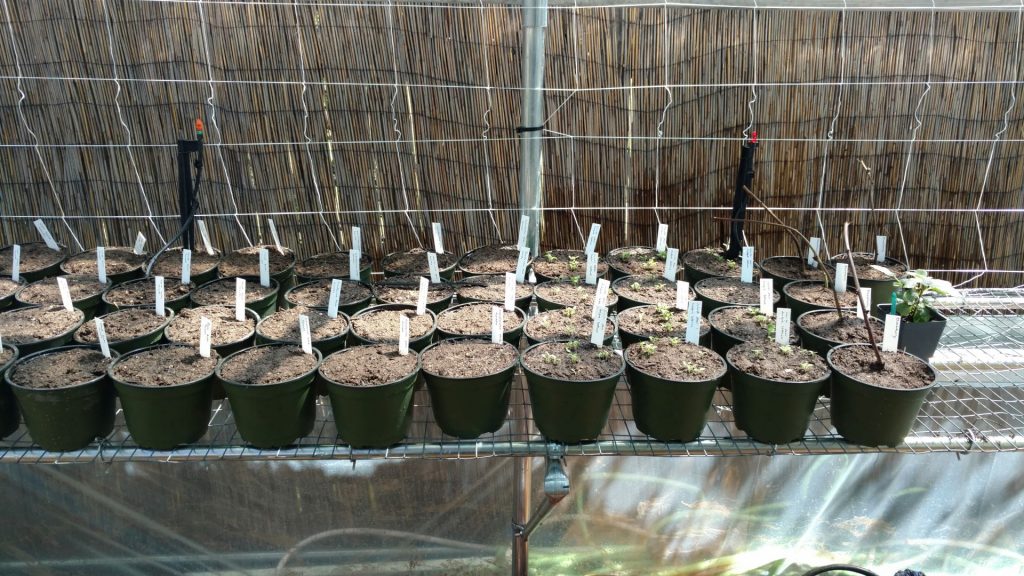 Some more lettuce.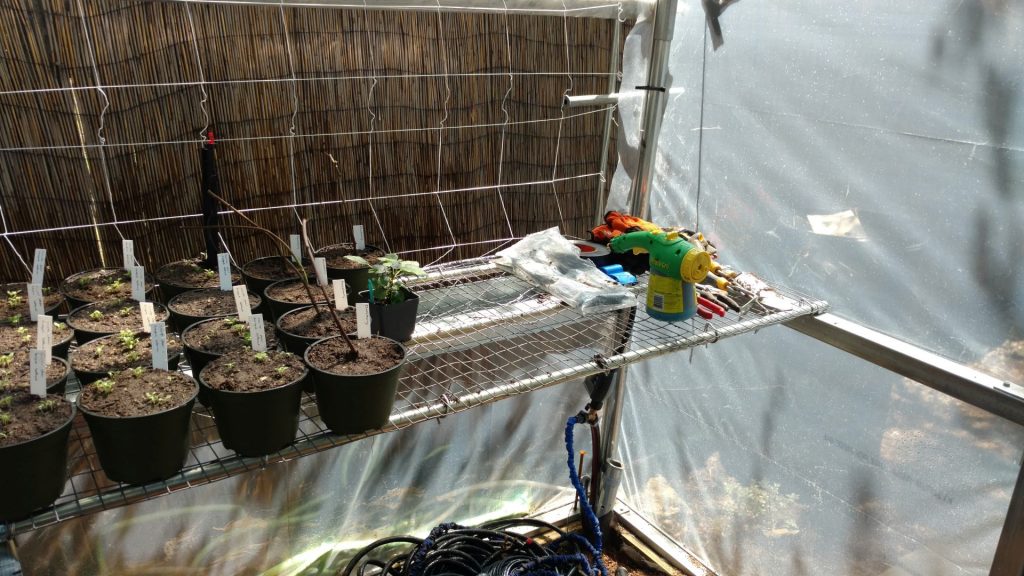 The little work area. Also note, the string lattice on the back wall and the sprinkler loop that runs around the greenhouse and is on a timer. We use the same system in the raised beds. We tried a few different brands, but decided Mister Landscaper is by far the best (we're not using their timers, though). We also discovered some quick connects for the water hoses which are a huge time and hand saver. I've been putting them on everything.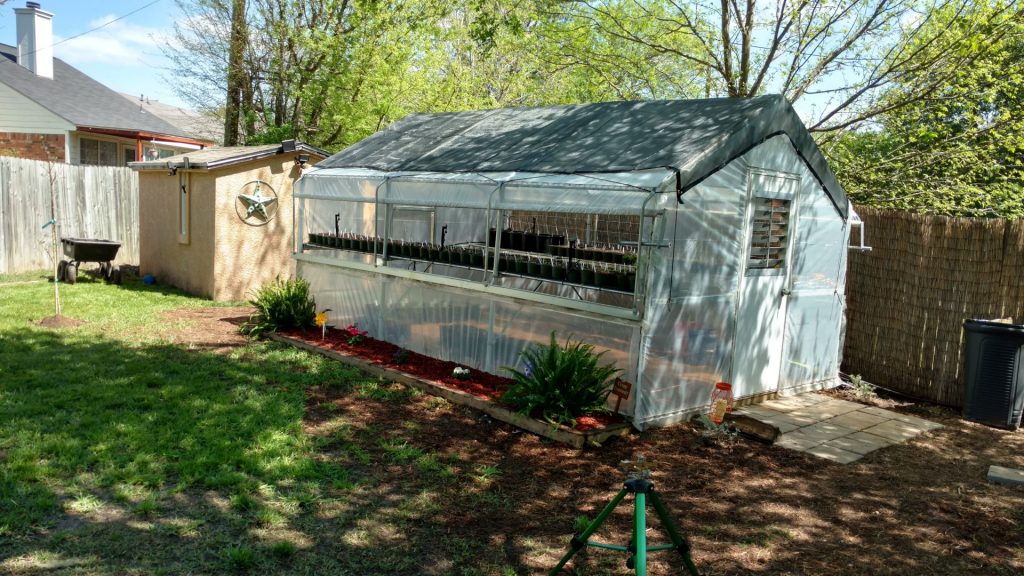 A view of the greenhouse from the outside.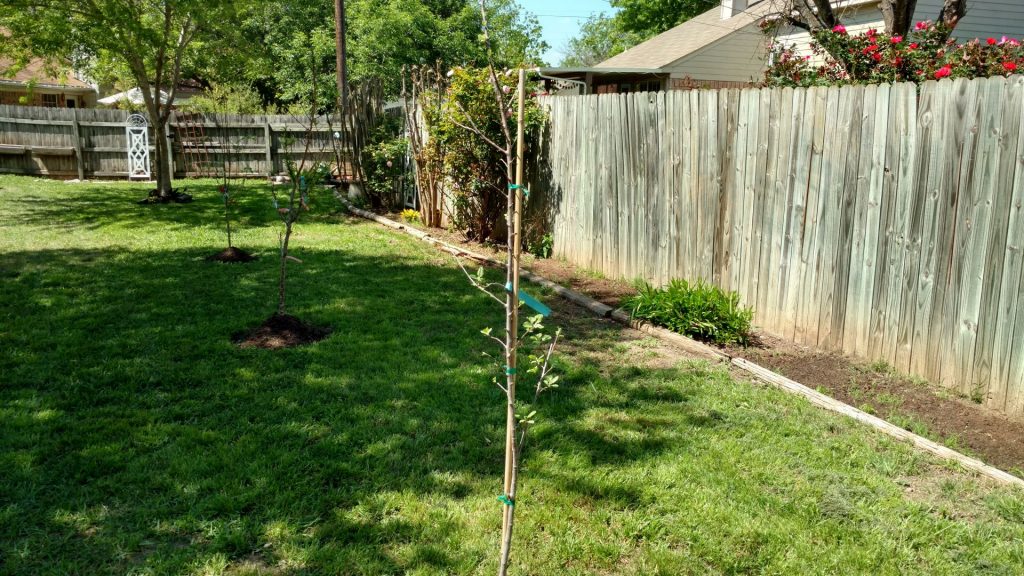 Apple tree in the foreground, Peach/Plum/Nectarine tree behind that, and another apple in the background. Those two beds to either side of the Oleander that's growing up are filled with giant sunflower seeds and peanuts.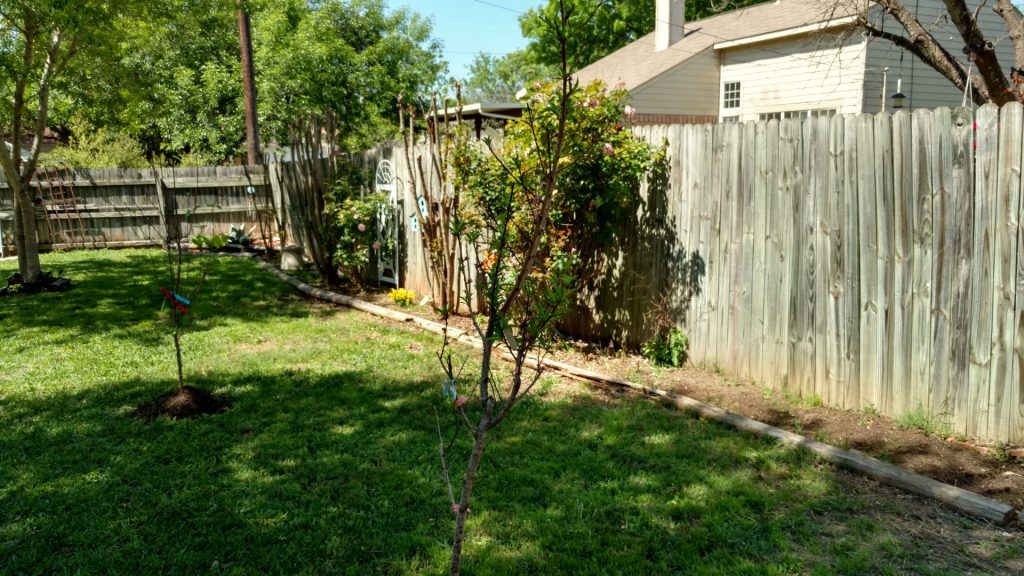 Here is that Peach/Plum/Nectarine tree up close.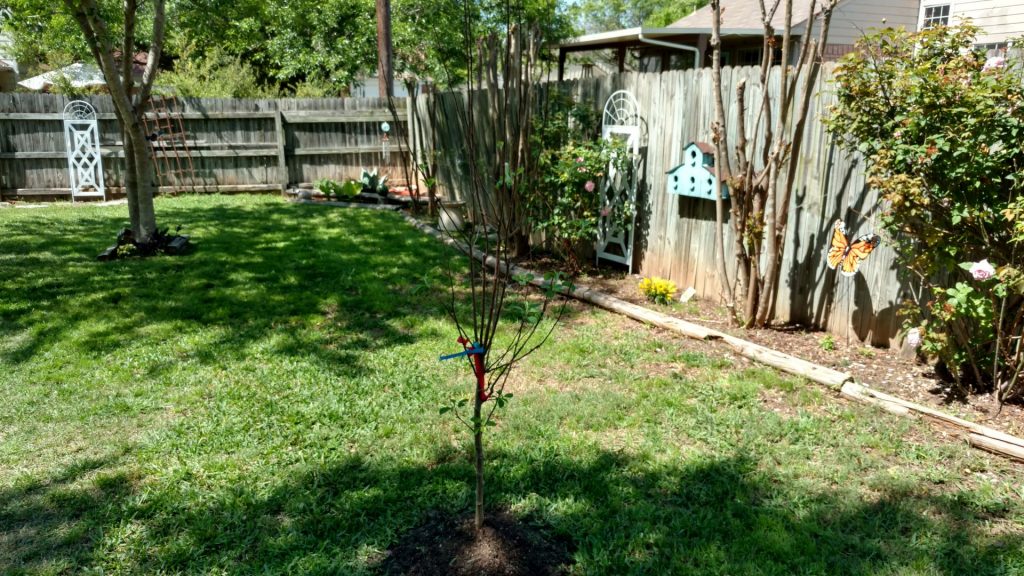 And the other apple tree. I can't remember which is which, but one is Fiji and one is Pink Lady. They are labeled, though.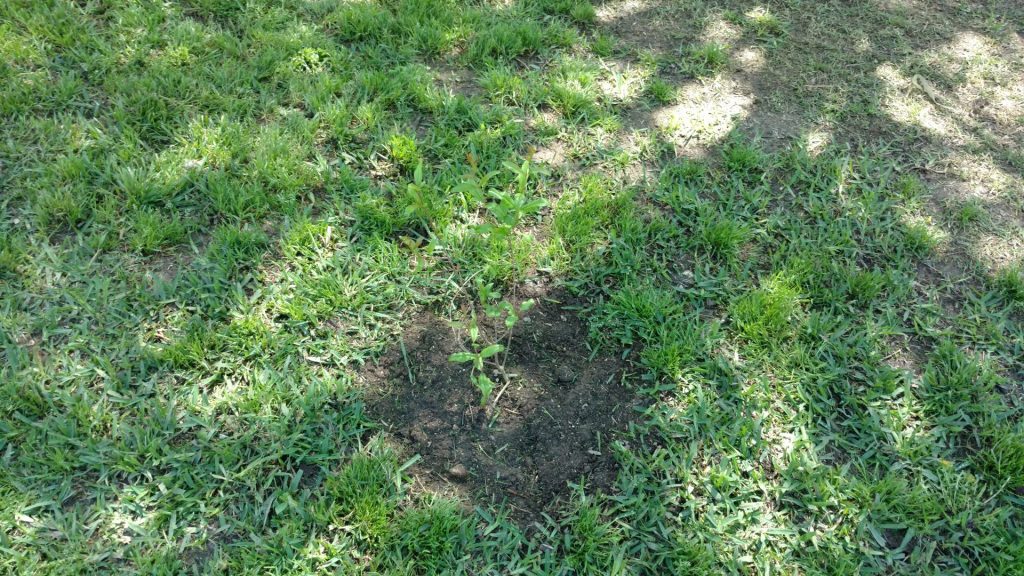 We have two of these small Pomegranate trees which I hope do well. They've grown a lot since we put them in the ground a couple weeks ago.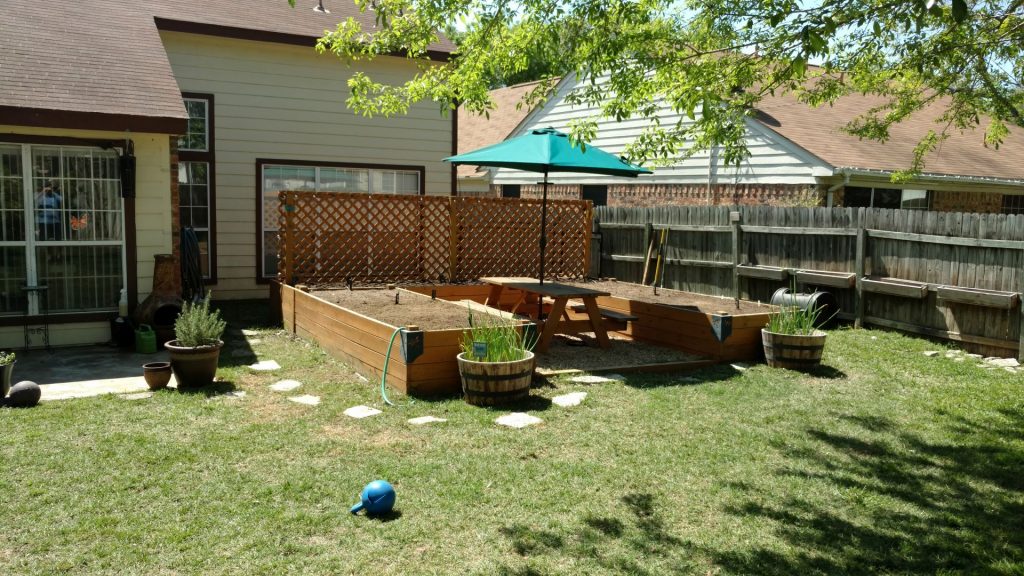 The raised beds I built last year.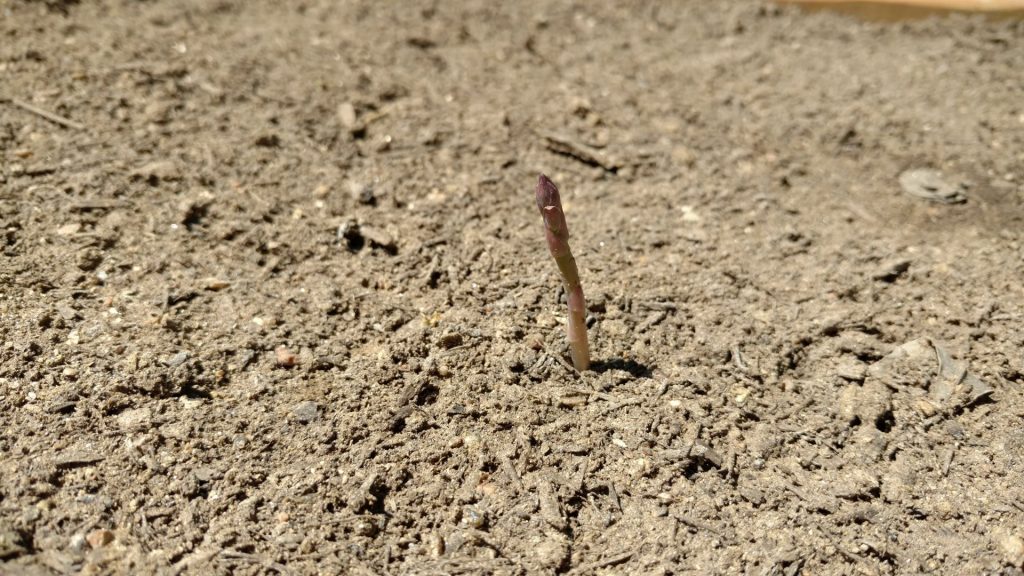 We planted some fairly mature asparagus plants just two or three days ago, and already a few of these sprouts coming up!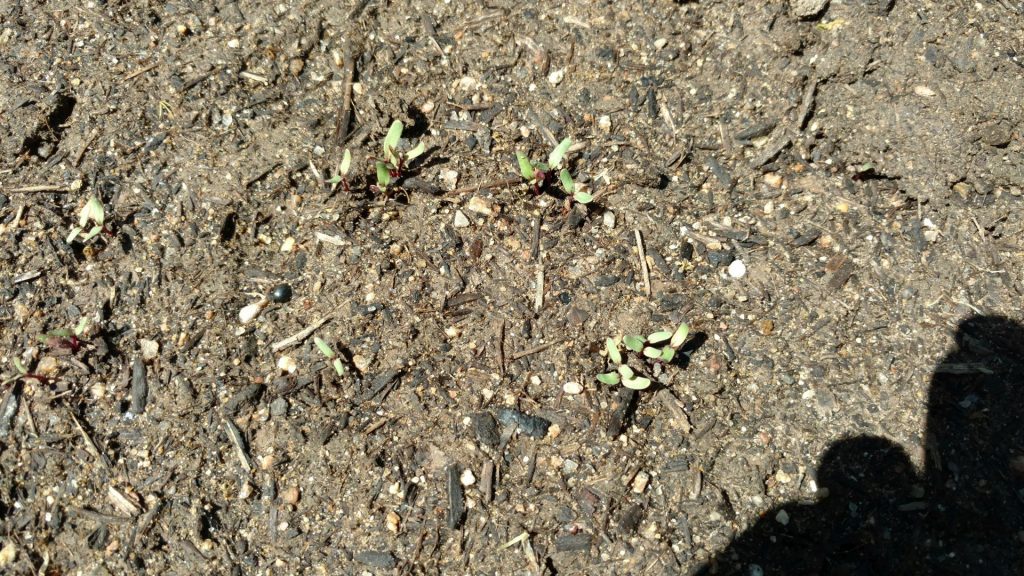 Beets. Lots of beets are poking through the surface.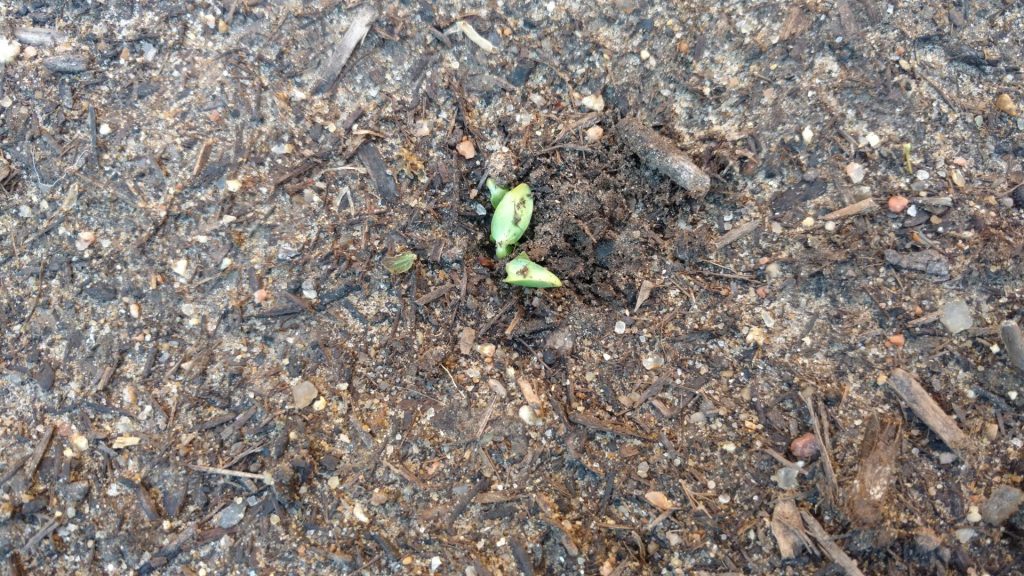 Cantaloupe decided to show itself today as well.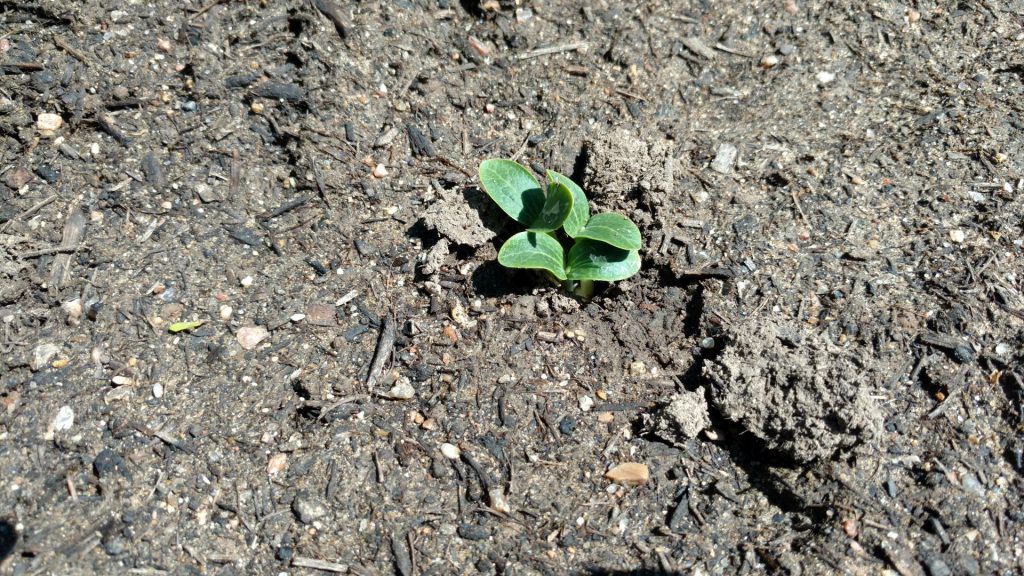 And a ton of these summer squash decided to show up overnight.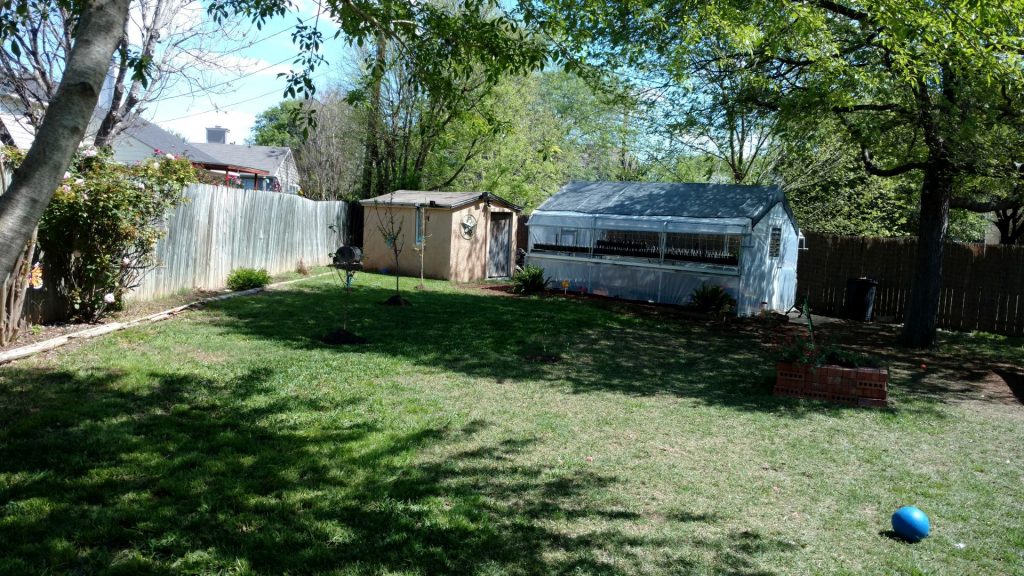 A wider view of the back yard.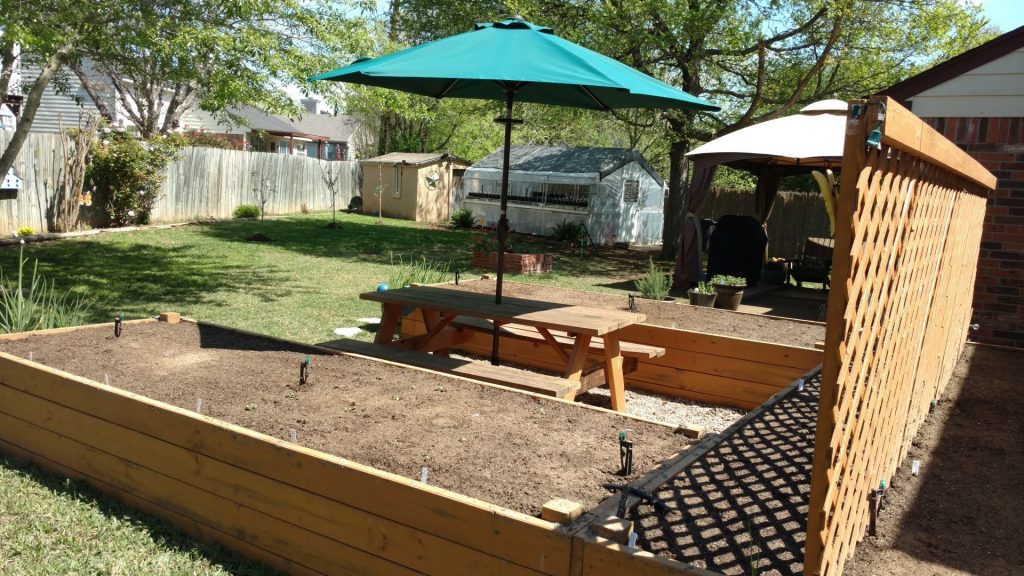 And one that includes the backside of the raised beds. You can see the Mister Landscaper irrigation system used for the raised beds here. Again, on a timer.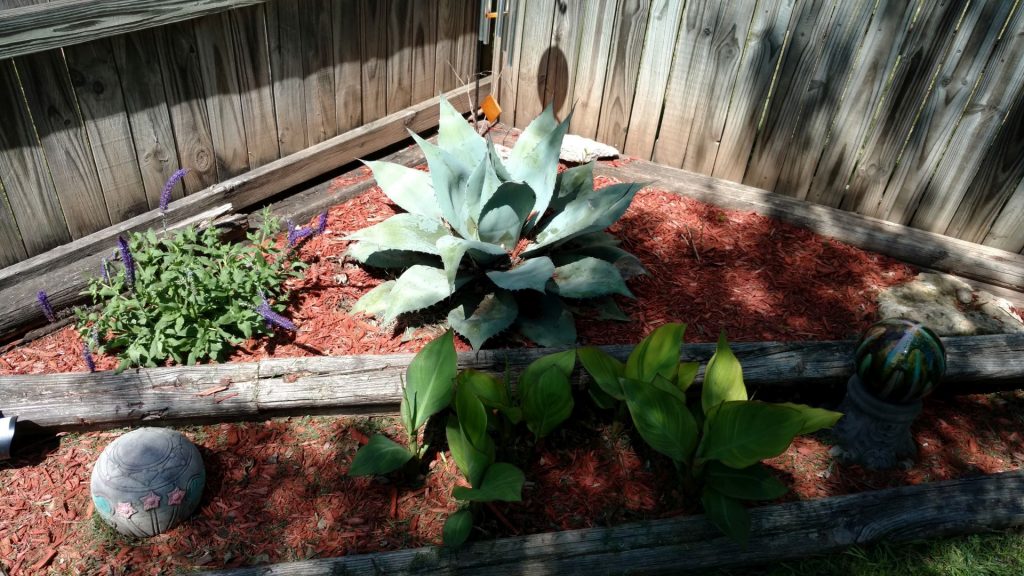 And while this isn't food-related, the century plant in this back bed has tripled in size since we planted it a couple years ago.
I realized that we forgot to get Roma tomatoes and celantro, so we can make salsas, but other than that we're done planting this year.