We found aphids on both of our apple trees, and have been working to get rid of them. We bought neem oil last year, so I mixed up a gallon of it according to the instructions (it's a concentrate), and sprayed it on. We found more aphids after a couple days, so we decided to move on to other options. That being said, neem oil is still a great solution for many things from what I've seen. Ours may just be at the end of its shelf life, since we've had it about a year and I've read some places that is about what it lasts. We use Pro-TeKt to mix it with, though the bottle says you can use dish soap instead.
[amazonjs asin="B0012BGXVQ" locale="US" title="Dyna-Gro Pure Neem Oil Natural Leaf Polish, 8 Ounces"]
[amazonjs asin="B015OS8FNG" locale="US" title="Dyna-Gro Pro-TeKt"]
We usually mix it up and store it in a gallon jug, and use sprayers we bought of Amazon to apply it.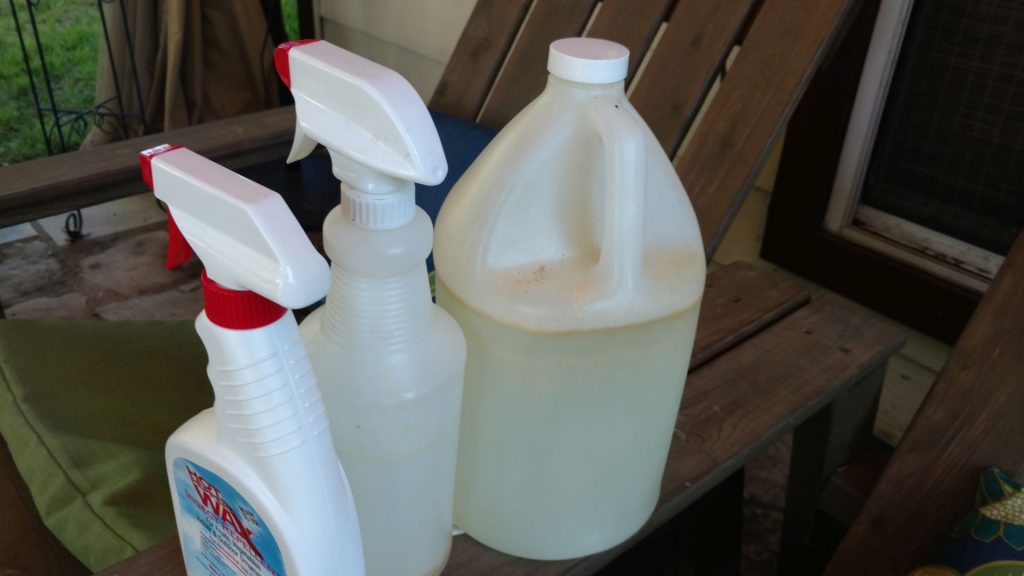 [amazonjs asin="B001D7E70I" locale="US" title="HDPE Bottle, 1 gal jug style"]
[amazonjs asin="B01K23UYE6″ locale="US" title="Plastic Spray Bottles Leak Proof Technology Empty 32 oz Pack of 3 Made In USA By Pinnacle Mercantile"]
Hot Pepper Wax is a pretty popular natural remedy we hadn't tried yet. They didn't have any same or next day deliveries available for the concentrated formulas, so I bought the non-concentrate in a small spray container for immediate use.
[amazonjs asin="B003MRBZ20″ locale="US" title="Neptune's Harvest HPI122 Hot Pepper Wax RTU Insect Repellent, 22-Ounce"]
We haven't had enough time yet to see if it takes care of the aphid problem, but a pepper spray of some sort is going to be added to the list of things we keep on hand. I found many people prefer their own recipes, and read several, opting to make my own based on a few of the various recipes. I decided on:
1 lb Habanero Peppers
2 Garlic Pods
1 Tbsp Powdered Cayenne Pepper
3 Tbps Pro-TeKt
4-5 Gallons Water
I used a food processor to dice the habaneros and garlic cloves. Then I dumped them in a 5 gallon "Homer" bucket and added the cayenne pepper and Pro-TeKt and enough water to fill to about 6″ from the top. I didn't bother processing the peppers and removing the stems, or removing the wrapping from the individual cloves of garlic. All of the excess should be pulled out when I strain the water through cheese cloth around this time tomorrow. That will give the oils about 24 hours to infuse into the water.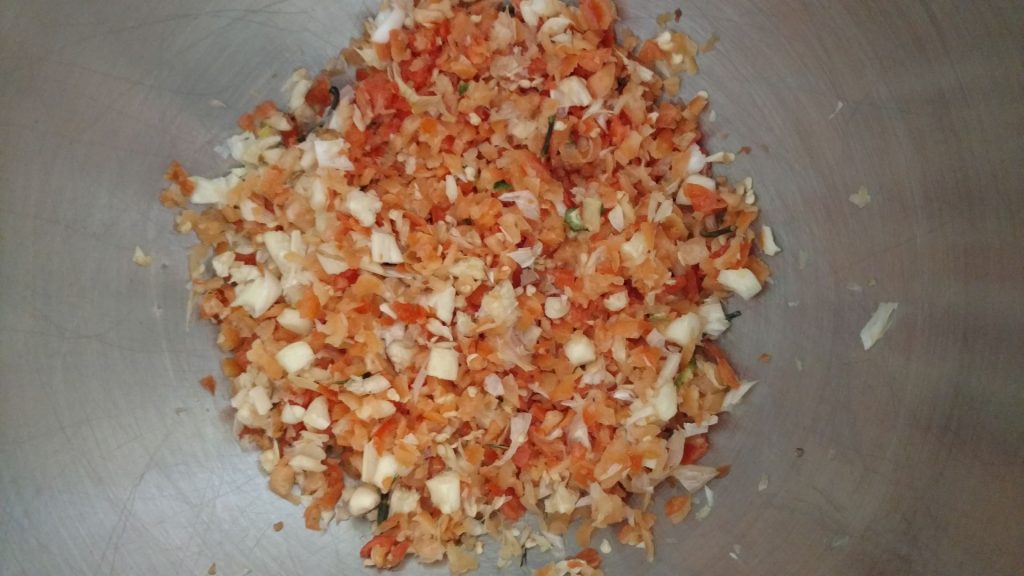 Handling that many habaneros and making sure everything was clean afterwards was somewhat tedious. I wore disposable gloves, and was attentive to what I was doing to avoid touching or getting it in my eyes or mucous membranes, but suggest goggles or a face mask if you aren't so sure. Adding the water to the bucket, even going on one of the slowest settings for the water hose, caused some of the oils to reach up and suspend in the air around the bucket and cause me to cough. If you're really sensitive to these things, one of those disposable masks might be a good idea to avoid respiratory distress. I used vinegar along with dish soap to clean everything up.
I ordered a new sprayer and some cheese cloth of Amazon to strain it (into another Homer bucket, which every gardener or hobbyist should have plenty of!) and distribute it with. I'm going to use a funnel to pour it into a spare 5 gallon water jug, like you would use on a water dispenser in an office, for long term storage instead of using a Homer Bucket. It should be less likely to spill that way.
[amazonjs asin="B00NIZZHGQ" locale="US" title="Best Quality Cheesecloth 43 Sq Ft *Chef Premium FOOD GRADE 60* Fine Mesh Unbleached 100% Cotton – Can Use as Nut Milk Bag, Strainer, Baby Wrap Roll"]
[amazonjs asin="B00GN69N1C" locale="US" title="Chapin 16100 1-Gallon Home and Garden Sprayer For Multi-purpose Use"]
If the commercial Hot Pepper Wax works well, we'll probably go to using that once we've gone through the four or five gallons this makes. We spent $7 or so dollars on components to make this and assuming we dilute it to 5 gallons, that's $1.40/gallon. The commercial/bulk gallon of Hot Pepper Wax concentrate runs around $48.97, but makes 32 gallons once you dilute it. That's hardly any more expensive, at $1.53/gallon, and is a lot less work. I wanted to try making my own at least one time, though, to go through the process and see how it turns out. I do wonder if this may be more effective though, due to the addition of garlic.