As mentioned in my last post, I've had several Kindles, and just opted to replace my broken Voyage with an Oasis. The Voyage was possibly my least favorite Kindle, mostly due to the lack of physical page-turn buttons. In the current lineup, the Kindle and Kindle Paperwhite are stuck with touchscreen only for page turns, the Voyage has the touchscreen plus PagePress, which I didn't care for and usually ended up using the touchscreen, and the Oasis is the only model with physical buttons. Other E-Readers, like the current Nook GlowLight Plus, and the Kobo Aura line, have followed suit by replacing physical buttons with the touchscreen. On dedicated reading devices, I find this to be a major shortcoming.
In photos, I wasn't a big fan of the Oasis' form factor – it's more square than rectangular, with a huge bezel off to the side of the screen. But holding it in your hand, it makes perfect sense. With all the other readers I've owned, I've had to carefully choose my hand position, or move it throughout the page, in order to not interfere with the screen. On the Voyage, for instance, there is barely enough bezel on either side of the screen to grab onto, but it's something I had grown used to and didn't think much about. With the Oasis, it has a large bezel on one side with plenty of space to grab on to, and the page turn buttons are conveniently located on it. Further, if you want to read with the other hand, you can just flip it over and it's on the other side.
The Oasis screen isn't any different than the Voyage. I feel it might be a little brighter, if anything, but then again I don't keep my brightness that high and turned it down right out of the box. The extra lights might smooth out the lighting, but it's nothing to write home about. The battery life is yet to be determined, but I've heard it isn't anywhere near as long as it's touted to be. But in my opinion, charging a device every week or two isn't too much to ask. The case is nice, the leather high enough quality but not as high as that found on a pair of Allen Edmonds or even Danner boots. Probably sufficient, given the realistic lifespan of the device (3-5 years?). A lot of people raved about it, but to me, it's nothing to write home about either.
In the end, there are two things that really stand out about this Kindle, and if you are an avid reader and it is in your budget, make it absolutely worth the price. Those are the physical page turn buttons and the form factor. I ended up getting it for about $60 less than list, because of the situation with my Voyage. At that price, it's a much better deal than full retail, and easier to recommend. As it is, I still recommend it if it is within your budget. I recommend buying it with AMEX or Visa Signature, so that you get an extra year of warranty.
The last thing I want to mention about this is, when you're buying a device, wither it be $100, $200, or $300 – you should have paid for the device and not have to see advertisements. The fact that Amazon requires you to spend an extra $20 to get rid of their "Special Offers" is absurd, and if I weren't already so tied into the Amazon Ecosystem it might be reason enough to look elsewhere. Fortunately, they transferred the $20 I spent to remove them from my last device to this one.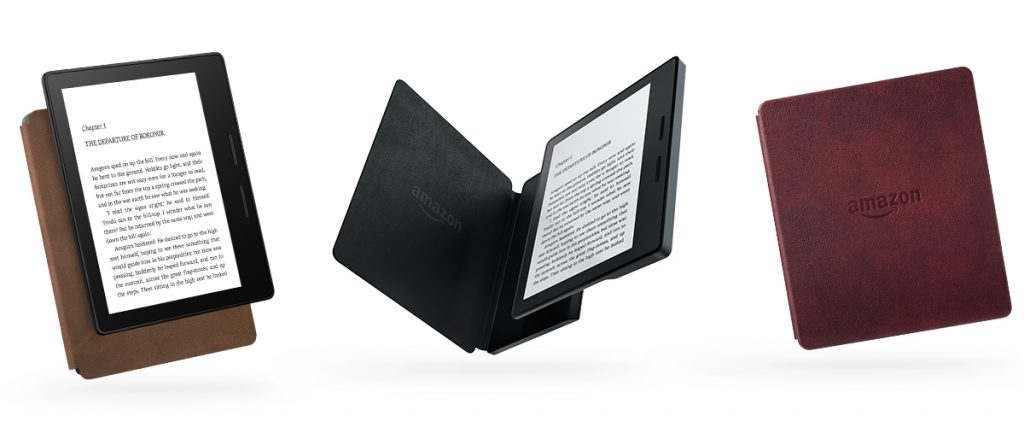 [amazonjs asin="B015YKFBC2″ locale="US" title="Kindle Oasis E-reader with Leather Charging Cover – Merlot, 6″ High-Resolution Display (300 ppi), Wi-Fi"]
In afterthought, I still recommend the Paperwhite. I've never used one myself, but for the price, it seems the best bang for the buck. I don't believe that the Voyage is worth the premium over the current Paperwhite, and I wouldn't consider a model without the backlight, like their most basic model. I've given the Paperwhite as gifts to multiple people – and most of them seem pleased with the device and, if you are on a budget, it's probably the best way to go. The $139 model does not have the special offers, so it is the one to get, along with a $15 or so case from one of the many vendors on Amazon.
[amazonjs asin="B00QJE3MGU" locale="US" title="Kindle Paperwhite E-reader – Black, 6″ High-Resolution Display (300 ppi) with Built-in Light, Wi-Fi"]
Kindle books have been getting gradually more expensive over the years, and last night I downloaded a copy of American War.
[amazonjs asin="0451493583″ locale="US" title="American War: A novel"]
It costs $13.99 for Kindle, and for just $16.07, I could have bought the hardcover version. Back when E-Books came out, they were much less expensive than paper offerings, because they don't have to incur the costs of manufacturing, shipping, storage, and delivering to the consumer.  At some of the current rates, it almost makes more sense to have the books on your shelf. I usually don't spring for novels above the $4-$5 range, instead opting to wait until they go on sale, or occasionally finding a free Mobi or ePub online and using Calibre to convert it for the Kindle. But occasionally I'll splurge if the Kindle sample for a book looks exceedingly interesting, and I want to finish the story.