I posted a while back about how I work from home, spending at least forty hours a week at my desk, and often times a hundred plus. Due to the amount of time I spend here, it is high up on the priority list as far as renovations and spending goes.
In my previous posts, I outlined my plans to redo my monitor array, add a standing desk, and a high end ergonomic task chair. As it turned out, the standing desk didn't work out due to Amazon logistics, but I was happy with my new monitors and Steelcase LeapV2 chair, and I'm glad to report that is still the case. One of the major factors that prompted those purchases was back and leg pain and numbness, associated with excess sitting and sciatica. The chair helped a bit, but the fact is that I still spend a large portion of the day sitting, so it wasn't really a solution. After those major purchases, though, I wasn't ready at the time to order a new desk as I didn't really want to budget for the ones I really wanted.
Fast forward a few months, and I decided to order another standing desk. Most of them are two legged, but my past experience with those burned me a bit, and I really wanted to find one with four legs for maximum stability. Fortunately, a local company here in Austin happens to sell four legged standing desks with custom tops, and though quite expensive, they meet all of the criteria I was using to make my decision. The company is called The Human Solution, and the specific line the Uplift 900 series. I ordered the four leg version with black frame, and a massive 80″ x 30″ x 1.5″ reclaimed Douglas Fir top.  I also optioned it up a bit with the advanced memory control (that stores four different positions), casters, and a free promo kit they were offering that includes a little desk tray, USB hub, standing mat, some under-desk hooks, and a tablet stand.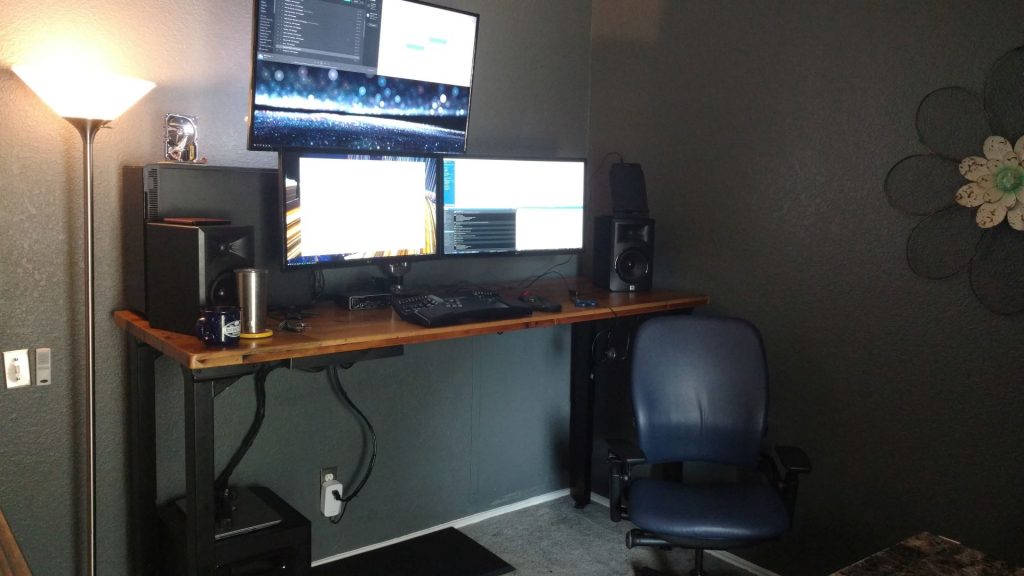 The desk was delivered yesterday in a marked van; so even though they ship all over I guess I happen to be in their delivery area. The guy was really helpful and carried all of the components into the office, and snapped a photo of the desk for what I assume are liability purposes before he left. The frame for the desk shipped in one large, probably 70# box, while the desk top was unboxed but also undamaged. The accessories all came in their own small boxes. Assembly was simple, but would have been lengthy and tedious with the included tools, so I found the appropriate bits for my small impact driver on the lowest setting and made quick work of the forty or so screws used to hold everything together.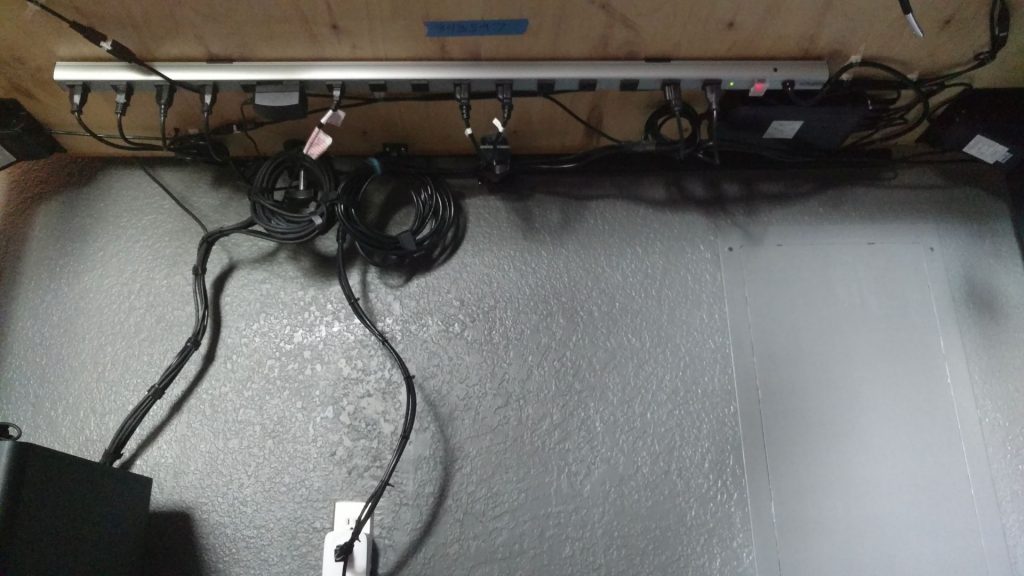 Cabling is left up to you; they give a couple suggestions which I disregarded and mounted the control box in a far corner instead of the center. They include some nifty cable clamps that you stick onto the underside of the desk and zip over the cables to hold them right. In addition to the components used for the desk, I also mounted a power strip and ran some of the computer cables under there. In the end, I have five cables that go straight down from the desk to the sub (two balanced inputs, two balanced outputs, and a power cable), and two additional cables that go from the desk to the wall (power distribution strip and Ethernet, which both go into a Powerline Ethernet adapter), and each of those sets of cables is bundled together. That should make moving the desk fairly easy in the future, as almost everything is self contained.
In addition to the new desk, I ordered a treadmill. Yes, a treadmill for the desk.
We have all sorts of fancy exercise equipment here, including a nice home gym and a BowFlex TreadClimber. While I have every intention to use them regularly, it is Kelly who uses them the most, and I find myself using the equipment on an erratic basis, at best. I have many projects between things I'm doing at my desk, in my workshop, and the garden, and am horrible about finding time to get a workout in. There is a fairly new trend for walking desks, and while I was skeptical at first (in fact, I considered the whole idea a gimmick when I first heard of it a few years ago), I have warmed to it. It isn't supposed to be a replacement for a proper workout, but the treadmills are designed to run at low speeds (1.5mph is often recommended for walking while working; about half the average walking pace) and for long periods of time: meaning a 1.5mph walk that you maintain throughout an eight hour workday equates to twelve miles. Most people seem to start with a couple hours a day, and build up to a point where they spend the entire day on it. Walking an additional sixty miles a week would be great for my fitness, I'm sure. There are not very many dedicated desk treadmills out there, but the one I ended up ordering is the LifeSpan TR5000-TD3.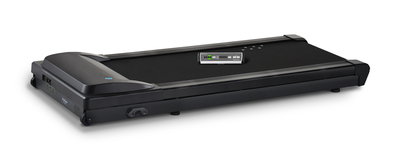 It looks more or less like a normal treadmill, but is recommended for people who walk up to ten hours a day. It is lower than a standard treadmill, at only 4.5″ off the ground, has no incline or handles, and the control panel is disconnected and just a box that sits on your desk. It tracks steps and calories burned, and has a fairly maintenance free design that only requires periodic lubrication and the occasional belt replacement. It is marketed to be much quieter than a standard treadmill, but I've read mixed reviews about noise and figure it's highly subjective. It has not shipped yet, but supposed to by Friday.
There is no guarantee that this will get much more use than the workout equipment we already have, except that I will be able to use it while working, reading, or browsing the web, and it will be in my way if I don't.
Finally, I decided to demo a new keyboard and mouse. I have been using a Das Keyboard Ultimate Silent for about six years now. It has lasted far longer than any keyboard I have ever owned, as I tend to wear them out, and has turned out to be worth the initial expense. It has a lot of life left, but does have some things to be desired in the ergonomics department. It uses key switches made by Cherry, called the Cherry MX Brown. Not only do they last seemingly forever, but they are mechanical/ sprung and can help to prevent repetitive stress injuries such as Carpal Tunnel Syndrome. Other than those switches, though, it does little for your posture, which I figure will be significantly worse if I'm using it while walking. So, I set out to find a split keyboard similar in shape to the Microsoft Natural Keyboard Elite, which aside from the Das has been my favorite keyboard to date. Unfortunately, the one I had wore out fairly quickly with the space and enter keys becoming especially troublesome, if I remember correctly, and mechanical keys like the Cherry ones are a must.
I couldn't find a single keyboard that was anything like what I was looking for, but found a keyboard design from the early 90s called the Kinesis Contour (or now, the Kinesis Advantage). It is an odd shaped thing that happens to use the same Cherry MX brown switches, but has a completely unconventional shape that is as interesting as it is baffling. They offer a sixty day return if you don't like it, so I decided to get one to demo and see what I think. This thing looked futuristic enough to find its way into the Men in Black movie produced back in 1997. It has been through a few variations over the years, but remains physically pretty close to its introduction. The current model is the Kinesis Advantage2, which has a few variants, including one called the QD, which has both QWERTY and DVORAK inscriptions on the key caps. As far as how it compares to a standard keyboard, the keys are all vertically aligned as well as horizontally, something referred to as a columnar layout. This has the advantage of not requiring you to move your fingers sideways to meet most keys – the motions simply become forward and backwards. Additionally, the keys are sunk into two deep wells that are placed approximately 7″ apart, and several of the modifier keys have been clumped together in thumb clusters, so you use your most powerful and nimble finger instead of your weakest. It's a novel concept; but how does it work?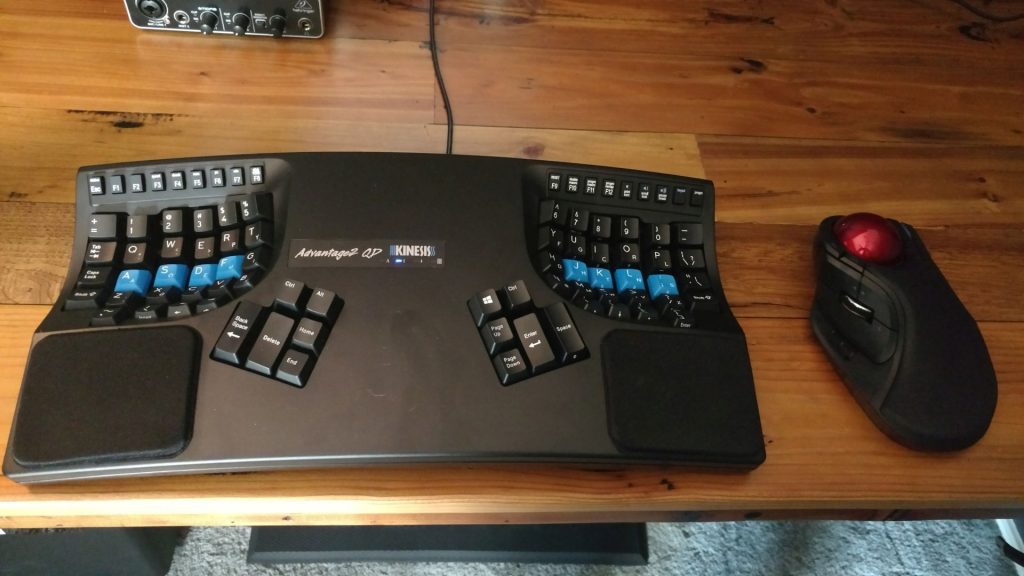 According to reviews, people either love or hate it. That's for sure. Very few people seem placed in the middle, but that may just be the nature of online reviews. Myself? About five hours ago I wanted to put it back in the box and return it, and now I'm writing this entire post on it. It is still a little unusual, and my normal 90+ WPM has been cut in half while I get used to this. But so far I really like it, but it isn't without a learning curve.
The first thing I noticed is that I simply couldn't find the keys. The deep wells seem to hide the keys in the bottom – the d and k in particular, I consistently missed for the first half hour. I simply grazed over them without enough pressure to activate them, even though they're on the home row. I struggled to q and p, which are positioned so that you are almost forced to use your pinkie on them, which I apparently do not; I often confused, and still do, the o and the p, and comma and period. And I also had the hardest time finding c, which I guess I hit with my index instead of my middle finger on a normal keyboard. Those problems have generally been solved with practice.
There is no left space key. In fact, there isn't a space bar at all, just a smallish key on the right thumb cluster. Enter has been moved over there as well, so where I'd normally contact the enter key with my right pinkie I kept hitting '. But after a short while, that became normal as well. Opposite the space, is the backspace key. Again, instead of hitting it with your pinkie, you hit it with your thumb. As much as I had to use it, this became second nature very quickly.
I absolutely love the hand wells now. You never have to move your wrists, everything is reachable with your palms perched right behind the wells and your thumbs resting on the thumb clusters. It seems like a gimmicky concept, but upon actually using it, I've come to think of it more as an ingenious idea.
Aside from the layout being strange, there are some other useful concepts at play here. First, the number pad. At first glance, it appears to be missing, but the columnar layout lends itself perfectly for numpad use. Under the right hand, you have a perfectly replicated ten key (and they are labeled if you look closely). To activate it, you switch to another keyboard "layer" by activating one of the keys in the function row at the top. In addition to using the numpad in that layer, you can code all the other keys to their own macros. In either layer, you can move keys around. You can reprogram them. You can make macros that turn two or three keystrokes into hundreds. There is 2MB of on-board memory and the keyboard can present the configuration as .txt files to the computer as a USB storage device for editing. That will be incredibly useful for me.
The jury might still be a little out on this keyboard, but I'm leaning towards keeping it at the moment.
As for the mouse, I've been a fan of trackballs for years. My favorite would have been the Microsoft Trackball Explorer, which has long been discontinued. I've recently been using a Logitech M570, but the ergonomics on it don't work for me. Where they intend for you to rest your pointer finger on the left click and your middle finger on the right, my hand falls differently where I'm left clicking with my middle finger and right clicking with my ring finger. It is tolerable but not ideal, and when I saw Elecom just released a new trackball in Japan called the Huge, which is very similar to the Microsoft Trackball Explorer in size and shape, but with wireless and multiple additional buttons, I ordered it. It wasn't supposed to be here until October, but it came in early, today. So far, I've found it to be far superior to the Logitech but still not perfectly designed for my hands. It has two buttons to the right of the ball that are programmable, but one is reserved and labeled for right click. In my case, I tend to overreach and hit the programmable button instead half the time, so I just mapped them both to right click. I have enough to deal with re-learning the muscle memory for typing.