Yesterday I grabbed the trailer I was concerned about, and took it for about a fifteen mile ride @70mph (probably 73mph if my speedometer were calibrated for the new tires) up and down TX130 Toll. After that, I took a somewhat twisty backroad to the house and performed some maintenance.
This was the maiden towing voyage for the Method Racing MR305 NV HD wheels I bought, rated for 4500lbs, and the Cooper Discoverer STT PRO tires I paired them with, which are massive (measuring 35×12-3/8″ with a tape) and rated for 4080lbs. I was worried about the stability and handling when towing this pin-heavy trailer. We usually run with a rear axle weight of around 7500lbs, loaded.
Towing felt a little less stable than the 19.5s, but not as much as I expected, and everything still felt comfortable enough for me to take on the road with confidence. If anything, as we add weight, we may need to slow down to 65mph and relax a bit. This trip was with an empty aux tank (which holds approximately 350lbs of fuel) and no passengers in the cab.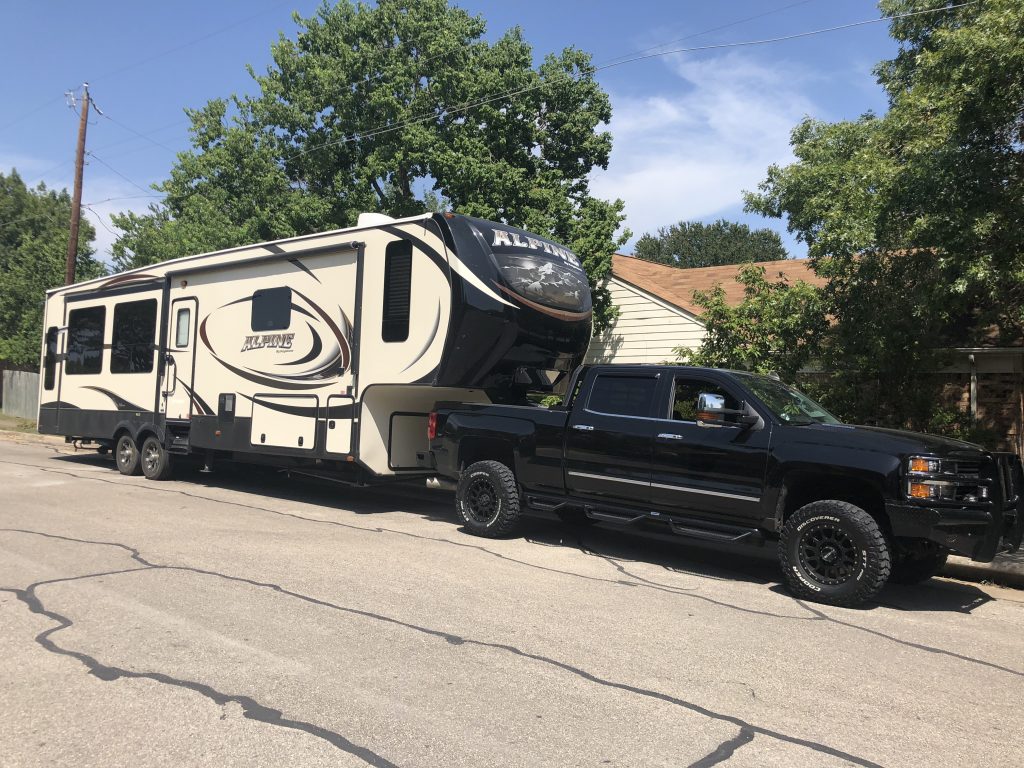 This was with 75PSI rear and 65PSI front, and the rear tires, despite the weight on them, didn't seem to bulge that much. It does ride a little pin high and the hitch is adjusted as low as it can possibly go, as is the pin box, so it will either have to ride a little nose high or I will need to try lowering the truck a little bit to make it ride level. It is probably fine as-is, but I need to measure the height to the top of the AC unit and see what we're actually dealing with.
While it was here, I replaced the Anderson 4-way valve cartridge and one of the toilet's flushing mechanisms, both due to leaks. We had a hard freeze over the winter that damaged both of them, and because we don't usually have freezes like that here, the RV wasn't properly winterized. I ordered spares as well. Then I moved on to the underbody storage. I pulled everything out of it and lumped it into a huge pile in the garage. The pass through storage had inflatable kayaks, paddleboards, a telescope, and all sorts of things we thought we would use often but rarely did. I went to Home Depot and bought a few plastic totes to organize the remaining items and then stacked our new fence in there.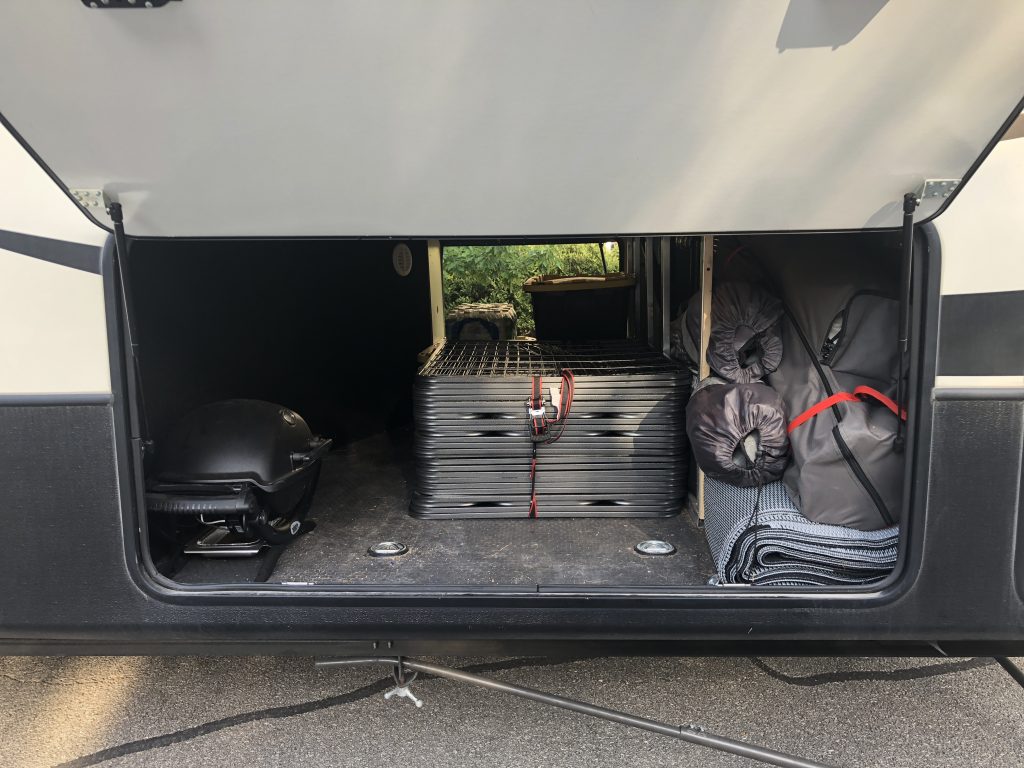 Wait, fence? When we were out at Lake Georgetown a couple weeks ago, there was a couple across from us with two dogs that set up all of their seating and pavilions inside a large, portable fence. We've seen lots of creative solutions for fencing, but nothing as nice as this looked. We talked to them about it and they were extremely happy with it, showing us how it worked, how it packed down, etc. They found it on Amazon. As this is something I'd been casually looking for, it piqued my interest greatly and we ended up ordering it.
The fence is actually a modular play pen by a company called BestPet. It consists of 8 40″x32″ panels that connect together using thin rods that essentially work as hinge pins between the panels. You can drive them into the ground for support, or depending on the shape of the fence you build, allow the fence to be freestanding. Since they act as hinges, you can set them up at any angle, and due to the hinge design, you can set them up on moderately uneven ground. They said they never had to drive them into the ground, using four sets (85ft of fence line) in a large circular shape. Each set contains one gate panel. We ordered four sets on Ebay (much cheaper than Amazon) and set one up in the back yard to test and now it is still out there because it worked really well to keep the dogs from fence fighting the neighbors. The other three sets are stacked in the storage above. They do take up a fair bit of room, but I think they are practical and we will get a lot of use out of them. They beat tie outs that just get tangled.