Both of us have family in the Tyler area, so we go back to visit from time to time. A couple years ago we stayed at Tyler State Park, but have avoided going back there because it was really tight to get our rig in and out of the campground. When recently looking at the map, I realized that was due to the camping area we stayed in – Cedar Point. So when it came time to book a trip to East Texas for Thanksgiving, we gave Tyler State Park another chance and reserved a site in the Big Pine area.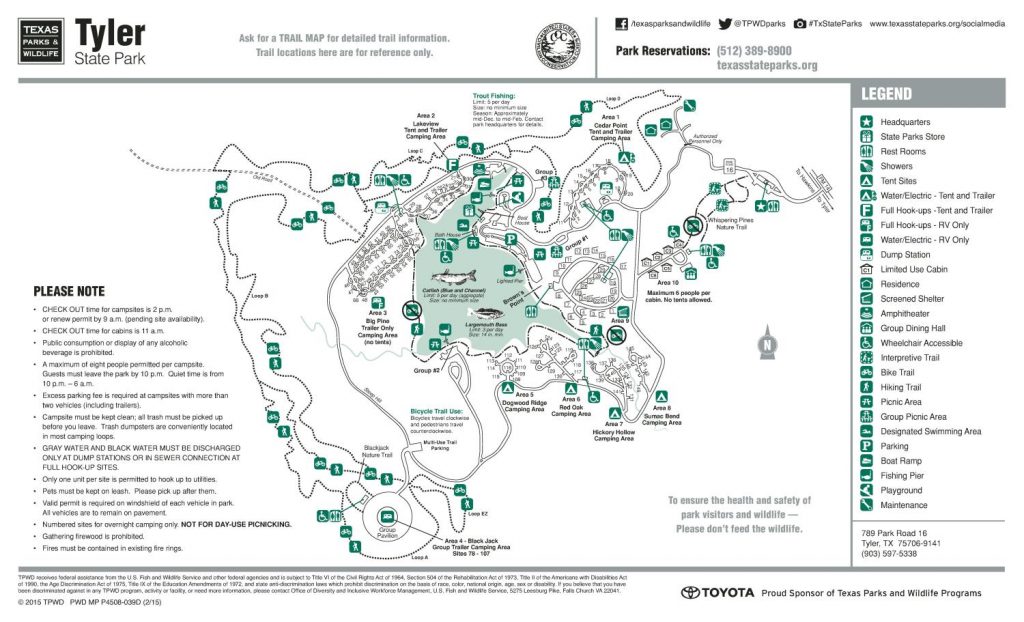 The park itself is beautiful woodlands, and this year was exceptional – the trees turned bright colors like they do up north, and leaves fell to the ground. The camping area we chose had plenty of room, all pull-through sites with full hookups, and ran $24/night. We consider that a good deal.
What led me to looking at the Tyler State Park map in the first place was an ultramarathon called Running the Rose. I'm not ready for an Ultramarathon yet – in my training, I might be able to complete – but not be competitive – a half marathon at the moment. But Running the Rose follows an eleven mile course through the park, allowing you to exit at one, two, three, or six loops depending on your fitness level and dedication. I wanted to run the course, once, just to see if I could make it.
I mapped out the course in GAIA GPS, and uploaded it to my watch. The course looks like this: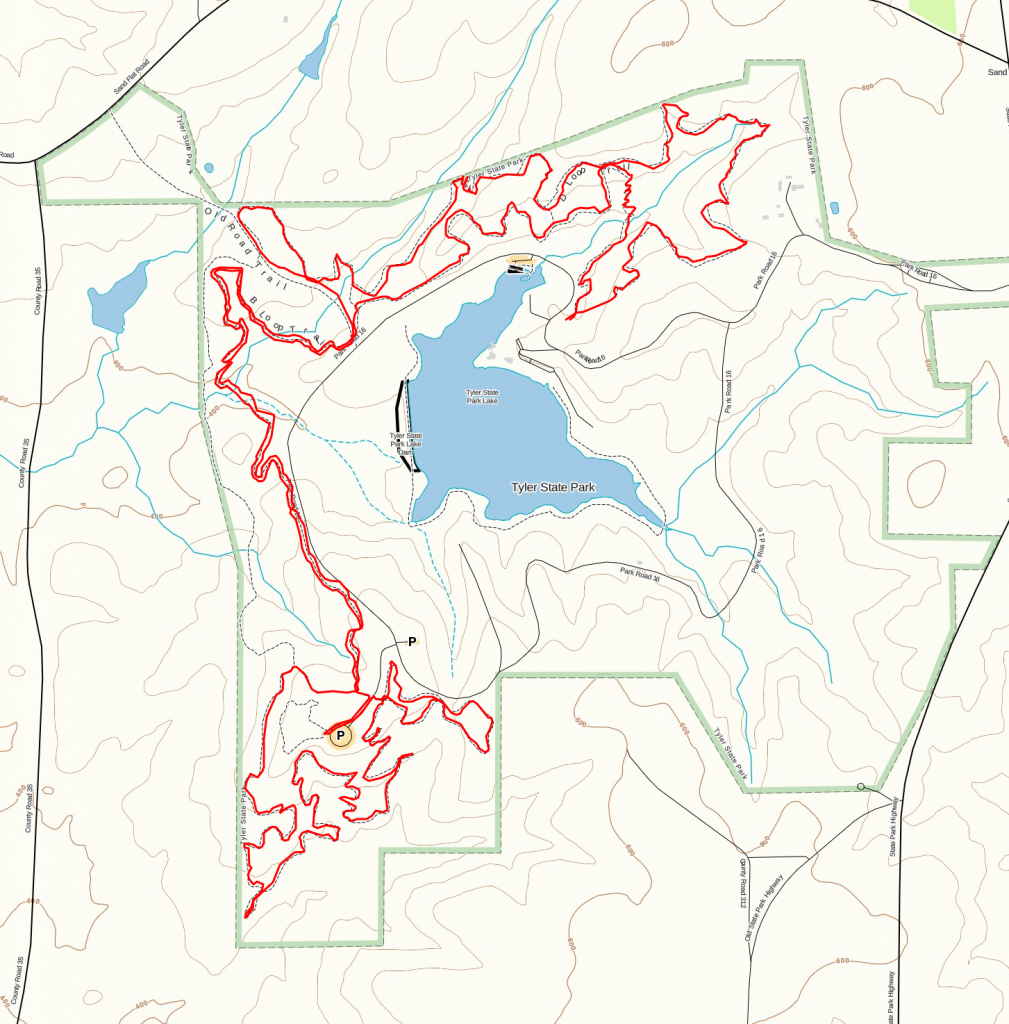 Upon arriving, we found our spot and set up camp. Since we arrived on a Sunday afternoon, we had most of the park to ourselves. The site was spacious, though not at all level, and had full hookups. Fortunately we just about have setup down to a T, and I was able to head out for my first trail attempt within an hour of arrival.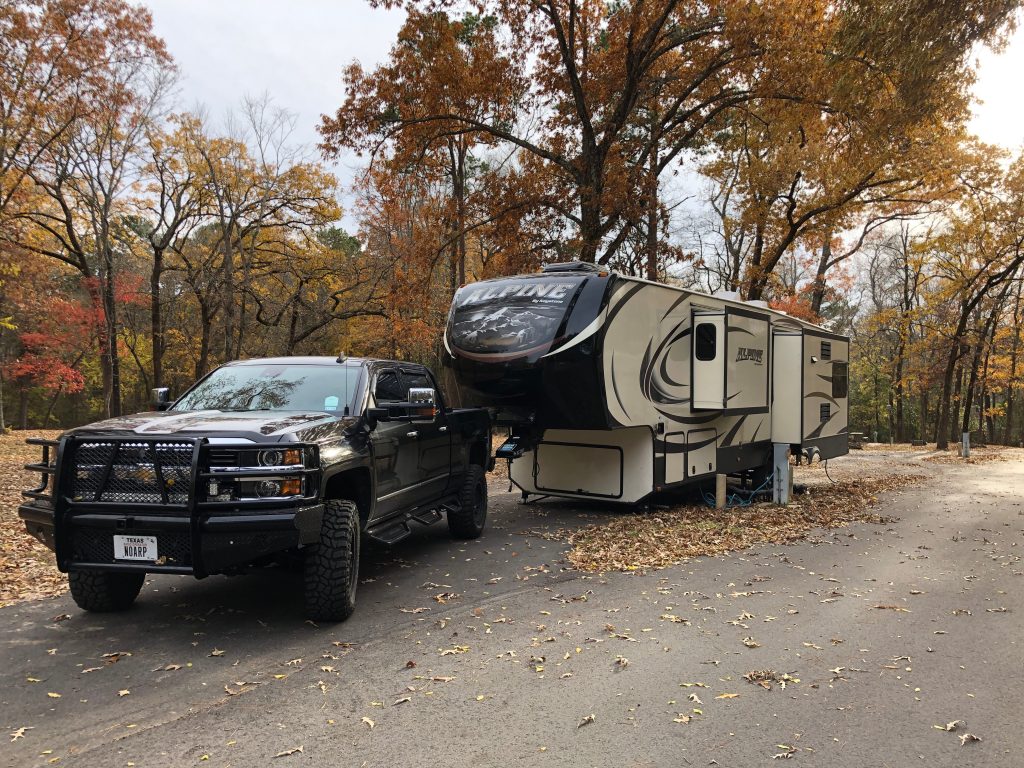 I hit the trail around 4:30PM, and shortly after five it was so dark under the tree cover that I couldn't see the ground. I pushed through about 8 miles before my headlamp died, and after tripping over a bunch of tree roots, pulled out my phone for enough light to get back to the campsite. I clocked just over 9 miles, and kicked myself for getting so close to my goal and not reaching it. We had a friendly little visitor come that night, as well as a opossum and some squirrels.

We spent the next few days hiking the park and visiting family. We grabbed a few good photos, and had my parents out for a campfire. Kelly brought out her bike for a few rides. The weather stayed really nice.

On Thursday, I made another attempt at the 11mi run. I was able to complete it, but it took longer than I had hoped, clocking in at 2h32m and an average pace of 13:45/mi. I didn't really feel up to running that day, and think if I were feeling better I could have knocked a couple minutes off that time. C'est la vie.

On Friday, Kelly and I went on a run on the trail around the lake and she caught her foot under a tree root and pulled. It caused her a pretty nasty sprain that will take a few weeks to recover from. We got her back to the site and settled in, then I resumed my run. Overall, I was able to clock 32.5 trail running miles on the trip, plus several miles of hiking.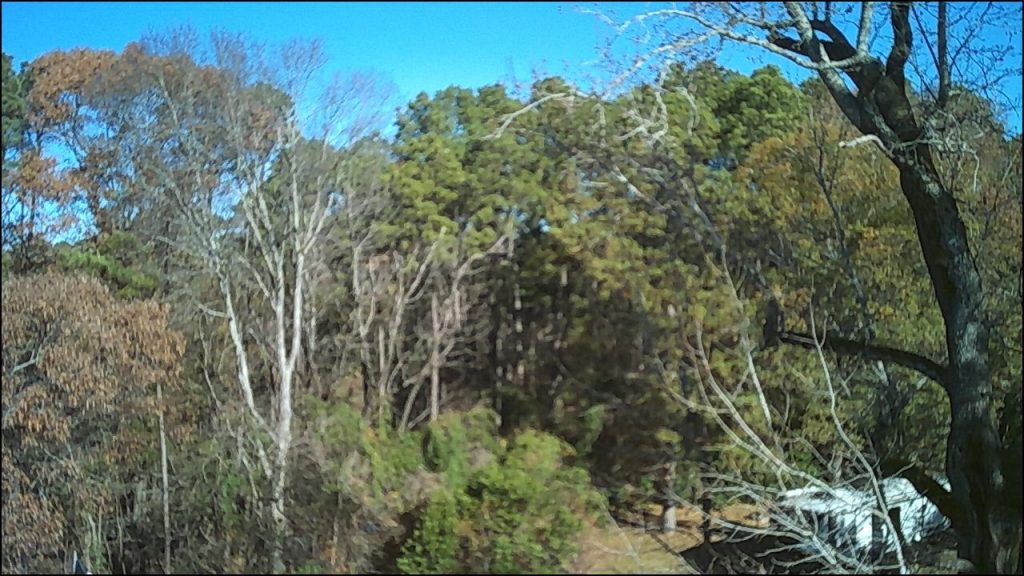 Tyler state park is definitely a place we'll be returning to. I'm contemplating an actual attempt at Running the Rose, when it takes place on January 26, but due to how soon that is, probably won't commit to it. We have family there, so there are always reasons to go – but there are other places in Texas we want to check out before the next time to visit.

Skip back to main navigation