Foam Rolling & Roll Recovery
We haven't had much to post about lately, as we've been getting through the holidays and getting back into the groove of normal life. Things have been both dull and busy – a lot of monotonous catching up to do, mainly, with a few short memories sprinkled in, like spending new years with some great friends of ours from out of town.
Kelly's ankle is healing up nicely and she's back to riding regularly and starting to jog again, and I'm still working to tick off at least 24 miles per week.
My running coach has been after me to start foam rolling and focusing on recovery for a while. We have all the gear required for foam rolling, which consists of a few foam cylinders in different sizes and some lacrosse balls. Despite my best attempts, I can't seem to make a routine of it. You have to get on the floor, or maybe a mat or blanket, and roll around while supporting yourself and manipulating your body to put pressure on sore areas – something that can be a substantial and time consuming, not to mention painful, workout itself.
Roll Recovery makes an alternative solution that accomplishes the same thing. Touted as a "self-massage tool [that] takes the extra effort out of an intense foam rolling session", it basically is a vice that you clamp your limbs into move along the length of them. It doesn't address the last complaint I made about foam rolling – the pain, possibly even being worse – but does a great job of reducing the effort and time required.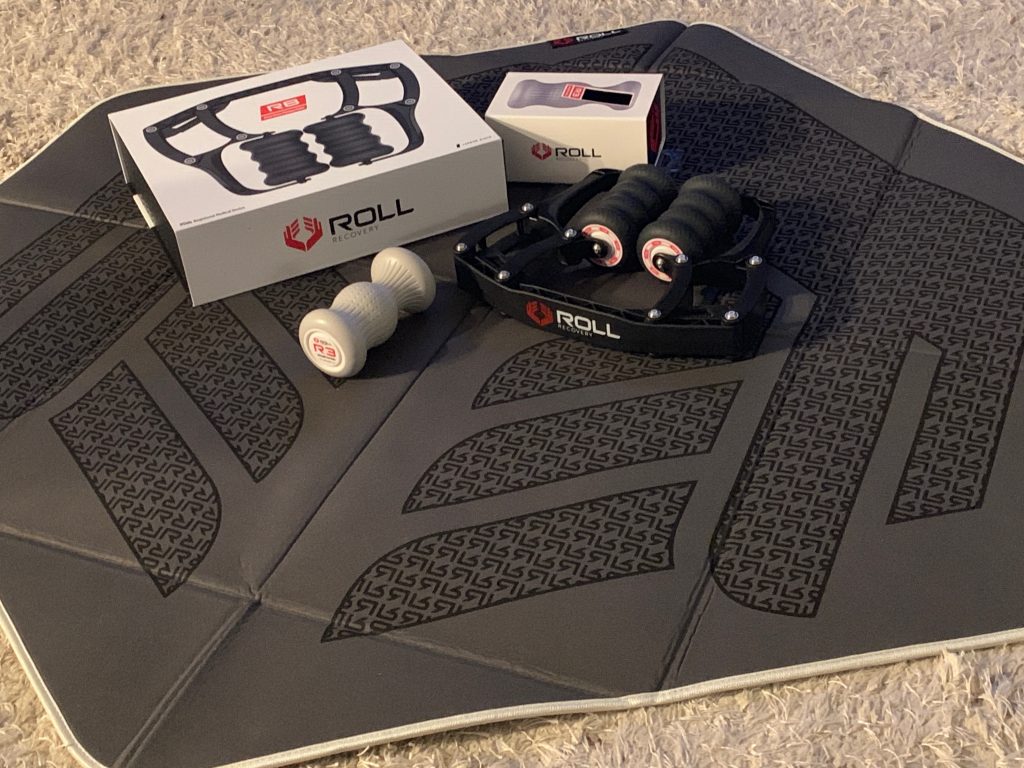 The R8 seems to have a cult following and a lot of obsessed users, so I figured I'd try it for myself. So far, I've found I pick it up when idle throughout the day and use it while watching TV or even listening to phone calls (meetings). That sure beats blocking out a 45min window to toss around on the floor while being able to concentrate on nothing else. Kelly is making similar habits with it.
We also picked up the R3 and their stretch mat. The R3 is a foot roller, specifically designed to address plantar fasciitis, something I've recently began to experience, and the mat is a gimmicky number that gives you a platform you can stretch on without falling off of – something that may work for Kelly, but doesn't seem to work for my 6'0″ frame. Despite that it may be a tad too small for me, and that I don't mind sitting on the ground most of the time, it seems perfect for throwing in the truck and taking to the lake or trailhead with me.
To date, as you probably assume, I haven't been great about massage or rolling or recovery. I don't have enough previous recovery experience to compare with, but what I can say is that my run yesterday (after two days of using the R8) was one of the best ones I've experienced in a while.
Skip back to main navigation