Trail Running – Gear & Snacks
I'm doing solo trail runs that are 14+ miles every weekend, and climbing. In the next few weeks I'm planning to complete a 26.9 mile loop I've had my eyes on. As my runs are getting longer and temperatures are going up, I'm going to have to start carrying more. In order to get used to carrying a load, I've been packing as if I'm planning 25+ miles for my 14+ mile runs. Here is an example of what I might take: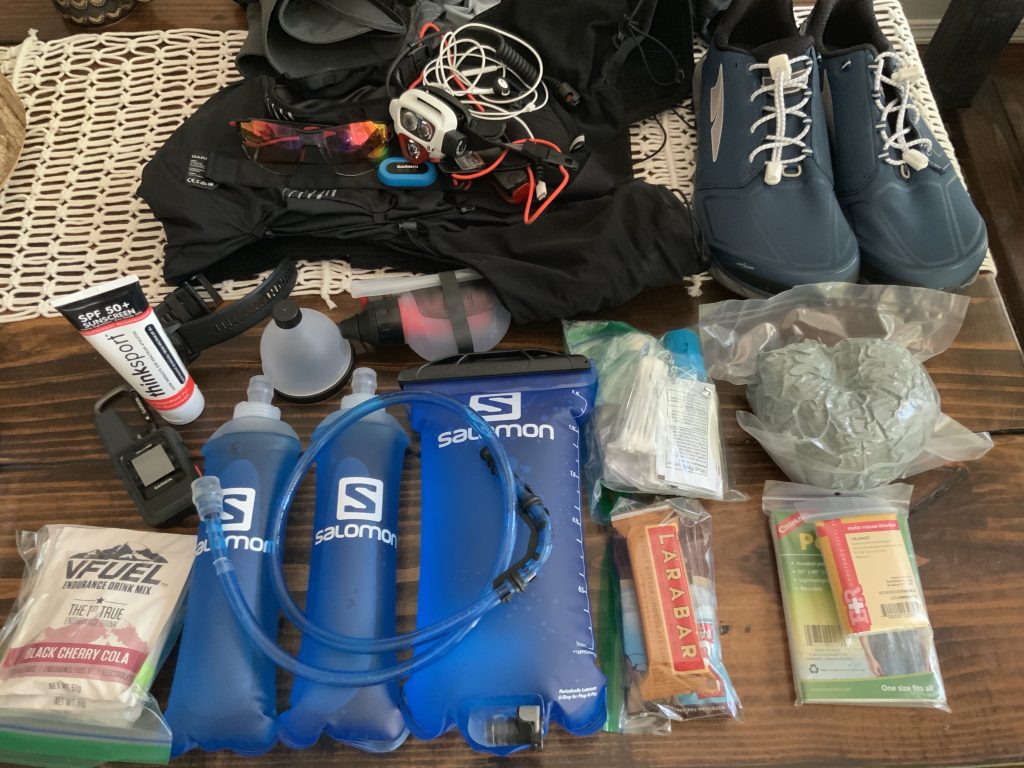 I've made a few adjustments since this photo was taken, but it's fairly similar. The biggest change I've made is how I'm packing things – for example, the vacuum sealed change of clothes is now pressed into a flat rectangle because it fits better than a ball.
Salomon Adv Skin 12 pack
500ml soft flask with vFuel (200 calories)
500ml soft flask with water
1.5L reservoir with water
MSR Trailshot water filter
Ziploc bag with vFuel pouches – 200 calories per anticipated hour + spare
Ziploc bag with Larabar/Clif bars – may be subbed with the above
QuiFit fuel storage/ funnel (stores Saltsticks, used to load vFuel into soft flasks)
ThinkSport SPF50+ sunscreen
Garmin Fenix 5X+ watch (worn on wrist)
Garmin HRM-Tri (worn)
Garmin InReach Mini
Ziploc bag personal hygiene/ first-aid kit (this kit that I transferred into the bag, and added K-tape and wet wipes to)
Emergency poncho
Mylar blanket
Spare tee, running tights, and socks in a vacuum sealer bag
Headlamp (model varies depending on plans)
Sunglasses (model varies depending on plans)
Headphones (model varies depending on plans)
Hat (model varies depending on plans)
Spare buffs/ layers (varies depending on plans)
Socks (worn, Injinji Ultra Run No Show or DT Vertex No Show ULC)
Altra Superior 4.0 shoes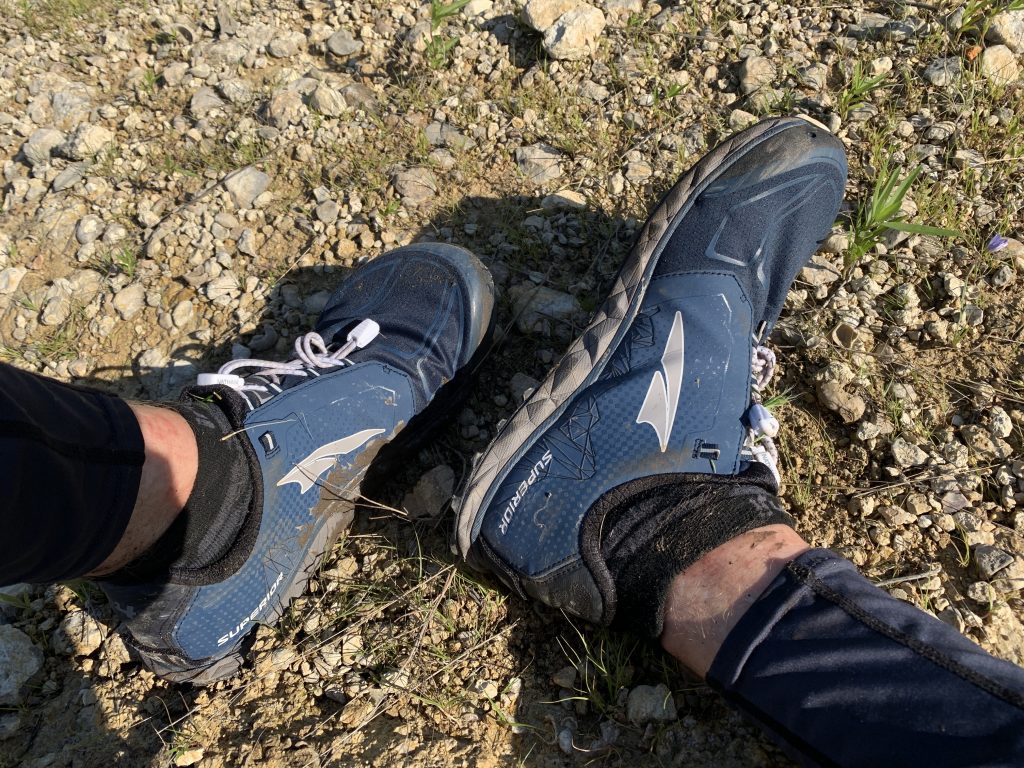 With a little over 400 miles on my Salomon Ultra Pros, I decided to try something else this time around and ordered a pair of Altra Superior 4.0s with Nathan Quick Laces to add to my rotation. I love them so far.
Fueling has been a major issue for me as nothing really settles well. I ended up ordering a ton of snacks and making a few homemade things, and am trying to incorporate them into shorter runs to test. The goal is to consume just over 200 calories per hour of activity. vFuel works, sort of – it's basically sugar water – but after a few hours I have trouble keeping it down. It's also going to get expensive fast.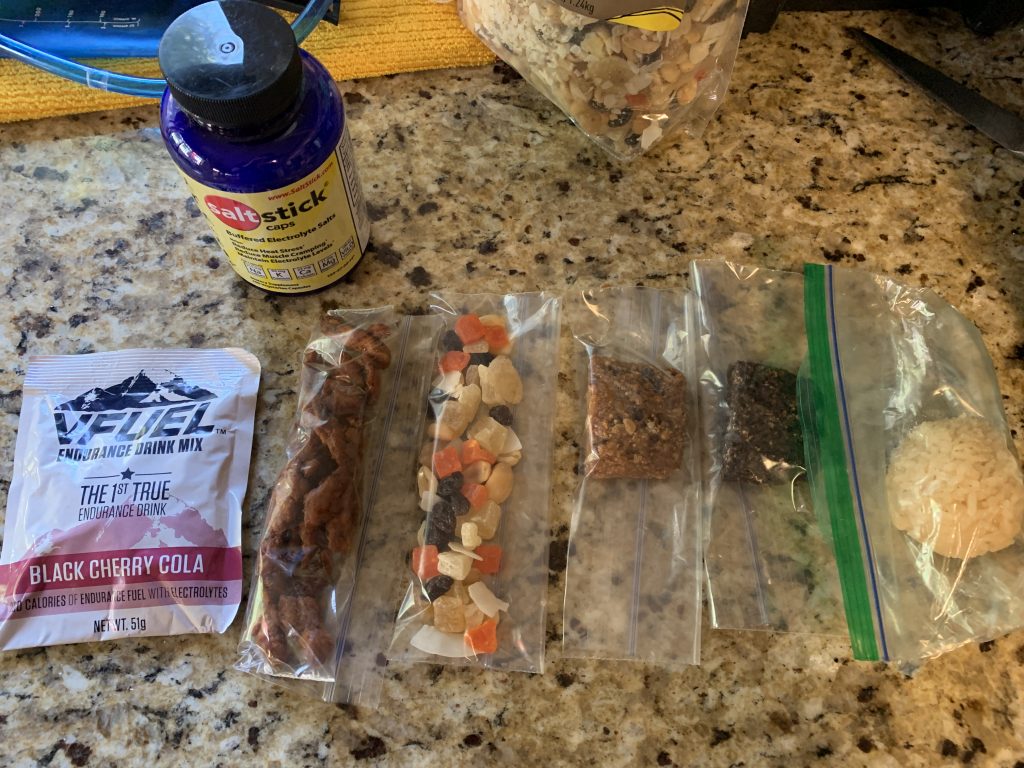 Above is a small array of foods I measured and sorted to test out tomorrow. vFuel again, but Lousisville Vegan Jerky Smokey Carolina BBQ, Happy Belly Tropical Trail Mix, a couple varieties of Clif bars, and a homemade miso rice ball – all roughly carved into half hour servings (a little over 100 calories per bag, with the exception of vFuel at 200c).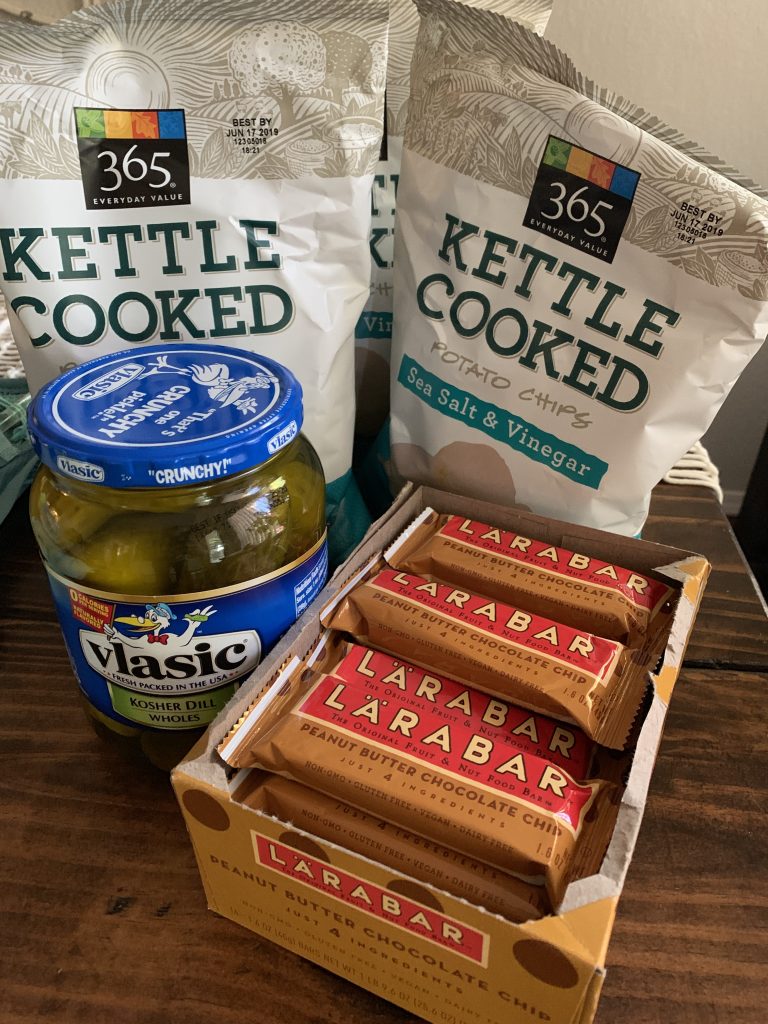 Another part of my stash, though I don't take pickles or potato chips with me because they don't travel too well. I usually get insatiable cravings for salt and vinegar after long runs, which is tied to salt and potassium loss through sweating – which is why I'm going to add SaltStick to my in-run nutrition this week.
Skip back to main navigation