For many years, I've known we were heavily overloaded when trailering our fifth wheel. I chased good money after bad, and spent near five figures strengthening up the suspension, wheels, and tires on my Chevrolet 2500HD to handle the load. And it did great, but in the end was still overweight if you looked at the legal numbers.
While that wasn't a problem occasionally hobbling to various corners of the state we live in, it has kept us from visiting a handful of places. For example, the idea of going down the twisty entrance to Palo Duro Canyon in possibly inclement conditions had me worried about the stability of the rig, and kept us from spending Christmas there last year. It may not have been a real concern, but it's a perceived concern, and enough to sideline us.
Another concern is just the legality of it – we were around 2,000lbs over GVWR on any given trip, possibly a touch more. If we were to ever be involved in an accident where insurance companies order weights, it could result in denial of coverage. Or possibly, depending on the state, legal issues. Ultimately this concern kept us close to home.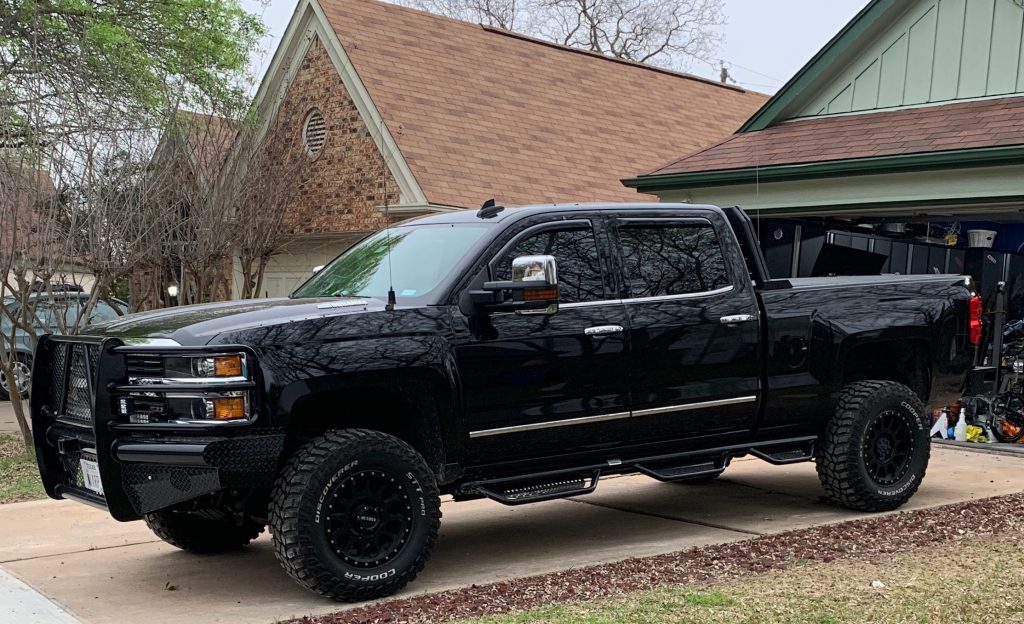 Realizing these concerns, and that we're going to be going through many states and covering a lot of distance, we decided to at least test drive a few DRW trucks. I had some pretty major reservations about this because of all the money and time I had invested into my Chevrolet – that truck was everything I wanted in a truck, for the most part – and what I considered the best compromise of all things – off road capability, towing capability, and comfort.
Moving to a DRW means starting over with a clean slate, and potentially losing a lot of ability to leave the beaten path. It means having to learn how to maneuver an extra couple feet of truck with a sizable increase in width. It means a lot of things I really didn't want to entertain for many years, leading up to the test drive. But the moment I jumped in and drove a black Ram Laramie Longhorn off a dealer lot for a test drive, I realized it was the right thing to do.
After driving that vehicle, we test drove a few others. We didn't go looking for the Longhorn edition, but rather a trim level under it. Unfortunately after driving the Longhorn, the trim we went to look at felt cheap and undesirable by comparison. Then we went and drove a fully loaded, top of the line Chevrolet equivalent and left severely unimpressed. The new Ram they released for 2019 is just head and shoulders above its competition.
The black tester I mentioned didn't have all the features we wanted, so we began working with the dealer to find another that checked off all the boxes. When they found one but we couldn't agree on price, we started shopping around with some other dealers. In the end we drove a little over an hour away to pick up a Pearl White Laramie Longhorn 3500 DRW with the new 1000lb-ft Cummins HO and AISIN transmission options. It had all the other packages we wanted – Towing Technology Group, Safety group, 12″ Infotainment with upgraded sound, fifth wheel prep, all terrain tires – and a few things we weren't shopping for, like a sunroof.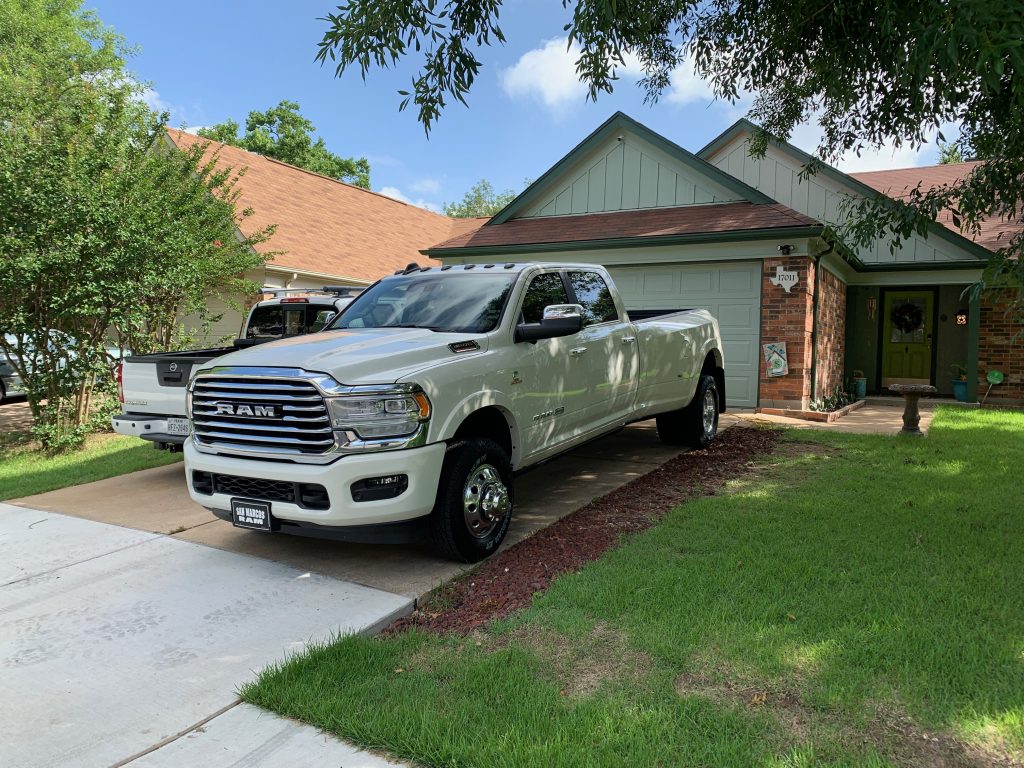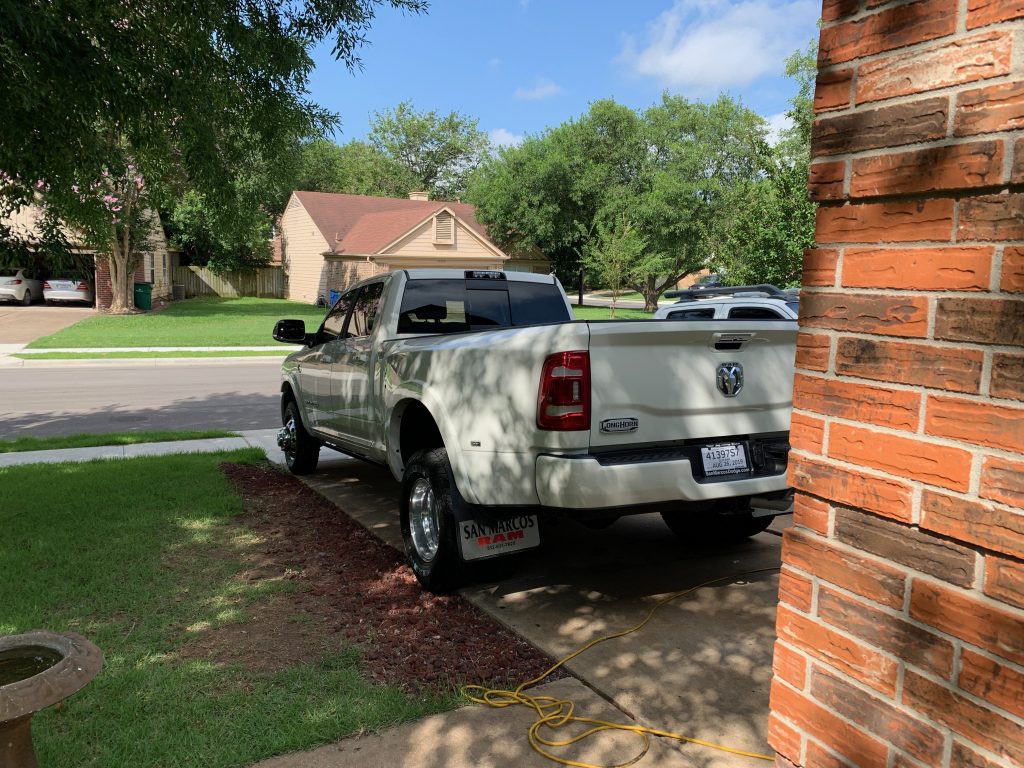 When we drove to the dealer, I was under the impression that the truck was white. I really didn't want a white truck – I associate them with fleet trucks and, while that isn't necessarily a bad thing – for what they are asking ($$$$$) I didn't really want a truck that looked like part of a fleet. We sought out and bought a white truck with body-colored bumpers and door handles for Kelly because we thought it was the most feminine looking color combination on those trucks and avoided the fleet look thanks to the bumpers, and I thought that maybe the body colored bumpers would do the same here. Much to my surprise, the truck isn't actually white, but a light cream color, which looks really nice.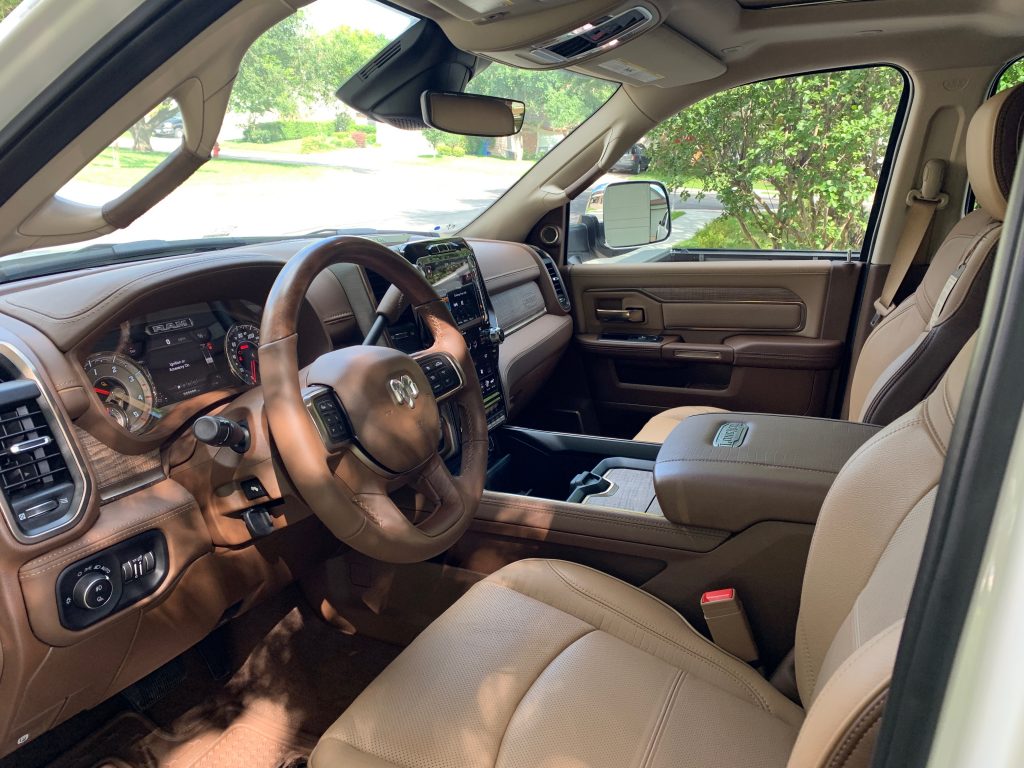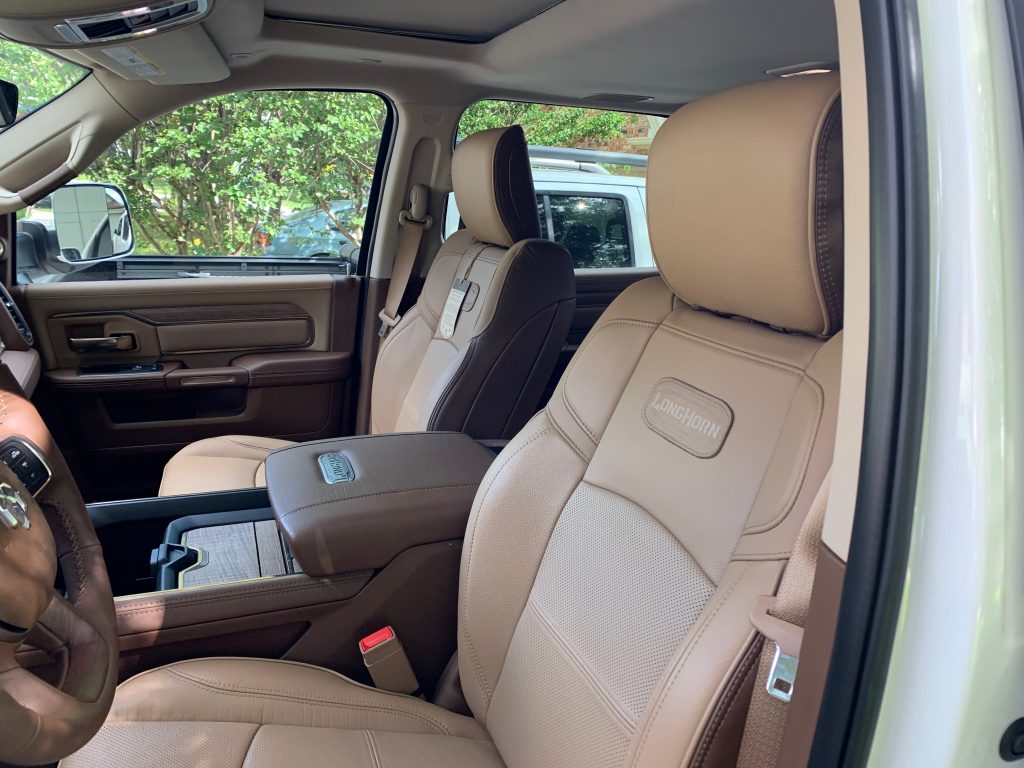 For the best fuel mileage when towing a heavy trailer all over the country, we've decided to leave the front and rear bumpers of the truck, and the suspension and tires alone for the time being. I expect that in the future I'll go back to body-color-matched Ranch Hand bumpers and the 255/80/17 tires, which are the largest that will fit without requiring a lift. That will not happen until the factory tires wear out – one of the reasons I chose this truck is because it came with the optional, hard to find, all-terrain tires instead of the common highway tires they order on all of these.
A must have is another auxiliary fuel tank/ toolbox combo. I had a RDS 51 gallon tank in chrome on my old truck, and ordered the 60 gallon version in black for this one. I decided to change the way I hook it into the truck, and will be using one of the upfitter switches in the dash to power an electric pump. No more getting out of the truck to manually mess with a ball valve. That should be shipping this week.
I've had roll-up tonneau covers on my last few trucks, but that interfered with the toolbox lid on my old truck. Instead of dealing with that interference again, I shopped around and ended up ordering the Fold-A-Cover G4 Elite. It's a hard cover consisting of four panels that can be opened from either end of the truck bed, and folds up flat enough over the toolbox to tow a fifth wheel with. It'll be really nice to have a locking bed for storing valuable equipment.
I really hate dealer advertising on vehicles, so I removed the rear mud flaps from the truck that had dealer logos on them. I was going to remove the logos but couldn't get them off with acetone, paint thinner, heat gun, or a razor, and marred up the finish a bit too much when attempting 220-grid sandpaper. They felt cheap anyway, so I decided to order the RAM logo ones from the Mopar accessory store. They should be a nice upgrade.
I'm really looking forward to seeing how this truck handles the RV but have to wait for an adapter plate to come in so I can put my hitch in it. After doing a lot of research, I decided to keep the Sidewinder pinbox active for the turning radius improvements even though it is no longer necessary to make 90° turns.
This new truck is really exciting to us and we're happy we did it. Even if it wasn't absolutely necessary, it gives us peace of mind – I no longer have to worry about weights or the legal gray area I was messing with. And having a DRW/long bed opens up all sorts of possibilities for us in the future that weren't on the table with the SRW we traded.
Skip back to main navigation