We've spent the last week at Bastrop State Park. It's a fairly large park about an hour from home, with full hookup spots, which led us to come here.
The park was ravaged by wildfire back in 2011, which reached 96% of the grounds. Most of the park buildings were able to be saved, but the devastation is still obvious, and will be for many years to come. As far as you can see, there are tree skeletons sticking up out of the landscape.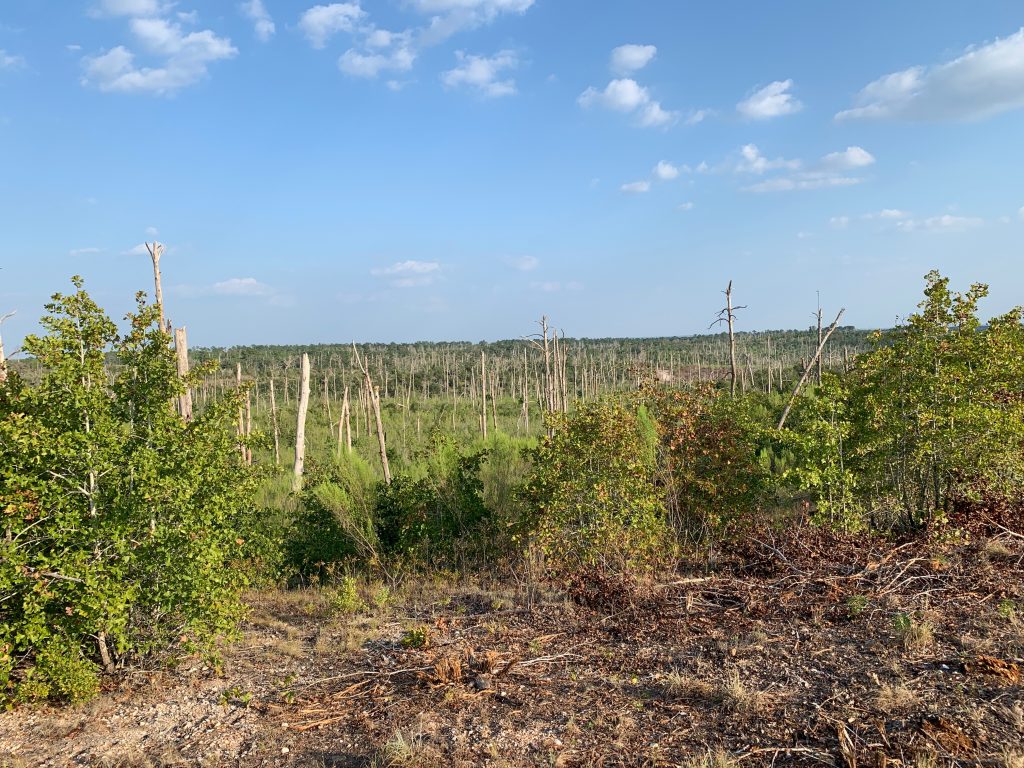 But as you can see, life has been bouncing back and now there is a good amount of greenery out there. On our runs, we ran across several small reptiles and rodents, as well as a few large deer. There are tons of birds fluttering around out here.
In addition to the fire damage, the lake here was lost in 2015 due to a dam break.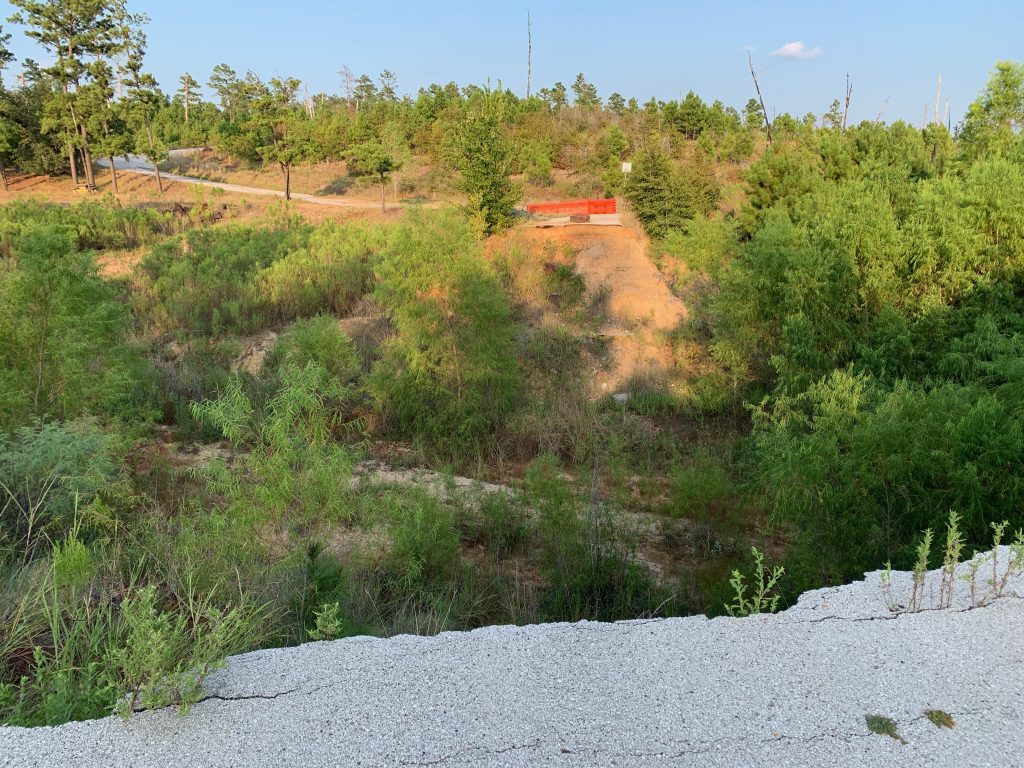 The park has several miles of trails, which are fairly well marked via a color system and sign posts. The longest single trail, The Lost Pines Loop, is denoted in purple and spans 4.3 miles. Paired with a couple other trails you can make a nice 10K loop, which we ran once. There are markers along the trails at all intersections that have color coded arrows to help you stay on track.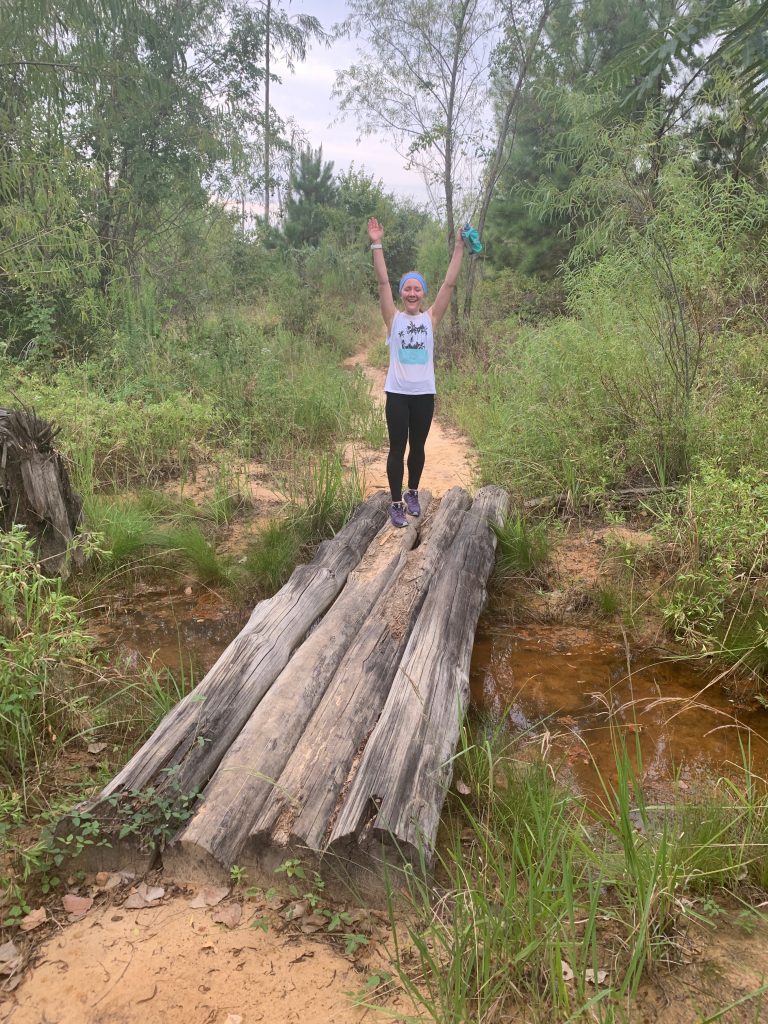 Unlike most of the other trails in the area, which are heavily rooted, these seem to be a heavy mix of loose sand and loose rock with fewer tripping hazards. There are quite a few small hills, and many of them have been retrofitted with lumber and rock to provide stairs to ease access up and down. For running, that translates to a lot of time jumping around out there.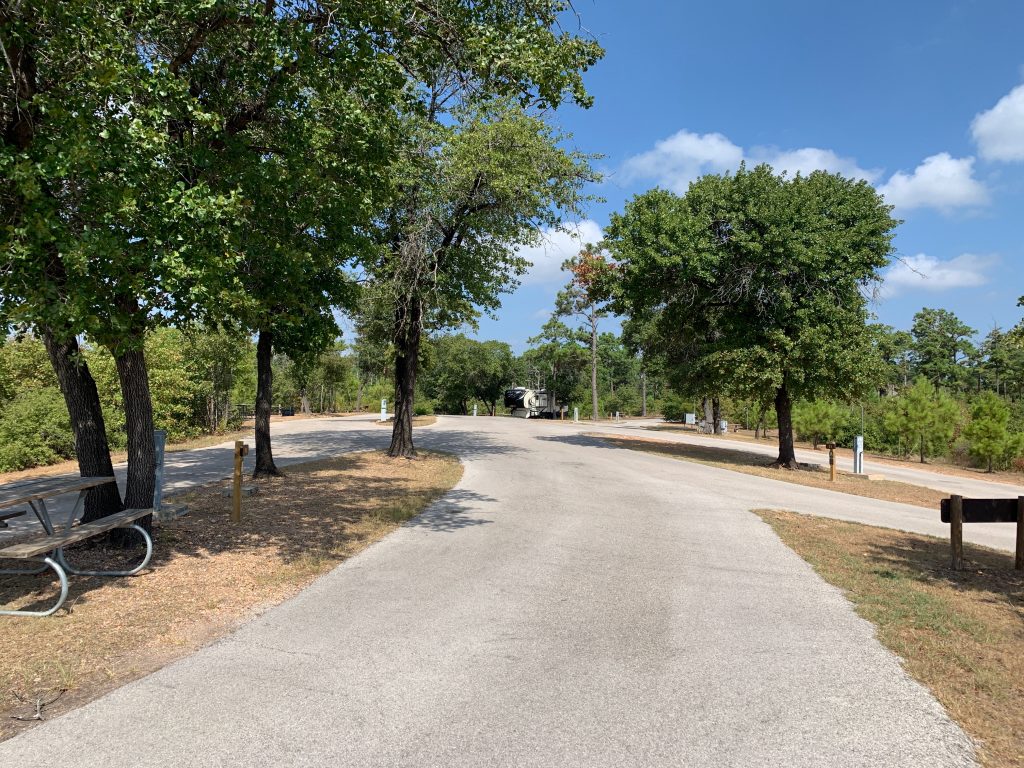 The campgrounds themselves seem to have been designed for smaller rigs, but they aren't so prohibitively tight that you can't get a large rig like ours in, especially with the sparse tree coverage after the wildfires. We had a pull through site, that did not take much work to get lined up where we wanted it. It has full hookups, clean water, and reliable electricity. The septic required a collar for our fitting to seal well, which was a first, so be sure to carry one if you come here.
Being that we are out here during the week, the grounds have been relatively empty. There were four other rigs in the loop when we got here, but now only one is left, around the bend and out of sight. We looked into reserving the weekend, but they're all booked up.
Ultimately, the grounds here are nice and the spaces are decent, but it's one of our least favorite state parks and we're not sure we'll be out here again. The park is too close to the highway, and with all the damage just doesn't have the appeal it would have had a few years ago. I hope that the grounds bounce back and that they have continued traffic to justify the existence and rebuilding of the park, but there are more enticing places for us to visit in the same area.
Skip back to main navigation