The last couple of weeks have been crazy. We scheduled all of our stops through January 2nd, started working on the house, and preparing to list it for sell. We moved out yesterday, and put all our belongings in storage today. Over the last week, we spent a ton of time packing and shuffling things into the garage, coordinating with contractors to replace windows, trim trees, etc, and going through the house making some repairs ourselves. My parents made the drive in to help us over the weekend, and we appreciated the extra hands and the visit.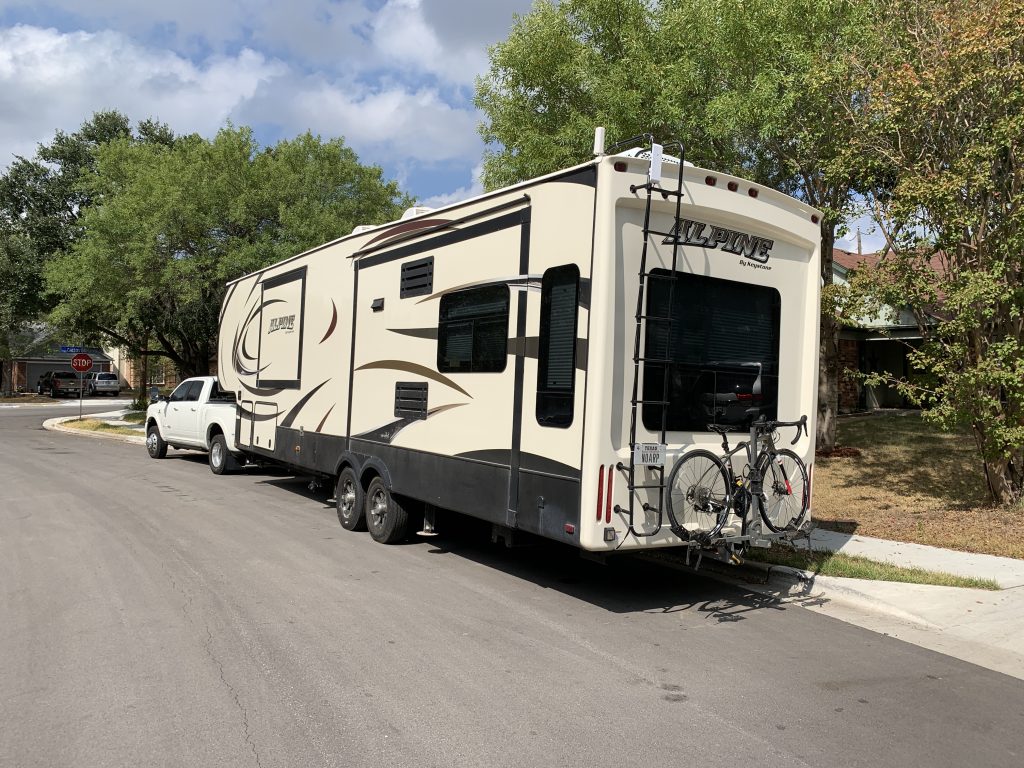 We're currently staying at a private park in Cedar Park, Texas. It is one of those parks where they pack people in tightly, and the park itself doesn't have either great amenities nor wonderful scenery and trails to make up for the lack of it. The drives are made of large rock which look nice, but are tearing up our dog's paws and making them hesitant to walk on it. I don't think we'll ever stay here again, and I'm writing it off as a lesson learned. I never would have thought about the campground surface, until seeing how the dogs react first hand.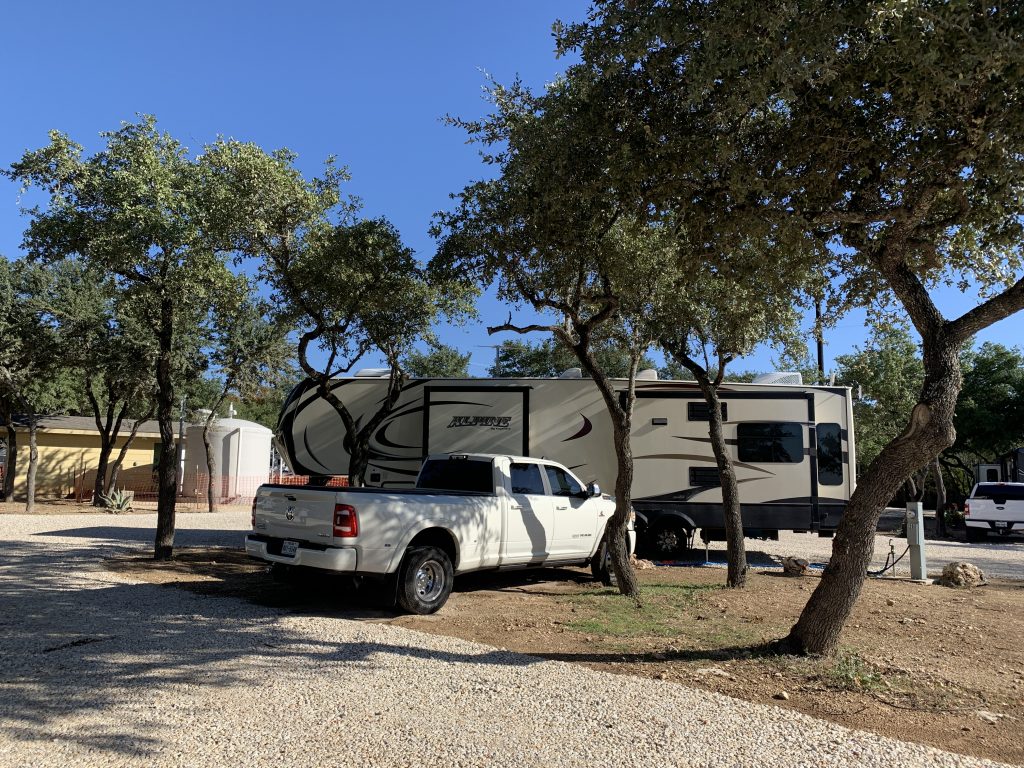 What the park does have is a great location – it's just a couple miles to tons of shops, restaurants, and the awesome little community of Cedar Park, a town we've always liked. It's fairly close to the house, so we can come and go easily, and Kelly can visit with her friends over the next couple weeks.
As mentioned, we moved everything into storage today. We were able to fit everything into the 13×35′ bay and keep enough room to park Kelly's truck when we're ready. The movers ended up charging $570 and I threw in an extra $50 as a tip for a total of $620. That seems more than fair for all the heavy stuff we had them move, which took two trailer loads. The movers budget item was $600-$1000, so this hit on the low side of my estimate, even with tip.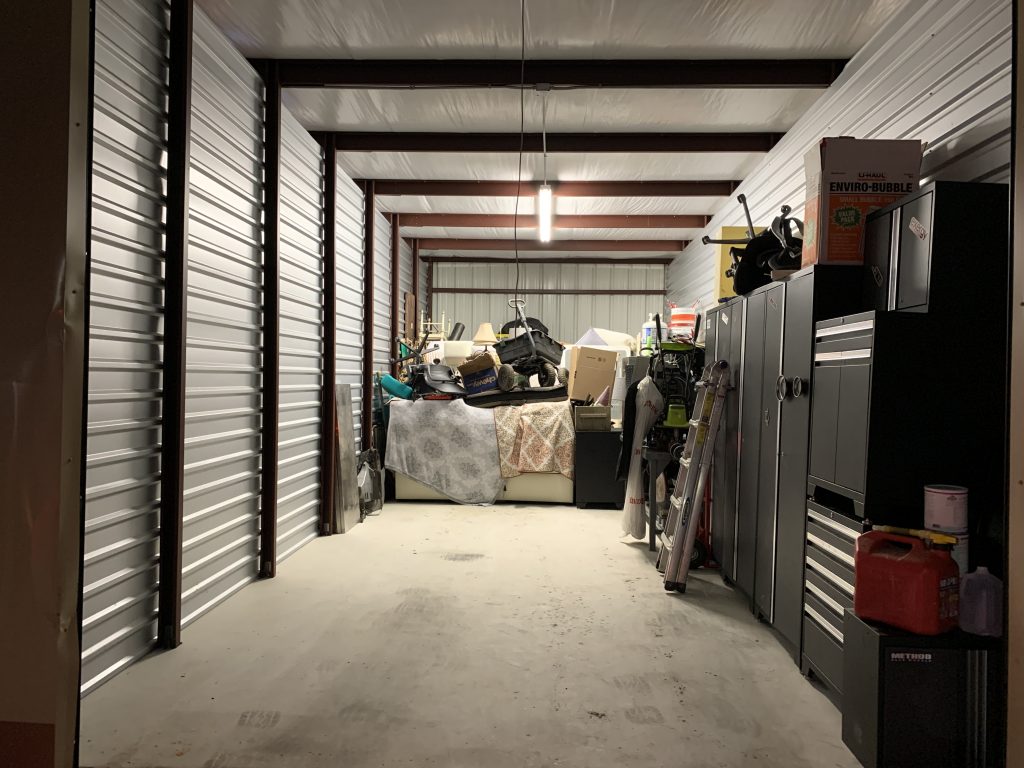 We've made several last minute purchases, some of which I'll save for later posts. One of the biggest outstanding issues we're still working through is dog safety. In addition to stickers for the RV to alert emergency services of our pets, and that contain our numbers so we can be reached for pet-related emergencies, we decided to grab a cheap WiFi cloud camera off Amazon. It has pan/tilt/zoom, two-way audio, and can be viewed anywhere via phone. I'm pretty impressed by it — it allows us to check in on the RV and the dogs, hear them, see them, and talk to them — when we're away.
In addition to the camera, we ordered Fi collars for Maggie and Violet. We were only alerted to them last week by a Border Collie rescue we follow on Facebook, and like the idea of them so much better the Pod 3 trackers we've been using which we're seemingly always struggling to keep charged.
And finally, we don't want the RV to go missing with all our stuff, or more importantly the dogs with it. We have seen a couple reports online of RVs being stolen with dogs in them, and that's something we'd certainly like to do our due diligence to avoid. The Reese Goosebox we use allows for a small padlock to be used to lock the latching mechanism, but it can easily be defeated with a set of bolt cutters. We decided that, with all we have inside the RV, to invest in one of the Fort Knox Goosebox Locks and their Abloy Sentry lock in steel puck body. This is by far the most serious trailer lock I've ever seen, and the easiest way to defeat it would be to just bring your own pinbox and replace the entire pinbox rather than messing with it. If someone is going through all that trouble, then they must really be targeting this specific unit. Most will just move on, so this should be a substantial deterrent.
Skip back to main navigation