We purchased our first RV a little over five years ago, back in October 2014. We walked into a Ford dealer, traded my beloved, fully-loaded 2010 BMW 335D for a simple 2014 CCSB F-150 XLT 3.5EB 2WD with no real options to speak of, and a couple months later negotiated a deal on a 2014 Keystone Hideout 260LHS.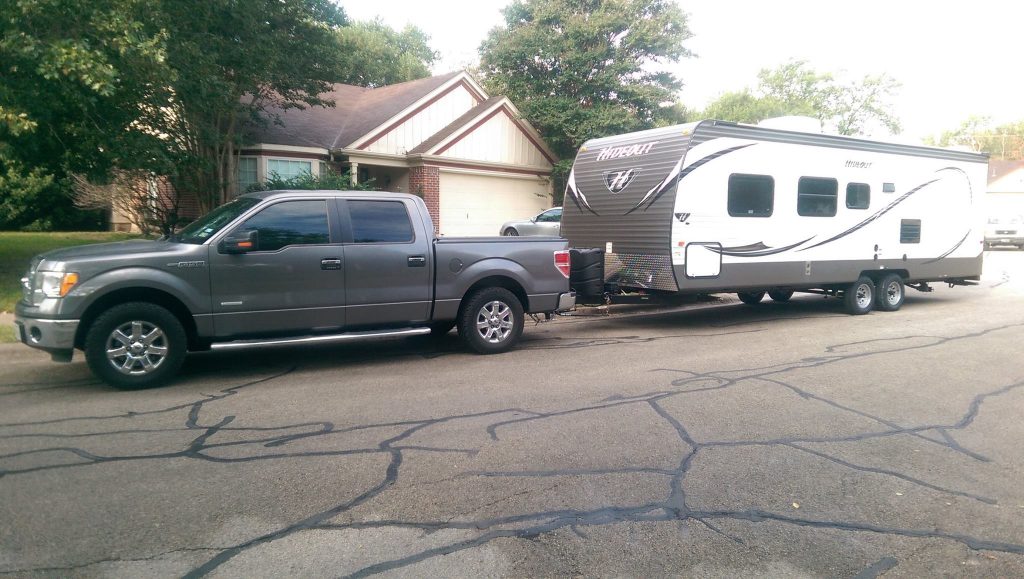 The whole outfit was relatively cheap as far as brand new rigs go, but was new, was ours, and met our basic needs at the time. It got us outside of the house and enjoying places we wouldn't have visited otherwise, and we put quite a few miles on it in the short year or so we owned it. In that time, we had a few white-knuckle drives, experimented with suspension mods and hitches, and eventually settled on LRE tires and a Propride 3P hitch as being the best combination. We learned a lot, especially about what we might want in an upgrade. That must-have list looked like:
Fifth wheel for better handling without a special hitch
Larger shower
Bigger fridge
No bunks (wasted space for us)
Ladder for roof access
Fiberglass walls
I happened to land a new job in 2015 with a notable raise, and in October, walked into a Chevrolet dealership to trade the F-150 for a well optioned 2015 Chevrolet 2500HD Duramax/Allison LTZ Z71 4×4 and a few days later traded the Keystone Hideout for a 2015 Crossroads Hill Country 33RL fifth wheel.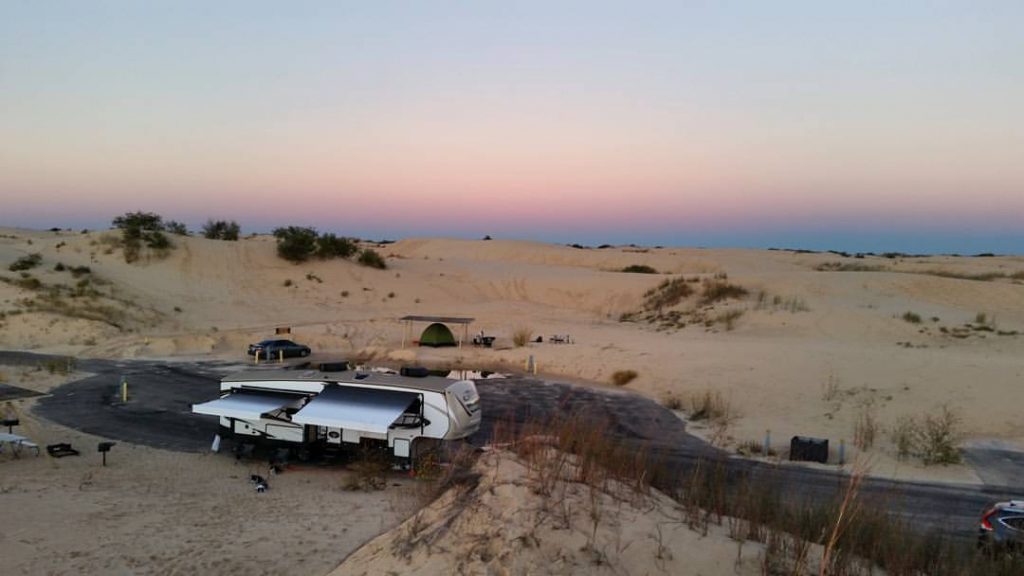 We loved the truck, but the trailer was riddled with issues and spent more time in the shop than in use. We had issues with the roof, the axles, the slides, and some electrical. All of which was covered under warranty, but we decided to trade it rather than keep fighting the issues. This time, we again learned what we might want in an upgrade and made a new list:
1-1/2 bath floorplan with larger master bath
Load Range G or H tires
50A service
Dual AC units
Built-in generator
Washer/Dryer
Hydraulic leveling
We ended up trading the Crossroads for a 2015 Keystone Alpine 3730FB in May 2016, after seven months of ownership.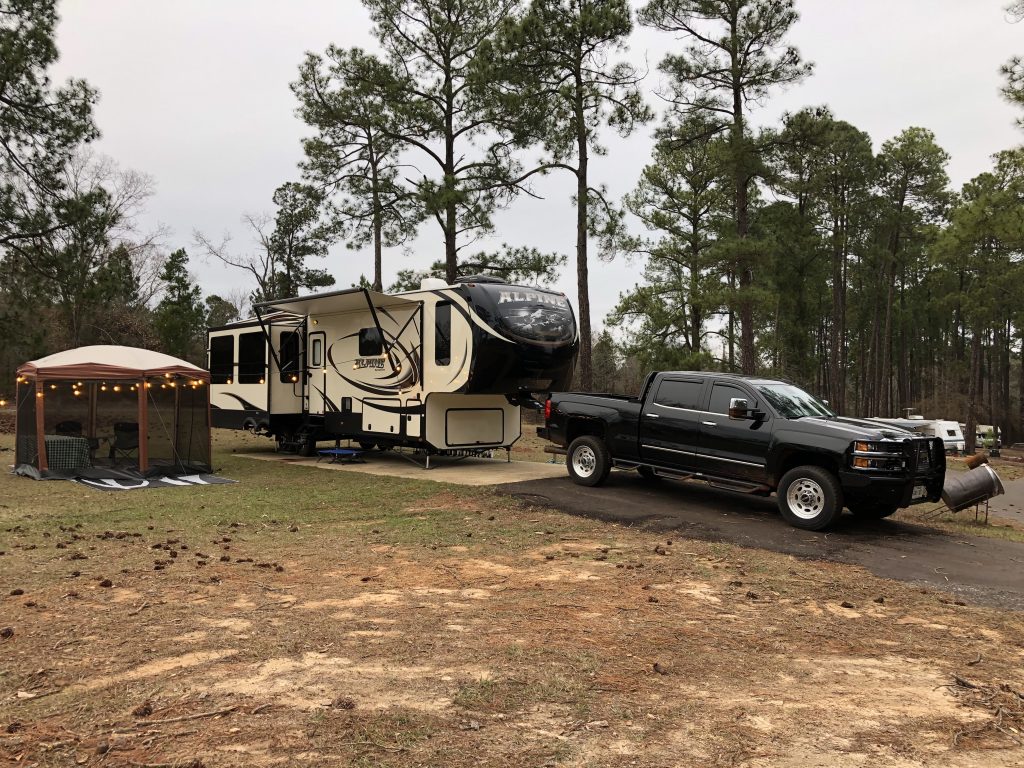 On our first outing with the Alpine, we caught the roof under a low hanging tree branch and tore a 14′ gash, during a thunderstorm, and had to involve insurance for immediate repairs. They sent out a crew the morning after it happened to set up fans and pull interior wall panels to dry everything out, then we dropped it off at a repair center of our choice to have the water damage mitigated/ repaired and roof replaced. After an extremely stressful month, we came out with a new FlexArmor roof, which is far superior to the roofs any RVs come with from the factory. The replacement roof was our choice, but the insurance company covered most of the cost.
We had bought the trailer with generator and washer/dryer prep, but it didn't have either installed. We ordered and installed an Onan 5500 generator and a Midea combination laundry unit, both of which are situated at the very front of the trailer. After installing those, it became very obvious that we were playing with the limits of the truck we were driving (especially with the toolbox, aux tank with 51 gallons of fuel, and heavy fifth wheel hitch). Instead of doing the smart thing and upgrading trucks, we spiraled down a rabbit hole of upgrades to make the truck handle the load better, even though it wasn't the right tool for the job. For the most part, we were successful, but it was the wrong strategy. The best configuration we ever found can be, I believe, attributed to the following three mods:
Kelderman 4 Link Rear Air Suspension with Auto Leveling
Vision 81 wheels with Michelin XDS2 245/70r19.5 tires
Titan Disc Brake upgrade on the fifth wheel
Eventually, when we decided we were going to actually go full-time, we shopped around for trucks and landed on a fully loaded 2019 Ram 3500 Longhorn HO/AISIN CCLB DRW. The right tool for the job makes all the difference in the world, and the new Ram has an interior that puts the aforementioned BMW to shame. We love to travel in it.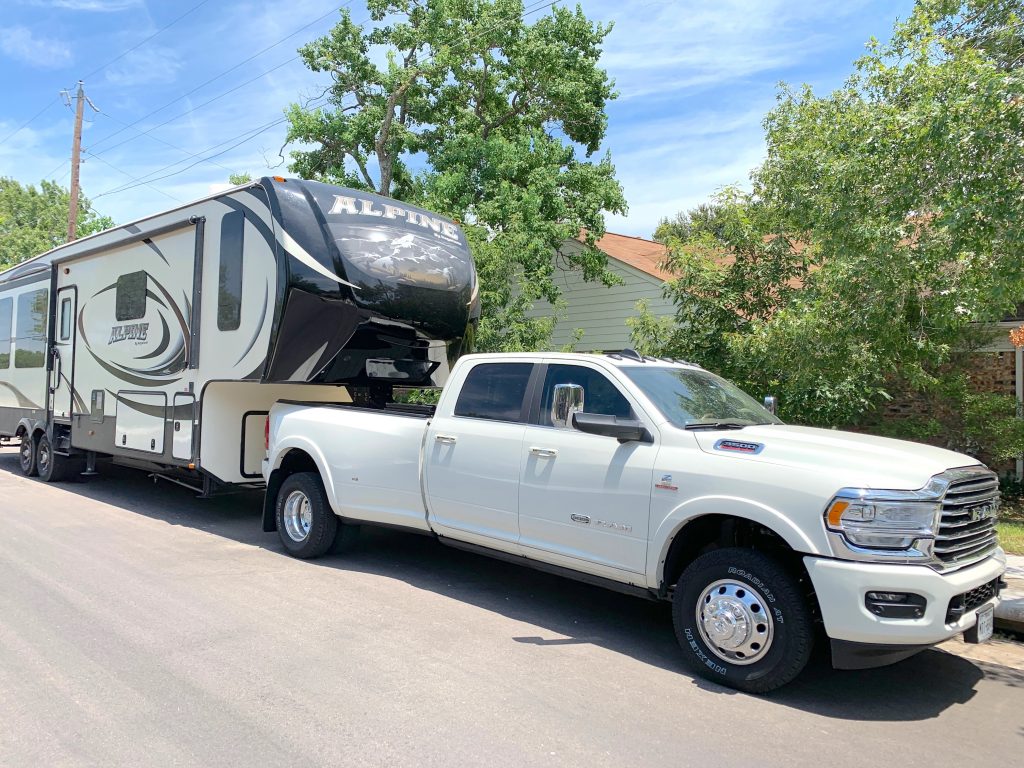 The list of requirements we used for our Alpine purchase, most of which is above, was made with the idea of eventually going full-time. After having it for a while, we would have added a few things to the list:
Disc brakes
Sprayed-on or Fiberglass roof
Better storage throughout the unit
Residential fridge
Dual pane windows
Full body paint
Third A/C unit
It's not really in the cards right now to upgrade units. The ones we're interested in are getting up well north of $100K, and we're just not going to pay that much. Instead, we've been retrofitting the Alpine to have as many of those features as we can. We pulled out the recliners and installed a massive storage bench (and got creative with bins/baskets), pulled out the RV fridge and installed a residential fridge with an inverter and in-door water/ice, and added light-blocking cellular window treatments that should work similarly well to dual pane windows. The full body paint, and third AC, can come later at a cost far less than upgrading to the units we would consider. We got the FlexArmor roof through insurance and installed the disc brakes at some point a while back, while chasing down shortcomings with the Chevrolet. Overall, we are really close to having exactly what we want — too close to look elsewhere — and it only took several years, countless hours, and a ton of money to reach this state. We hope to have this rig for several more years.
These last five years of RV ownership have been a huge learning experience about what we want in a rig, and the best advice I have to offer to anyone looking at getting into RVing is "buy once, cry once." Talk to experienced RVers and figure out exactly what you want, ahead of time, because it'll be a lot less headache and money in the long run.
One of my next few posts will be about why we choose to have a fifth wheel, rather than one of the other types of RVs.
Skip back to main navigation