We've never been too aware of RV clubs, but looked into them now that we're on the road full-time. We recently joined Good Sam Club, as a requirement in the process of changing our RV insurance over from Nationwide to Good Sam, and signing up for their roadside assistance program. The Good Sam Club membership is cheap, at $29/year, and as I understand it, the primary benefits from it are discounts at Camping World (which we've never purchased anything from) and 10% off camping fees at a claimed 2100+ resorts in North America.
We purchased a membership with Good Sam back in 2015, which we bought on-site at a resort because it saved enough over our stay to pay for itself, but we did not bother renewing it as we haven't run across a similar situation (where it would pay for itself) since.
---
When booking the site we are staying at for December, they asked if we are either Good Sam or Passport America members. They offered some discount for Good Sam Club, but a much more significant 50% off for Passport America. That discount doesn't apply to the monthly rate, but we're staying a month and a week there, and does apply to the daily and weekly rates, paying for itself in just a few of those days.
---
Escapees is another popular RV club, one that seems to brand themselves as a community for RVers rather than a discount club. The biggest thing I'm aware of them being known for is their mailing/ domicile service for full timers, which requires a membership. We're using a different mail service, so Escapees wasn't really on our radar. Looking at their site, the $39.95/year membership buys you community access — forums, magazines, educational courses, in-person meetups –, discounts of varying amounts at ~800 RV parks, and discounts at partner companies. It seems that they also lobby on behalf of full-time RVers for things like the right to vote (remotely?), avoid unfair RV-specific taxes, have protected overnight parking rights, etc. Interesting to think about, and something that makes a lot of sense but never really crossed my mind. We found that they have a sub-community called Xscapers, which is tailored specifically to working-age full-timers, and within that, a large selection of special interest groups. The community aspect sounded nice, so we opted to see what it was all about for the roughly $40. So far we've lurked around the community boards and they seem pretty active, with lots of people our age, including a handful of people who got together to run the Ragnar Trail Relay series. That's exactly the kind of thing we were hoping to find out there.
---
Finally, the biggest reason for this post is Thousand Trails. We haven't joined them and are leaning heavily towards not doing so. They're a big club, with a ton of different plans, but all the ones we would be interested in cost several thousands of dollars. Essentially, they're the time share club of RV sites. They currently advertise 81 in-network campgrounds, or 191 with their Trails Collection add-on. Their cheapest plan is around $500 a year, which includes camping at all sites in one of five "zones" that they divide the continental US into. They have several rules, that make that plan not work for our needs – they limit you to 14 nights at a campground, then require you to stay out-of-network for seven nights. If you stay less than four nights, you can go from one in-network campground right to another. You can subscribe to additional zones, up to all five, I believe. They have other, more interesting plans, that had us slightly more interested.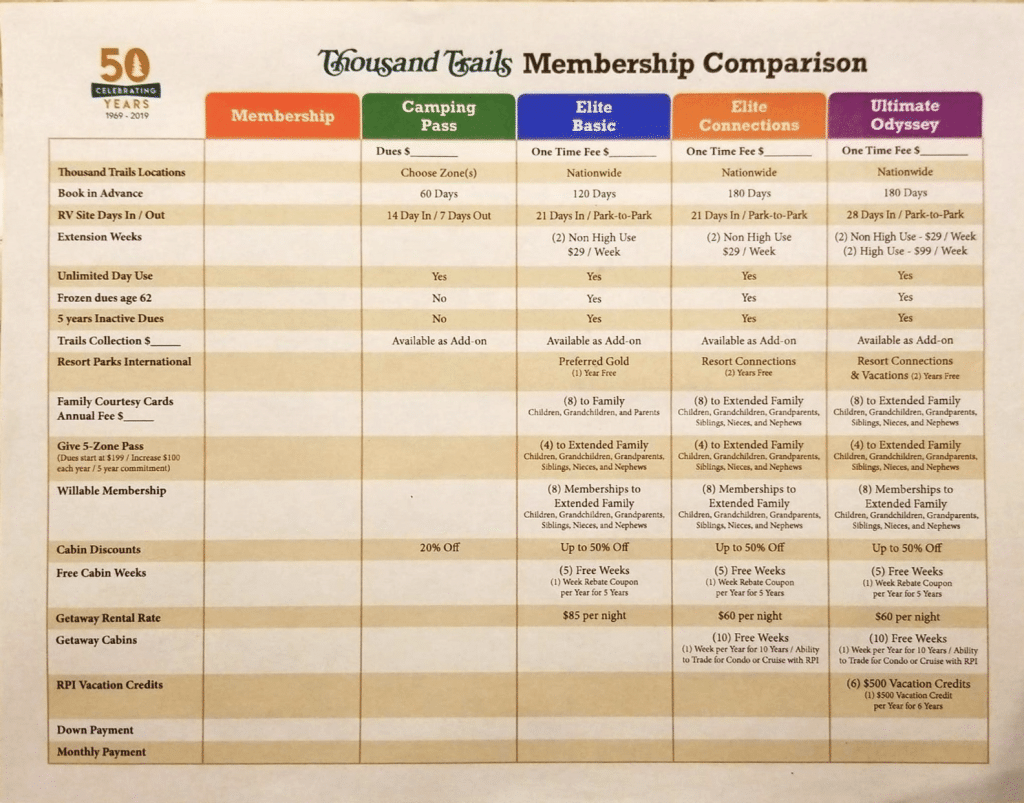 The larger plans essentially remove those limits and allow you to stay for longer amounts of time, and move directly from site to site without any out-of-network stays. They vary by the exact limits, and various other perks, like cabins, family extensions, and vacation credits. The up front cost is several thousand dollars, and you have to pay an annual dues that runs around $500, but running the math, the break even time on these is measured in single-digit months if you manage to stay exclusively in their parks. For full-timers, their memberships seem like a great deal. We may eventually buy in. They also have a used market, where you can buy older, grandfathered plans, or sell your plan if you are no longer using it.
We've read and watched tons of reviews, and asked around, and received as many opinions as sources we've looked to. Generally people say the sites are all great, and they never have any issues, or they say the complete opposite; that they can never get reservations where they want and that the sites are run-down. I'm sure reality is somewhere in the middle.
These memberships seem great if you are happy staying at their sites, and want to reduce your budget to next to nothing for campgrounds. I've read several full-timer cost analysis' stating that their nightly prices drop to a few bucks a night or less, averaged out over a year. The flipside to these cost savings is that you lose some of the flexibility that brings us to RVing to begin with.
We want to have the freedom to choose our sites, choose our surroundings, and not have to make a ton of concessions in the interest of sticking to "in-network" sites that may or may not be what and where we want. As we're able to comfortably afford sites at weekly/monthly rates, I think we're going to sit out the membership for now and enjoy the flexibility to stay wherever we want.
Skip back to main navigation