I began working on a project the other day that had me digging around in the underbody storage, and found a soft spot on the floor near the DS door. I looked at the underside and found that the polyethylene had pulled back, allowing water to enter and pool between the protective material and the OSB, most likely when towing on wet roads.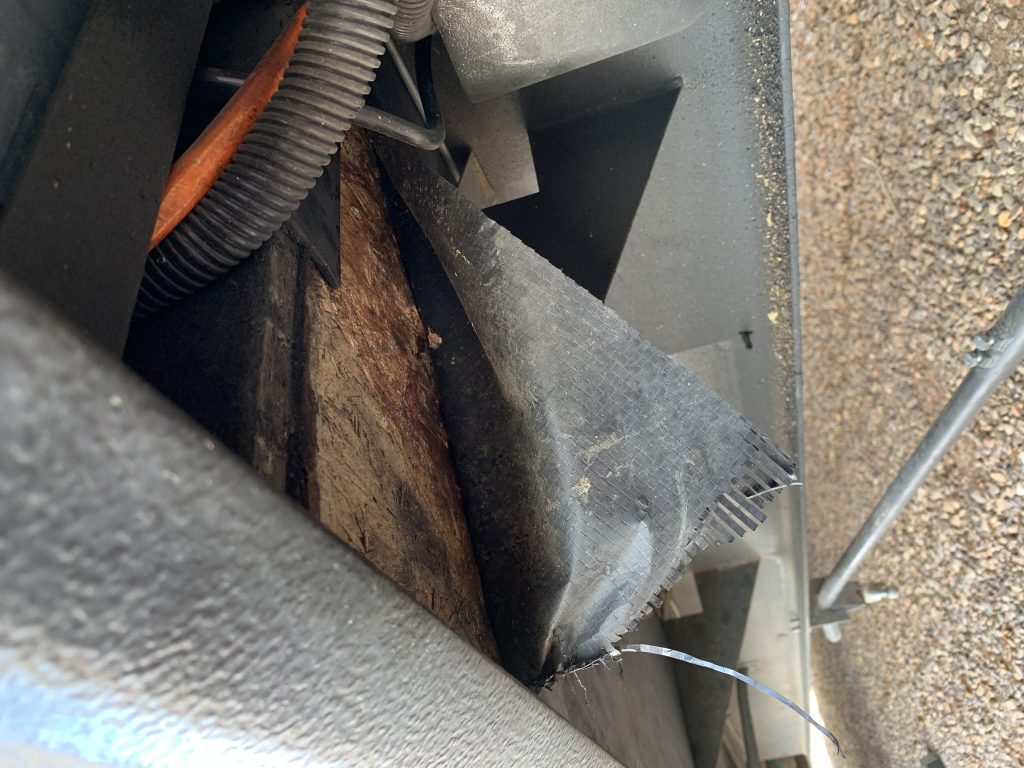 After a little prodding, I cut out the rubber matting with a carpet knife and proceeded to pull the OSB out in pieces. I didn't have a jig saw, so I used the carpet knife to score the outline of the part I wanted to cut out, and ended up with a fairly clean cut before heading to the hardware store with some dimensions.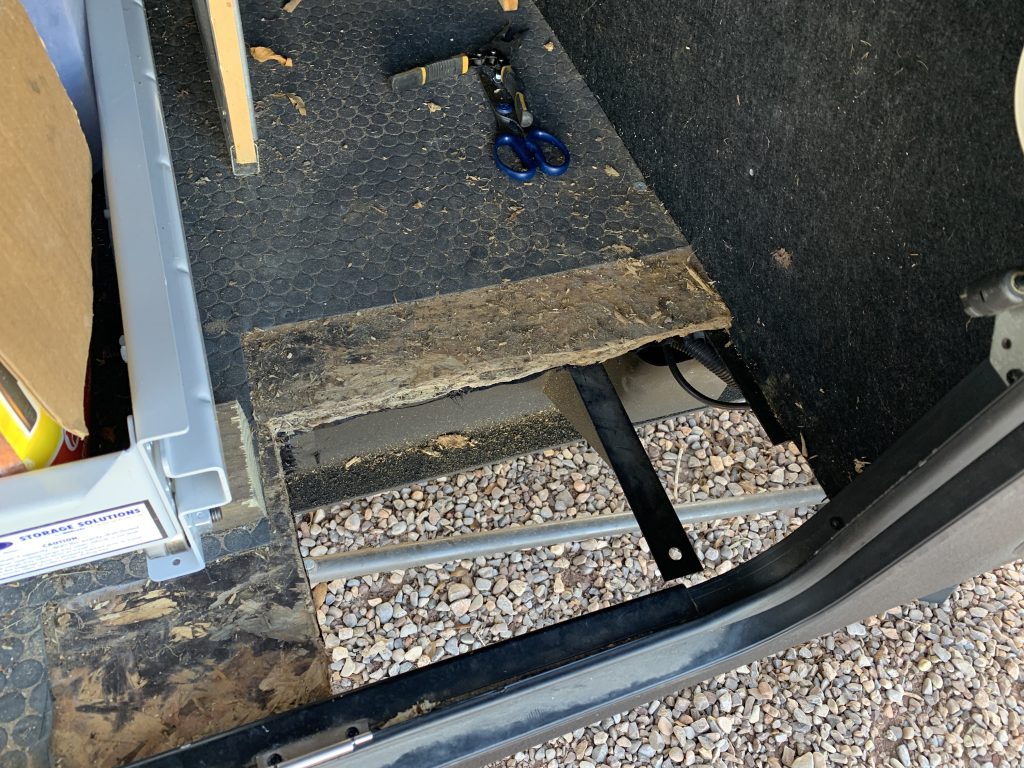 At the local big box store, I asked them to cut down a sheet of 3/4″ marine ply to replace the piece I cut out, as well as a larger overlapping section to act as reinforcement for my project. I bought a small tarp, some 3M 77 spray adhesive, and found my TiteBond II and EternaBond. I cut out a piece of the tarp, wrapped it around the smaller sheet of ply with a heavy coating of 3M 77, set it into place, screwed the outer edge into the bottom of the wall, and sealed up the bottom side with EternaBond.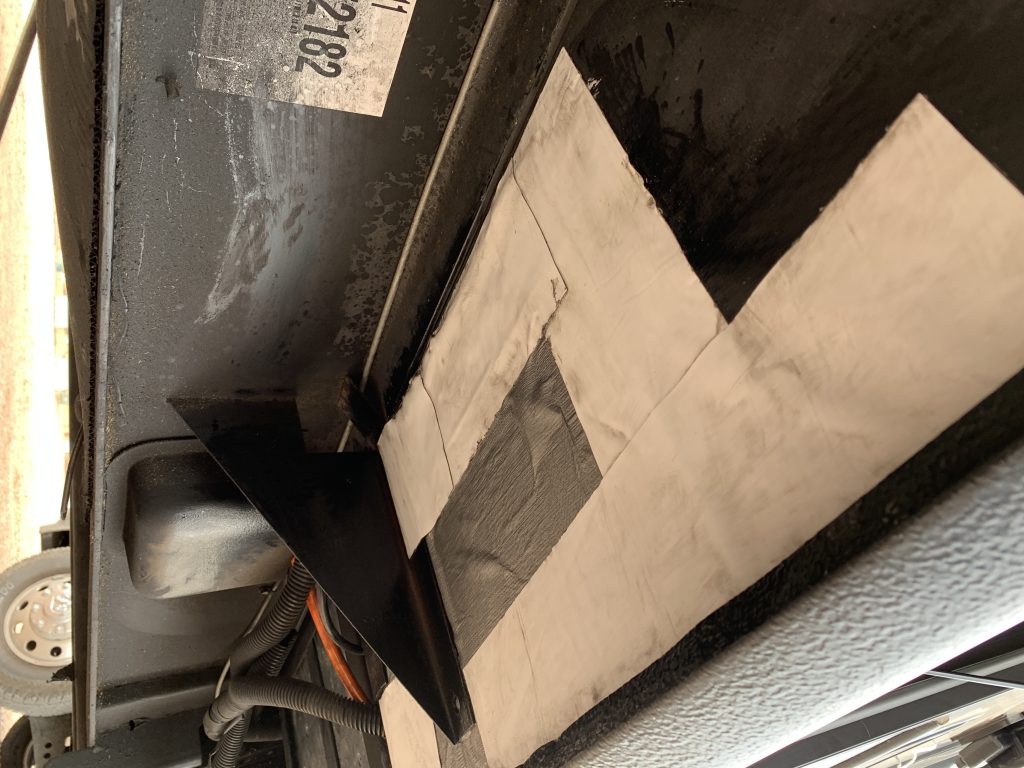 The fit into the existing floor was pretty close, so I used TiteBond II at that point to fill in the gaps between the two. So at this point in the project, the replacement piece of ply was glued in and sealed up with a combination of heavy polyethylene tarp and EternaBond. If I had kept the rubber matting I had cut out, I could have glued it back down at this point and you would hardly know anything ever happened when looking from above.
However, because I intend for this to support 130lbs of batteries in the near future, I used a couple dozen 1-1/4″ screws to install an overlapping board as reinforcement. The screws are distributed among the existing floor and the replacement piece that I just installed. Since I didn't have anything more aesthetically pleasing on hand, I covered it in gorilla tape. I'll be mounting a sealed battery box directly on top of this spot next week.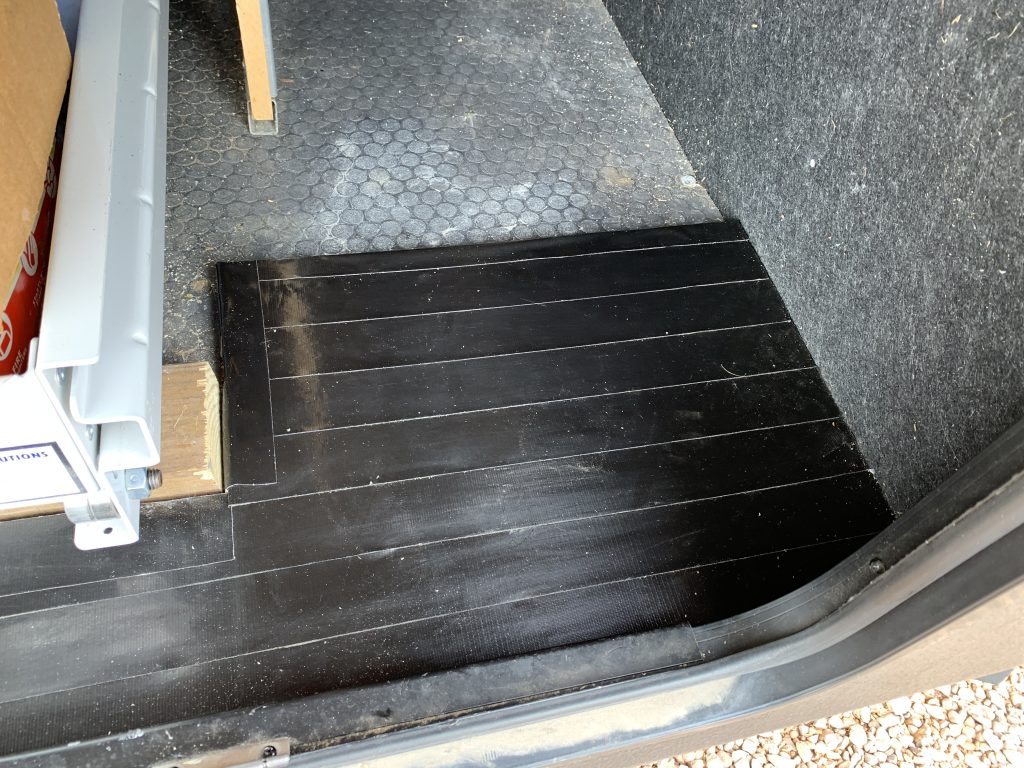 This could have been a lot worse and more expensive to fix – altogether, it cost around $80 and a couple hours to repair everything. I'm lucky to have caught it when I did and that it happened in an easy to get to, aesthetically unimportant location.
Skip back to main navigation