We're staying near Tularosa, which is on the west side of the mountains that house the tourist towns of Ruidoso and Cloudcroft. That keeps us out of the ice and snow, and the hard freeze temperatures, but makes for a short drive up the mountains to snow and tons of trails.
While we're really excited about spending the next month running the trails near Cloudcroft, most of them are above 8000ft. By comparison, we're staying at a paltry elevation of around 4500ft, which is still close to 4000ft higher than we're used to. We're running around here to give us some time to adjust to the elevation changes, before running further up.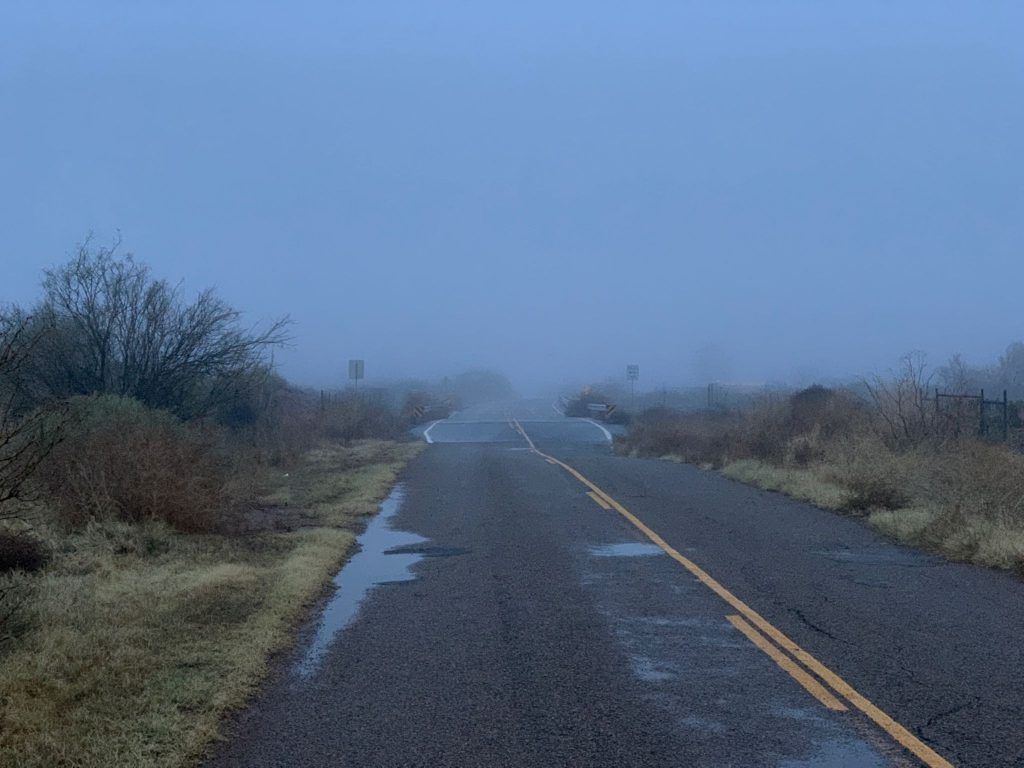 Today I headed out an hour or so after a large lunch for a 13.2 mile run on the sparsely trafficked roads around the park. It's the longest run I've done since before summer, but I'm in the process of ramping up mileage again now that we're in cool weather. I ran 2.6 miles out, 2.6 miles back, and repeated that for 10.4 miles, then ran a little on a different road to make for 13.2. There are some trails behind the site that I've been frequenting, but the rain has them a soft, muddy mess I wanted to avoid.
The weather was low 40s and rainy, so I threw a Patagonia Torrentshell rain shell over my normal cold weather running gear to stay dry. The Arc'teryx shells I usually use in the rain work well in light rain, but suffer in extended heavy rains, and I refuse to spend $300+ on GoreTex models. I found the Patagonia shell has the same issues but using the two together at least delayed the water intrusion a bit and I was borderline too warm through the majority of the run. I ran back to the RV to grab a head lamp after the fog thickened, not for my visibility but to make myself more visible to others. The Arc'teryx gear has a lot of reflective marking on it, but the Patagonia does not — something that may have me looking for a GoreTex model on sale for Black Friday.
The Nao+ head lamp has bright red flashing lights on the back as well as two lights on the front, so it was the model of choice. I also wore a pair of Gore-Tex shoes I usually avoid, but appreciated that my feet stayed dry today. A couple days ago I discovered that my Injinji Ultra Run NoShow socks are notably warmer than the Darn Tough Vertex Ultralights I usually wear, so I'm going to switch to them for winter. I've run in both for months but somehow it took coming here to notice. Both feel hot in Texas.
For any given effort level, it seems I'm running at least 30s slower per mile this week, but this run dropped that to about 15s. 30s is supposed to be a fairly typical penalty for moving up a few thousand feet, but it seems to slowly be dropping as I acclimate. In a few days I'll head up to 8000ft and see how I manage at that.
Skip back to main navigation