When we left Austin for the last time, I suspected that we might miss having a second vehicle sooner rather than later and planned accordingly, making sure that Kelly's 2016 Nissan Frontier PRO-4X wasn't boxed in or still filled with the contents of the house that we carried over in it. We briefly discussed shipping it around with us, but left it in storage to figure out the details later.
When we made it to Big Bend, we found ourselves traveling a lot of unmaintained roads in the dually and somewhat limited with mobility – a dual rear wheel truck is simply too big to take some of the places that we might want to go, and we found ourselves turning around or even backing out for miles where turnarounds weren't available and the terrain began to get too tight to navigate in the Ram. Surprisingly, we've found the same in New Mexico. We're doing a lot more off-pavement exploring than we anticipated.
We also simply miss having two vehicles, and decided it is worth the trouble to add another one. I think that, if we were only to have the dually, we'd miss out on a lot of city life as well – not wanting to venture into downtown areas or, unable to fit into parking garages. And when the truck needs to go into maintenance or repair, we'll have a second vehicle to use. In fact, we've been delaying the truck going into the shop for belt/tensioner diagnostics and replacement due to this.
Kelly's Frontier, in PRO-4X trim, is their best off-road package and is capable of just about anything we'd realistically expect to tackle, and the truck itself is small enough to navigate a lot of the tight paths that the Ram just won't fit on. However, the Frontier can't be flat towed and now was a good time to evaluate if that's what we actually want to move around with us. In the end, we opted to trade it for what seems to be the most popular RV companion out there, the Jeep Wrangler. It checks all the boxes – capable off road, small (relatively speaking, and smaller than the Frontier), can be flat towed, and versatile.
We started looking through the trim and options lists, and separated the nice to haves from the must haves and began searching for something in the Austin area that we could negotiate the process of trading for, without physically heading back to Austin ourselves.
The Wrangler comes in a four main trims, the Sport, Sport S, Sahara, and Rubicon. There are a few special editions as well, which are basically cosmetic packages on top of the Sport or Sahara trims – the Willys, Black & Tan, Altitude, Moab, and Freedom. The Sports are your most basic models, with the Sport S adding options like power windows and locks, and the Sahara positioned as a sort of upscale model – mostly focusing on added amenities and comforts. The Rubicon model, in contrast, can be pretty sparse inside but has upgraded running gear – different axles, different transfer case, better gearing, bigger tires, skids and rockers, lockers on both axles, and electronic sway bar disconnect, to name a few items. We quickly ruled out all but the Rubicon, because it's the only one that's a considerable upgrade over the Frontier regarding capability (not considering approach/ breakover/ departure angles) and because we'd like to "buy once, cry once" and not have any regrets regarding the purchase.
Next, the Wrangler comes in three engines – a 3.6L V6, a 2.0T I4, or a 3.0L diesel they're about to push to market. We really would love to have found one of the diesels – but they're impossible to find, a hefty upcharge over the petrol variants, and it would be a first year engine with first year problems we aren't necessarily looking to deal with. We opted for the 2.0T, for the torque, drivability, and power at high altitudes where NA engines lose it.
So at this point we were looking for a Rubicon with the 2.0T engine, which only comes with a single transmission option. We put the upgraded Infotainment, LED Lighting Group, Heavy Duty Electrical Group, body-color hard top and fenders, and remote start system on our must-have list. Kelly chose "Bright White" or "Billet Silver" paint.
We put the Safety Group, Advanced Safety Group, and Steel Bumper Group and everything else on the nice-to-have list. We weren't willing to pay for leather seats. In the end, we didn't find one that had the Safety Group or Advanced Safety Group, but we did end up finding one that had everything in the must-have list, as well as the Steep Bumper Group from the nice-to-have list.
The steel bumper is a modular bumper system that you can reconfigure in tons of different ways, and we're really happy that we have it. We'll be adding tow loops (for flat towing) and a winch to the front next week, for starters.
Once we found the one we wanted, at a discounted starting price we were willing to consider, we started working on the trade. We spent most of the week working with the dealer to make it happen, which consisted of a lot of back and forth, bothering friends to take pictures of and eventually deliver the Frontier, and overnighting tons of paperwork. We finally closed on the deal Friday morning and arranged for a shipping company (a huge hassle itself) to pick up the Jeep on Saturday and deliver it this morning.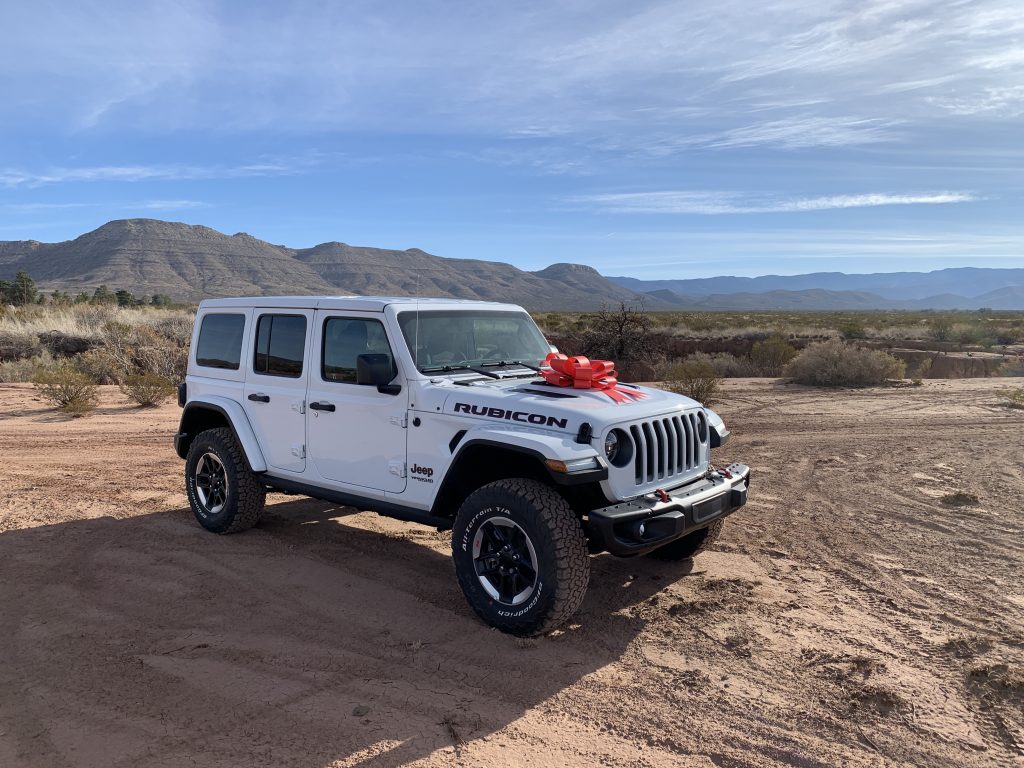 Since this is replacing Kelly's vehicle, and it's so close to Christmas, we're considering it a big Christmas present to her. I went out and bought some poster board and hot glue last night, to make one of those giant ribbons you always see in car commercials around the holidays. Thanks Youtube, for instructions.
We spent the day messing with it and driving it around, including taking the dogs for a ride without the top off.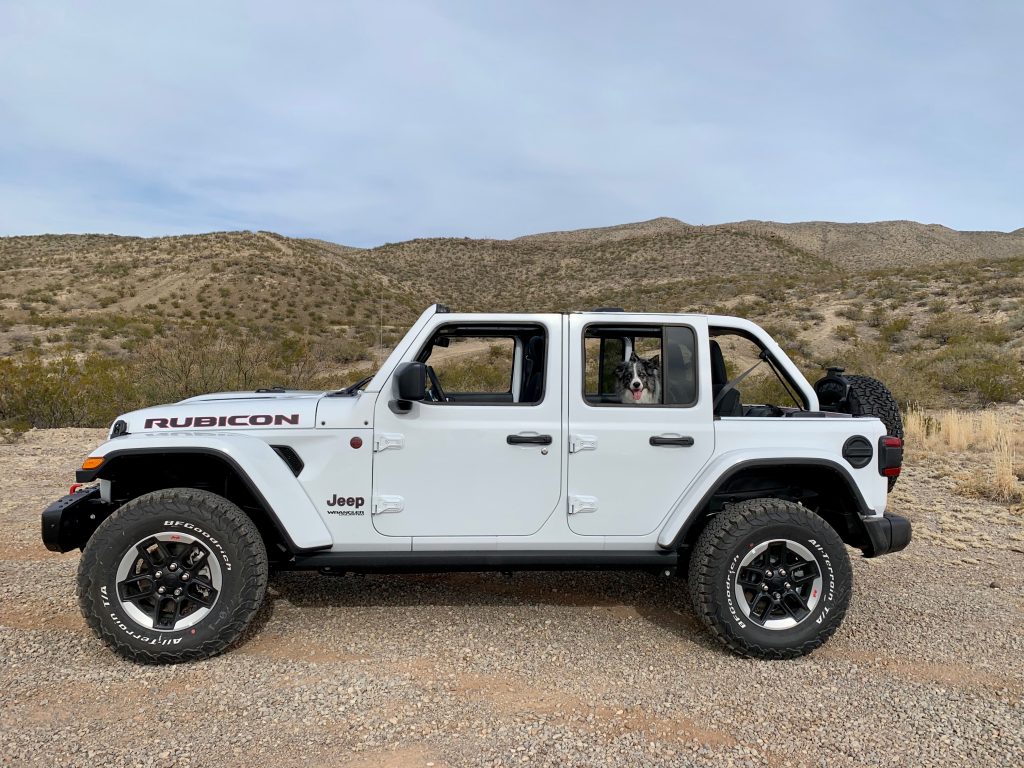 The first day wouldn't be complete without a little off-road action, so we took it on the Jeep trails on the state and BLM lands that are near the RV park. We didn't stop on any of the technical portions to take pictures, but did cross some fairly complex portions of trail that either required drastic articulation or traction in deep, loose sand. There were a few other Jeeps and trail riders out there so we didn't have to worry much about being stuck alone out there without recovery gear.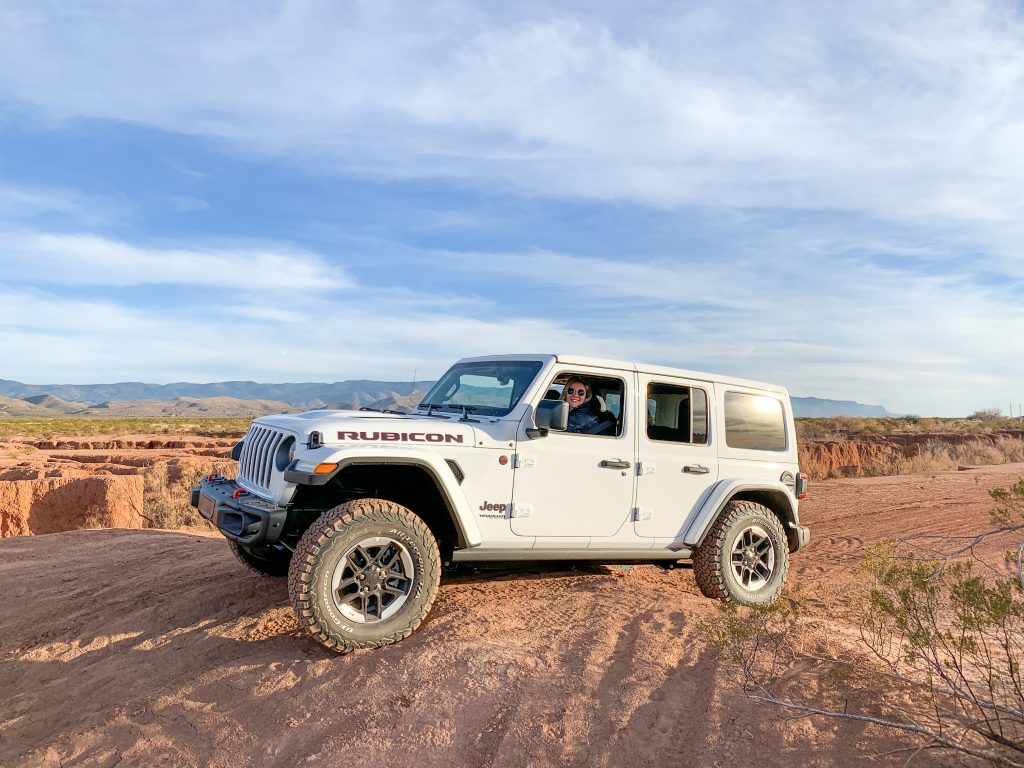 Kelly really enjoyed driving off road – something she's never done before. I think she's hooked.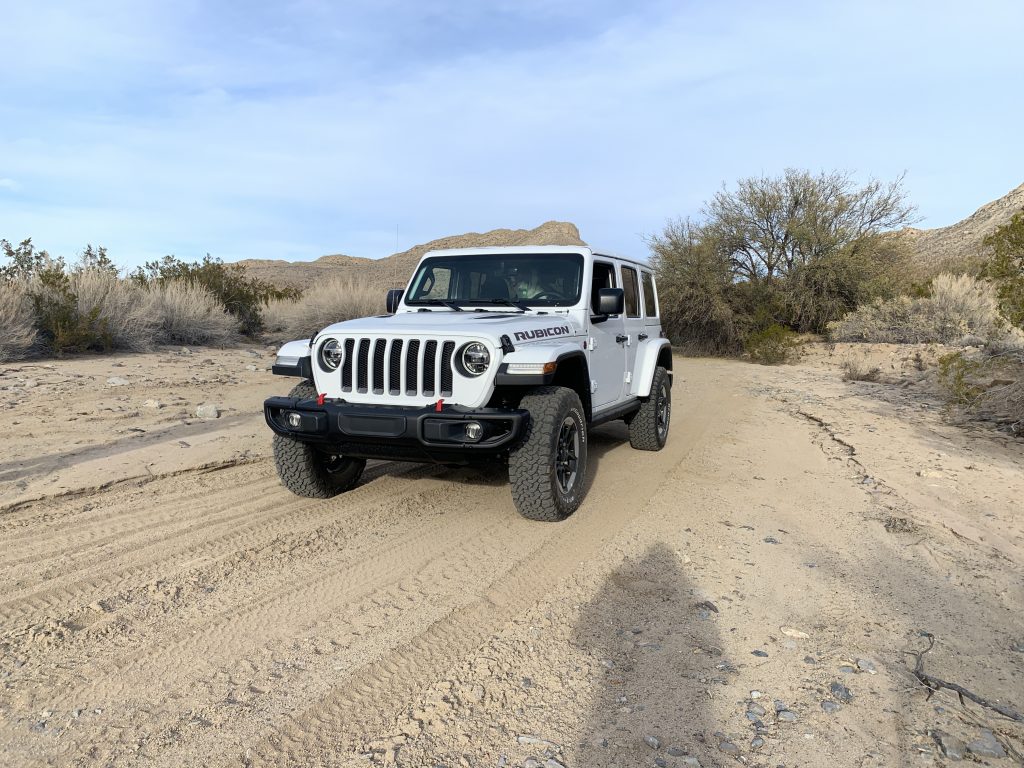 We ordered a handful of aftermarket accessories for it to prepare it for our use:
Tazer JL (aftermarket interface to advanced software settings)
HotHead Headliners (insulates and reduces road noise)
Mopar flat tow harness
ReadyBrute Elite tow bar, break away cable, and misc hardware
Maximus 3 tow loops (for flat towing)
Maximus 3 stealth front license plate bracket
Maximus 3 winch tray and hook anchor
Smittybilt H2O Gen2 10K winch
Tree saver/ tow strap
Snatch block
Shackles
Compact traction mats
Midland MXT275 GMRS radio and associated antenna/mounts
A MXT275 for the truck as well, for vehicle to vehicle communication
Additionally, when we get to Tucson we plan on giving the OE wheels and tires to the dealer we've been talking to for store credit, and buying the Mopar beadlocks and 35×12.5″ tires which are factory "aftermarket" upgrades. The tires will be 2″ taller than stock, increasing the height by 1″, and are the largest tires you can run without a lift. A 35″ tire is really quite huge – back in the 90s you were pretty serious if you were running 31s and 33s were something to aspire to. I ran 35s on my Chevrolet HD. The Tazer JL we ordered will adjust the tire size and transmission shift points in software to the appropriate settings. A lot of these Jeeps are running 37s on a 2″ lift, but we are going to avoid lifting it for ease of entry and the dogs. It should be plenty capable for anything we intend to throw at it, especially with the upcoming upgrades. We've decided we're probably not going to do this, at least not at this time. The stock wheels are growing on us (we didn't like them at first) and the 33s are plenty capable.
Flat towing (and the flat towing hardware in the above list) was part of our decision criteria when choosing the Wrangler. Not many vehicles can be flat towed, and even though we're not driving around in a Class A with a toad, we still would like the ability to flat tow it. There are going to be travel days where we will want Kelly to ride with me in the pickup – for various reasons – and we'll need to go back for the second vehicle. This is especially likely for drive days under 3-4 hours, through unfamiliar areas where I would appreciate a spotter, and it would only take a day of driving to go back and get the Jeep. In those scenarios, instead of having to spend four hours driving separate vehicles, we can ride together and just tow the Jeep. It will also simplify having third parties move it for us – some shipping companies provide discounts if they can just flat tow it, and not need a trailer. We're likely to use that occasionally for longer drive days where we wouldn't want to go back for it and don't want to drive alone.
Speaking of drive days, we're going to install mobile GMRS radios in both of the vehicles to facilitate reliable communications between them. Kelly doesn't have her amateur radio license and I don't see the point in getting one, when I can buy a GMRS license that covers both of us without a test that is $70 for ten years. We considered using cell phones, but decided mobile radios will be a better choice because they're more reliable in a lot of areas and don't take over infotainment – we can still listen to music or podcasts (which help keep us aware and focused while driving) and talk at the same time.
Skip back to main navigation