We've been continuing to work on our rig, preparing it for boondocking. After having the solar a bit, we've reached a few conclusions and a few changes to make.
First, we're eventually going to want to add three more panels to the roof, for a total of 2925w. We're going to struggle to refill our battery bank on anything but the sunniest of days after the next item, which is adding one more battery.
Our average daily consumption for the last two weeks has been 12.72kWh – that does include some HVAC and laundry, but is a pretty good baseline to look at when sizing up our system. Our battery capacity is currently 11.8kWh, with only 9.12kWh being truly usable if we discharge to 80%. Adding another battery will provide us 15.2kWh of capacity, with 12.16kWh of that being usable if we discharge to 80%. If we want to run entirely off of battery without sun, we need four to cover our usage.
We averaged around 7kWh of solar this week, which offsets a bit over half of our utilization – that number should increase as summer comes along.
Take a day, for example, where we consume 12kWh and gather 7kWh from solar. We have a negative balance of 5kWh that must come from batteries and be replenished. Our generator charges the batteries at around 3.4kWh, so a 5kWh deficit will require approximately an hour and a half of runtime. Increasing the battery capacity will allow us to have more control over when that time is, and likely avoid having to run the generator at night. On a day where we're entirely dependent on the batteries and have no sun, the extra battery would give us 25% more run time before kicking on the generator, and provide enough buffer where we could choose exactly when we want to bring the generator online for 3.5 hours to replenish the bank. Of course, we're working on reducing our consumption and increase capacity, and the two will favor each other. For times we do have to run the generator, I added some sound damping material to the generator compartment to reduce the sound.
Adding another three panels (eventually; we will have to be creative as we're currently out of room on the roof) will feed in 33% more solar in ideal conditions. That will be a future goal, likely alongside a mini-split retrofit to replace the rooftop units.
I went up and cleaned up the wiring on the roof, and put labels on all the new components.
I didn't take photos, but I added a 30A ATS and a second shorepower inlet to the front of the RV under the front cap. The ATS is configured to switch between the inlet and the generator before the input to our generator AC junction box, which sends output through the 32A Autotransformer to step up to 240V split phase power – allowing 30A shore power sources (and non-GFCI 15/20A) to be usable when the inverters are in ESS mode.
---
We should still be well under the axle limits on our fifth wheel, but for peace of mind I decided to spend a little on reinforcement – especially since we'll be spending several miles on rutted dirt roads instead of highways.
The way these trailers are designed, you have three frame hangers on each side welded to the bottom of the I-beam, with some simple reinforcement on the lip. They're known to have three common failures – the spring hanger itself failing or tearing off, the flange of the I-beam separating from the web, or the web itself cracking. If you read message boards, these issues are somewhat common but I haven't personally worried about them up to now — they're more common on trailers that run both heavy and off-road, which is what we're effectively gearing up for but haven't done a ton of in the past.
The aftermarket addresses the weaknesses in a few ways, but the best off-the-shelf solution I found is the MORryde X-Factor crossmember. They span the distance between the spring hangers on each side providing support and dispersing the energy through tight turns over larger areas so individual components aren't subject to as much stress. MORryde recommends at least the center, with the others optional, but I'm going to put in all three. In the below illustration, these are the blue bars. From the factory, there are none.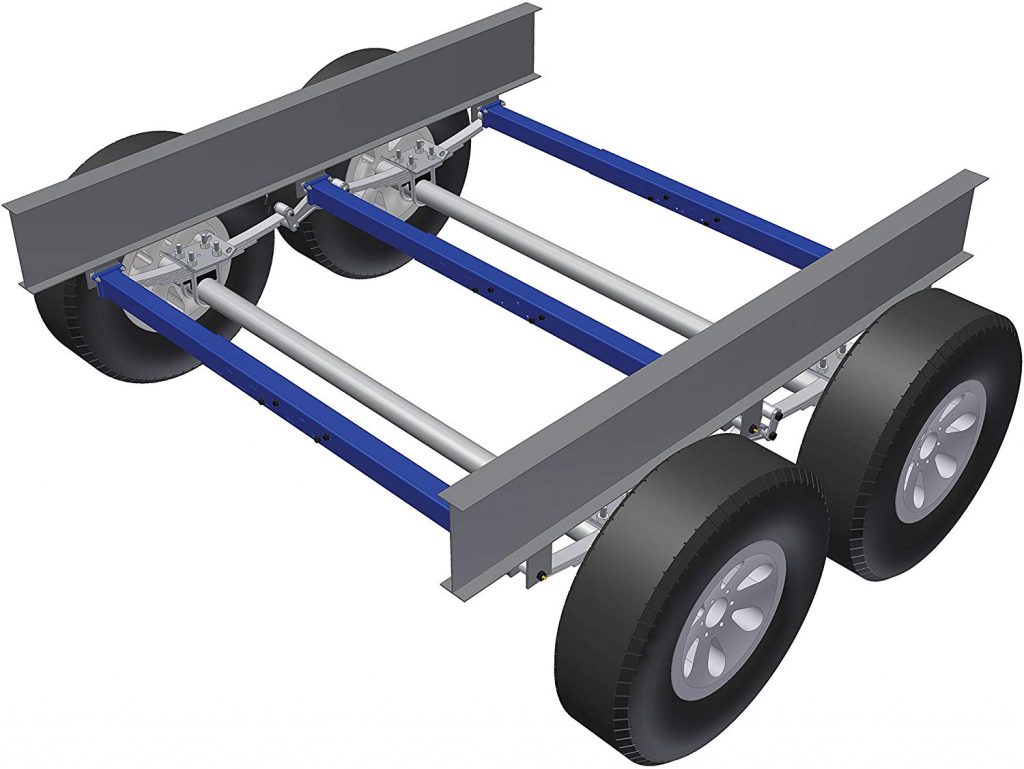 I'm also going to install their SRE4000 equalizer, which is essentially a shock absorber that replaces our existing – much smaller – one, and their heavy duty shackle and wet bolt kit – something I have another brand's version of, but since it doesn't add much to the cost I might as well go all new.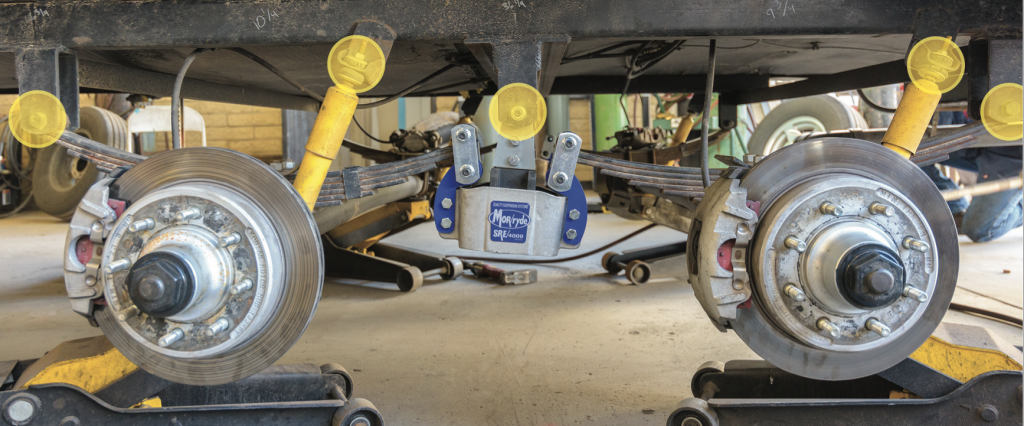 I need a few tools that I don't carry or plan to carry on the road with me, so I'm ordering the parts now and will store them until I can find someone to borrow the tools from or maybe pick up some cheap ones from Harbor Freight.
---
I moved the license plate back to the factory holder, removed and tightened all the failing/loose ladder struts, and added a flag pole with a 22′ pole and light at the top. I also added a couple motion-activated solar lights to the outside of the rig, one at the back and one kind of near the door.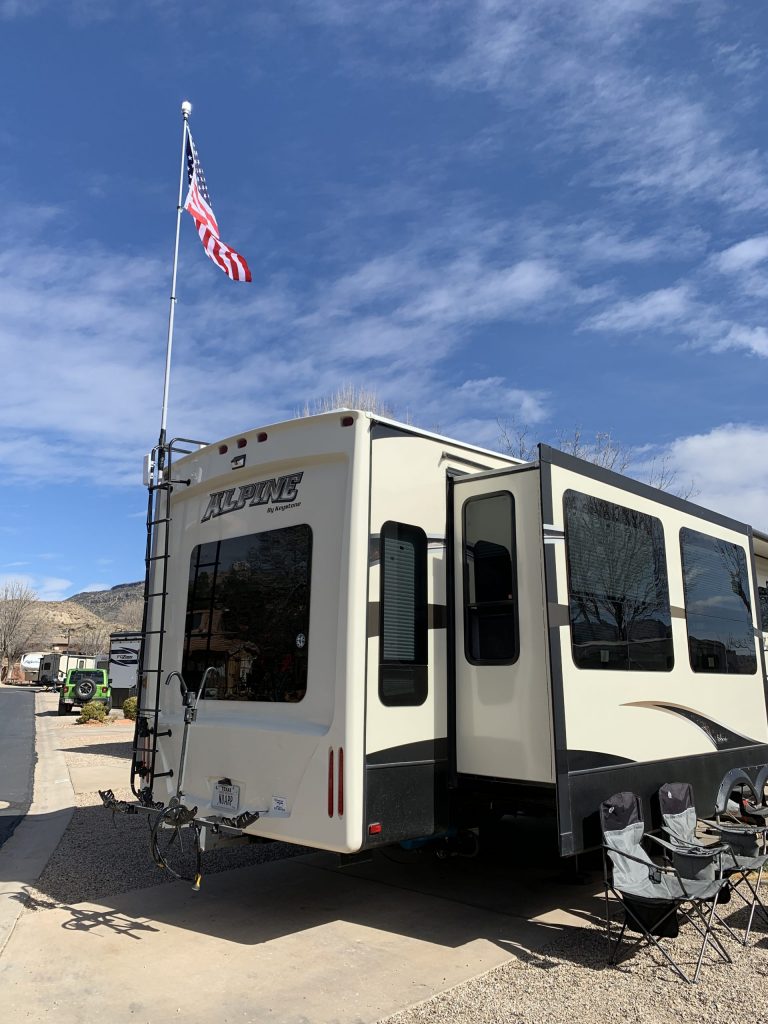 We saw a lot of these poles with the beacons at the top at the Xscapers bash, where people used them to locate their rigs at night. That's a great idea when you're off in the middle of nowhere and we really like the addition.
We also purchased a few items to "replace" things we use electricity for – a toaster that goes on the stove, a kettle with a built-in thermostat, pour-over coffee maker, and more campfire cooking gear.
We're heading through Flagstaff when we leave here, where we plan to scout out some boondocking sites for the week. If we don't find any, we're going to head on to Sedona and settle there, and if we luck out there should be plenty of commercial campgrounds around we can stay at for a few nights.
Skip back to main navigation