I mentioned in one of my first posts on this topic that off-grid solar AC in an RV, especially one of this size, is a stretch that most people consider impossible. Even with the size of our system and the efficiency of the mini-splits, now that we're in the 90s, the data was telling me that I needed more. I can fit some more solar on the roof if I go to smaller panels but my actual plan is to have the roof redone when we get back to Texas and deploy a rack, so I'm not doing anything that will have me wasting money on temporary parts. We're currently collecting around 17.5kWh per day of solar, which is about on par with expectations (2925W PV * 6 solar hours = 17,550Wh), so I don't expect to see any increases in production.
I used a spreadsheet to form a rough consumption model and estimated that the air conditioner is going to require around 15,400Wh per day (assuming a daily high of around 100F). That plus our base consumption of around 5kW means we need around 20.4kWh per day. That's more than the solar we are collecting, and there isn't much I can do about it. I can hope it's off a little bit, because we are so close.
The other issue that arises from the amount of power we're requiring is that so much of it is required after the sun goes down or solar production slows. Our storage wasn't going to be enough with my modeling. I decided to go all-in on this project and buy two more batteries. That gives us 22.8kWh of storage for our daily estimated requirement of 20.4kWh. Now, since we don't want to go below 20% SoC (state of charge) that means we really only have 18.24kWh of usable consumption, but based on the modeling we will be fine since we will run directly off solar part of the day.
According to my estimates, we'll have a rolling deficit of around 2.9kWh per day which we can stack up. For every day that we're running at this consumption, we will need to run the generator around 45min to make up the deficit and charge to 100%. We should be able to comfortably go around four days between runs, so the running generator about three hours every four days and having the flexibility to run it during the specific time periods we want, is the likely reality of it.
I tried to make the numbers in my estimates a little on the high side, so hopefully the generator won't be required at all.
---
I decided to move the batteries down to the passthrough floor to make it easier to reach the water heater and furnace for maintenance, reach the batteries for troubleshooting, and move the center of gravity lower in the rig since we do have around 500lbs of batteries and that weight should be as low as possible.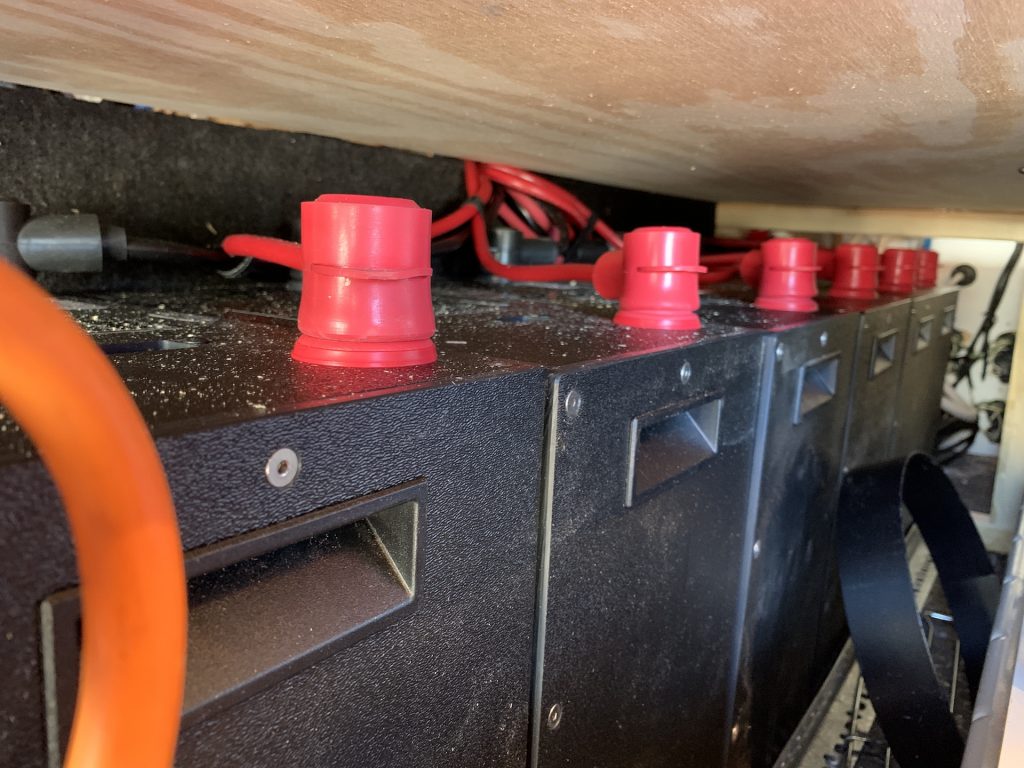 I had to build all new cables for the batteries to allow for the distance to the new location, and was able to tuck them neatly out of the way so that I can access the breakers on top of each battery.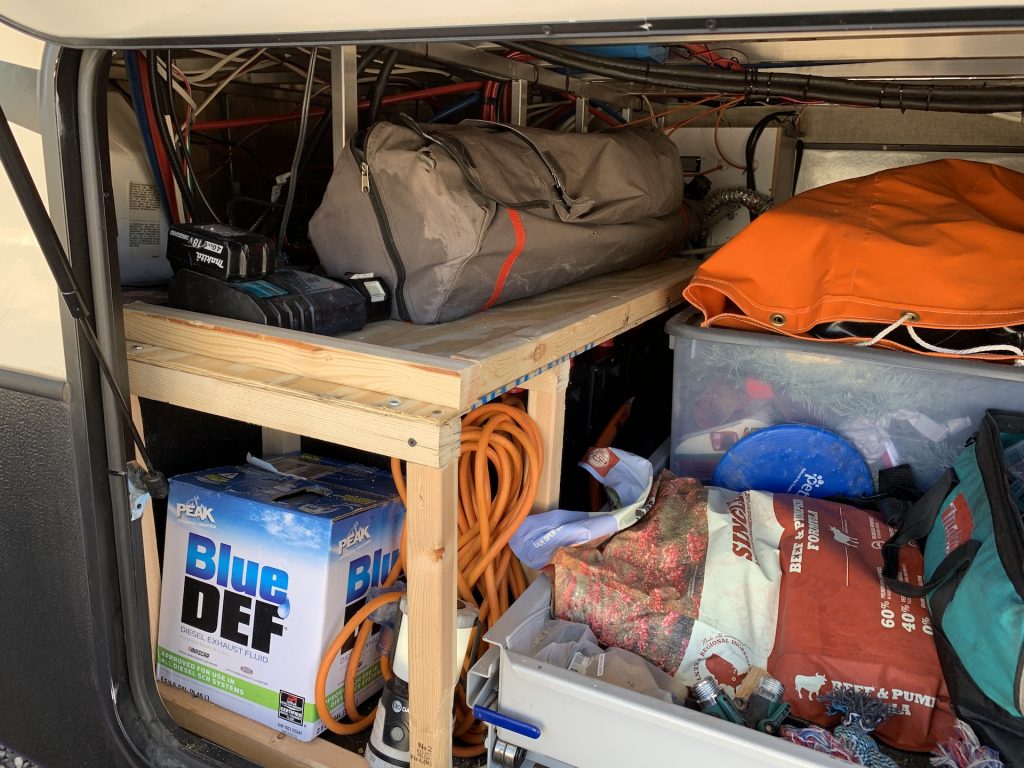 I put a couple 2×2 lips on the shelf so I can store things like my battery charger up there as well as larger items that are difficult to manage otherwise. The dimensions I needed happened to work perfectly with the rolling tray we have, and with the rolling tray everything, including the batteries, is easy to access.
Skip back to main navigation