After a couple months of sheltering in place at a Thousand Trails park in Cottonwood, Arizona, we were ready to escape the heat and rattlesnakes and head north a bit.
I mention rattlesnakes, because I spotted Western Diamondbacks daily on my runs and they became all too common an occurrence. Among other things, continuing to run on the trails out there felt like it was pushing my luck. Snakes don't scare me, but I've never seen them in the sheer numbers I ran into them there.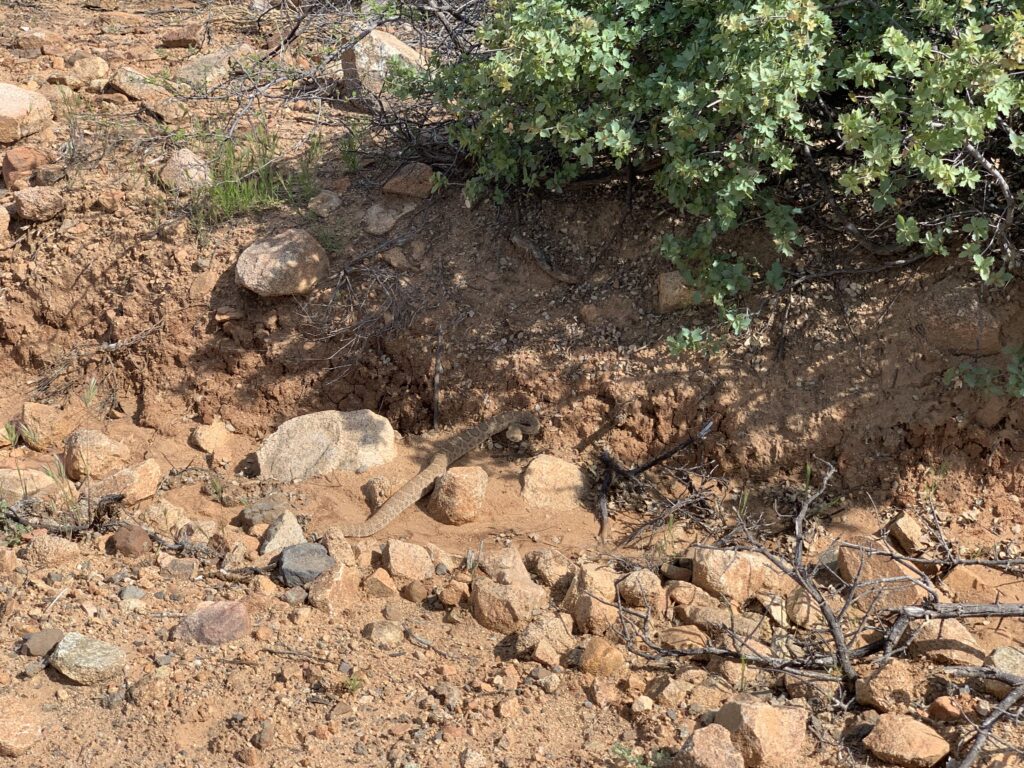 We met a few people at the Xscapers bash back in January who were up in Flagstaff with a beautiful spot, so we asked them if we could join. They sent us coordinates, and we headed up here about a week ago. It was nice to catch up and visit with them, and I think we may make a habit of meeting up with them in the future. They left a couple days ago due to the 14 day limit, and headed to southern Utah.
There are tons of trails around here, starting at a base elevation of around 7,400′ and heading up to Humphrey's Peak at the highest, an elevation a little over 12,600′. A trail near the site heads up the mountain opposite us, providing a great view of where we're parked.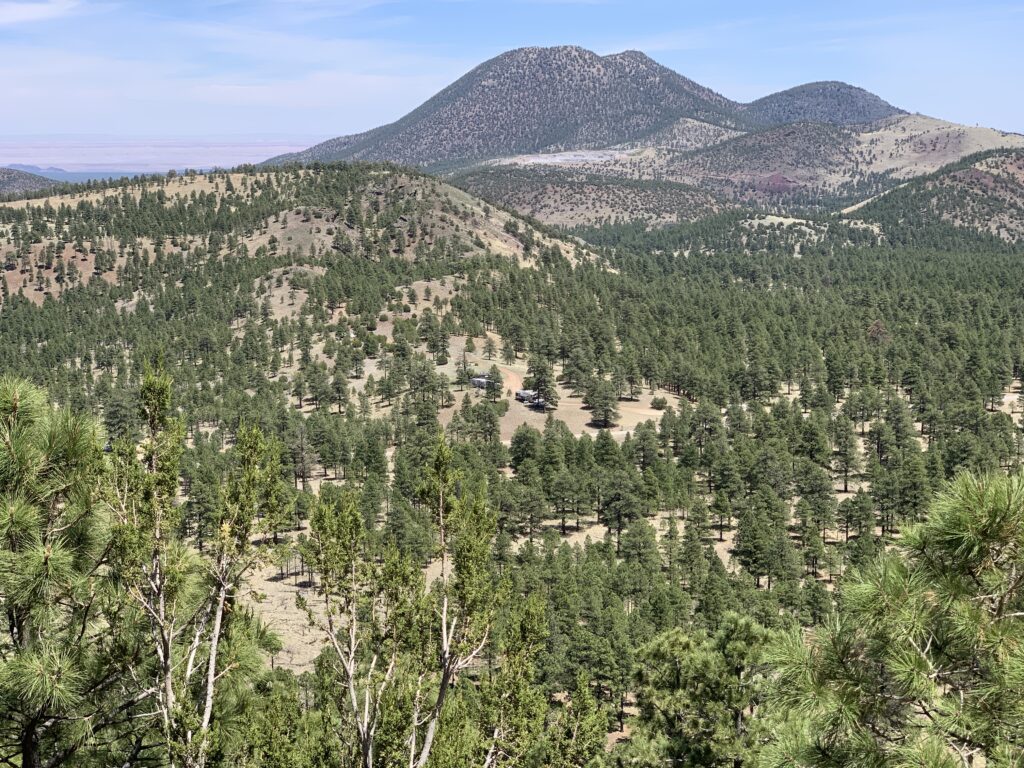 We love the Flagstaff area and this site is no exception. Trees, mountains, and close proximity to high desert, red rocks, and a great little city that has a vibrant yet cozy mountain-town feel. Humphrey's peak is one of the more iconic views we have here, and as a storm moved in yesterday it turned from visible to nearly white in less than five minutes.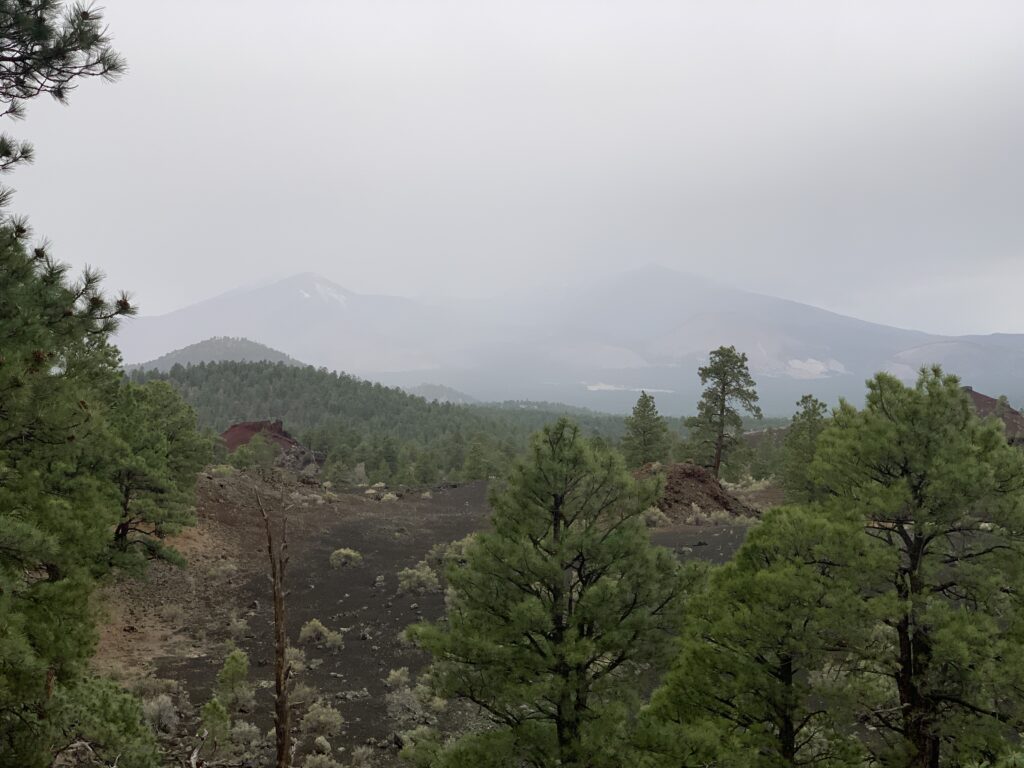 We haven't seen any venomous snakes here, but did run across a couple of larger gopher snakes, including one that decided to shelter up under our trailer. We coaxed him away from the site to avoid any issues with the dogs, and haven't seen him since. Gopher snakes aren't really a threat and keep venomous snakes and mice away, so we're happy to have them nearby.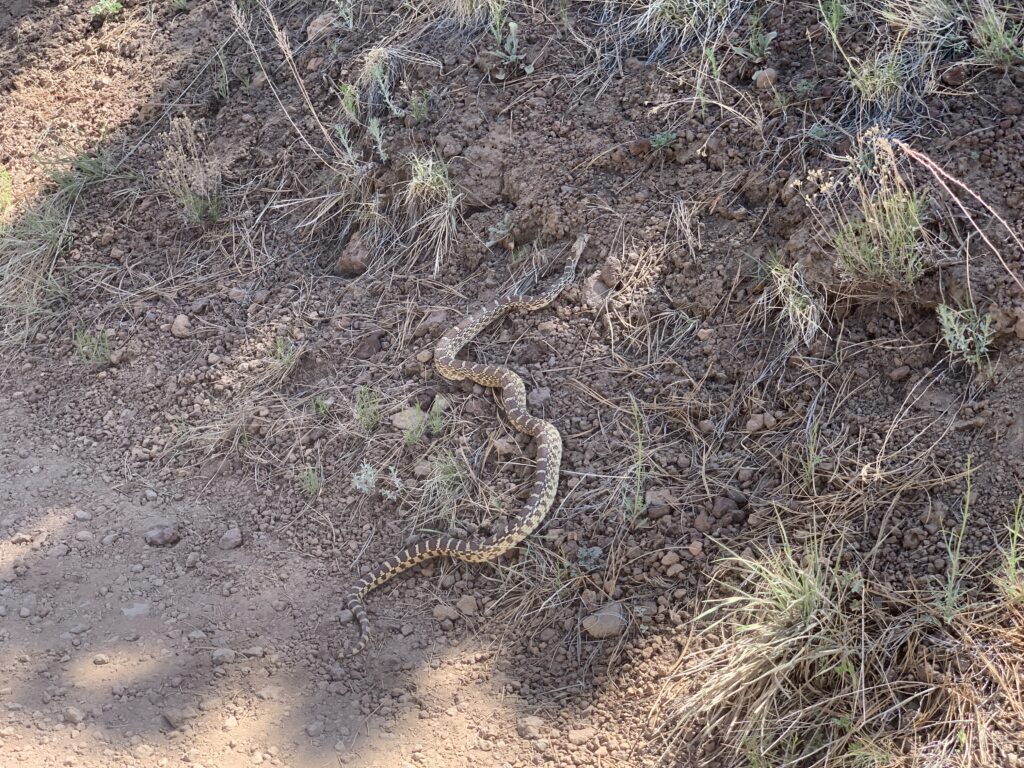 This is the first trip we've taken since adding the three new panels, split HVAC unit, and getting the potable/septic bladders. As such, it's been another shakeout run.
Temperatures have been great: 70s during the day, and 40s at night, making for a pleasant experience. We're still running the AC each day and even ran the electric heat one evening, but energy consumption has been moot. We have tons to spare and are barely dipping into our batteries at night, even though we've been using the rice cooker, Instant Pot, electric convection oven, and some other high draw appliances. Having the excess electricity has inclined me to start another small project, which is to add a 50A outlet to the rig so that fellow campers can hook up if needed. I designed it so that it will require minimal cable/cost – which results in a slighly less than ideal location – but I'm not going to spend a ton of money to give away free power. It'll open up some possibilities for people to camp with us who otherwise may not be able to. The breaker to the outlet will be on the inside of the rig, normally in the off position, so we'll have control as to whether it is actually used.
We filled up the potable bladder last week, and I moved the last bit of that into the freshwater tank of the trailer today using a really neat Milwaukee transfer pump I found. Up until now, I've been using a cheap AC pump that I have to get extension cords out to run, and wait forever on, and this cordless pump can run off my Makita batteries with an adapter and is much faster. Everything is using quick connects, and the upgrade to a Zero-G potable hose makes it a simple, quick, and painless process. I'm all about simplification and making water management less of a chore.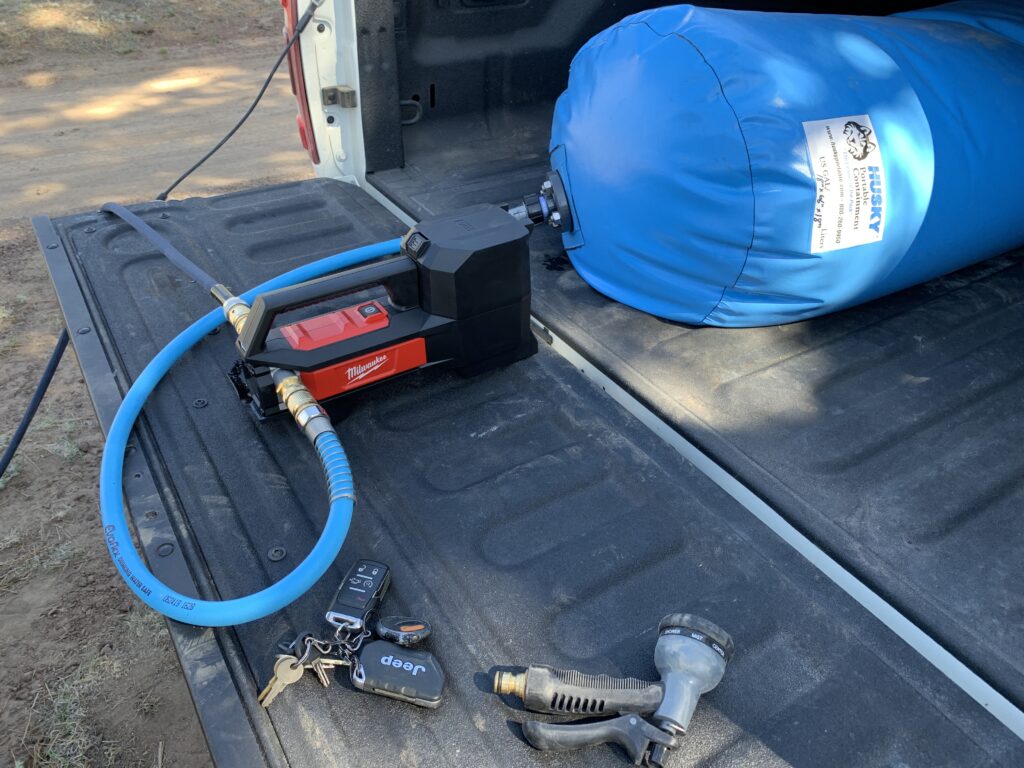 We've been using water liberally: dishes, showering, and even a load of laundry like normal. I can only roughly approximate our consumption, but I believe we've run through around 120 gallons of water in the past six days, or around 20 gallons per day. We have roughly 40-50 gallons left in the tanks, which at this rate means we'll be filling up on Wednesday, which just happens to be when I plan on going to town next to pick up some mail.
On the septic front, when we went to fill up the potable bladder I went ahead and filled the septic bladder with what we had. It wasn't much as we had only been here a day. The FloJet macerator pump gave me some issues with the motor refusing to start on its own, so I used my drill and the manual override to get it started and drain the tanks. The unit is under warranty and I'm trying to file a claim, but they're being unresponsive. Using the pump is a multi-step process with several potential points of error. As a basic run down, I have to put on gloves, get the pump out of a disposable plastic bag, remove the cap from the trailer bayonet fitting (possibility for spillage if anything is behind the cap), connect the pump, connect the hose to the pump, connect the electrical to the pump, actuate all the safety valves I added, then can start the process. Usually I have to fiddle with the pump itself because it doesn't like to run correctly. And when done, I have to repeat all the steps in reverse, usually using another plastic bag as they're only good for a couple uses, and dealing with multiple steps that might involve minor leaks. I wanted a better option, so got on Internet to look for options.
Thetford makes a system called Sani-Con Turbo. It consists of a larger (hopefully better) macerator pump, 21′ of 1.5″ hose, and versatile nozzle that all remain permanently attached to the RV. The process consists of simply pulling out the hose and emptying the tanks, eliminating all the extra steps that have room for error. The nozzle fits into all your standard clean-out and dump station inlets, while also having a GHT connection, which is what we use to fill the septic bladder. It completely eliminates the standard sewer hose and process, and is fairly common on high end diesel coaches. They offer a retrofit for other RVs, including a box that you install that hangs near the septic plumbing to house the hose and nozzle.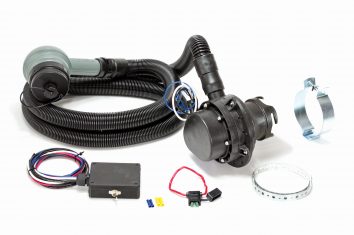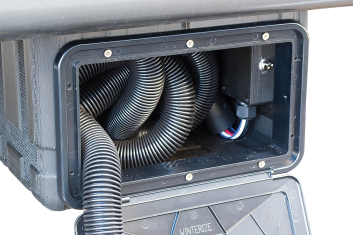 I ordered the retrofit system to simplify the process and hopefully significantly reduce the potential for error. Perhaps the most important things about the new system are that there should no longer be any struggling with an unreliable pump, and that the process will be reduced to just a couple of very simple, easy, and quick steps. Similar to the potable water, I'm all about reducing steps and making it less of a chore.
Through a lot of time, effort, and unfortunately money, we've effectively turned extended off-grid RVing into a reality that doesn't require cutting conveniences or living unlike we would in a sticks and bricks house or a full hookup park. If we can get these last few issues worked out, we'll be set to remain off grid as long as we want without major disturbance to daily life.
It's amazing being able to come to these places, have these kinds of views, and these trails at our convenience. To be able to work in air conditioning all day, hit trails after work, and come home to a long shower and throw laundry on without having to leave. We're getting awfully close to the "have your cake, and eat it too" of this lifestyle, and we're both really happy with how it is turning out.
Skip back to main navigation