Our dogs are getting up there in age, and Max (15), and Maggie (9) have been having some trouble navigating the stairs into the RV. Amusingly, Violet, the youngest, has always been the most cautious of them.
We ended up ordering the Torklift Glowstep Revolution, five step model, and removing one of the steps to make it a four step model. We had to order the spacer kit and use two of the four included spacers to fit our rig, and we opted for the Safe Step pet barriers. Having the fifth step that we can add back for more uneven sites has already proven beneficial, as the last site we were at had the door side tires a few inches off the ground to level.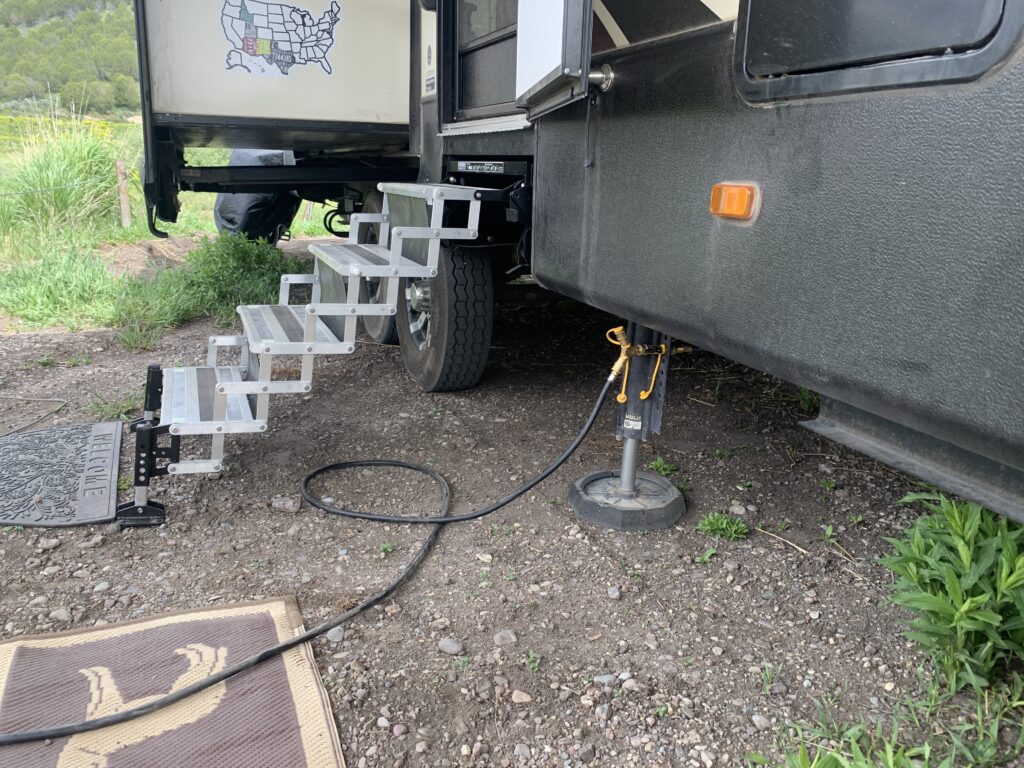 Unlike our previous steps, these come all the way to the ground and will require some creativity on more uneven sites. The tradeoff is that they're more stable and the distance between steps is shallower, and our dogs are more confident navigating because they are more difficult to fall through. They're also noticeably lighter in weight than the ones we removed. Even though these have ridges in them for traction, I added a 2″ wide strip of grip tape to each one for a big improvement over the way they came. Steps are steps to me, but for someone larger or elderly these would be a huge upgrade. For us, seeing the dogs navigate the stairs with ease is the major benefit.
Also pictured is a new propane quick connect I added to the middle landing jack on the door side of the RV, so that we can easily tie in appliances sitting near the front door under the awning. We've been running our propane fire pit and blackstone griddle off this. I teed off the feed line to the water heater, which is the very foreground.
Above the disconnect, you can see a little magnetic door stop I found for cheap on Amazon to replace the factory one. It's a very little thing, but being able to swing open the door and have it stay there without having to manually hook it from the outside is proving very useful. For the low cost, it was absolutely worth it.
Skip back to main navigation