Living in an RV, you don't have space for a lot of tools and a lot of things are get passed over due to storage issues. I'm the kind of person who keeps a plethora of tools around to fix anything that breaks, and carry a robust but carefully selected set of tools in the RV and truck. Of the many tools that didn't make the cut when we left, yard tools and our pressure washer were left in storage.
With the amount of boondocking we're doing now, it's nice to be able to clean up our site a little. Last week, we were at a site with foot high grass which caused all sorts of havoc with our allergies, and resulted in our oldest dog getting a mild infection in his eye after being poked by a stick he couldn't see. I decided to head down to Home Depot and see if I could find a small, battery operated trimmer to remedy the situation. Since I mostly use Makita tools, and have several batteries, I ended up buying a compact Makita trimmer/blower combo set that came with a battery and charger, which met our needs here and additionally gave me a second battery charger and 7th battery.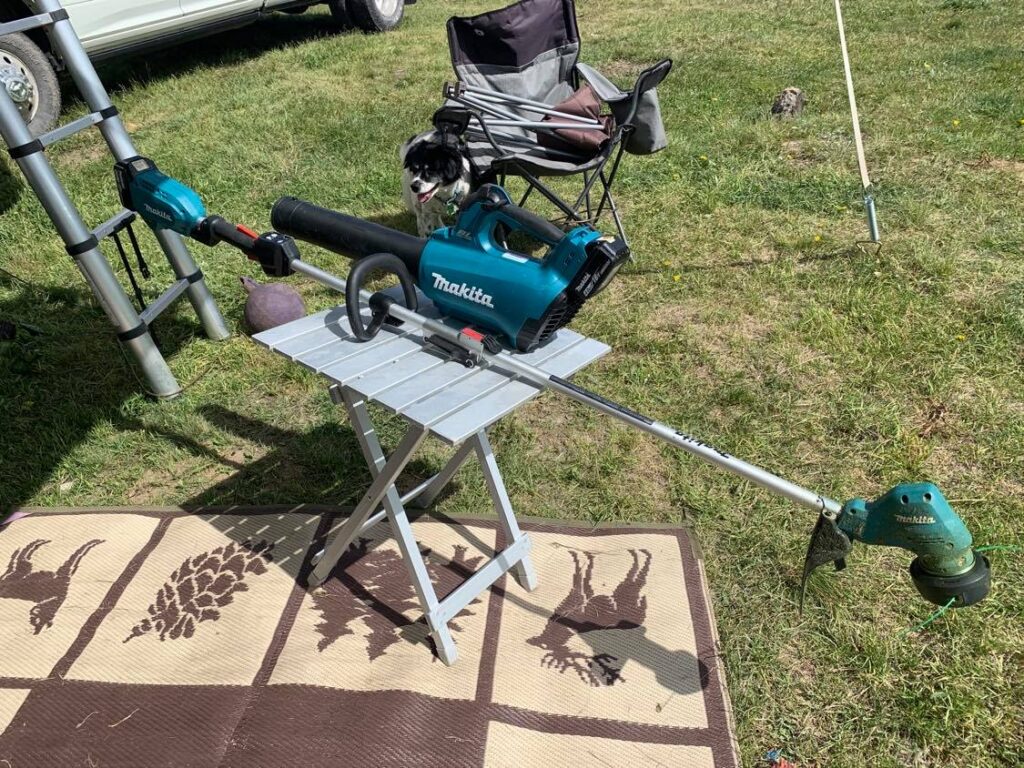 I cleaned up the site and was very happy with the results – doing the same to our current site.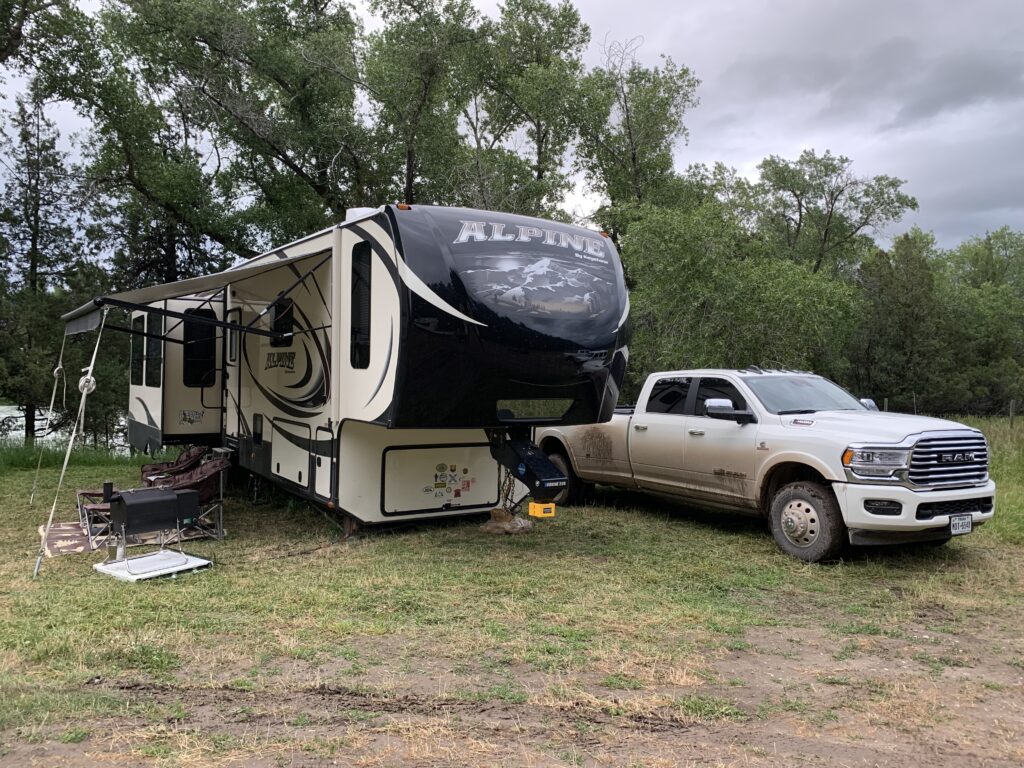 Also, spending so much time on unpaved roads leads to filthy vehicles and rigs, and we're always looking for the best way to keep them clean to protect the paint and finishes. I picked up a tiny Ryobi pressure washer while at Home Depot to try, and found it works absolutely perfectly for the job when running off my Milwaukee pump.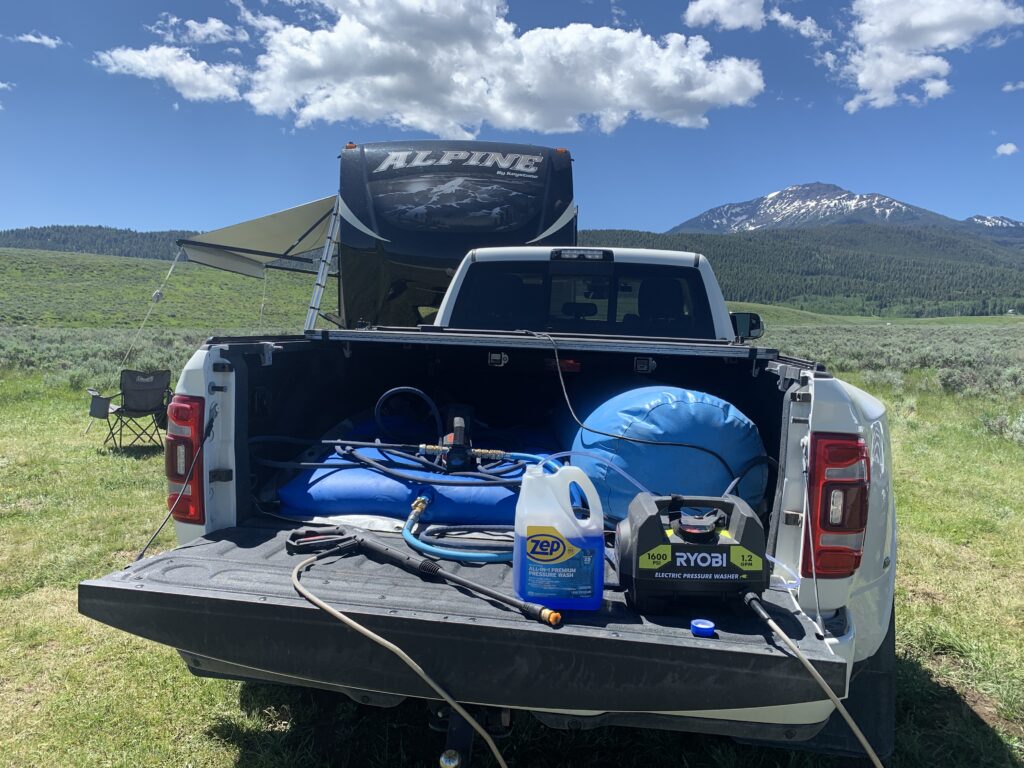 Since the pressure washer is so small, it uses a dip hose to pull soap from a bottle. Again, this works perfect for our uses.
A few weeks ago, I spilled a few ounces of grey water (kitchen sink) in the bed of the truck while disconnecting the fill nozzle from the septic bladder. I always fill black first, then grey, but in the future will do black, kitchen, and bathroom grey in that order. The kitchen grey was rancid and I couldn't get the smell out of my truck bed and off the bladders. The pressure washer remedied the situation after several passes, and I'm also using a tarp under the bladders from now on.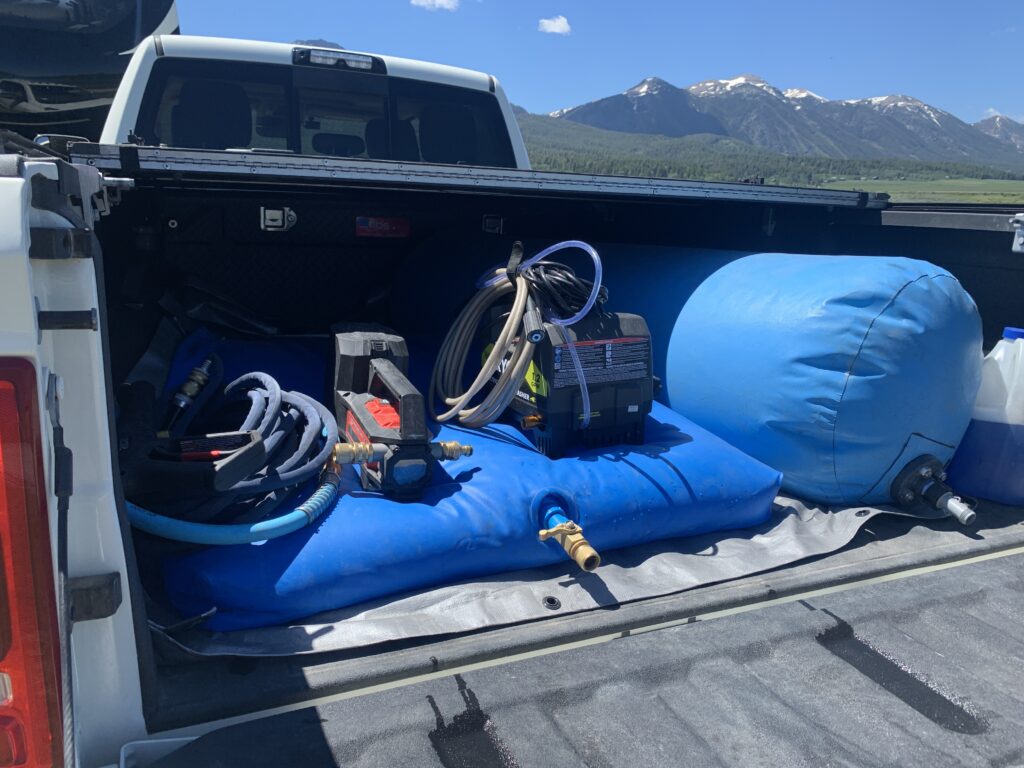 The whole assembly packs up small enough to easily store in our passthrough storage, and is easy enough to get out and use on a whim.
Skip back to main navigation