We've been staying about twenty miles west of West Yellowstone, on some public land at the south end of Henry's Lake. There are quite a few nice camping spaces here, with plenty of room for large rigs, with the one caveat being that the ground is pitted and gutted with pocket gopher holes. The little creatures are everywhere and have been harassing our dogs for days on end – and the tunnels they've made to the ground made for an interesting parking situation. There are tunnels a foot in diameter, that drop down two or three feet before turning any which direction.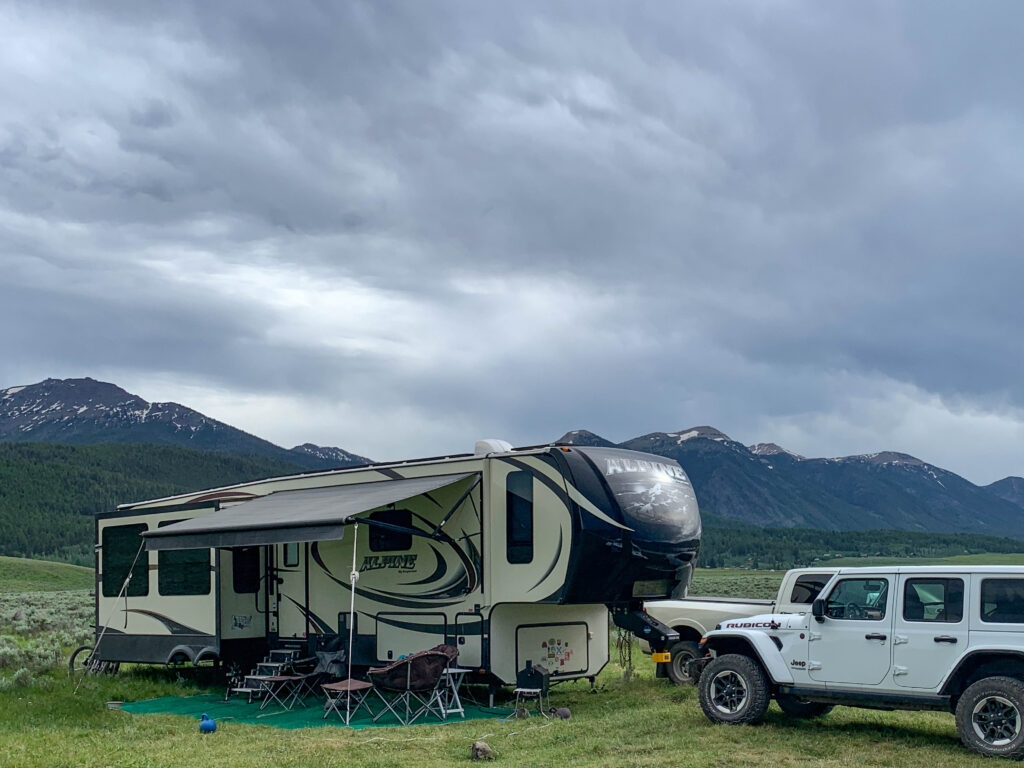 I doubt much needs to be said about Yellowstone. It's far more massive than I expected, with hundreds of miles of roads that take forever to travel. We spent several hours there one day, and will be heading there tomorrow for several more. Last time, I snapped a quick photo of a herd of buffalo as they passed by our vehicle.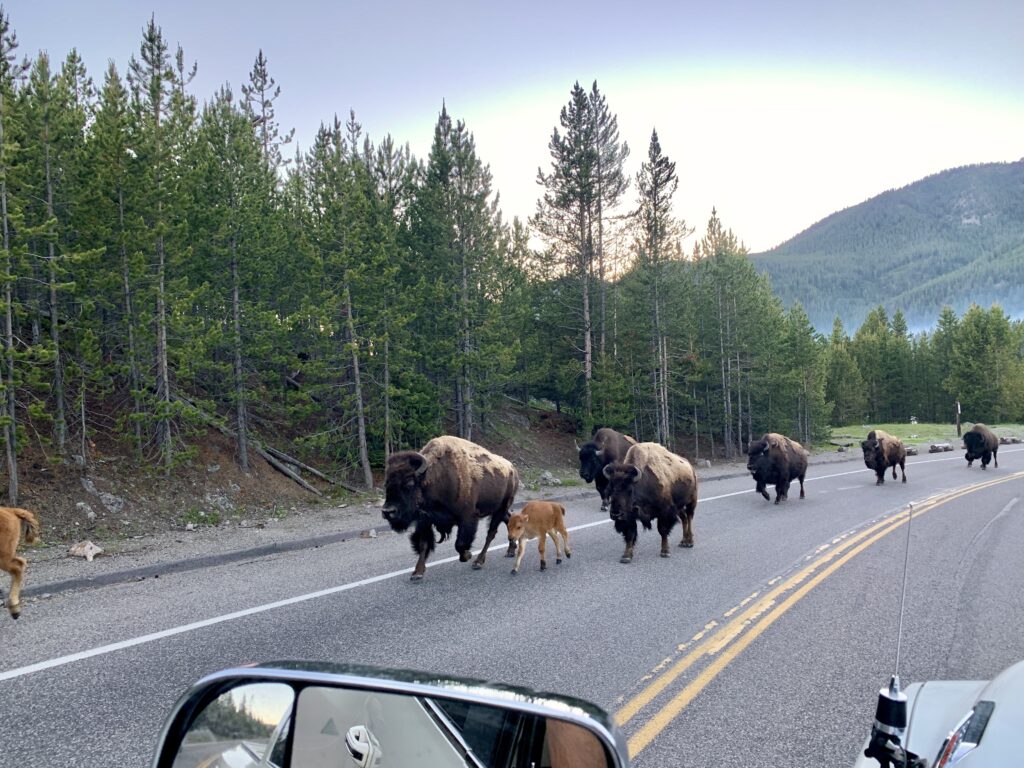 At this point, we have the RV dialed in really well so the upgrades are slowing down. We have a few "nice to haves" on our radar, but nothing critical, essential, or major.
We're still working on our outdoor living area a bit, and decided to order two 10×10 CGEAR Sand-Free mats to serve as our patio. The old rug we had was a bit small, and these mats came higly recommended from another RVer we know. They roll up nicely, have D-rings all around them for staking down with heavy tent stakes, and feel really nice under foot. They're pictured above, a nice bright emerald-ish green with grey trim. We went with two mats instead of one so that we can have more flexibility with them, especially when in storage, vs a single larger mat.
Our awning fabric is going to need replacement soon, as the sun bleached seams aren't holding up all that well to the stress of being anchored down in the wind. I'm not giving up on it yet, instead planning to find some heavy nylon cord and a sewing awl to reinforce the edges with. When it does come time for replacement, I'll probably go with a reinforced acrylic instead of vinyl. The last of the outside living touches we want to add is either a sun screen, or some sort of outdoor screen room that allows us to enclose the entire awning but still enjoy the sun and wind when we want.
While we're talking about the outside of the rig, we're still shopping around for skirting before winter, but nothing is lining up with our travel plans as it has to be professionally measured, custom made, then installed.
Skip back to main navigation