This has always been more of a gear and modification blog than a lifestyle one – we don't really feel the need to share all of our adventures here, but we've found it a decent way to keep track of our changes, issues, and even motivations as we move along, and share those with others.
I've always liked backcountry adventuring – but my professional life has largely kept any sort of extended out-of-reach ventures off the table for the last several years. When I started distance trail running, one of the primary motivations was to eventually become fit enough to take overnight trips, cover 15-30 miles the first day and turn around and head back the next. That keeps the window short, lets me cover a lot of ground I wouldn't be able to otherwise, and potentially gives me an enjoyable night further out in the wilderness. This is considered a form of fastpacking. In order to do this, I still have to deal with with some complicated work logistics, but it is practical during less critical time periods such as weekends and holidays.
There is also the logistical issue of the dogs – since we rarely have the opportunity to have someone dogsit, and don't want to board our dogs, Kelly and I will rarely be able to go together. She's recently become interested in fastpacking as well, and we've met a couple that we like to meet up and travel with, who have similar interests. They have similar issues with their dog – so we see it as an opportunity to, for now, pair up for a guy's trip or a girl's trip, or a couple's trip, while the others remain at basecamp to take care of the pups and watch over things.
---
Regarding gear, we no longer own any. I have a clean slate and decided to set a high budget for it. When you buy gear, you usually get to choose two or at most three, out of "inexpensive", "durable", "versatile", and "lightweight/packable". Inexpensive has always been in my chosen criteria, but in this case I focused on the other three, with cost still an item for consideration but a distant fourth.
To elaborate what each of those criteria mean to me, in this scenario:
Durable – One of my primary concerns is that I "buy once, cry once", meaning that I'm not going to be upgrading or replacing these items in the forseeable future. I'm setting a budget now that should hopefully negate the need to budget for replacements later on. While a lot of gear, especially ultralight gear, is somewhat fragile and not "buy it for life", I was to find the best possible blend.
Versatile – put simply, we travel more than most people and need to account for a larger variety of conditions. Growing up, most of my gear was well suited to regional use in Texas, but wouldn't be at all suitable for weathering out an early winter storm up in Montana. To further complicate things, we have far less room to store gear than most people, meaning that we can't really store multiple pieces of gear for multiple types of conditions.
Lightweight/Packable – We're running more than we're walking. And even if we're walking, we want to keep everything lightweight. We don't want a lot of bulk. Ultralight fabrics are expensive and usually quite fragile. Cheap fabrics are heavy, bulky, and usually don't last. Synthetic insulation, while vegan, doesn't survive repeated compression (and ends up in the landfill) and doesn't even compress that well to begin with. There are tons of metrics to consider here.
You can group your major components into your packing system, sleep system, shelter system, and your cooking system.
---
Lets start with the sleep system. I don't do heat, so will probably never leave out if the lows are going to be in the 70s or above at night. That being said, it's likely that we'll want to use sleeping bags in the 60s, and also down into the single digits or below. You would usually buy several bags to span this range. I allotted for two bags, for each of us. Something good down to 30-40F, and something down to 0F or below.
Being vegan, we really like the idea of synthetic materials but in the case of insulation, there really aren't any synthetics that compare to high-fill goose down when it comes to longevity, packability, and weight. Synthetic insulation begins to lose its loft within the first year, and if you pack/compress it often, will not last long before you are looking for a replacement. We wear synthetically insulated jackets because to date, we don't typically pack them down. With a sleeping bag that needs to be compressed as small as possible for a running pack, synthetics simply won't last. Since they don't pack down as small either, this is an item where I needed to go for down.
There is an outline for down suppliers called the RDS, the Responsible Down Standard. And while it doesn't really go far enough, Western Mountaineering takes it a few steps further in what I believe is a good faith effort to obtain quality down with the least amount of harm. WM is considered to be the cream of the crop when it comes to bags, which compose almost their entire product line. I picked two bags from their MF lineup for each of us.

The Caribou MF is the first bag, rated by WM for 35F. The EN (standardized rating tests) ratings for the bag are 39F T-Comfort (female or cold sleeper comfort), 30F T-Limit (male or warm sleeper comfort), and 2F T-Extreme (female survivability for 6h without hypothermia). It has a published weight of 21oz.

The Kodiak MF is the second bag, rated by WM for 0F. I had each of the Kodiak bags overfilled with 2oz of additional down, which should make it closer to a -10F bag. For the non-overfill version, the T-Comfort rating is 13F, T-Limit -1F, and T-Extreme -41F. It has a published weight of 44oz and the overfill should add an additional 2oz. This bag is incredibly lofty, at 7″ tall when unpacked and empty, but packs up to the size of a volleyball in a compression sack.

WM bags come in three different fabrics, and the MF bags I bought are the middle weight option that provide a good blend of durability with water resistance and breathability. The Kodiak MF has continuous baffles around the bag, which allow you to move the down from the top of the bag to the underside, to adjust for different temperature ranges. Unfortunately the Caribou does not have the same features, but both bags have full length zippers and can be opened up to work sort of as quilts in warmer weather. Kelly could have used a 5'6″ bag, but for versatility we bought two 6′ bags, so that we can loan them out. She can stuff some extra clothes into the dead space at the bottom of the bag if ever necessary.
The next component of the sleep system is the sleeping pad, which is not only important for comfort but also for staying warm. Most have published insulating values. The only pads I've ever used were large rolling foam pads, or possibly a self inflating air pad of some sort back in the 90s. We're looking for something with a much, much smaller and lighter packed size and the best insulating values for the size we can find.
Therm-a-Rest makes a pad called the NeoAir Xtherm, which packs down to the size of a 32oz Nalgene water bottle and provides an R value of 6.9 and a thickness of 2.5″. We chose the Max Reg Wide version, which is rectangular instead of mummy shaped so that we don't fall off the pad if we roll around at night or choose to sleep on our sides. It has a published weight of 22oz.
The sleep system was purchased based on extensive reviews, and the WM bags and NeoAir pads were consistently everyone's favorites. The WM bags have a life expectancy of 25-50 years. I'm not sure on the NeoAir pads, but some reviewer said he'd been using the same pad for something close to ten years, and it was his favorite piece of gear.
---
Moving on to the shelter. This was, by far, the most complicated decision when spec'ing out gear. I wanted a true four season shelter that would be light enough to travel with in the summer, or at least modular enough to shed some weight for summer use. I also wanted to keep it fairly light, and of course, last as long as possible.
Having one tent to do it all, while still being lightweight, is a lot to ask for. Even as I've made my decision, I'm not entirely sure what I'm getting myself into with this purchase.
The majority of tents on the market are three season tents. They give up the ability to withstand wind and snow loads in exchange for light weight and breathability. Four season tents are four seasons because they either have thicker panels and solid walls, or a tent-inside-a-tent design that provides an outer shell that can be pulled back in warm weather, and dead air space between that and the inner tent. Additionally, they use different geometries and/or additional poles if self supporting, and more guy lines. And regardless, the changes always come at the expense of weight.
Most tents on the market use PU or silicone coated fabrics, which have a limited lifespans because the coatings wear off and leave the underlying fabric to degrade. This can take weeks to months for cheaper tents, or months to years on higher end tents with better coatings. Higher end tents use special composite fabrics or silicone impregnated fabrics that are much more resistant to UV and have significantly longer lifespans. They also tend to have higher puncture and tear resistance.
I've always wanted a Hilleberg tent. Hilleberg, "The Tentmaker", is renowned for their arctic expedition tents. If you flip through NatGeo and see a tent on an expedition at the ends of the earth, chances are it was made by them. The thing is, I don't need an arctic expedition tent. But they know how to make tents that can withstand extremely harsh conditions for extended periods of time, and that makes them worth looking at.
I found on their site, that they break their tents into four categories. Blue series tents are for large group basecamps, black series tents are for extreme weather, red series tents are a true four season tent that is suitable for anything you would ever incur in the continental United States, Canada, and most of Alaska, and their yellow series are lighter weight tents that share a little more in common with four season tents than their three season designation would lead you to believe. I spent close to a week, off and on, mulling over their two person red series selections as well as some tents that compete in the same arena from big brands such as MSR and Nemo. While I could find some negativity towards the others, the people with Hilleberg tents overwhelmingly seem to love them – many of them still using tents they purchased twenty or thirty years ago multiple times per year.
I eventually ruled out the idea of a tunnel tent, because while they're lighter and more packable, that comes at the cost of versatility, which ranks higher on my priority list. I've camped on rock slabs where you couldn't drive stakes in before, and if I've spent much time on those in the past, I'm bound to run across them again in the future. Just last month in utah, I had to use 3# sledge to get 3/8″ steel stakes even partially into the ground. That left me, as far as two person options went, with the Jannu and Allak models, if I wanted to keep something with a pack weight of under 7lbs. 7lbs is quite heavy for a backpacking tent, but I'll expand on that later.
After days of mulling over the two person options, I decided to check the weight penalty for moving to a three person. It wasn't much, so in the end I ordered the only freestanding red series three person tent they had available, the Allak 3. That gives us a bit more room, for two people, and potentially the ability to have a third person or dog(s) tag along. I ordered it in their forest green color.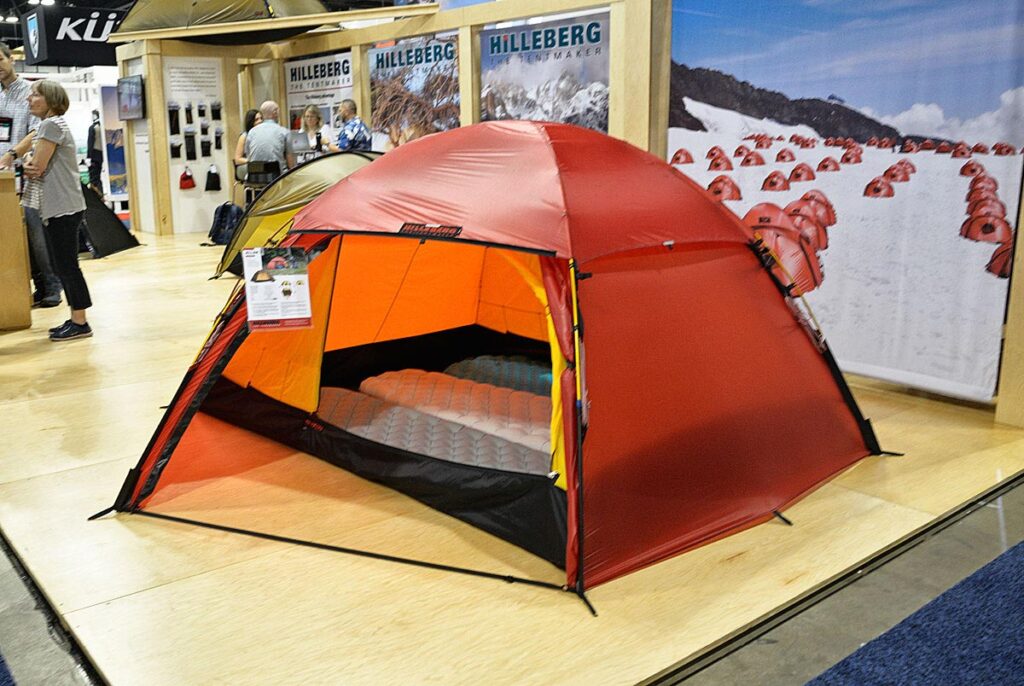 The Hilleberg Allak 3 is a true four season tent. It uses a tent-within-a-tent design, with the inner tent suspended from the outer tent, and the outer tent suspended from the poles. It's designed to be pitched all as one, so you insert the poles on the outside of the outer tent, and the inside as well as the inner tent remain dry, even if pitching in precipitation. You can remove the inner tent and pitch only the outer tent, or pitch the inner tent by itself. This should, in theory, provide a massive amount of flexibility. It has an optional fitted footprint that is not required for use, but covers both the occupant and vestibule floor, and uses a geodesic configuration with three poles.
When I said I don't know what I'm getting myself into, the modularity is what I'm referring to. I have no idea how the inner tent performs by itself, and if it's really practical to ditch the outer and take it by itself on fair weather adventures. Similarly, I don't know how much either the inner or outer tents weigh by themselves, if I want to only take one or the other with me. I know that the outer tent is often used as a fancy tarp shelter that runs all the way to the ground – allowing it to fit four people and gear – but I haven't seen anyone put these components on a scale. A review for the Jannu tent, by contrast, broke down all the individual components so that you could estimate the weight as you might pack it in the summer, vs the winter.
That aside, the trail weight of the whole assembly is 7lbs 1oz, which is just over 3.5lbs each if you're splitting it with another person, or less than 2.5lbs if dividing the components three ways (one person might carry the outer tent, another the inner tent, another the poles and hardware, as an idea). Even if we're to take the whole tent, it's better to have too much protection from an unexpected winter storm at high elevation, than not enough. And if we're taking winter trips from the RV camped down at 6000ft, and climb up from there, we're likely to run into some harsh weather and would like to be prepared.
With just the inner tent, or just the outer tent, the weight should be significantly less. Regardless, to maximize flexibility and minimize weight for fair weather adventures, I decided to order a Hilleberg Tarp 10, MSR Mesh House 3, and Mesh House 3 footprint.
The Hilleberg Tarp 10 is a 9.5'x11.5′ tarp that is made from the same fabric that the tent itself is. It has multiple guy lines and tie-out points, and can be set up in dozens of ways for a lightweight temporary shelter.
Among other things, it can be used to extend the living area of a tent, like the Allak 3: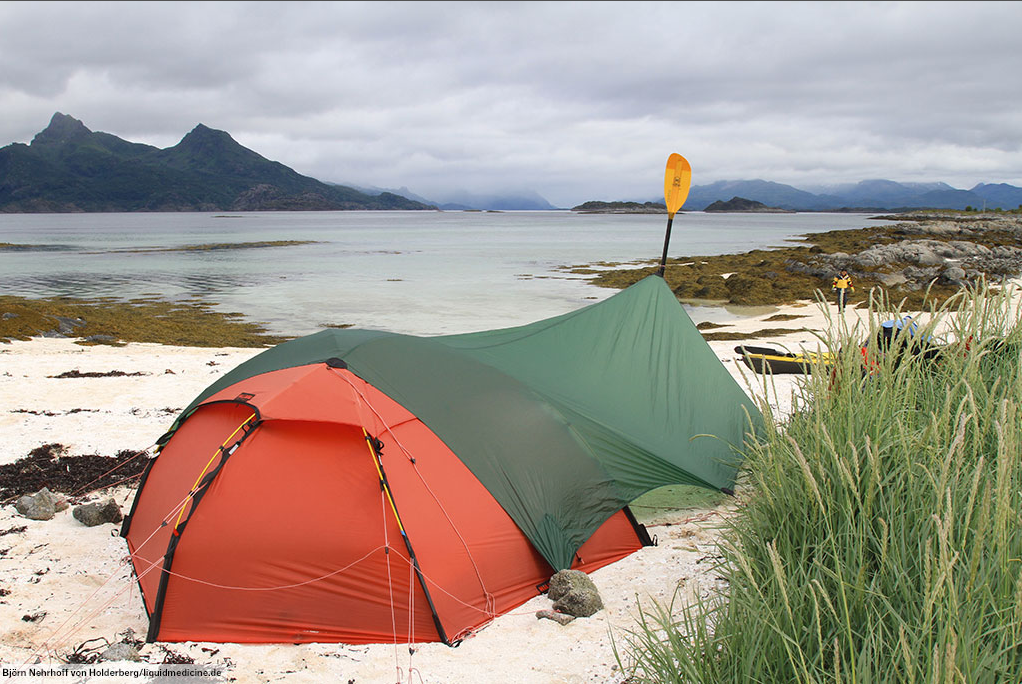 The MSR Mesh House 3 is a very lightweight mesh A frame tent, that can be suspended on trekking poles or from trees. I imagine that it's a great way to stargaze when skies are clear. You can pair the Mesh House 3 and the Tarp 10 together, for a result that is lightweight and protects you from moderately inclement weather.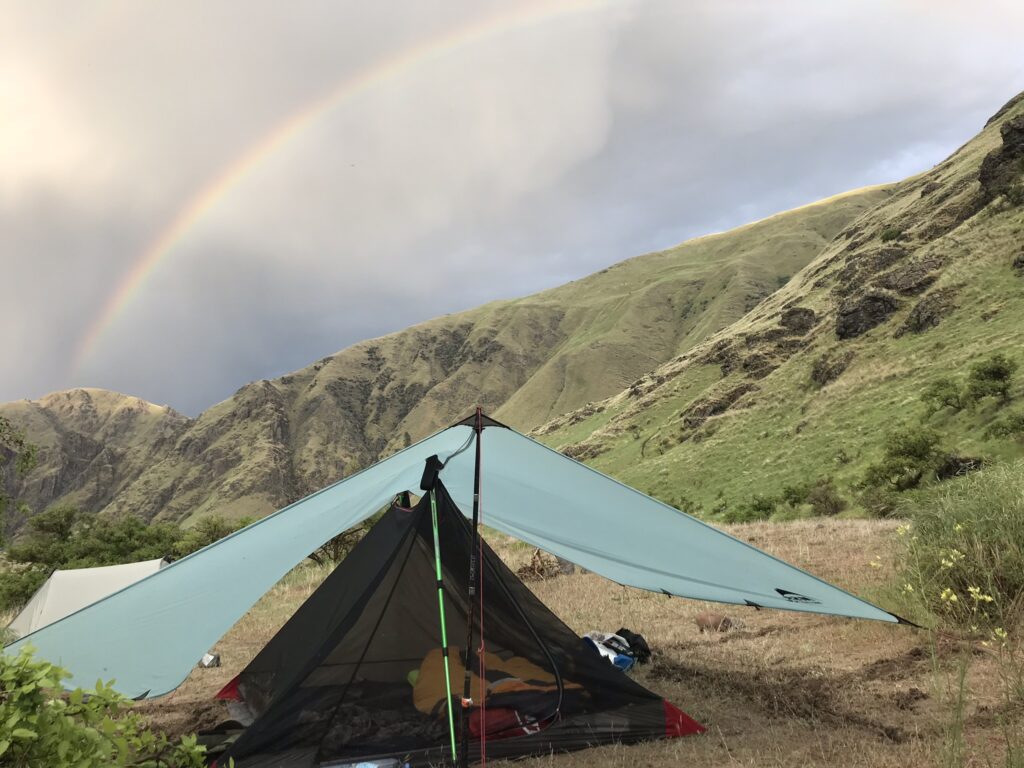 This should all provide a very modular, bomber setup that will last for many, many years and be suitable for all the situations I'm likely to encounter.
---
The next system that needs a lot of attention is the cooking system. We're going all MSR here.
Starting with water, I've been using a MSR TrailShot for the last year as sort of an emergency water supply on trail runs. It works well, but I'm not entirely confident in the output from this type of filter.
MSR makes a 17oz water purifier that packs up about the same size as a 32oz Nalgene bottle. It's called the Guardian, and is among the fastest of any purifier/filters on the market, with a rate of 2.5LPM, and has a cartridge life of 10,000L. It's effective against bacteria, viruses, and particulate down to .02 microns. The output is designed so that it screws onto any wide-mouth Nalgene bottle or compatible reservoir. We love their 32oz bottles, and picked up a couple of their 96oz bladders so that we can easily carry bulk filtered water between stops. We're very thirsty runners, and I think it would save several pounds of weight to plan routes around water sources when possible and carry a 17oz purifier, than packing all the water we need in. And keep the 5oz TrailShot or some purification tablets as a backup.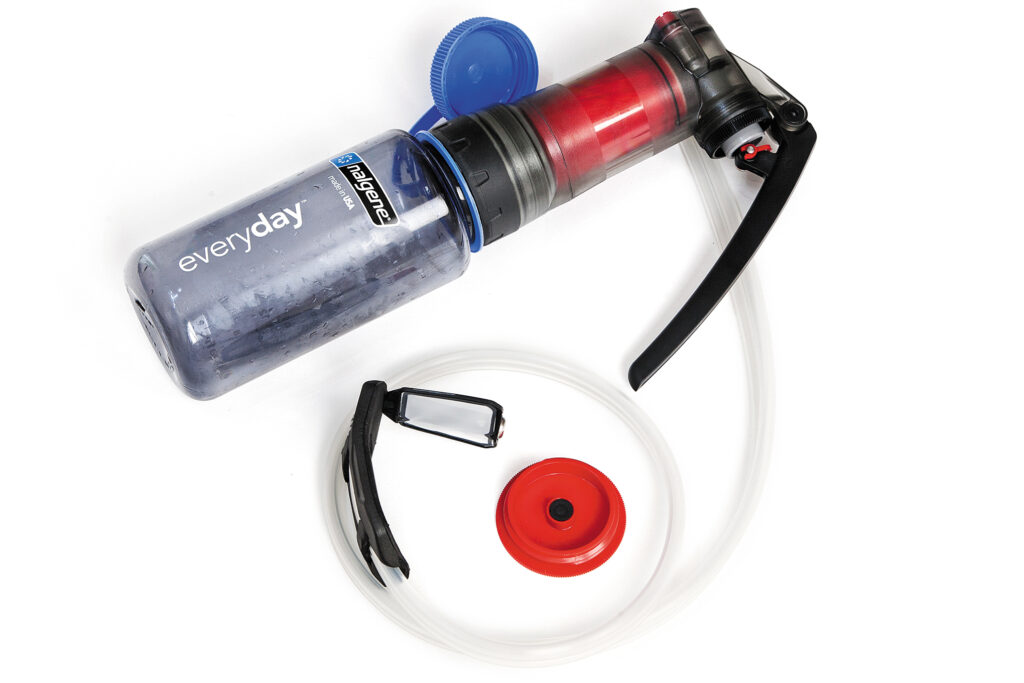 Most backpacking stoves are canister based, and canister fuels don't tend to work at high altitudes or cold temperatures. They do make blends that increase the usable ranges, but if you want a reliable stove at high elevation or in sub-freezing temperatures, you really need to go with a liquid fuel stove. I decided to go with a small canister stove, because they're tiny and cheap, the MSR PocketRocket, and a liquid fuel stove for maximum flexibility. The PocketRocket weighs less than 3oz, without fuel.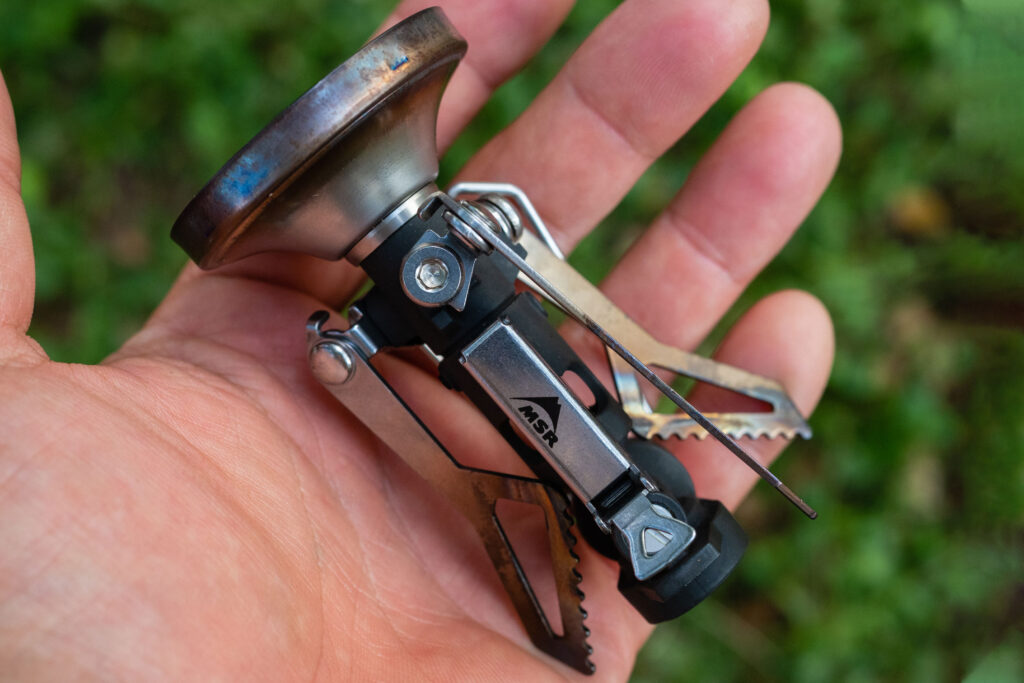 The MSR Whisperlite Universal is the liquid fuel stove I chose, coming in at a much heavier 17oz trail weight with empty fuel bottle. It runs on canister fuel, white gas, kerosene and unleaded gasoline, as well as diesel and a few other things which aren't officially supported. Basically if it's liquid and you can burn it, the stove will work – but for food safety, sticking to white gas is probably the best bet and it's readily available anywhere in the US. The Whisperlite is a lot more stove, with a bigger and stabler footprint, and is better suited for more complex meals and cooking in windy conditions. It'll work reliably and perform better at elevations above 7000ft, and temperatures below freezing. On the other hand, the PocketRocket saves a lot of space and weight when conditions are better suited for it.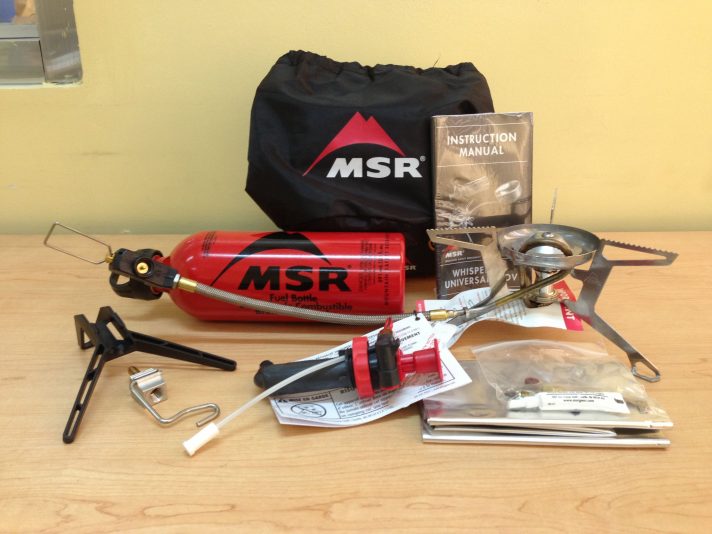 Finally, for an all-in-one pots, pans, cups, plates, and bowls solution, I opted for the MSR Quick 2 System which is both compact and lightweight. Everything in this system nests together in the largest pan, and you can fit the MSR PocketRocket into one of the coffee cups. We're supplementing it with their folding sporks and a Primula Brew Buddy coffee maker, which fit into the other coffee cup.
Depending on what we're taking to eat, we can split up and only take the necessary components of the cook system for the most efficient packing.
---
Packs, packing and organization, are the other big system. For the packs, we're looking for something that is lightweight, tight fitting with specific style of harness, and expandable because we're looking to travel fast and with low pack weights. We may end up getting something else, but for now we're going to try the Mountainsmith Zerk 40. The Zerk 40 is one of, from what I've found, only four bags in the 35-50L range that has a harness system that appears suitable for running. Salomon makes two options, both are import only so are complicated to get in the US, and Ultimate Direction makes at 35L pack which is on the small side. The Zerk 40 has a usable capacity of around 44L according to reviews.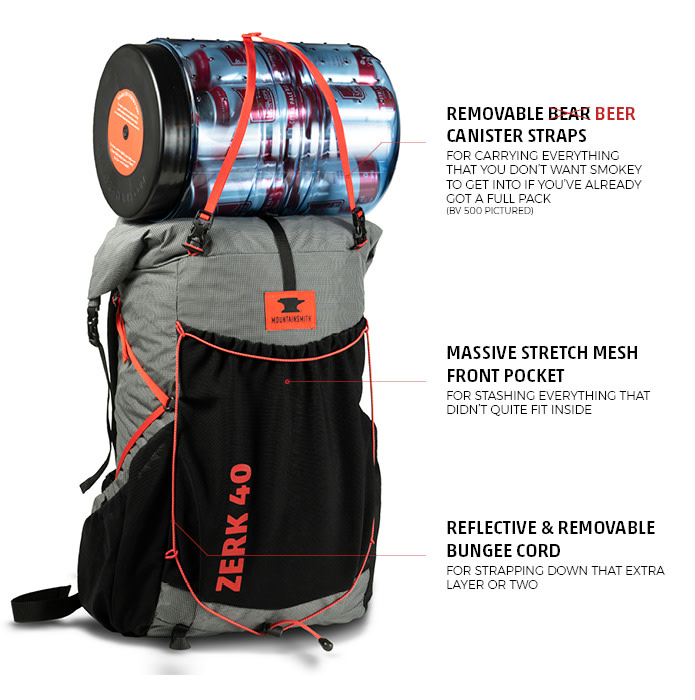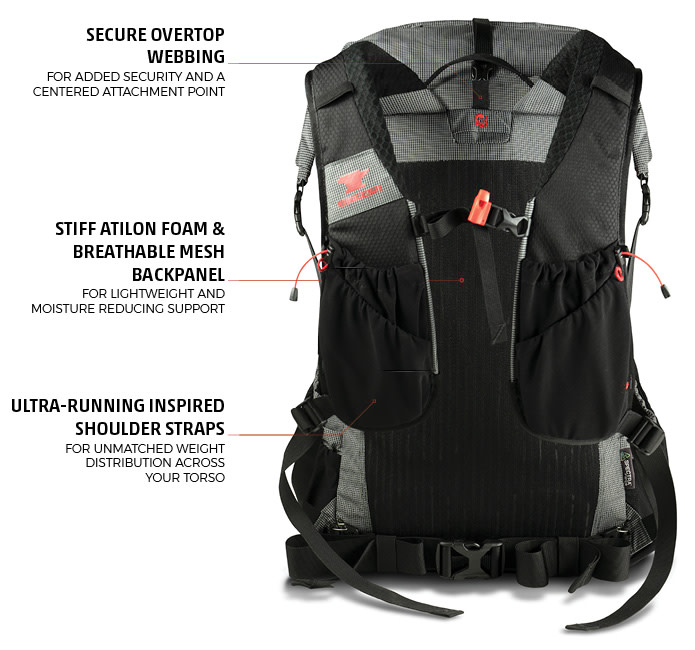 Sight unseen, the Zerk 40 addresses most of what I'm looking for in a bag. It's roomy enough, has lots of side pockets, is around 2lbs, and has a race harness. I don't like that it doesn't have a side zip, which I can always modify it to have, but I love that it has integrated straps for the Bear Vault BV500 canister – which I added to my order.
The sleeping bag and tent will need to be compressed, as well as possibly clothes, and other items organized. I ordered a variety of Outdoor Research compression and dry bags for that purpose.
---
There are numerous little bits and pieces that I didn't bother mentioning here, but I covered the cornerstones of the kit. The sleeping system, the shelter system, cooking system, and packing system.
In our immediate sights, we're hoping to do a shakeout "car camping" trip in Texas, several overnight runs in the mild Arizona winters, and at least one winter mountain run up in Utah to see how the winter game shakes out. We took the RV to over 9K in Utah in early September, and we received a few inches of unexpected early snow on that trip.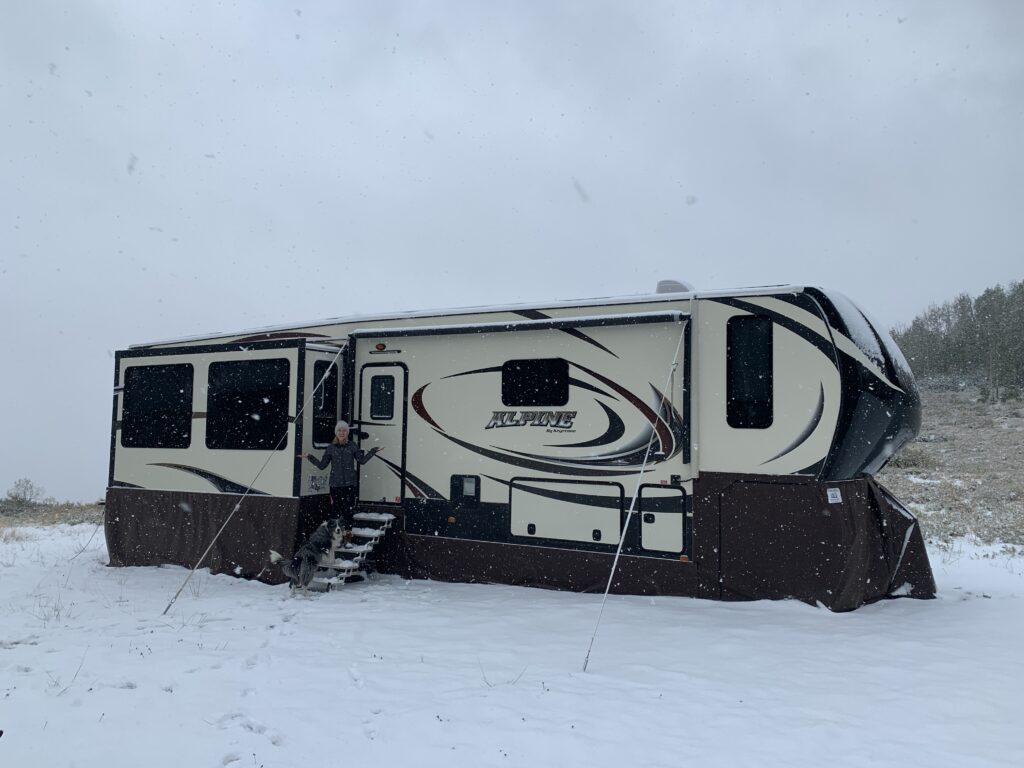 Having an RV that we take all over the place changes the requirements for gear – because we're not just dealing with four seasons, but four seasons over a massive and variable range of land. It also make for an extremely opportunistic jumping point to all sorts of adventures that we'd never have been able to partake in, living in a fixed location year around. We're really excited for this next step, and wanted to head into it with quality gear that wouldn't leave us disappointed. This was an undoubtedly pricey endeavor, but we'll go into this without much hesitation and hopefully come out without any regrets.
We have nearly 9′ ceilings in our downstairs bathroom, and a lot of dead/wasted space near the ceiling. I'm using wire shelving to build a 36″x28″x14″ storage system overhead that still allows me to stand and walk around without hitting my head, while using up the dead space for this lightweight gear.
Skip back to main navigation