When we bought our first rig in 2014, we really had no idea what we were doing. The idea behind it was to get into something new as cost effectively as possible, to start traveling around the area we lived. A truck and travel trailer seemed like a utilitarian combination that would check all the boxes.
After a year or so passed, we upgraded to our first fifth wheel, which we swapped out another year later for the one we have now. That fifth wheel was partially renovated and modified, but the pace increased exponentially once we sold our house and began to live in it.
Most travelers and full-timers, I suspect, move primarily park to park and rarely leave pavement or camp without some form of hookups. That was actually us for many years, including the first few months of traveling FT. The majority of fifth wheels seem to be designed for that park to park market and need at least some modifications to excel off-grid.
We started with a modest battery bank and generator setup and quickly decided to go all out – ripping out and replacing air conditioning, adding a large LiFePO4 bank and a lot of solar panels, redoing the tank and septic systems to make extended stays easier to manage, and more. We spent several months traveling all over the western United States and were able to stay at several wonderful sites.
We never felt limited, and even argued for bigger rigs over smaller ones, when asked what to boondock with. Having a big rig for boondocking means larger tanks, more real estate for solar panels, more storage to house gear and staples, and for most people, more comfort. The only downside, in our minds, was that we had to choose somewhat easier to access sites than a lot of smaller rigs.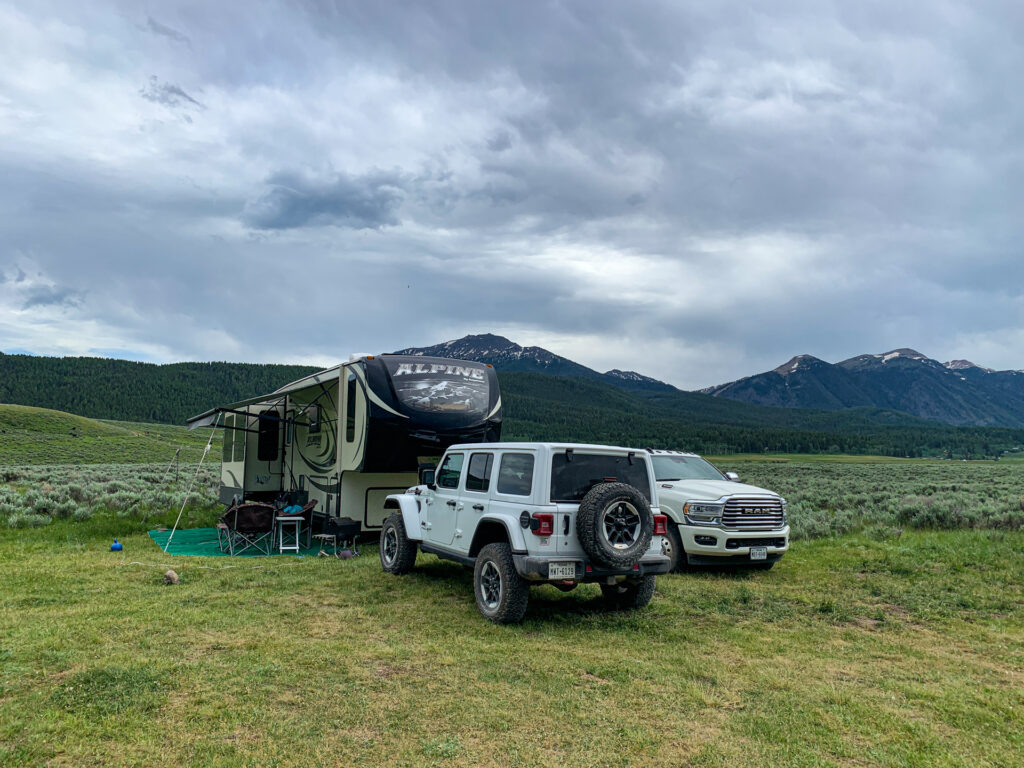 I don't think that there was ever any point which we couldn't find a site, and we didn't really find the size that limiting. I think that thanks to a capable truck, we were able to haul it into places that we perhaps shouldn't have, and that we wouldn't have been able to make it into with a class A, B, or C rig unless heavily modified. There were small parks we had to pass on because they didn't have large enough sites – but we didn't really want to stay in most of those parks, anyway.
---
At some point, we needed to take a trip that involved three long back-to-back travel days and wanted to travel together. In order to do so, we spent over $1,200 to have the Jeep shipped to the destination, and to avoid the cost again, drove separately on the way back west. That led us to begin discussing other rigs – we considered and dismissed a class A, and eventually entertained the idea of building our own specialized rig – a 40′ class gooseneck trailer with a custom living quarters on the front and space for the Jeep on the back. We were still looking at a very large, heavy, long trailer and it wasn't really on our minds to abandon that size, until a group of campers we know all began to buy truck campers.
In the end, that was a less labor intensive, meaning less downtime, way to solve the issue of traveling together as long as we could make it work. Most of their truck campers were on the smaller side and not really what we would consider for full-time living, but having a truck camper would mean being able to tow the Jeep behind the truck and ride together. After doing some research, we landed on a TC that fit our initial requirements (we might do things differently if/when money permits) and bought our AF1140.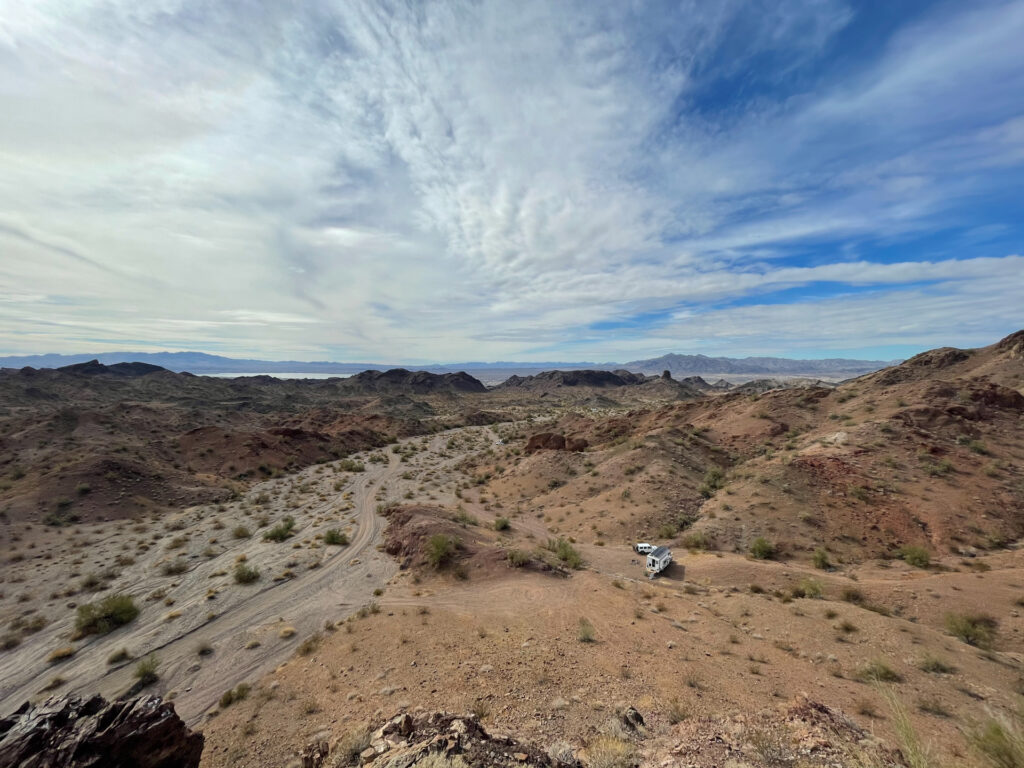 We don't currently have any intentions of selling our fifth wheel, but at the same time are having some difficulty reconciling when to go back to it. The TC has worked our far better for our needs than anticipated. We bought it to be able to travel together, and it allows for that, but the enormous amount of flexibility we've experienced has highlighted the limitations we weren't overtly aware of when in our fifth wheel.
We're currently staying in a wash about three and a half or four miles off a paved highway in Arizona. The first couple of miles are gravel but easily accessible, and there are dozens if not hundreds of campers scattered on either side of the access road. A lot of them are in larger rigs – but the further down the road you go, the sparser the campers get. We may have had a couple sites we could squeeze into with our fifth wheel – but in close proximity to the crowds. Once you pass two and a half to three miles from pavement, the access road turns to softer sand and washboard rock, and the trailers and larger rigs you see on the way in disappear. There are a few smaller trailers back here, but nobody wants to haul a large rig back on this section and we probably wouldn't be any different. Even if we tried, I haven't seen a site back here that would accommodate it.
However, knowing that we're in a comparably small and nimble truck camper, with a fairly capable truck, my plan all along was to just keep going down the road until the other campers gave up. I had no worries about finding a space or getting into one, once we found it. And that has been our modus operandi since getting this thing.
Side note: the truck has aggressive tires and a 16K winch, and Kelly's Jeep is usually with us and has a 12K winch and lots of recovery gear. I never really worried about getting stuck with the fifth wheel, but I'm not sure how much we could really do for recovery with the weight of it back there. If we manage to get ourselves stuck with the TC, we have much better prospects (that will improve soon - come back soon for updates!)
Aside from the significant point of being able to get into spaces other rigs give up on, and therefore having far more options, the truck camper has turned out to be far more livable than expected.
The model we opted for has an 8cu. ft. (large by TC standards, same as our last fifth wheel) refrigerator and a real queen size bed with large his and her wardrobes. It has as much pantry space as our fifth wheel and enough storage space that we can make almost everything we need fit (we store some stuff in the back of the Jeep). It has a fully usable kitchen and a usable bathroom, and has tanks that rival the sizes found in large travel trailers and small fifth wheels. It's exceptionally easy to uproot and move to fill water or dump tanks, which we used bladders for in the fifth wheel that weren't always great to deal with.
The bathroom, being a wet bath, took a little time to get used to, but we hardly think about it anymore. The lack of a proper living room – like we wanted – has led us to spend more time either outside or in the bedroom reading (a good thing) or watching TV in the evenings. I'm writing this post from the dinette, using it as a large desk and looking at a great view though large, well-placed windows that are much better insulated than those in our fifth wheel.
We haven't had any issues adjusting to being in a small space together, which is something a lot of people ask about – the thought never occurred to us that it would be an issue. I guess that's a measure that varies in relationships, so might be an issue for others.
The biggest negative about truck campers, for us, is actually the ingress/egress situation. Most truck campers have partial stairs or ladders or combinations thereof for access – they don't really ship with good solutions, so you are on your own as the buyer to figure out what is going to work for you. The rare exception would be side-entry models. With all of the off-the-shelf solutions, we would have a very awkward step and a couple junctions that could be easily navigated by humans, but not by dogs – especially elderly ones. Our deck may look like a luxury item, but was our method to address the ingress/egress for the animals, with the ability to use it ourselves as a bonus.
---
TCs come in various sizes, and to make this work for us, we needed one at the larger end of the scale. We're extremely happy with our TC, and as mentioned, are having difficulty figuring out exactly where the fifth wheel we've put so much heart and cash into will fit into our future. While the amount of space we have is plenty for us, it may not be for everyone.
Additionally, while most larger fifth wheels probably should be towed with a DRW truck, many of them aren't. We towed with a SRW short bed for years that we wouldn't have been able to use with a truck camper this large. Since we had already upgraded, we were ready for this, but it's another very important factor to consider because these truck campers can easily weigh close to 6,000lbs when ready to camp and the trucks to haul them aren't all that easy to find or cheap to buy. If we were starting fresh, didn't have a fifth wheel to consider, and planned to always be in a TC, we'd probably size up to a 4500 or 5500 with air ride and super singles.
Skip back to main navigation