After many months of consideration regarding how to travel with our recumbent trikes, we finally decided not to. It was going to cost us over $1000 just for a custom rack to move them with, then we'd have to worry about the possibility of them being stolen (far more costly than bicycles), and having to keep them on top of the truck or chained to an inanimate object somewhere. It just wasn't going to work out. Yet we still wanted some sort of decent transportation aside from the truck when at campsites.
Running the numbers, we finally decided to get some inexpensive (relatively) but high quality bicycles. If anyone were to see our garage, with two trikes, one cruiser, and two mountain bikes in it right now, they'd conclude that we are avid cyclists, with two trikes and three bikes in store. A while back we realized that bikes are yet another item that you get what you pay for – within reason. We've had a couple positive experiences with BikesDirect over the years, with Motobecane and Gravity bikes, before concluding that we like trikes more. BD's frames are very strong, the components are good, and the prices are a little less than half what you would pay for comparable Specialized or Trek. On that note, you don't get the same level of service and support you would get from a LBS, and you need to be comfortable assembling and tuning a bike yourself.
We decided to buy Motobecane 527-HT and W27-HT Comp models after looking at their lineup. They offer the rugged capabilities of entry to mid level mountain bikes, but have 27.5″ tires which are in-between a normal mountain bike and a road bike. We didn't want to go all the way to 29″ mountain bikes, having owned one in the past. Our trailer doesn't have a hitch on the back, so we ordered a $200 Curt universal hitch off of Ebay and a Swagman XTC-2 bike rack. All of the components have arrived and I mocked up the Swagman rack and the bikes yesterday to see how they will fit. We're in it for a couple hundred more than the rack we were looking at for the trikes, but the solution is better overall. We picked up two bikes in the process, still have the trikes, and have the rack and a hitch on the back of the trailer that we can lock everything to. Sorry about the poor photo, it was dark by the time I finished assembling everything.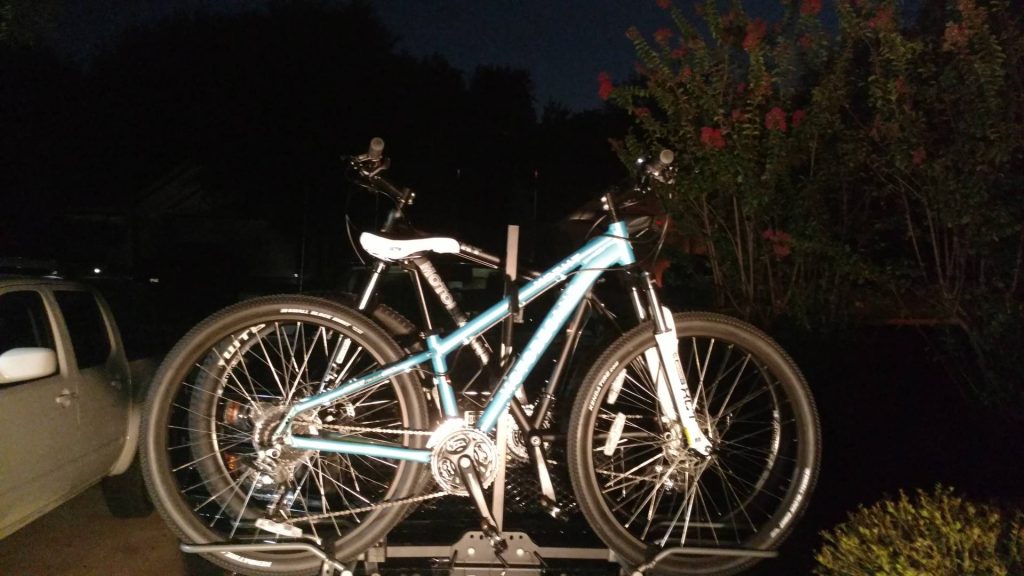 It looks good and the rack is going to work great. Very easy to get the bikes on and off of. I ordered a 6′ cable lock to secure the bikes to the rack, and a locking pin to secure the rack to the trailer. I'll be tackling the install of the hitch on the trailer another day.
[amazonjs asin="B001DMJPLO" locale="US" title="Swagman XTC Cross-Country 2-Bike Hitch Mount Rack (1.25 and 2-Inch Receiver)"] [amazonjs asin="B0033WNJV4″ locale="US" title="CURT 13703 Class III Receiver Hitch"]