Water management is a huge pain while boondocking – we pieced together a series of projects to neutralize the issues and are summarizing our complete solution here.
The first issue on the table was to clear out the bed of the truck, so it could be used to transport fluids. I'm not willing to give up my 60 gallon aux tank/ toolbox combo, but decided to replace my fifth wheel hitch with a gooseneck ball and replace the pin box on the trailer with a Reese Goosebox V2. It takes about 60 seconds to pull the ball and safety chain pucks, and clear out the bed of the truck. I have a hard tonneau cover over the entire bed. That gives me roughly the usable space of a short bed truck, with height limitations if I want to keep it covered.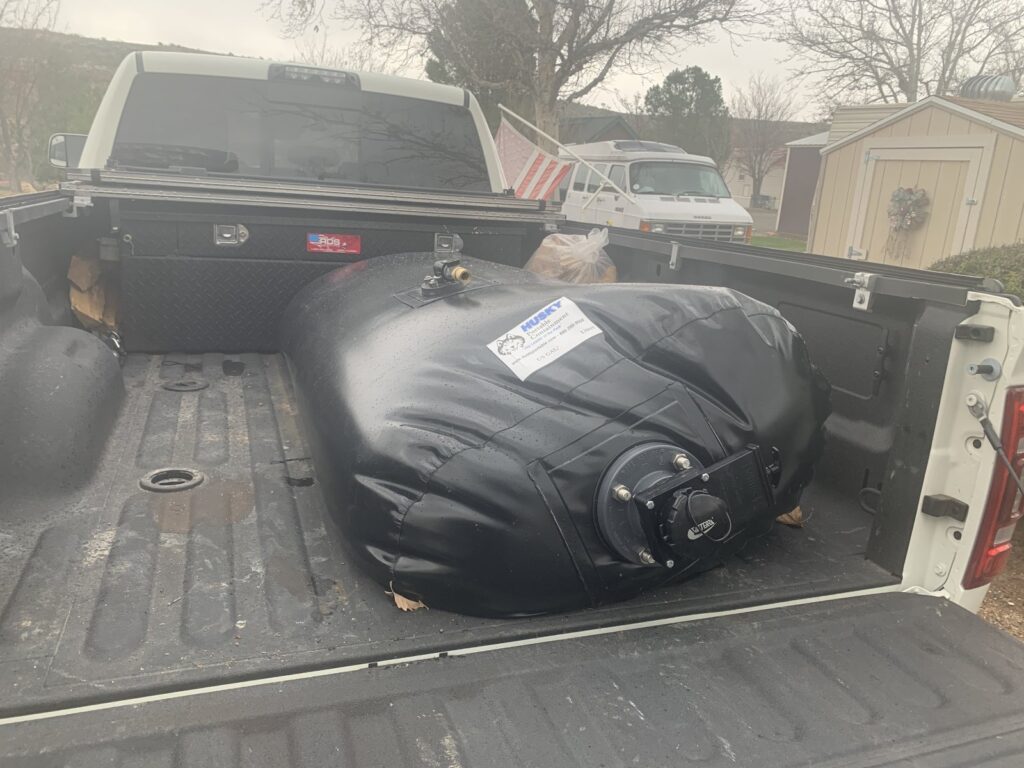 From there, I called Husky Portable Containment and had them build two custom bladders for me. The first is for potable water, at 92 gallons, and the second for grey/black water at 165 gallons. They fit side by side in the truck, filling up the void between the wheel wells and toolbox to tailgate. Each bladder ran around $250-300, if I recall correctly. When ordering, you specify the dimensions, fittings, and fitting locations, and I specified an 3″ FPT outlet on the black. Everything else is GHT. I bought a 3″ MPT x 3″ bayonet gate from Valterra. These bladders are very durable and the materials rated for the contents.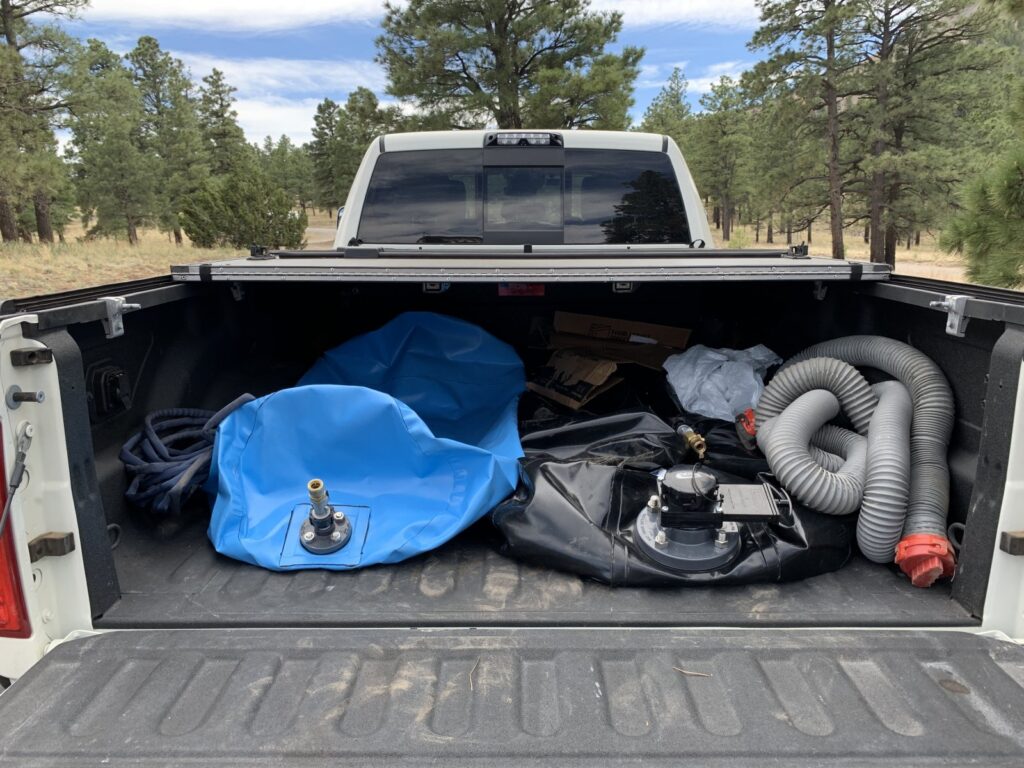 With a method of transport figured out, I ordered a cheap AC powered potable transfer pump from Amazon and a FloJet macerator pump. After a couple months of use, I found that both were complete junk. That was several hundred dollars poorly spent and while functional, I wasn't happy with either solution. The potable transfer pump was just excruciatingly slow to begin with and the FloJet pump became slower and more fickle the more I used it. After a while it refused to start without manually turning over the impeller through the manual override and developed a crack in the casing, even though it was always handled carefully.
I eventually stumbled upon this Milwaukee battery operated transfer pump that claims 8GPM. I use all Makita tools and have several batteries, so I bought an adapter off Amazon to use Makita batteries in Milwaukee tools. It works great, and the pump is blazingly fast. I swapped out my conventional hoses to color-coded Zero-G hoses with quick connect fittings everywhere, at some point. I always connect the hose ends together when not in use. Not having to use an extension cord is a massive bonus with as often as I'm dealing with it. Battery life seems decent at about one 4AH battery per bag in real world use.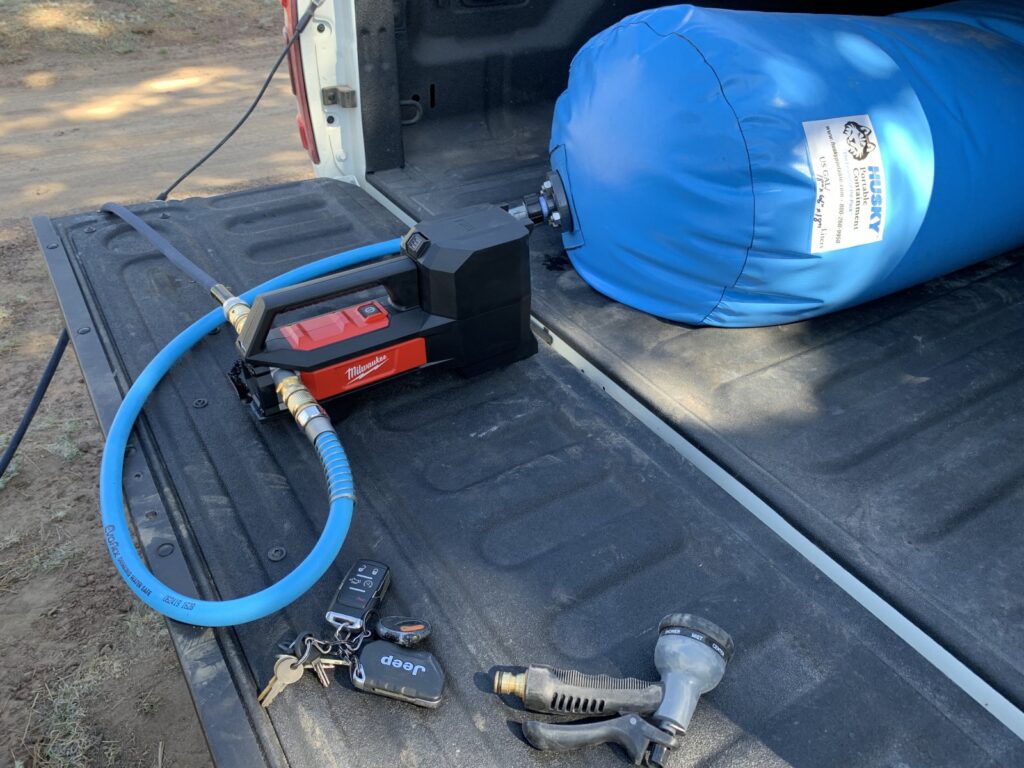 On the wastewater side, I eventually broke down and ordered a Sani-Con Turbo 400S kit and their 12″ box. My initial install was exactly as recommended in their manual, but I found that it needed some modifications to meet my needs.
If you aren't familiar with the system, it's a macerator pump that is "permanently" attached to your rig, with a permanently attached hose and nozzle. As designed, gravity will allow fluids to flow out of the hose after the pump, but if you're pumping uphill, once the tanks are empty, anything left in the hose remains there. There is no shut-off on the hose, so you are left figuring out how to deal with that. Since this is advertised as being able to pump uphill, you would think that this would have been a consideration…
The 400S model is "permanently" attached to the rig and has a dedicated, hard-wired run to the battery and control switch near the wet bay. The theory is you just grab the 1.5″, 21′ long hose and run it to the sewer inlet without having to mess with any fittings. I added a section of clear tubing to the output so that contents can be observed. I also gorilla taped everything for aesthetics, to make it blend in at least somewhat better with the rig. Note that since we're having to pump everything uphill, the hose is not empty.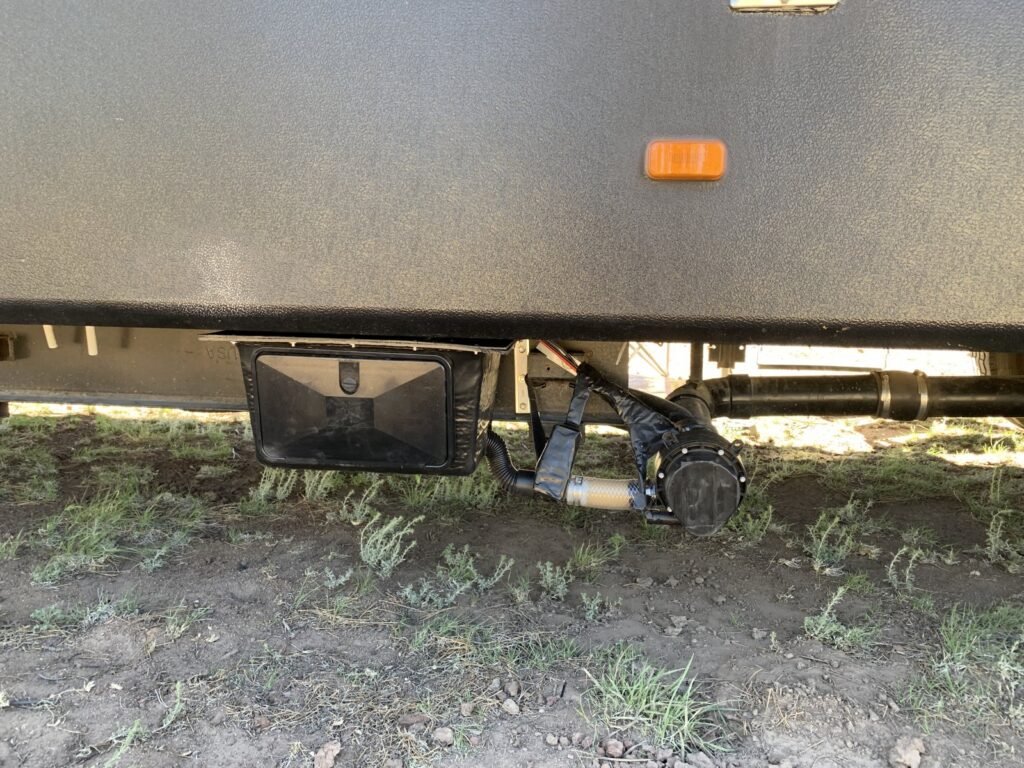 Because that's a major issue, I added a shut-off valve to the other end of the hose. Normally the hose connects directly to their nozzle, which has another design flaw. It is threaded for threaded sewer inlets, but how are you to turn it when it's permanently attached to the hose, and the rig?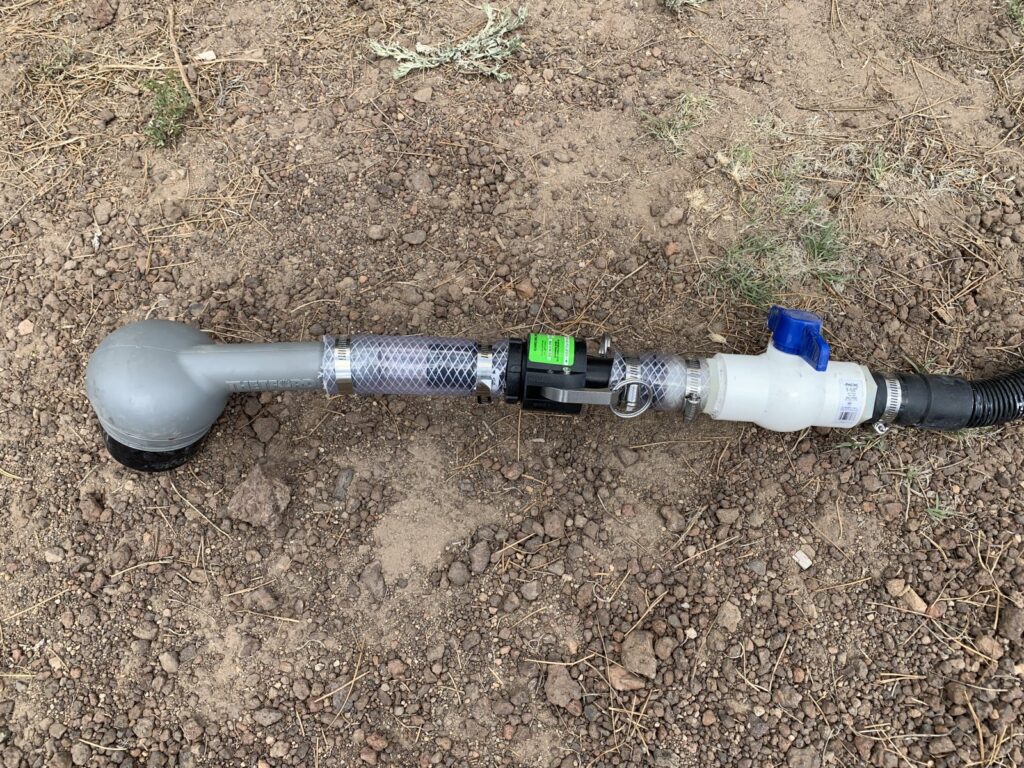 I solved this by taking the output of the valve to a female Cam-Lock fitting. Then, I attached another clear length of hose and a male Cam-Lock fitting to the nozzle. This also solves the issue caused by the addition of the valve, that being that it no longer fit into the storage box. With the nozzle able to detach, you can thread the nozzle into the inlet and then attach the hose, working around the design flaw.
Since I now had the Cam-Lock system, and use a Zero-G hose with brass ball valves and quick connect fittings on each end, I decided to eliminate their nozzle for my typical use with another male Cam-Lock, adapted down to a quick connect fitting.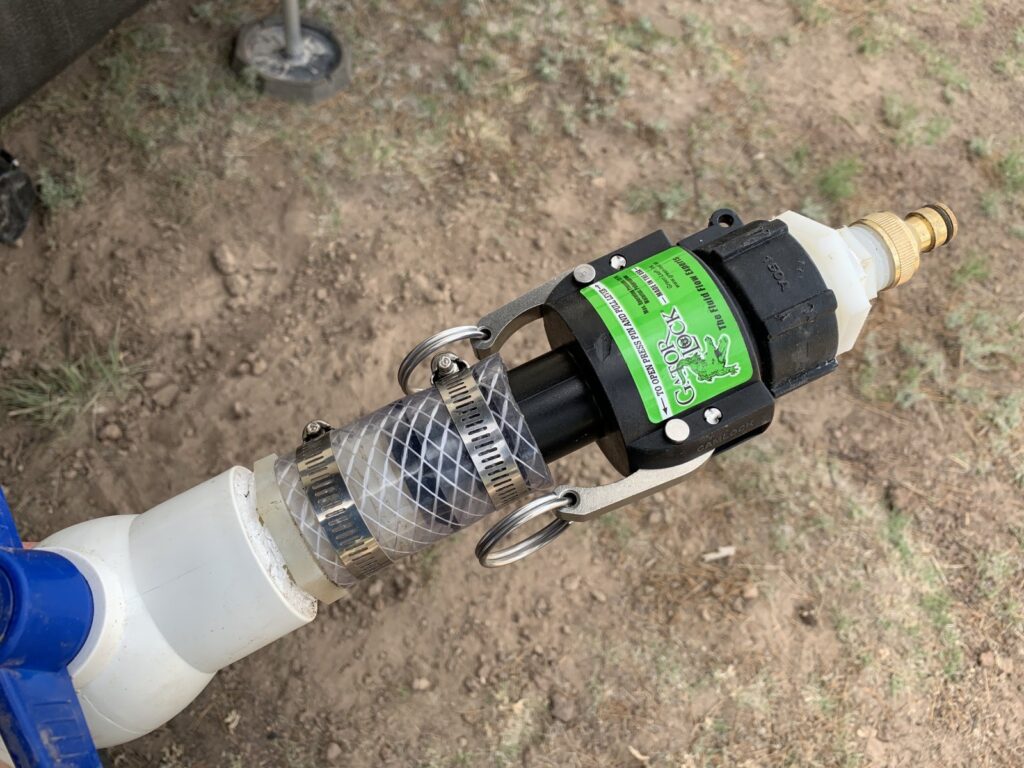 With this system, I was able to throw out most of my septic tote and reduced conventional hoses to just a 10′ stretch and an elbow for dumping from the bed of the truck.
Knowing tank levels is also really important to us, so we swapped out the tank monitors with iSeries. We've been thrilled with the system, and the tank sensors go on the outside of the tanks and read through the tank walls, so we didn't have to drill into the tanks. We have it set to audibly alarm when the fresh tank gets low, or other tanks get close to full.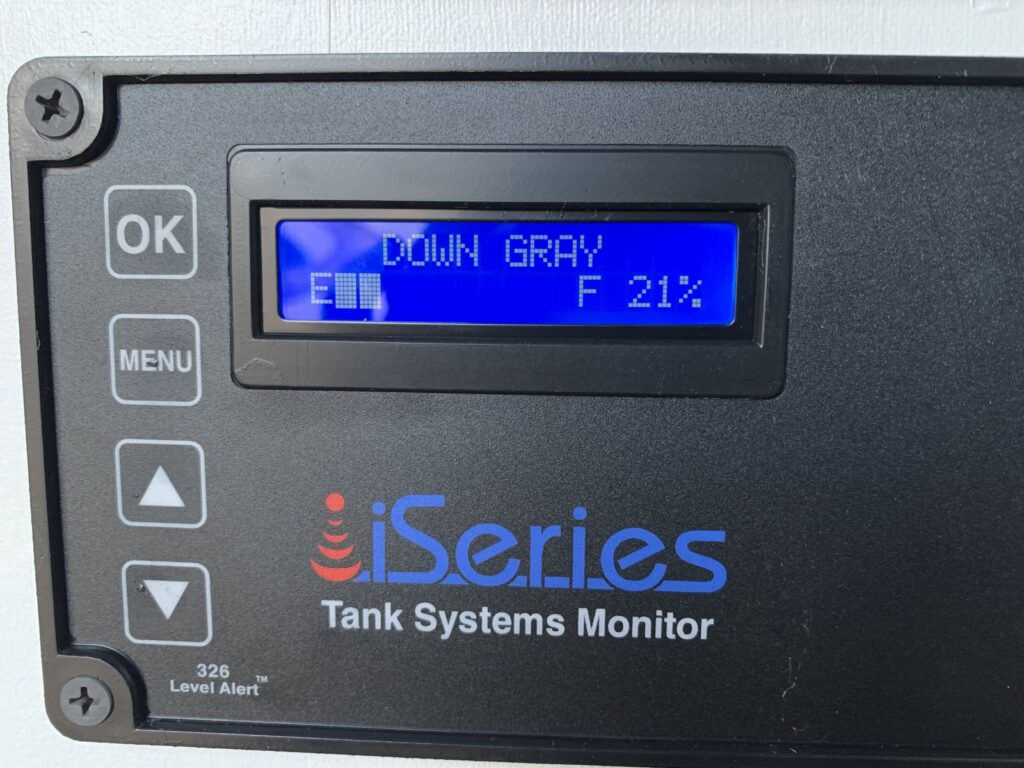 And finally, a while ago I upgraded all the tank valves to electric. We had two cables on our cable valves break, and the seals leaked from year one, so when the second cable broke I pulled everything apart and put in Valterra electric valves. It's an older photo from when were on FHU for winter with a heated hose.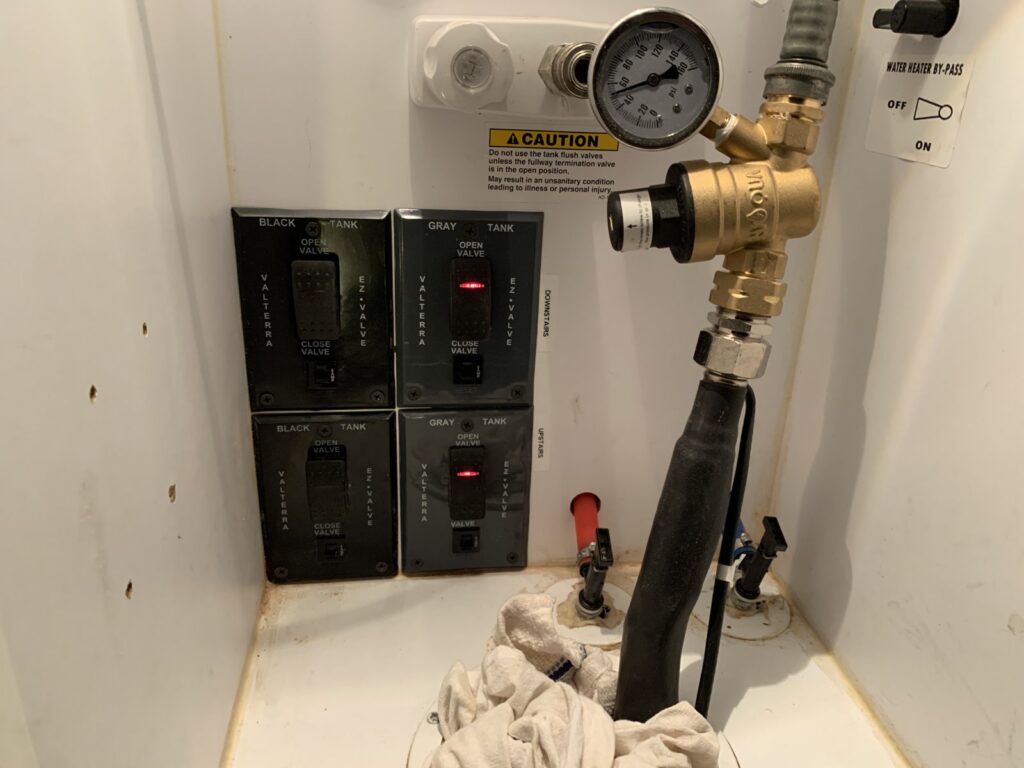 We've been using this system for quite a while, and have worked through all the issues to the point that we're really happy with it, and confident we can avoid mishaps. We boondock a couple weeks at a time at each location and require a trip or two to town or a nearby RV park to fill the potable bladder and empty the waste bladder, BUT live as if we're on full hookups. We run our combo washer/dryer a couple times a week, take "normal" daily showers, wash dishes as we would at a park, all at very little inconvenience now that we've figured it out, and highly recommend implementing some or all of these solutions if you boondock extensively.
Skip back to main navigation