Traveling around in a RV means we have limited space, yet we want to take personal land and water transportation with us. When we go to town, we can simply unhitch from the trailer and take the truck into town. That's one of the main reasons we opted for a fifth wheel over a Class A. That, and that if you have drive-line issues with a Class A, you can be stranded without a place to stay.
But for some local travel, and even fitness, we want something like bicycles. We've been through several mountain bikes over the years, but have never really been a fan of the riding positions, so when we found recumbent trikes, we were sold. Unfortunately, they're bulky and difficult to travel with. They make folding ones, but those are double the prices of what are already expensive vehicles, and don't reduce the size all that much. We picked up a couple of custom trikes built on KMX frames from Utah Trikes a couple years ago, and love them.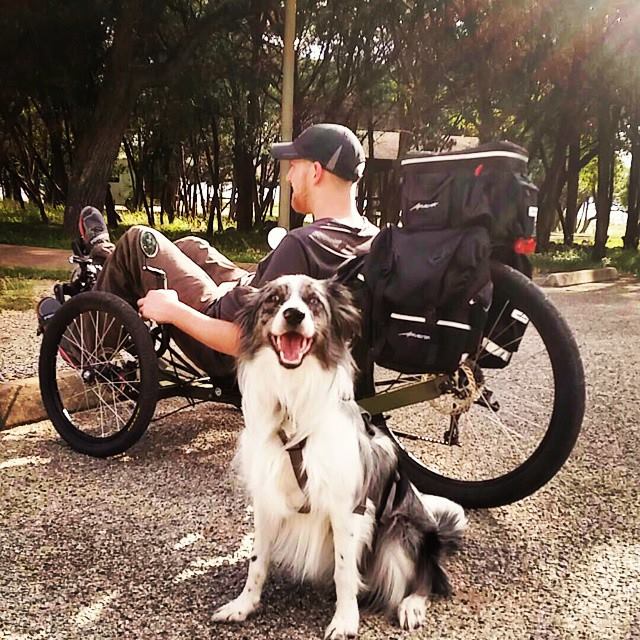 We're currently working with a company called Cycle Simplex to build a custom aluminum trike rack that will hold both of our trikes, facing forward, on a 66″ wide track that mounts to a Rhino roof rack for my pickup. I'm having them build the rack so that we can sit the front tires into V-shaped channels while standing in the bed of the truck, and roll them forward until they hit hard stops, and then just use built-in straps to secure them. I haven't chosen a locking system yet, but I'm going to pick up some heavy chain or cable locks for both use on the rack, and around the site once we're settled and have them off the truck. The rack will cost about $600, the roof rack for the truck around $300, and probably another $100 for the locks I'm going to get. Budget for that is about $1,000, in addition to the trikes which we bought a couple years ago at roughly $1,500 each. An expensive endeavor, but we really enjoy them, and as you can see, so does Violet!
The next thing we want to take with us are vehicles for use in the water. Kelly is a big SUP fan, and purchased a Red Paddle Co. 11 Sport inflatable board a while back, with an Accent Max FX Adjustable paddle. I'm not entirely sure either product was worth the premium they demanded over other brands, with the combo coming in near the cost of her trike, but she seems to like them enough. We've had a few small issues, where the knee pads were beginning to separate from the base, and the air valve would stick, but were able to address both. If we were to do it over again, I'd probably go with the less expensive, but similar, AquaGlide boards and paddles. We ditched the manual pump that came with it and replaced it with a schrader valve adapter we use with our Viair compressor.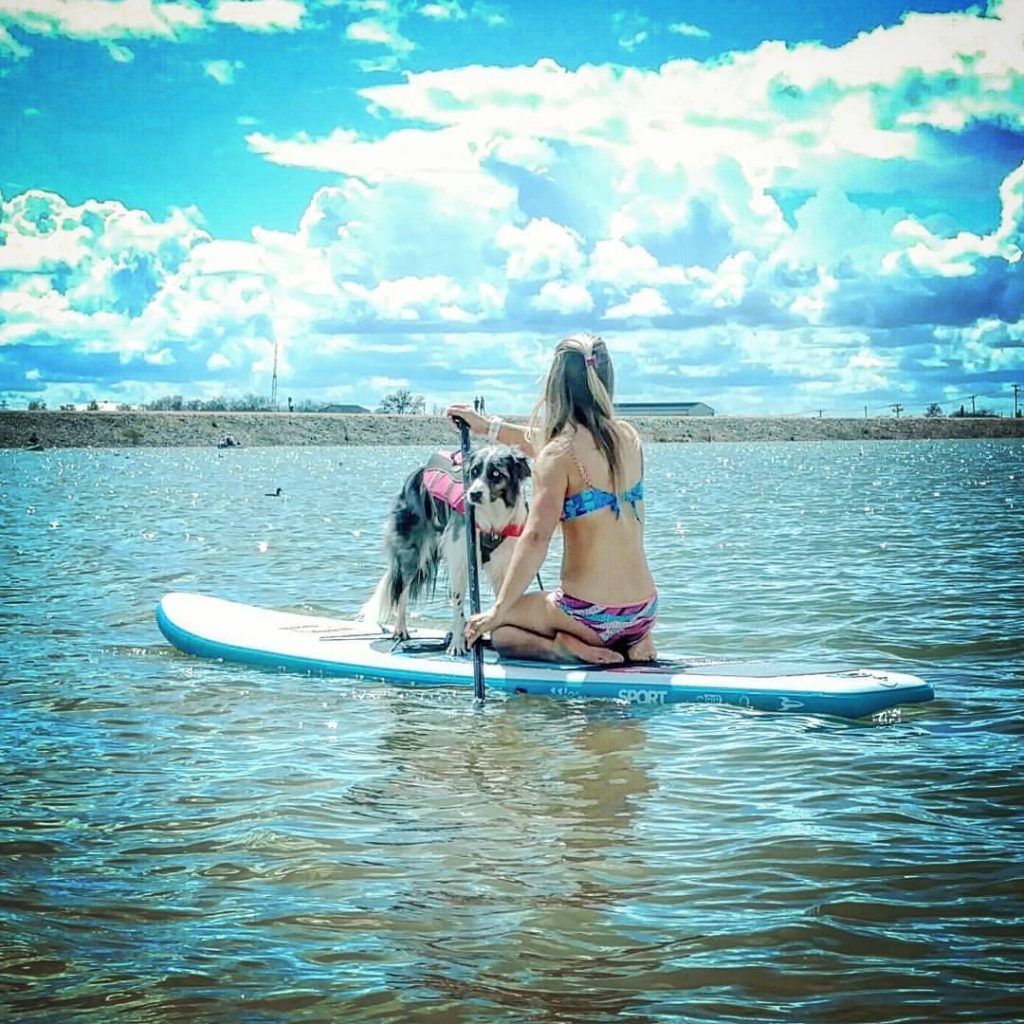 Last, we opted for a cheap AquaGlide Yakima inflatable tandem Kayak we found on sale at Dick's Sporting Goods for $99. We bought a couple Field & Stream Chute paddles that were on sale for $39/ea, and another schrader adapter for the Boston valves it uses.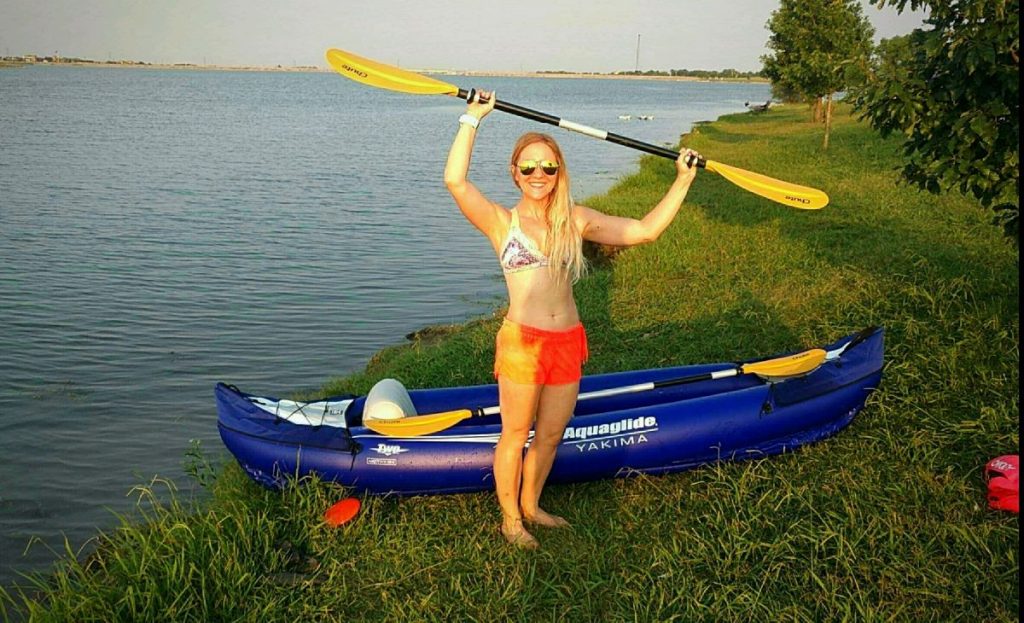 Between the custom rack for the trikes that I'm having built, the inflatable SUP board, and inflatable tandem kayak, we'll have plenty of vehicles for personal transportation and entertainment while we're on the road. And everything will pack neatly into the RV and/or on the TV (tow vehicle) when not in use.
[amazonjs asin="B00JVVAFQI" locale="US" title="KMX Viper"]
[amazonjs asin="B01BLNC67Y" locale="US" title="Red Paddle Co SPORT 11'0 x 30″ (2016 Series) Includes Bundle. Titan Pump – Backpack – Pumped Up SUP Pressure Gauge"]
[amazonjs asin="B014ILYWGO" locale="US" title="Accent Max FX 3 piece Adjustable Paddle Board Paddle"]
[amazonjs asin="B00S7IUSUY" locale="US" title="Aquaglide 58-5215031 Yakima 10'2″ 2 Person Inflatable Kayak w/ Drains"]
[amazonjs asin="B0141KJTKQ" locale="US" title="VIAIR 450P-RV Auto Portable Compressor 45053″]