Our house is filled with a lot of stuff. We knew this, but we didn't realize just how much stuff until we decided that we were going to live in our RV for months at a time. We've been pretty fortunate the last few years, and have been able to buy most of the things we wanted. A lot of things have been sold or traded as well, as we ended up not using them and tend to do a lot of both buying and selling on Craigslist and Ebay. And a lot of things are duplicates because we either upgraded, or they broke, and we replaced them without bothering to get rid of the old.
Over the last few years, we've determined that you should always buy the best that you can afford, without putting yourself into a bad position. But how do you even quantify best? Lets look at cars:
2006 Mercedes C230 -> 2011 Nissan Frontier SV (2wd, wrecked) -> 2012 Nissan Frontier Pro-4X (4wd) -> 2010 BMW 335d Sport -> 2014 Ford F150 XLT (2wd) -> 2015 Chevrolet 2500HD LTZ Z71 (4wd)
2008 Toyota Corolla S -> 2007 Infiniti FX-35 -> 2014 Ford Mustang Premium -> 2015 Jeep Cherokee Latitude (2wd) -> 2016 Nissan Frontier Pro-4X (4wd)
Each bullet point illustrates an upgrade path we've been through. Even though we shop diligently and do a lot of price comparisons, we've lost well north of ten thousand dollars on all those trades. Every time we bought a vehicle, we made a compromise. And then another compromise the next time around, and then another the next. At some point in the last year, we decided to stop compromising. It costs us more to compromise, and re-buy, than to reach up and buy the things we want to begin with. I'm not saying that anyone should go out and buy the most expensive car they can find, but that they should find the one they want and then decide if they can afford it (build up savings first, we try to keep 4-6 months of living expenses in the bank for emergencies at all times).
I've personally flipped between luxury cars and pickup trucks, because I needed a pickup but wanted a luxury car. The 2012 Nissan Pro-4X I had was a great truck, but I wanted a diesel. I've always loved diesels with their mountains of torque, and when I found a pristine used 335d for a good price it was hard to pass up. But the 335d was a lemon, and I wanted to start RVing. I bought a very basic Ford F-150 to keep costs low and, along with finding it was too little truck for the trailers I wanted, it didn't have most of the amenities that I was used to. When I bought my diesel pickup, I made sure it was fully loaded so that I could have the best of both worlds. It's the first vehicle I've had this long and still think "I love this" every time I get into it. Two of my neighbors have diesel trucks that they purchased in 2005 and 2006, respectively, and are still happily driving them. I intend to do the same with this, because unlike a lot of luxury cars, diesel trucks last a very long time, don't age quickly, and hold their resale value.
Kelly's journey was a little different. She never particularly liked the Corolla, and we only got rid of the Infiniti because it wasn't in the best of condition when we bought it (used), and was beginning to look a bit rough after all of her use. She had always wanted a Mustang convertible, so when she found a cherry red one she decided to take it home. Not a week later she found that buying a two door was a mistake, and that she didn't feel comfortable driving in high-traffic situations because it was full of horrible blind spots. We opted to buy a cheap SUV to replace it, trying to keep our losses to a minimum. Due to manufacturer incentives and trade rebates, we ended up with the Cherokee. I was hesitant about buying a Chrysler product, but she really wanted a Jeep (specifically Wrangler) and thought the Cherokee would be a good compromise. Six months later it was a rattle box with several issues needing warranty attention, so we went back to the drawing board and I raised the budget to $30K like I should have to begin with. We found a good deal on a fully loaded Nissan Pro-4X, that she is as thrilled about now as she was the day she picked it up.
It's really best to just buy the best you can afford, rather than fret over the money and buy something you're not happy with and going to trade in. This extends to everything in life, not just to vehicles.
Even though we try to abstain from animal products, we've moved to buying leather goods over cheaper materials in the last few years. Take shoes, for example. A good pair of goodyear welted full-grain (not bonded) leather shoes will last you twenty years with proper attention and care, and can be repaired as they age. They're a few times as expensive as normal shoes, but last many times longer. If you average one $100 pair of shoes every two years, you'll end up spending $1,000 for those in the same amount of time you would wear a $300 pair of welted leather ones. That being said, we don't wear boots or dress shoes all the time, so we still own running shoes and flip-flops. The running shoes rarely last me more than six months.
"The reason that the rich were so rich, Vimes reasoned, was because they managed to spend less money.

Take boots, for example. He earned thirty-eight dollars a month plus allowances. A really good pair of leather boots cost fifty dollars. But an affordable pair of boots, which were sort of OK for a season or two and then leaked like hell when the cardboard gave out, cost about ten dollars. Those were the kind of boots Vimes always bought, and wore until the soles were so thin that he could tell where he was in Ankh-Morpork on a foggy night by the feel of the cobbles.

But the thing was that good boots lasted for years and years. A man who could afford fifty dollars had a pair of boots that'd still be keeping his feet dry in ten years' time, while the poor man who could only afford cheap boots would have spent a hundred dollars on boots in the same time and would still have wet feet.

This was the Captain Samuel Vimes 'Boots' theory of socioeconomic unfairness."
That evaluation couldn't be truer, and it goes far beyond shoes. Thinking back, before we splurged on a Vitamix 5200, I think we bought a new blender at least once a year because we'd burn the motors up when chopping ice for smoothies. The same goes for our KitchenAid Pro 600 stand mixer, Cuisinart Pro food processor, Omega juicer, and Bunn coffee maker. They've paid for themselves in the years that we've had them, even though they were much larger initial investments. The Honda lawn mower we have has outlasted all the Briggs and Strattons we've bought, and the solid wood furniture we've invested in has held up far better than Ikea or Walmart offerings. Larger initial investments that last, and save you in the long run. In my book, factory refurbs are usually worth considering to reduce the cost as long as the manufacturer stands behind them with the same warranty as new products.
That being said, expensive doesn't necessarily mean that something is better. In a lot of areas, you get what you pay for, but there are exceptions, and that is where Reddit, Amazon, and the Internet really come into play. Look around at reviews before making any large purchasing decisions. Also beware of diminishing returns: once you get to a certain level, going higher doesn't make financial sense. This is especially true with things like audio equipment. The differences between a $30 and $300 speaker are almost always far more significant than the differences between a $300 and $3000 one.
Now, back to the reason for this post, and tying it all together: we've decided that given the same budget, we'd rather have fewer, nicer things, than more, lesser things. Furniture, kitchen supplies, clothing, electronics, and everything else. Our next house won't be huge, and it won't have four or five bedrooms, separate offices and more than one living area like we were once dreaming of. It will be a modest home with the highest quality materials and workmanship that we can afford to put into it. I think a lot of people, ourselves included, have fallen for the more is better consumer culture that is being sold to us, every where we go. But we're making a conscious decision to focus on higher quality, longer lasting commodities and are very happy so far with the results. The phrase "they don't make them like they used to" is a misnomer; in most cases they do, but only if you are willing to find and pay for them. All that has changed is that cheap, throw-and-replace goods are in higher demand and therefore flood our markets. In other cases, new technologies have made older ones obsolete.
Friday I received a GoRuck GR1 backpack that I've been ogling online for the last few years. I love the incredibly well thought-out minimalist design with lots of attention to details, the fact that it is relativity rigid and thin, and is made from heavyweight material with sewing techniques that should make it last a lifetime. I never bought it due to the $295 price tag, instead opting for two roughly $100 backpacks (both still in decent condition, but neither fits all my requirements) in that time. I needed a new backpack to fit my humongous laptop, so I splurged on it and threw a GoRuck TacHat in the cart as well. A nice surprise: it's the best had I've ever had! (I'm extremely picky about my hats, and wear them all the time.) I finally moved all my gear into my new backpack today and am very happy with it, which prompted me to sit down and write this post I've been thinking about for some time. I expect it will last far longer than my The North Face and Ogio backpacks will, based on the materials and craftsmanship, which are top notch.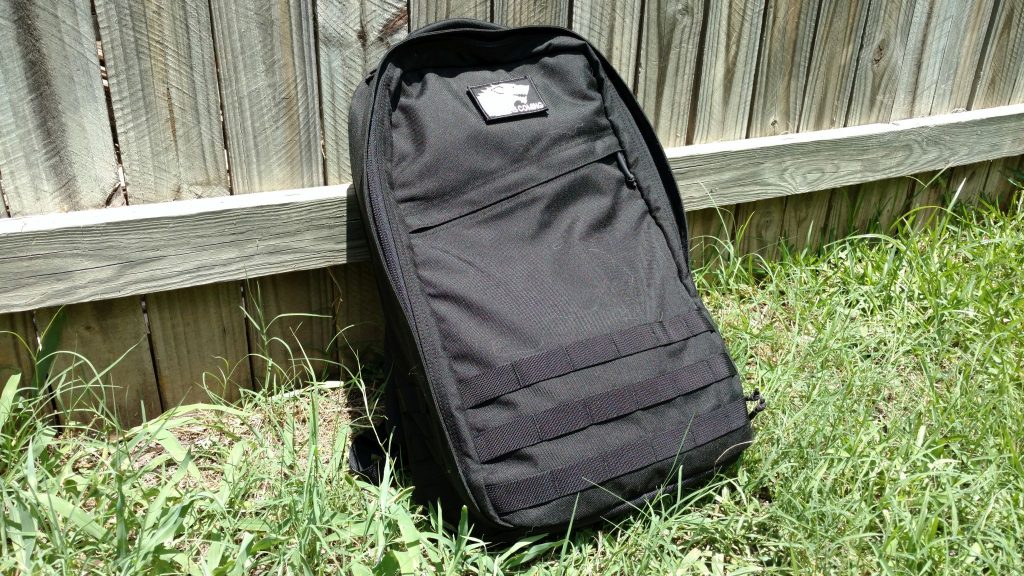 We're planning on an early retirement, possibly in as few as ten years if the stars line up. Part of our assertion for making that work is that by that time we will have replaced most things we own with items that have longer lifespans and should save us money in the long run. You can't prevent something from breaking and requiring replacement, but you can go a long way to minimize those occurrences by making smart purchasing decisions the first time.
[amazonjs asin="B007W8IC9Y" locale="US" title="Allen Edmonds Men's Long Branch Lace-Up Boot,Brown,10.5 D US"]
[amazonjs asin="B00K230CJE" locale="US" title="Danner Women's Mountain Light Cascade Hiking Boot, Brown, 7.5 M US"]
[amazonjs asin="B0046H9RDO" locale="US" title="Men's Danner Light II Boot, Dark Brown,10.5 D US"]
[amazonjs asin="B008H4SLV6″ locale="US" title="Vitamix 5200 Series Blender, Black"]
[amazonjs asin="B005Z2KNG4″ locale="US" title="KitchenAid KP26M1PGC Professional 600 Series 6-Quart Stand Mixer, Cinnamon Gloss"]
[amazonjs asin="B01AXN5VUC" locale="US" title="Cuisinart DLC-8SY Pro Custom 11-Cup Food Processor, White"]
[amazonjs asin="B00004RFQG" locale="US" title="Bunn A10 Pour-O-Matic Coffee Brewer"]