This content has been archived. It may no longer be relevant
We're planning on a couple extended trips: one is to take the rig through New Mexico, Colorado, Wyoming, Montana, Idaho, Washington, Oregon, California, Arizona, and finally come back to Texas over the course of several months; the other is a quicker trip up to Pennsylvania to visit family, head west to Chicago to visit friends, then turn south back to Texas. We're trying to proactively address all of our concerns, and in that I set aside a $5,000 budget for safety upgrades.
We were debating the following upgrades, and trying to choose between them:
Mor/Ryde Independent Suspension and Kodiak brake upgrade for the trailer (quote came in at $5700)
Standalone disc brakes for the trailer (estimated $3000)
Trade in the 2500HD for a dually (lose who knows how much on the trade, plus what we have into parts), or
Investigate options to improve the ride and handling of the 2500HD (ended up around $8000)
In the end we opted not to get the Mor/Ryde IS. I'm sure it is worth it, but we already have a Trailer Saver BD3 hitch and the Equa-Flex suspension on the trailer does a fine job as far as we can tell. We're pretty isolated from the movement of the trailer thanks to the hitch, and contents don't seem to move around much if at all when we're traveling.
The standalone disc brakes sounded very tempting, but I talked myself out of the upgrade after walking around our storage lot and noting that no other rigs have them. However, what I've read on forums leads me to believe they're a great addition, especially when it comes to emergency maneuvers, and traveling in the mountains. I'm actually sort of impressed with this trailer's ability to stop (better than the 10K# Crossroad's we replaced), but think I could still drag it forward if I wanted to with the brakes fully applied.
Finally, it wasn't in the cards to trade in the truck. Not only were we not happy with the dually options, we have a lot invested in our current truck and it serves all of our needs well. Getting it to happily handle our fully loaded trailer and auxiliary fuel tank was a tradeoff where unloaded ride quality suffers greatly, though. Due to this we opted for option #4. After a lot of research, we blew through our $5K budget and decided to go all out with a Kelderman rear setup and DMaxStore Stage 3 level for the front end of the truck. That decision is detailed here.
Going back to the trailer brakes, I decided I'd rather be safe than sorry. I don't want to put my family or anyone else on the road at risk, and being able to stop a rig running over 20,000# is critical to safety. While the stock brakes work well, it sounds like there is a lot of room for improvement (approximately 50% according to many tests) from all the reading I've done. After calling around and investigating our options, I decided to do a self install.  I received a quote this morning from Performance Trailer Braking for a setup including Titan Premier 13″ disk brakes, a Titan actuator, and everything required for a DIY install and interface with my factory GM brake controller. The quote came in at $1820, shipped to my door, and the only other costs I should incur are grease and brake fluid. It's far less than the $3,000 we initially planned on and brings us to double our initial safety budget – but with fewer worries on the road.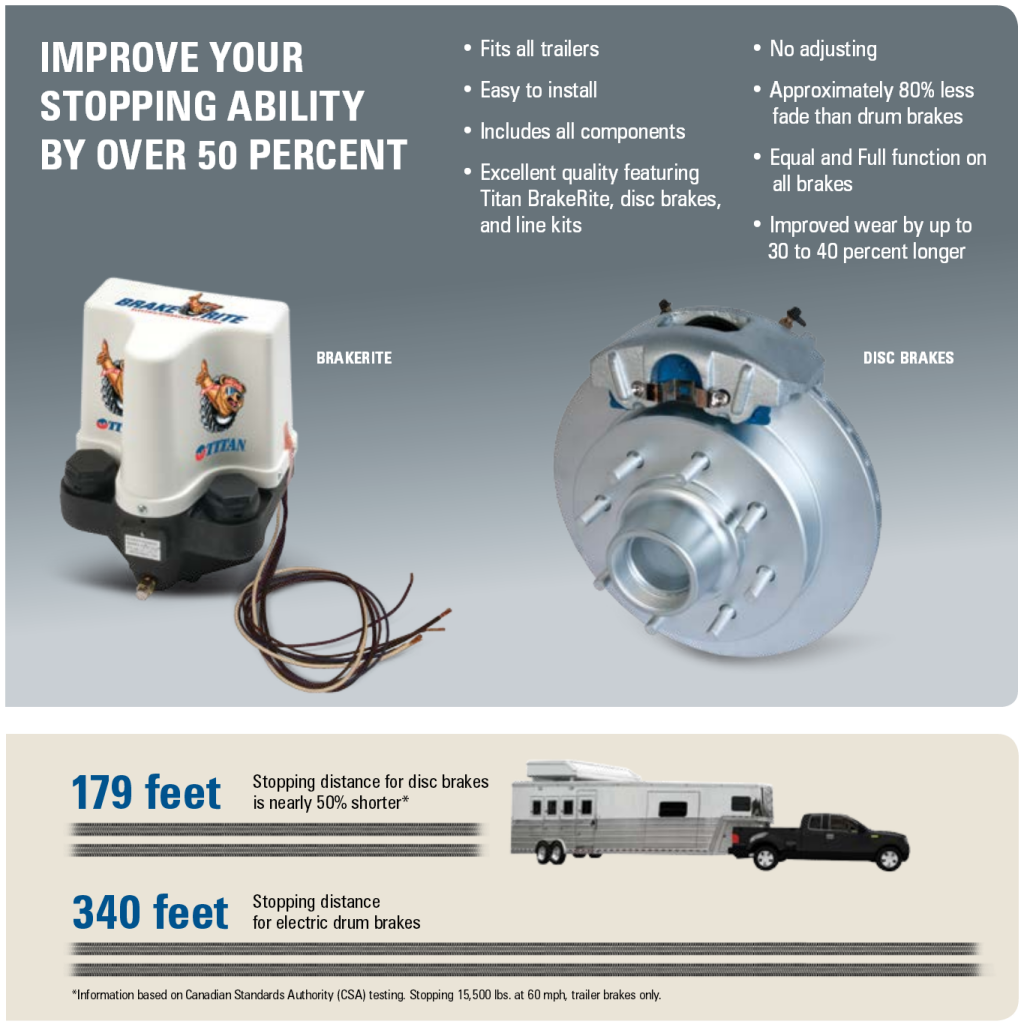 Also, a lot of our decision was thanks to this Live Work Dream Blog.