I've always wanted onboard air. We're currently using a Viair 450P-RV for air, which is great, but given the opportunity to have onboard air over it, I'd take it in a heartbeart. I looked at Viair full onboard air solutions in the past, but decided not to go with them, which is good because they would have had to be ripped out for the Kelderman.
The Kelderman system includes a 3 gallon tank and a Viair 444 compressor. The 444 is slightly more powerful than the one in the 450P-RV kit we have, and is set to maintain a constant 200PSI in the 3 gallon tank.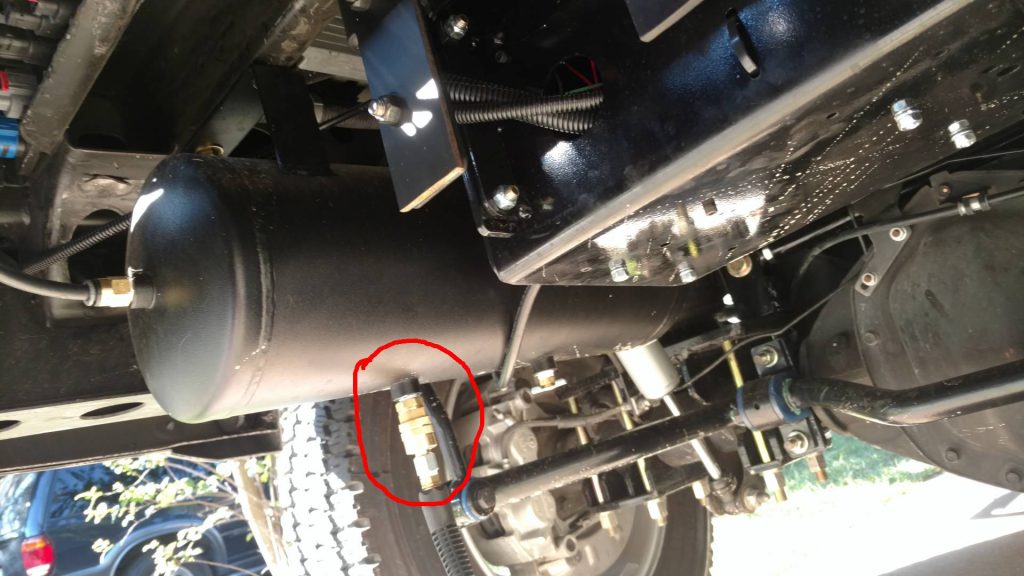 Pictured above is the tank, photographed from the rear of the vehicle. It contains six air outlets, all used by the system except for a plug in the one on the end facing the front of the truck. I removed the plug, and moved the pressure relief valve to where the plug was. That freed up the easiest port to access, which I added a quick connect in.
I learned not to buy cheap connects in the past because they always leak, and I've since gone to using only Milton fittings. I certainly don't want this to leak so this was no exception. Milton components are only a couple dollars more (on Amazon) than the ones you buy at Home Depot or Lowes, but in my experience seem to be worth it. I initially tried them based on some recommendations on Internet forums.
I bought an inexpensive coiling 50ft air hose, chuck kit, and Milton fittings to connect everything together. I tested it for leaks by letting the truck idle for about half an hour, which would engage the compressor if there were any leaks. After satisfied that there weren't any leaks, I dropped one of my tires by about 20PSI and filled it back up. All seems to work great. I'm already not a fan of the hose because the coils were messed up out of the box, but for $20 it seems to hold the air just fine. There aren't many options for coiled hoses this length, and the few name-brand companies that make them want $100 or more. I'm going to try this one for a while. As an aside, the Eez-Tire worked awesome and even though the tire was in range, it triggered an alarm due to the quick change in air pressure. And with the 3 gal tank and 444, it definitely seemed faster than the 450P-RV.
On par with breaking fittings, I've also noticed we seem to go through chucks quickly. This time around I hopefully found a good one. And you can never have too many air pressure gauges.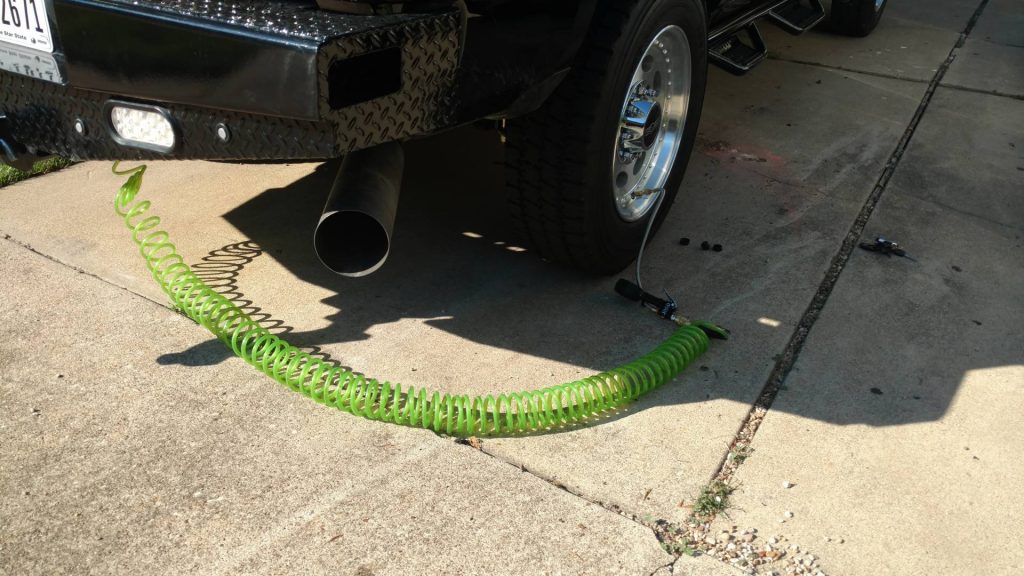 [amazonjs asin="B01BTFLW06″ locale="US" title="PowRyte 500014 Elite Recoil Polyurethane (PU) Air Hose – 1/4-Inch by 50-Feet, 1/4-Inch MNPT Swivel Brass Ends"]
[amazonjs asin="B000COS0PQ" locale="US" title="Milton S-716 1/4″ MNPT M Style Coupler"]
[amazonjs asin="B0000AXCF4″ locale="US" title="Milton S-212 1/4″ NPT M Style Coupler and Plug Kit – 7 Piece"]
[amazonjs asin="B01ETWXEWA" locale="US" title="JACO FlowPro Digital Tire Inflator Gauge – 200 PSI"]
[amazonjs asin="B0141KJTKQ" locale="US" title="VIAIR 45053 Silver Automatic Portable Compressor Kit (450P-RV), 1 Pack"]