The custom toolbox arrived today and looks great. Fedex apparently dropped something on it and put a fairly large dent in the back of the lid, but it is nothing I'm going to bother worrying about.
The box itself fits perfectly where I wanted it to go, with one possible exception. I didn't consider the trailer wiring and how it might the toolbox may interfere with the 7 pin connector. I've circled that area in red, and will just have to try it. If it does interfere, I can get an extension with a right angle connector ($40 on Amazon) or I can move the existing connector up above the toolbox (would leave a fairly sizable hole in the bed). I'll just have to try it. I'm going to bolt the toolbox in tonight and fill it with tools, but I put my large socket set in there for starters and there is going to be plenty of room.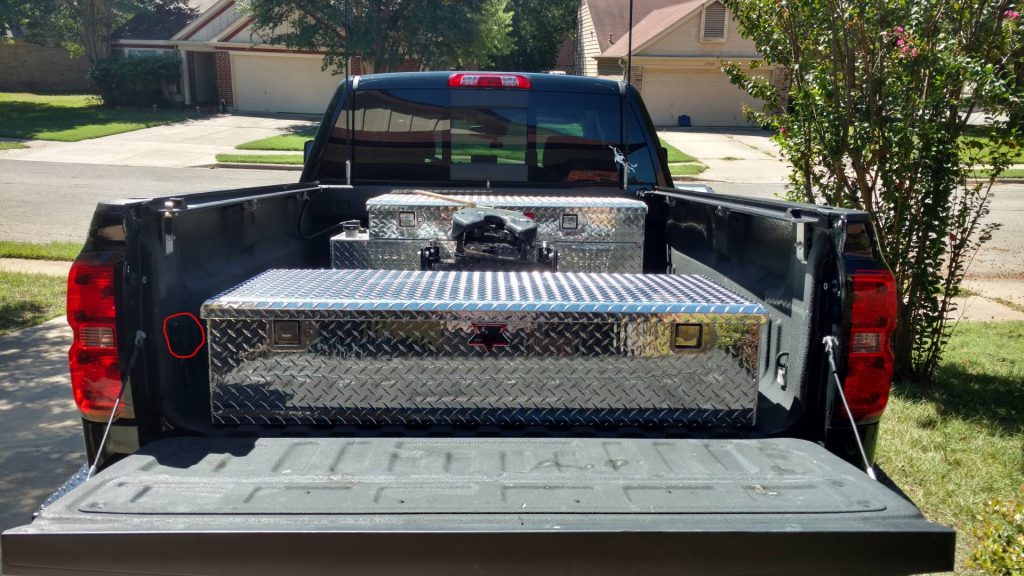 EDIT
I installed the toolbox this evening and everything I wanted to put in it fits great. I opted to bolt it down off center – as far to the right as I could and still clear the tonneau rails with the lid open so that the trailer connector on the left would be accessible. Here are a couple photos of the installed product.