This evening I finished putting the seat back in my truck, reorganizing my tools now that I'm done with the install, putting ferrite beads on everything, and tying up the rest of the loose ends with zip ties. I listened to the radios and scanner a bit, mostly the scanner, and realized that it is picking up a lot more than it used to. I also noticed that the CB SWR is lower – so I'm thinking the antennas are functioning a lot better bolted to a 40lb piece of steel that is in turn screwed to the truck bed and connected to the frame with large ground straps.
Afterwards I started working on the tablet. In anther post, I explained that I ordered a Samsung Galaxy E 8″ Tablet to replace the Garmin GPS in my vehicle, looking for some of the additional functionality a tablet will provide and especially APRS. I added a 128GB memory card to it as well. After messing with it for a while, I figured out the following setup:
This app replaces the default launch screen. I completely disabled the lock screen in the system settings because I am looking for a seamless experience, and will not be saving any sensitive data on the device. Additionally, all accounts (including the Google account) are brand new, specific to the device, and do not store payment information. Car Launcher Pro has a speed readout that turns into a mileage readout when tapped; a time readout that turns on a screensaver when tapped; a row for shortcuts at the bottom; a GPS-based tracker for speed, average speeds, etc on the right hand swipe; and access to all apps on the device via the menu launch in the upper right corner. I added shortcuts to CoPilot, Waze, Spotify, APRSDroid, RepeaterBook, GasBuddy, RV Parks & Campgrounds, Weather Underground, and Tasker to the bottom row. I wish you could configure the background; right now they only let you choose the color. I'm going with orange here because both Kenwood radios have orange backlighting.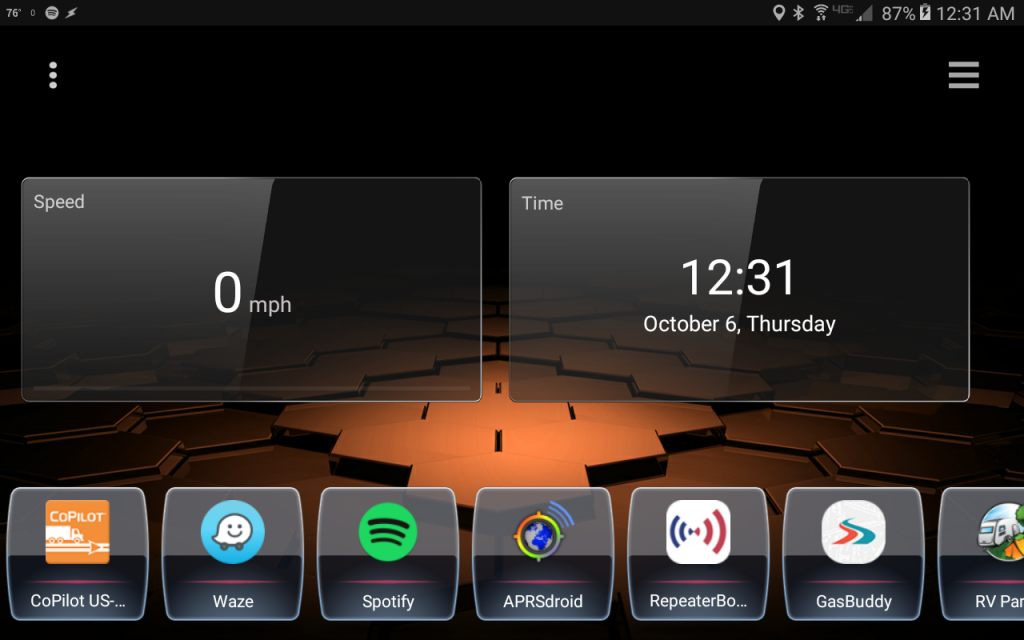 This application was expensive, but is arguably the most important app for us. I initially planned to buy the RV edition, which is $90 cheaper, but contacted CoPilot support questioning the weight and length restrictions they have listed on their site. It turns out that the RV edition is only useful for people with gasoline Class A or Class C RVs, or travel trailers under twenty or so feet due to 45′ total length and 26,000lb limits for specialized routing within the app. We're around 55′ total, and 24,500lb fully loaded. As I am interested in routing that takes into account our length, the RV edition was not going to work. The truck edition interestingly only asks for your longest "straight length", so the length of the trailer and not the length of the truck itself. The maker of this product, Alk Technologies, is known for their fleet management and trucking GPS products, so I assume they know what they are doing here. It also seems like it has a few more options than Garmin does for routing preferences and avoidances, which I appreciate.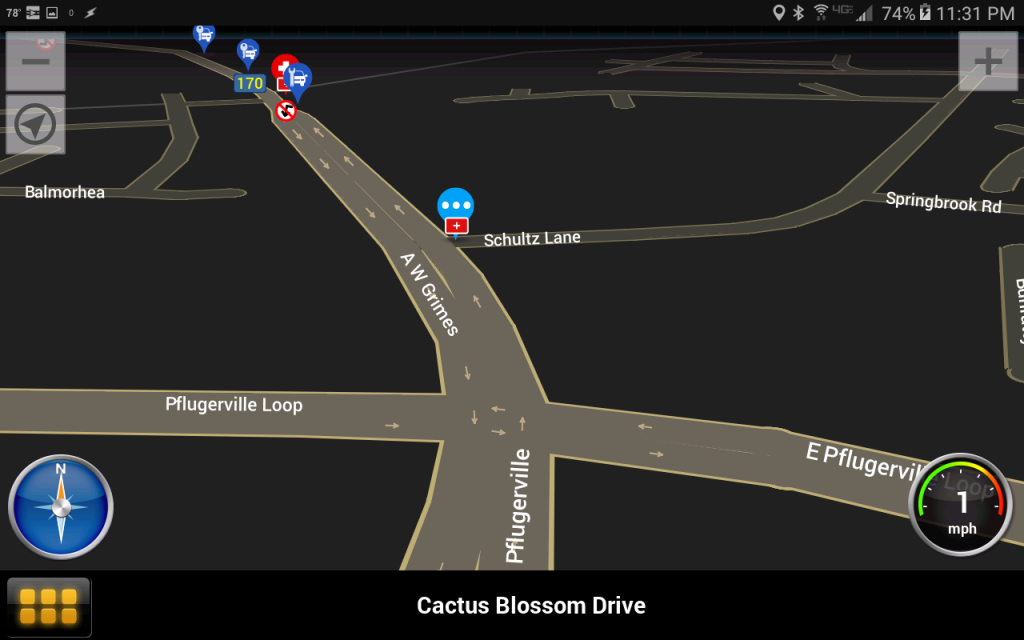 We use Waze a lot when unladen, as it tends to have the fastest routing engine and the most up to date traffic reports. I'm looking forward to seeing how the traffic reports in CoPilot compare to both Garmin and Waze; we were never thrilled with the Garmin reports and wished we could have Waze-quality reports with the RV in tow.
We have a monthly subscription we use for all of our devices and the house, for Spotify. I think it runs around $10/mo for one of the subscriptions which removes advertisements and playback limitations, and adds some very useful features that are well worth the money. One of those features is offline mode, which is why I added 128GB of storage to the device. We're downloading entire playlists to the device for listening on the road.
I detailed this app in this post. I am unable to test it without my FCC issued callsign, yet to be issued, and am still waiting on the Ram mounts and Mobilinkd order to show up.
This app is a database of amateur radio repeaters that will show you ones in your local area based on GPS.
This is another great app that we've used to save on fuel. I usually won't bother shopping around if I am just filling up the truck tank, but when you added the additional 51 gallon transfer tank to an empty factory tank, $0.15/gallon savings adds up to over $13. It makes quite a difference.
We usually try to plan far ahead, but this might simplify things when we don't. I've never used it before but figured it was worth a try, and it has good reviews.
Self explanatory. I really, really hate advertisements, so I paid the $1.99 in app fee to get rid of them.
Tasker is right up there with Car Launcher Pro and CoPilot Truck as far as importance. It is the app that I am using to control the screen based on power input. Since the unit will be on an ignition switched circuit, and has an internal battery, I am using Tasker to detect when power is cut and having it turn off wireless, bluetooth, etc as well as turn off the screen to put the device in a very low power state. When Tasker detects power again, it reverses the process.
EDIT
I will be using this app to replace the Edge Insight CTS2 I bought to track vehicle health. I use the CTS2 to primarily for information on the injectors, DPF regen cycles, and fluid temps while towing. While I like the CTS2, I want to reclaim and de-clutter some real estate on the dash, and this is a great and inexpensive way of doing so. I spent $12 on a bluetooth OBDII adapter, $5.99 on the app, and threw the CTS2 on Ebay for $325.