Boat! 2000 Seaswirl Striper 2300 WA
I posted back in spring that 2016 was the year I planned to buy a boat. As much as I searched, I never found the right boat, at the right time, for the right price. I ended up buying crypto mining rigs with the money intended for the boat. Now with it being winter, there are more sellers and fewer buyers in the market. I sold the mining rigs, having made a good profit, and decided to put the money from the rigs towards a boat.
I spotted a 2000 Seaswirl Striper 2300 WA on BoatTrader last month for (I think) $12,950. It was bare of electronics and, by the time I add all the needed accessories, would be above the $15K budget I want to work with. I looked at many other boats, but all of them either had issues, were sold before I could finish the deal, or simply fell through. Coming back to this Seaswirl, the owner, who is selling it through a broker/dealer in Georgia, decided to try for a quick sale and dropped it to $9,950.
I called the dealer and spent at least half an hour on the phone discussing the condition of the boat. It isn't perfect, but for the budget, I can't have too many qualms. It has a 3″ crack in the fiberglass above the water line on the back of the boat, and I offered them the asking price contingent on that being fixed by their fiberglass repair tech. Additionally, I asked that the trailer bearings be re-packed to ensure they're good condition before it is towed here to Texas. They accepted and I put down a deposit on it. On Monday I'm supposed to go over the paperwork with them and finalize payment.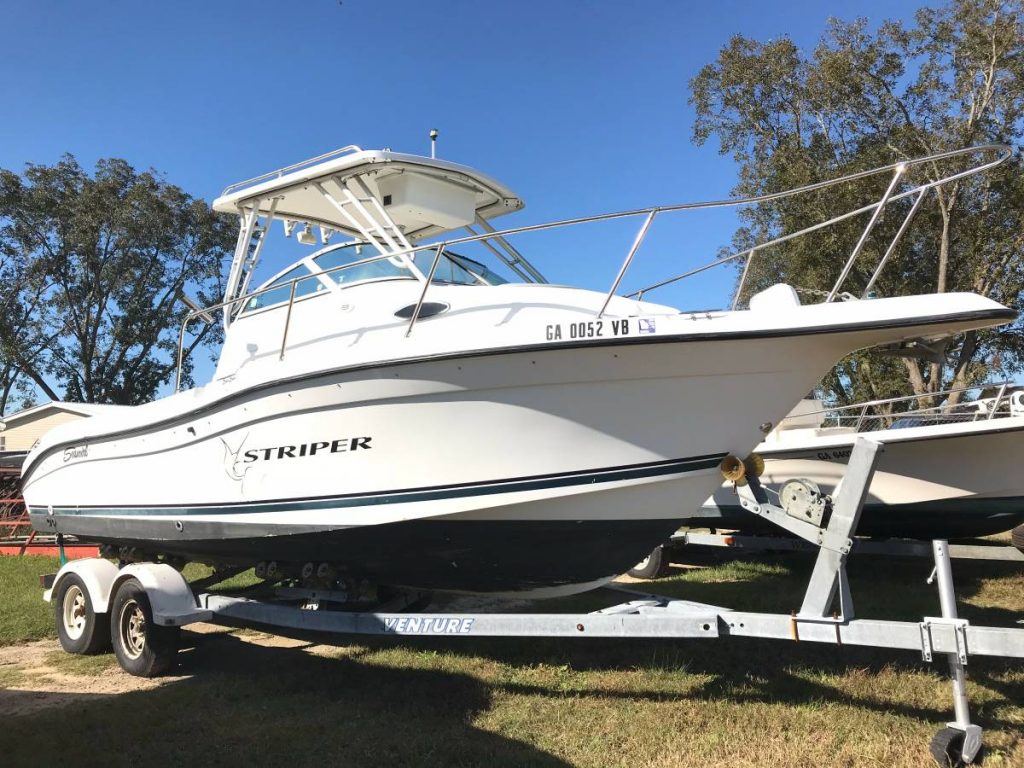 The boat itself is a 23′ class, 8.5′ beam with an actual LOA of 24'2″. It's a large, heavy boat, well suited for going a few dozen miles off the coast. At 8.5′ beam, it's as wide as you can legally tow throughout the continental US, without oversize load permits, and is the same width as our fifth wheel. Fully loaded, the boat and trailer will weigh in probably around 6,500#, which means my truck is really our only option for safely transporting it. As far as the engine goes, it has the original Volvo Penta 5.0Gi 250hp motor in it, connected to a Volvo Penta SX outdrive, both with approximately 500 hours. The motor is essentially a small block GM, at 305ci, and the i in the model number means it is fuel injected. It's cheap to find parts for, cheap to work on, and cheap to replace if necessary. You give up a few things vs outboards, mainly deck space and the ability to store the boat in the water long term without complications (outdrive being submerged and subject to salt and corrosion), but for my use, the cost of ownership benefits make great sense. The motor was just serviced, with a few fuel items replaced (pump, lines due to ethanol), and is supposedly ready to go. It has a 26 gallon bait tank, two 34 gallon fish boxes, and 105 gallon fuel tank (should get 2-2.5mpg at cruising speed).
One of my absolute requirements, and also one that has made it extremely difficult to find a boat, is that of a hard top. The majority of WA floorplans use thin rails that can be raised and lowered, with a canvas top that spans between them. I wanted the, fairly rare, option of a welded aluminum truss system supporting a heavy fiberglass roof. They're a few thousand dollars to add after the fact, and probably at least that from the factory, and seem to be hard to find in the used marketplace. I tossed out probably 80% of listings I read because they lack it. The downside to the fixed roof is the height of the boat – in tow, you might be looking at a 10′ or 12′ roofline, so you need to watch out and be aware of your surroundings. Being an RV owner, I'm well aware of that and it isn't a problem. The upside is that you can mount all kinds of things to the rails – lights, speakers, fans, rod holders… and to the roof itself – antennas, more lights, and more accessories. They also stay cooler than canvas in the hot summer, stand up to a lot more abuse, and last for the life of the boat instead of needing replacement every few years.
The cuddy contains a small berth for sleeping two people, a sink, a single burner propane stove, and a toilet. It's often used for storing all of your gear away from prying eyes and behind lock and key.  The toilet, I believe, is just a porta-potty, but I won't know for sure until it is here. A lot of these boats just have the berth, without the sink or toilet, so either way this is a plus. This cuddy layout wasn't a deal breaker for me on any of the boats I was looking at, but I'm happier with the layout of this one than most.
Another major item I was looking for was a swim deck and ladder, or at least a good place for which to get in and out of the water. This boat has a small walkthrough door on the transom, that you can open and walk out onto a swim deck that is over the outdrive. From there, there is a 2-3ft ladder that folds down into the water. A great place to sit and dangle your legs in the water, go for a swim, or set up to ski or wake-board from. A lot of these boats don't have such a thing, which further reduced my list a bit.
Also, a surprisingly large number of these boats don't come with trailers. It seems that a lot of people just leave them in the water or dry docked at a marina year around. The final thing that caused a lot of issues in my search was that a lot of the boats in the price range I was looking at are Wellcraft 23WA, or Bayliner Trophy, or others with either known issues (in the case of the Wellcraft 23WA, a design flaw in the transom can lead to it taking on water – and tends to, if you read the forums and reviews) or questionable quality. The Seaswirl is supposed to be an all-around well built, great boat, especially for the money paid.
Electronics weren't anything I was looking for in a boat. In this price range, most of the electronics I found were ten years old and end of life, so I mostly gave up on the idea of finding one with anything useful. This boat doesn't have any at all, so I think the previous owner probably removed them to transfer to a new boat (?), and that gives me the motivation and opportunity to buy the ones that fit our specific desires for this boat. Electronics are expensive, and modular, and they seem to nickel and dime you for a lot of things. But based on a lot of research and talking to people I know who actually own boats, I decided on the Garmin ECHOMAP Plus 94SV w/ transducer and the LakeView HD map addon. The device itself is a GPS, chartplotter, and depth finder in one, with both below and side views of the boat. It is also modular and you can expand the capabilities through accessories down the road. It's not cheap – at $1099 for the base device, which includes coastal USA maps, and another $200 (or you can get them for $160 if you look around) to add lake maps.
The dealer suggests, like most, to use UShip to have the boat transported from GA to TX. So far it looks like it'll run me approximately $1000 for shipping, but that saves me a lot of time and headache. In fuel and hotel, I'd spend half that anyway – it's a 2200mi round trip.
I'll be posting more as I collect more items for the boat, and the boat comes into my possession in a couple weeks.
Skip back to main navigation