Back in March, I started running. Or rather, tried to. I bought a new treadmill since it was "too hot" to run outside, and jumped right on. I had a fairly conservative goal that first day: run a 10:00 (6mph) mile. Instead, I ran maybe a quarter of that before grabbing my side with stitches and stepping off. I kept at it and before too long, I was able to run a single 10:00 mile, or up to 3 miles at 12:00/ea. We left town for a wedding and I knocked out a couple miles on the hotel treadmills, but that tapered off as we were busy on the road and I eventually stopped running altogether. I didn't resume once we got home because the treadmill broke, and it took a month for warranty repair. Things just kept getting in the way.
That is a shame, because I found that running greatly helped my back (bulging discs, they suggested pain killers and PT to delay surgery) and improved some digestive issues I've been struggling with for years. A week or so ago, I got around to Born To Run: A Hidden Tribe, Superathletes, and the Greatest Race the World Has Never Seen on my Kindle (loaded it a while ago, but was low on the priority list for books to read) and decided to follow up the first few chapters with a quick run. I knocked out a 30:00 5K with relative ease, far faster than I've ever run that distance, and was able to replicate that for the rest of the week. I ended the week with 21 miles logged in Garmin Connect and Strava.
The book explores barefoot and minimalist footwear running, among other things, which is right up my alley. I've avoided shoes for as long as I can remember, and have always had foot pain when wearing shoes. The pain disappears without, or with shoes that provide minimal obstruction. I run barefoot on the treadmill without pain during or after runs. The book goes so far as to essentially claim the footwear industry manufactured an epidemic of foot injuries and then profited off of it. It seems plausible and the author makes several great points, but I recommend the book so you can reach your own conclusions.
We went camping out at Lake Georgetown this weekend, and I started taking to the trails despite the hundred degree weather. I ran multiple ten to twelve minute, one mile treks each day, hiding in the shade with plenty of water afterwards. I would have loved to go further but the heat zaps energy out of you. My recovery times were faster than I'm used to, so that leads me to suspect I've had some pretty major cardiovascular improvements this year, despite the interruptions in my routine. After getting home, I didn't want to get back on the treadmill. I decided it best to run at night, after darkness comes and it begins to cool.
That comes with an assortment of issues, varying from visibility to personal safety, and I assembled a few parts I already had, and parts I had to order, to come up with a suitable solution.
Even at night, with temps in the mid 80s, you need wicking clothing to stay cool – or at least I do. I purchased some Nike Running technical tees and cross-training shorts a while ago, and those still work great. I also have tons of Eddie Bauer technical tees that I wore before moving to the Nikes for every day wear, when EB unfortunately decided to change the material. I choose not to wear socks, and instead use knit minimalist shoes, which are basically socks with thin soles. Specifically, I love my Merrill Trail Glove 4 Knits, which are probably my fifth or sixth pair of Merrill Trail Glove shoes in the last several years. I started with the TG2, then TG3, and now the TG4 as daily footwear when leaving the house, so these were an obvious choice. They have about 100 miles on them which I track through Garmin Connect, and look like new.
You need light to run, so I opted to try some Night Trek 270 lights that attach to your shoes. They work pretty well, but in practice don't light up the path as much as I would like. If I were doing serious trails at night, I would accompany them with a headlamp. For now, they work fine on their own since I am running on paved and gravel surfaces. They share the top of the shoes with a Garmin foot pod, which pairs with the Garmin Quatix 5 Sapphire I've been wearing since upgrading from my Fenix 3, which my dad now wears. The setup is still very light regardless of the extra bulk.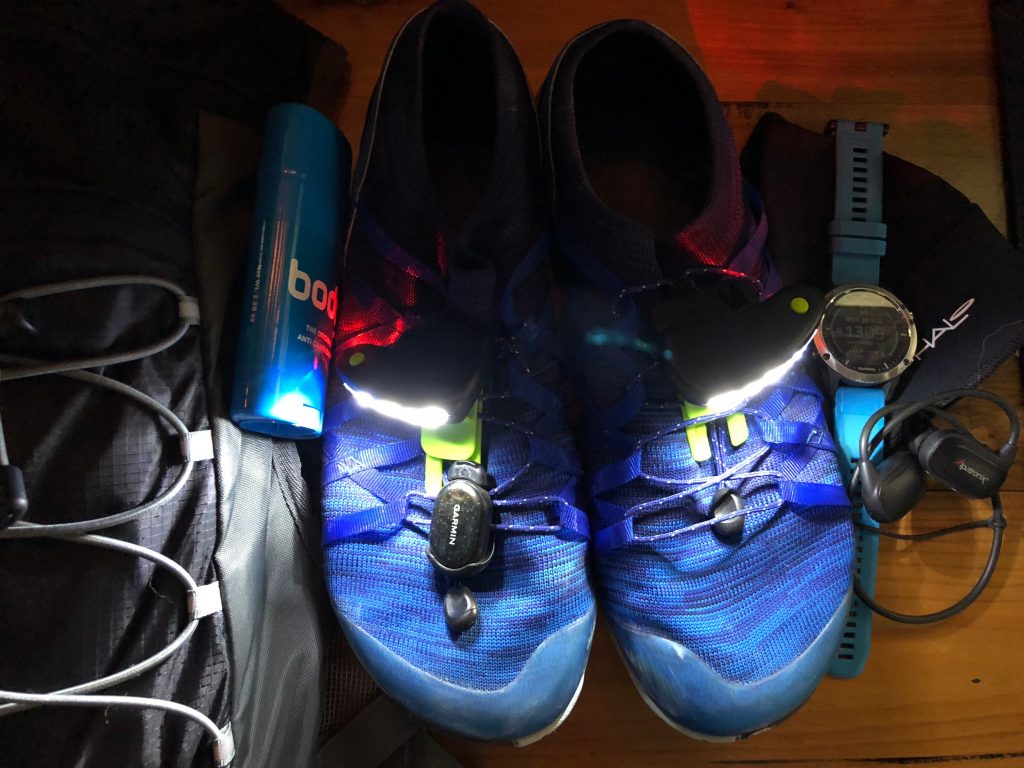 The headphones are Alptronix HX250s I bought a while back, and love. They have 8GB onboard storage and bluetooth, so you can pair them with a phone or use them by themselves. They also have waterproof earpieces and you can swim with them! The sound quality doesn't compare with some of my high end equipment, but is plenty good for casual listening. They do block a little more outside noise than is probably desirable for running at night, so I turn the volume low and use ear pieces one step smaller than I usually would. The hydration pack is a Unigear pack I found for $20 on Amazon several months ago – light and functional. The bladder is a lot thinner than the CamelBack products I own for hiking, and I have my doubts about the longevity of it – when/if it begins leaking I will probably invest in a nice CamelBack or Osprey setup. Above is the entire running kit except clothes. I can cram my phone in the backpack if I want to take it with me. No keys and nothing else to weigh me down right now.
My training plan – laid out in Garmin – should have me running a half marathon by the end of the year and a full one by the end of the first quarter in 2019. I have no interest in running actual marathon races, but would jump at the chance to run a trail ultra if I thought I had the ability to complete one. I should have started training a decade ago. Born to Run and other sources I've found through online searches it prompted have stories of people decades my senior running the first mile in their life, and working up to ultras within just a couple years. There are people in their 70s completing 100 mile races like the Leadville LT100 and Western States 100. I may never do a 50 or a 100 mile race, but the fact that people over twice my age do suggests it isn't too late for me to start working towards a lofty goal like that. And maybe I will. Or maybe I'll veer off another direction and chase down a triathlon. But as an adult, I have tried various things to lose weight and get fit but have never had a concrete goal to work towards, so inevitably I fall off course at some point. I've made several improvements, though.
I'm down fifty pounds, from 225 to 175, and my body fat percentage has dropped to a fairly healthy 16.5%. I'm no longer considered overweight for my height. I lost a lot of that weight on my own by adopting a vegan diet, and then the "mostly plant based" diet I follow today – vegetarian most of the time, with possibly one or two meat-containing meals a week, and the various exercise phases I've gone through. This year I started logging to MyFitnessPal and trimmed another ten pounds while following recommended dietary guidelines. I use the paid version to avoid ads, but recommend it to anyone interested in getting their diet under control. Speaking of the "mostly plant based" diet, it seems that is the diet of choice among many ultra runners, so it absolutely can be done.
With running, I've finally passed the mythical bridge I've only heard of, the bridge where once you pass it, you actually look forward to the workouts rather than dread them. And I have a goal — I can do this. I just knocked out a 3.8 mile training session on the treadmill with Garmin, and when it gets dark I'll head out for the other 1.2 on the foot path by the house.