With the ankle injury last month, I had to take a break from running for a while. I started to substitute recumbent cycling as a replacement, using an entry-level custom KMX I purchased several years ago. The KMX is a great trike, but very heavy, and has some inherent limitations when it comes to efficiency/speed, and more importantly, measures somewhere between cumbersome and impossible to transport.
I strongly considered picking up a diamond frame (traditional) road bike, but Kelly suggested against it due to my back issues. That is probably a safe call.
As with bicycles, there are various types of builds: BMX, Mountain, Cruiser, Gravel, Touring, Road, Time Trial – and my KMX is towards the BMX and Mountain end of the spectrum. For my current training, I need something between Touring and Road. I also need something portable, as we plan to take our rides with us in the RV. That combination puts me in the $4K+ price range, on the low end of what would meet the requirements (Catrike makes a model called the 559, which is closer to $3K, but it doesn't fold as tightly as the ones in the $4K and up price range do, and we need all the space we can get if we're keeping it inside the RV when traveling). That means that if I want a new trike, I have to pay big bucks to get into something that fits the bill. And that's just not happening right now.
I spent a couple weeks scouring Craigslist, Offerup, Ebay, and other sites for a used option. I ran across a used Ice Sprint X 26 that needed some work. This trike, as configured, would cost over $5K to buy new as equipped, and I got it for significantly less than half of that. The spokes on the wheels were too loose to ride on, the tires were dry rotted, everything was out of adjustment, but when it came to my door (UPS, from Colorado) it was in better condition than I originally thought. Most of the components were salvageable and just needed cleaning and tuning. It was outfitted with cheap electronics which I junked and replaced with Garmin devices, to tie in with the Garmin eco-system I've been roped into.
I already have a prospective buyer for my KMX, which will go a long way to offset the costs of this build.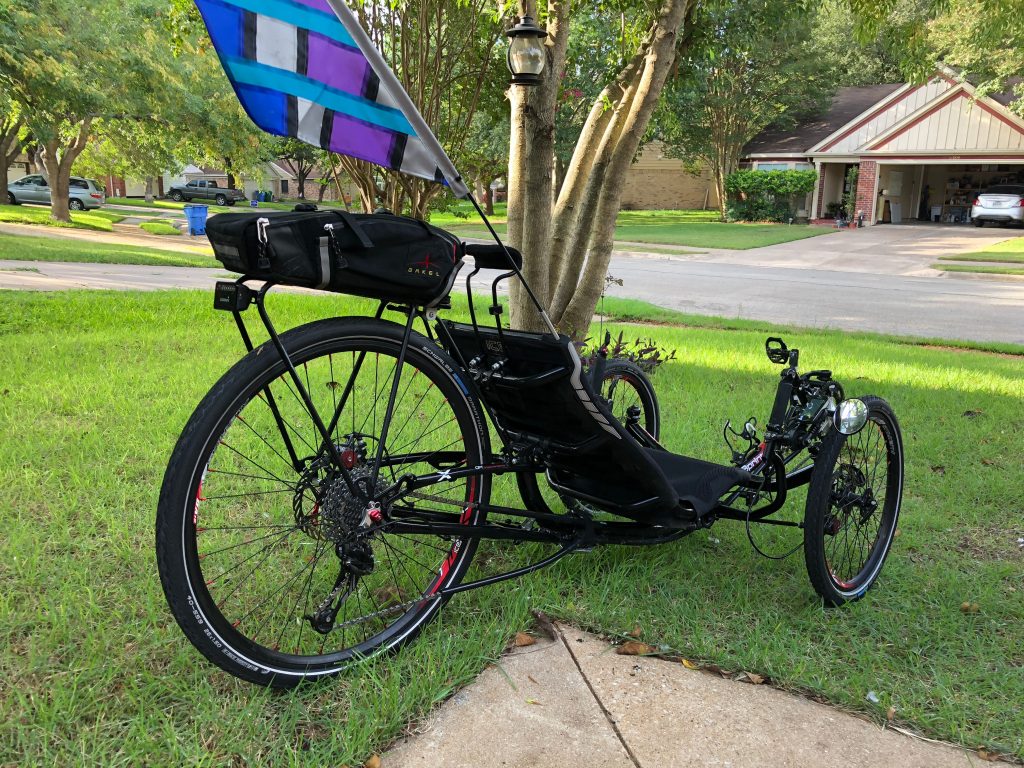 I want to be able to ride this one on the road, so I sprung for a colorful, reflective flag that makes sure drivers can see me. Additionally, I chose Schwalbe Marathon tires which have reflective rings on the sidewalls, Garmin Varia integrated light and rear-view radar in the back, and Garmin Varia lighting in the front. I added a used Arkel TailRider bag I found on Ebay, and some tools for roadside repairs.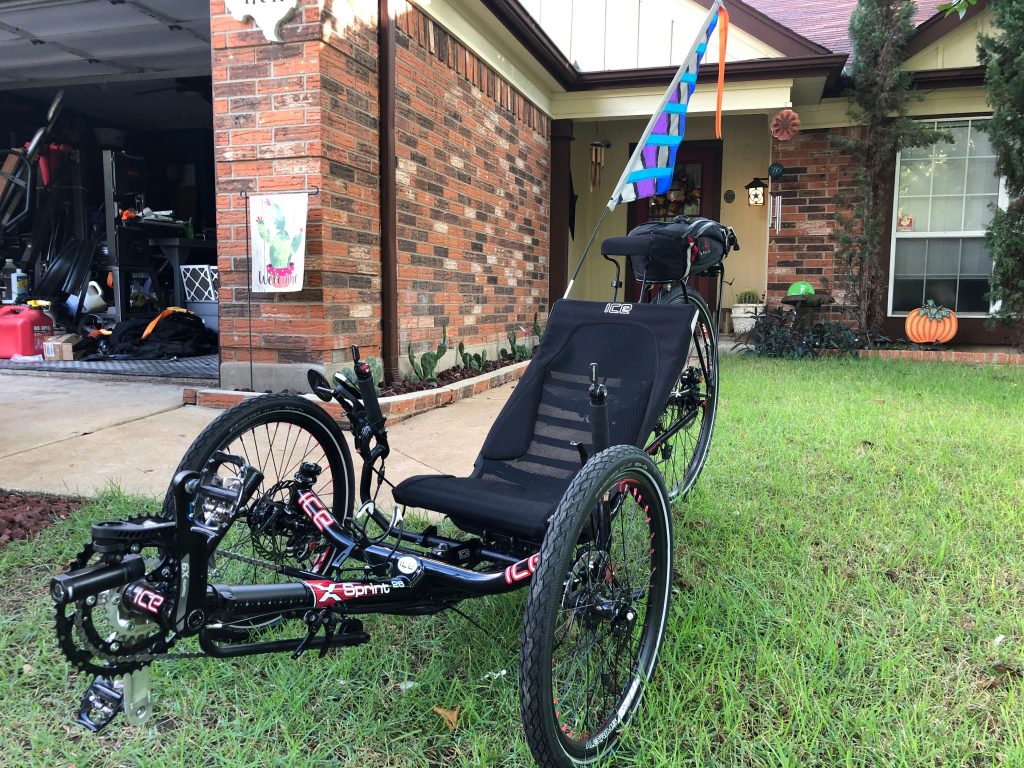 On the front, I replaced the axles with quick connects, and the left crank with a refurbished Stages power meter I found on closeout on their official website. At $500, I wouldn't have bought one new, but this was less than $200, and you are missing out on a lot of useful (Garmin) metrics without one. I originally took off the Shimano A530 pedals, but after finding that my shoes on Power Grip pedals were rubbing the cranks and were going to wear through quickly, reinstalled them and ordered a pair of Pearl Izumi X-Alp Journey shoes from REI.
I tied all the electronic components together with a Garmin Edge 830 head unit. If you've read my app posts, you've seen me touch on Garmin Connect before. This talks to my watch, phone, Garmin Connect, and Strava; controls the lights patterns and brightness; displays approximate distances to cars coming up behind me using the Varia radar; keeps track of speed, cadence, power, and coordinates; provides turn by turn directions; and I'm sure a host of other things I'm not currently using. It has some neat features like crash detection that will notify contacts of your location if it detects an impact or collision.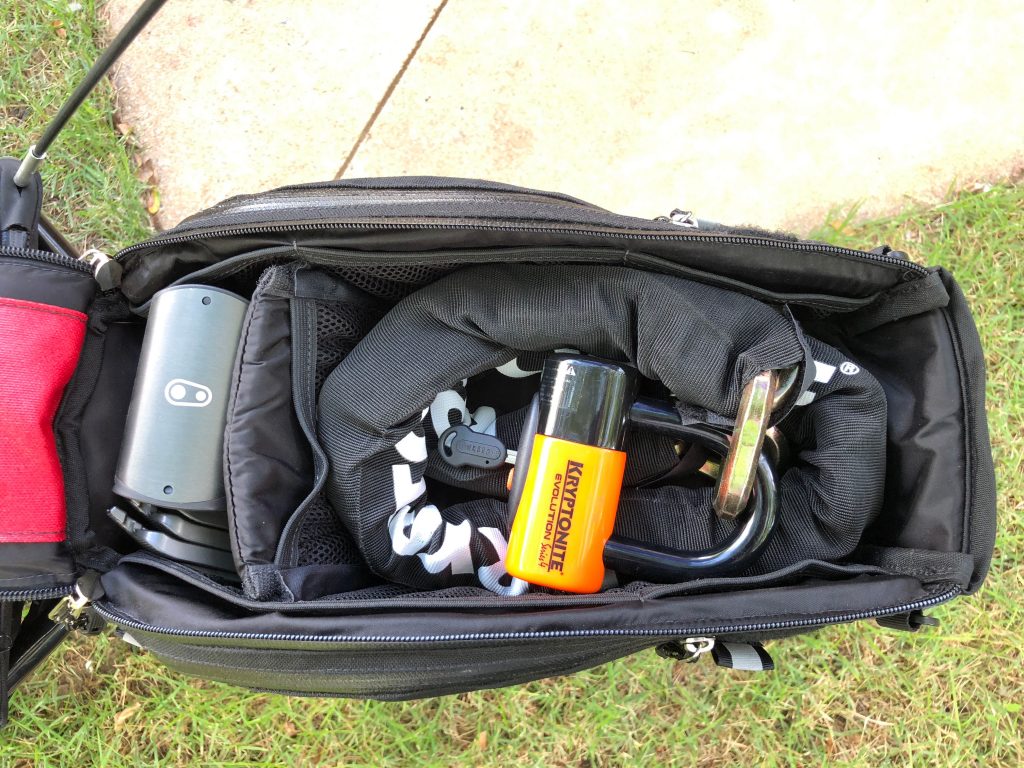 Unfortunately, all the weight savings in this trike means that the replacement costs are high if it is ever stolen. I am carrying around a 10lb chain to lock it up when I leave it, and have made a habit of taking the seat with me to further discourage theft. The Kryptonite New York Noose 1213 chain is not kidding around and only an angle grinder will get through it easily. Most bolt cutters won't do it.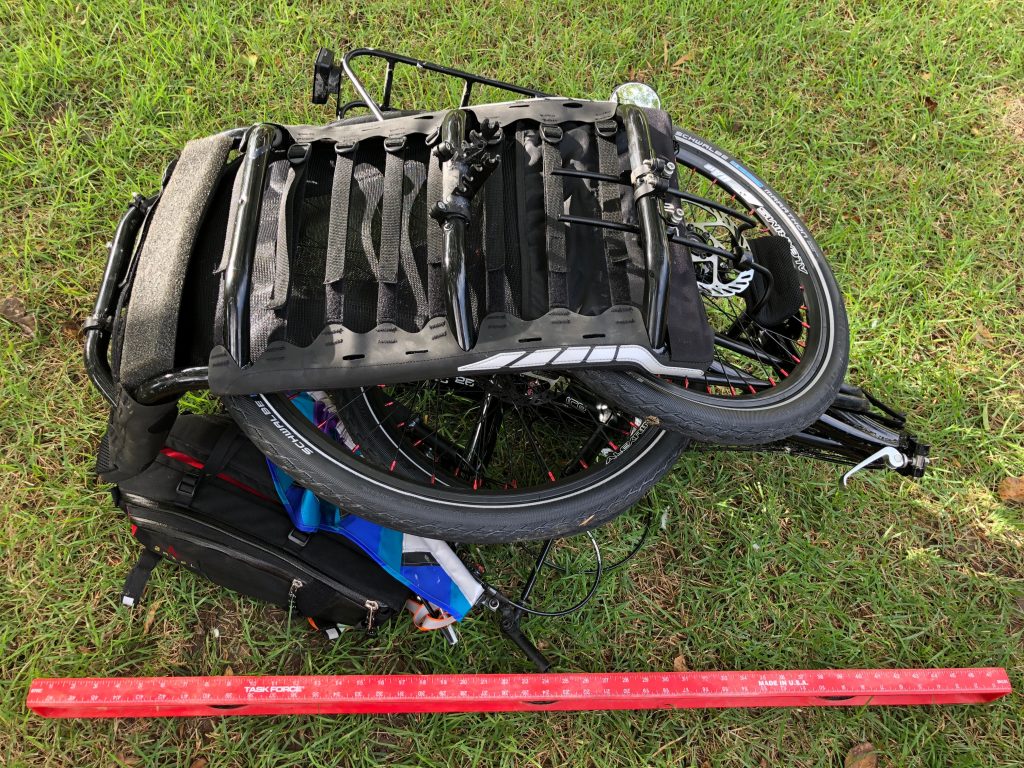 Finally, the trike is designed to break down for fairly easy transport. There is no getting around it being a fairly sizable item to store, but ICE did a great job of designing something that folds relatively small for its assembled size. It takes about four minutes to fully collapse it if I opt to remove the front tires (pictured), and about the same to put it back together. This can all be done without tools, and I think it will get faster as I do it more.
I've put about fifty miles on it starting with a 26 mile ride on Saturday, and will be taking it out for a long ride this evening now that I have finished it. It's a huge upgrade over the KMX, which I will be selling, along with my mountain bike, to offset a large portion of the costs.