We've been trying out Zwift lately, as an addition to our fitness regimen. We live in a fairly nice climate year-round, though "too hot to do anything" is a real possibility in the summer. Our winters are mild and we can do plenty of outdoor activities. That being said, Zwift is a MMO (Massively Multiplayer Online) game that you control with compatible hardware – be it a cycling trainer, treadmill, or various other options. I won't go too deep into hardware, but we're using a CycleOps M2 smart trainer and a Bowflex BXT216 treadmill. We chose a wheel-on trainer because Kelly's road bike has a Shimano 5800 (105) 11-speed drivetrain, while my trike uses a SRAM X.9 10-speed system. I don't want to swap cassettes every time we change out bikes, as would be necessary with the higher-end, more realistic direct drive units. Aside from the fact that I dislike the ERG mode, I'm pretty happy with the M2.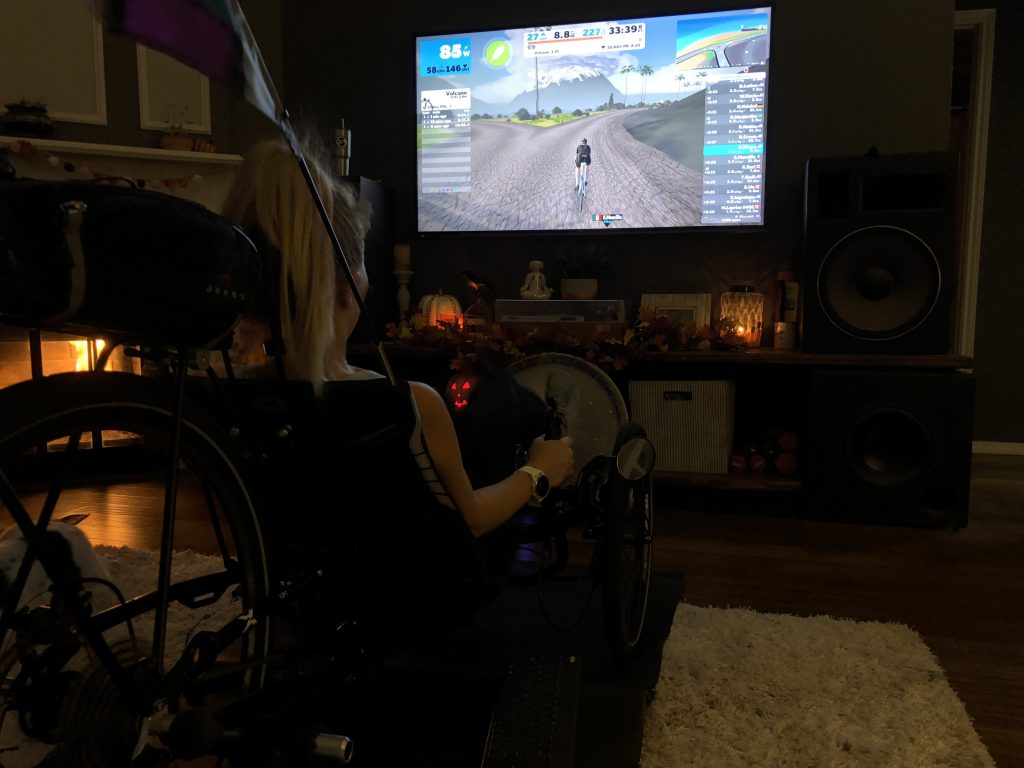 You can see the general setup in our living room. A mat, to catch sweat and keep it from absorbing into the floor, a trike or bike on the trainer, a loud, powerful, industrial-style fan pointed at the user, and Zwift on the HTPC. The sweat mat and the fan are a must, as is plenty of water. One thing I realized after a few minutes on Zwift is how leisurely my outdoor rides have been – despite how hard I thought I was pushing myself outside, whether on short sprints or 60km rides – I wasn't pushing myself anywhere near as hard as the game asks me to. We spent the first few rides with an un-calibrated power meter, and the above photo reflects that with low numbers, but once we figured it out, our power figures (measured in watts per kg) are right where we would expect given our experience levels. I double checked them against my freshly calibrated Stages power meter, and the M2 is within 5% or so. The difficulty of riding Zwift is no joke.
In the game, you have the option of "Just Ride", which despite the name, is pretty competitive – you will constantly have other players passing you (again, real people, as this is a multiplayer online game) and drive you to increase your pace regardless of your intentions. Additionally, it has Group Rides, Races, and Workouts (my terminology may not 100% reflect the terms used in-game). For workouts, you can choose from several structured training plans to increase various aspects of your fitness. In my case, I started a 6 week FTP building workout. FTP stands for functional threshold power, which is the amount of power that a cyclist can sustain for an hour. They give you the option to take a 45-minute FTP test, but I opted to jump right into training with a baseline FTP of 200w for my 75kg, which seems pretty accurate (puts me in the middle of the "Untrained" category), if not slightly low. The training uses that number to calculate the individual workouts, which you can view here.
As with most MMOs, there is a social aspect. You can ride with friends anywhere in the world, as long as you log in around the same time and meet up on a coarse. You can meet new riders in-game, join groups, or even chat with other riders. There is a concept of "Ride On" which I suppose is sort of like a Facebook "Like", and you can change your Avatar. Speaking of Avatars, that is one of the main rewards in the game – as you run and/or ride, you collect various pieces of gear, that you can then utilize to modify your avatar.
We bought a Bowflex BXT216 a while back, and since I stepped outside to run a couple months ago, it has sat unused. I still ran… just outdoors. I wanted to try out Zwift Run, and found that our particular treadmill is on the short list of compatible models. It isn't a deal breaker if you don't have a compatible one; you can just use a foot pod. But for better integration and more accurate speeds, at least as far as I know, a compatible treadmill is probably hard to beat.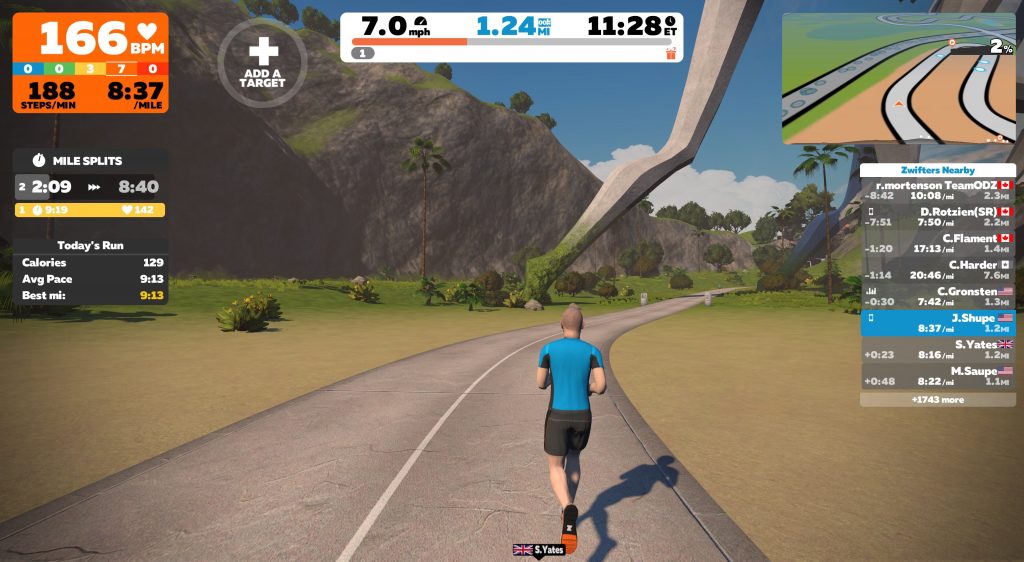 I already had a 40″ TV mounted over the treadmill for Treadmill TV, so I set up my office PC to run Zwift on that. It will never accurately portray the feel of running outside, but it does a great job of making the treadmill a more enjoyable experience. I ran a 5K to try it out, and at the end of the run won a few pieces of swag to modify my avatar with.
For both riding and running, you can choose from several courses. They have a fictional pair of islands called Watopia, which have a lot of beautiful scenery including an underwater passage and an active volcano you can travel through. Additionally, and less interesting to me, are some city courses through London and I'm sure other places, that are modeled after the real world. I rode through part of the London courses and prefer the natural surroundings of Watopia. If your course has inclines, a smart trainer will increase the difficulty on them, and some trainers will decrease it on declines. Unfortunately, Zwift does not offer the same experience on the treadmill, which may be a limitation on the Treadmill vendor's side or Zwift's — I'm not sure.
When you complete a workout in Zwift, it pairs with Garmin and Strava and updates them accordingly.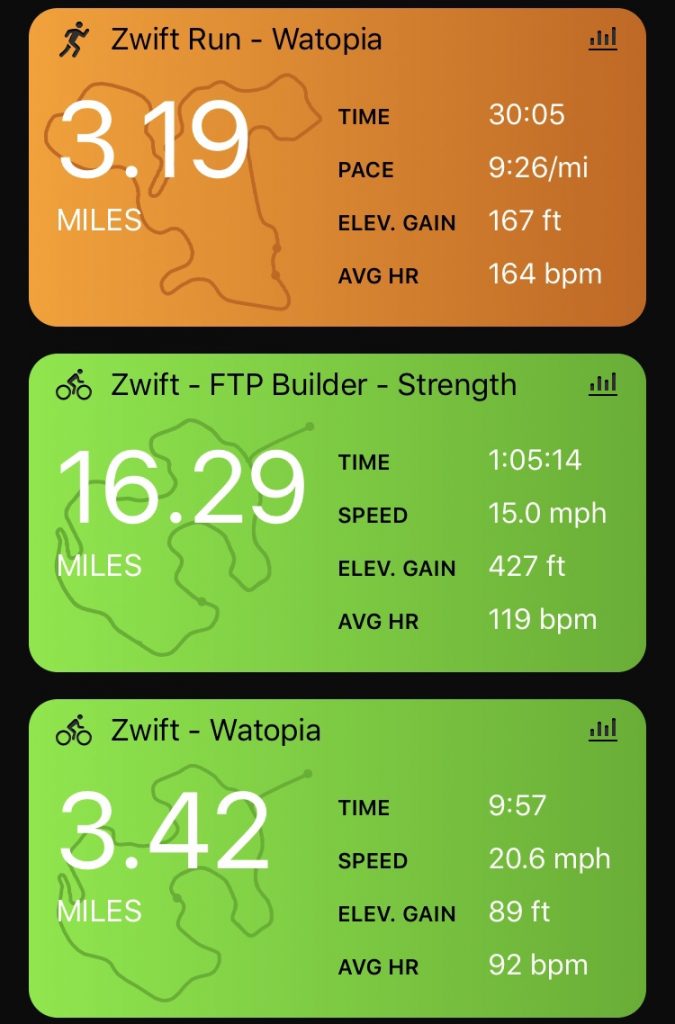 It includes GPS course data – which is really interesting because that means that Strava segments work. Garmin may be also be able to calculate VO2Max figures from them, but I haven't seen a new calculation yet.
Overall, I'm really surprised how challenging the Zwift experience is, and I think we will rely on it heavily for structured training. It doesn't substitute outdoor rides and runs, but I don't see any way it won't make us better at them.