This is an interesting subject to me. There are a lot of ideas of what preparedness is, what events to prepare for, and even stereotypes for the people who prepare for them. There are a lot of unknowns: are we ever likely to see a zombie apocalypse? Is it all just a waste of money?

I doubt I'll see a zombie apocalypse in my lifetime. I don't think it's completely out of the question to see an economic collapse, widespread natural disaster, or chemical warfare, though. And as someone who tries to plan at least a couple steps ahead for everything in life, I'm planning for these unknowns as well. I don't make prepping a central part of my life, rather, I add it to the criteria I use when making important decisions. That includes many decisions we made regarding the RV, and the accessories we purchased.
First of all, there are several classes of RVs. You have motorized RVs, classes A, B, and C. Then you have various types of travel trailers and fifth wheels. I ruled out class B and C RVs because they don't meet our recreational requirements for full-time or extended duration trips. I ruled out travel trailers because I don't like they way they tow. So that left us with class A RVs and fifth wheels. With class A, if you want to take a day trip, you need to tow a small car or other vehicle behind it. Due to the long wheel base of the the RV, and the short wheelbase of the trailer, you can't really back up with it. Any backing will most likely require you to disconnect the towed vehicle. Additionally, if your RV has a mechanical issue, your living quarters go to the shop with it. With a fifth wheel, you can put the truck in the shop and have the RV towed to a destination where you can remain until the tow vehicle is fixed. I also decided that in a survival situation, having a pickup truck would be more useful than a small car because it could be used to access more difficult areas, hold more cargo, and is generally more utilitarian in every way. And since we're planning on buying some acreage in the future, it makes a lot of sense for us to have a pickup instead of a car when that time comes.
When it came to choosing a truck, I chose a diesel for few reasons. They have a lot more pulling and stopping (engine brake) power,  diesel is a more stable fuel, is widely available, but there are fewer diesel vehicles on the road. You can run most diesel engines off of filtered homebrew fuels if the need ever arises. Because it's a more stable fuel, you can keep tanks of it for extended periods of time without worrying about fuel degradation. It's also legal to add an auxiliary fuel tank as long as it is used for diesel (the same does not apply to gasoline.) In previous natural disasters, like Katrina, there are reports of stations running out of gas but few running out of diesel, and while there were long lines at gas pumps, most diesel drivers were able to fuel up and leave without an issue. My truck has a 36 gallon factory tank and a 51 gallon auxiliary tank, giving me 87 gallons of fuel. It also has some MPG benefits, so I get 10-12mpg when towing a 13k+ trailer and 17mpg unloaded, giving me a range of 870-1479 miles.
When it came for purchasing a trailer, the biggest factor we looked at was floor plan. The floor plan we were interested in was available from a few manufacturers, but only in higher end models, so all of them had the features I was looking for as far as preparedness goes. For what it is worth, those features were a completely enclosed and warmed underbelly, better insulation, protected water hookups, and heated storage. We had the choice between a residential fridge and a slightly smaller RV fridge that could run off of propane, and chose the latter. Some nice to haves that we ended up with were electric heaters in both the living and bedroom to save on propane usage in cold weather, a convection microwave, and a far superior roof through our insurance claim. Our trailer did not come with a generator, so I opted to add a built-in Onan propane generator, for around $5,000. They're very expensive but fully integrated into the units and capable of powering everything in them, including dual A/C units. They're also very long lasting and repair parts are readily available.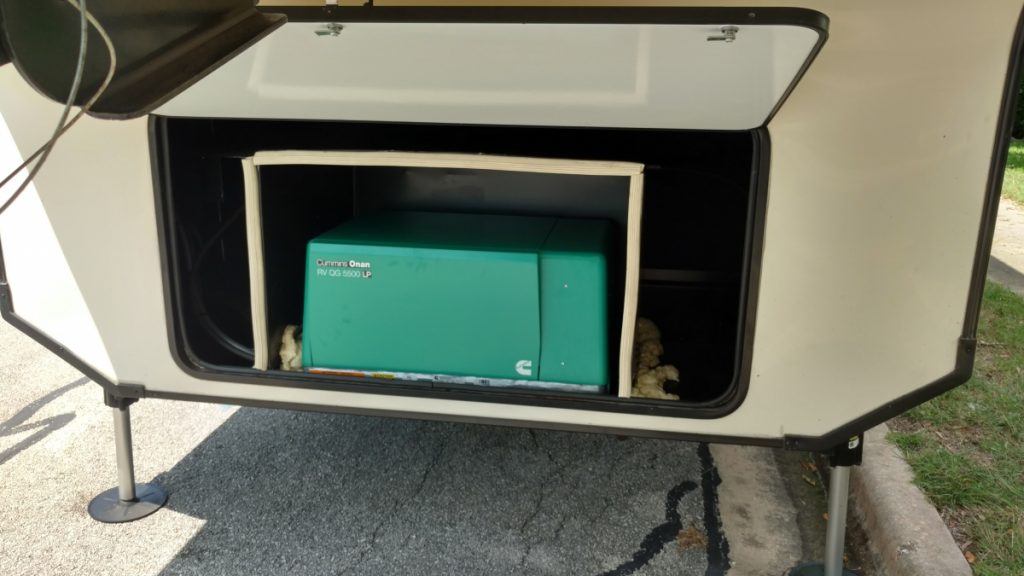 LP is readily available and I have a Camco 59123 kit that allows me to connect it to external propane sources such as 20# LP gas grill canisters, as well as a handful of adapters that will let me connect it to almost any propane source I can find. There are gasoline and natural gas conversion kits readily available for around $300 that I will purchase in the future. The same propane source can be used to run our stove, oven, refrigerator, furnace, and water heater. We also have adapters for running (with reduced cooling capacity) on 20A and 30A shore power instead of the 50A that our coach is designed for.
For water, in addition to the on board 60 gallon freshwater tank, I purchased a 45 gallon bladder that can be filled with water and a Wayne PC2 pump to transfer that into the onboard tank. And for septic, in addition to your usual 20ft RV septic kits that you carry for sites with full hookups, I purchased a Barker 32 gallon portable septic tank with pneumatic tires. The generator, bladder, pump, and tank address everything we need in order to "boondock", or park and stay at any location without full hookups for an extended period of time.
In addition to taking a few steps to ensure that we can both camp and "bug out" off grid for a while, I've stocked the pantry with approximately a month's supply of legumes, grains, and canned vegetables, and a comprehensive first aid kit in addition to whatever we have in our medicine cabinet. And we keep the RV stocked with flashlights, spare batteries, lighters, matches, fire starters, and other small items of importance. My truck's toolbox is stocked with a full mechanic's toolset, gloves, various types of cleaners, greases, and lubricants, jumper cables, and miscellaneous tools I think might be useful. We keep a Eastwing Fireside Friend and Bahco 10-21-51 in the RV. The truck is outfitted with Ranch Hand bumpers front and rear, as well as side steps that double as mild rockers, and H rated tires that increase its utility (bumpers can be used to push/pull items, have multiple tie-off points, can accept tray mounted winches, greatly improve approach and departure angles for off road use; tires increase stability, puncture resistance, and weight carrying capacity).
All in all, if an event ever hits that we need to leave town and stay for a while we can get in the RV and go. We have most of the things we'll need to stay comfortably without full hookups for at least a month. We can travel nearly 900 miles if fully topped of with fuel.
Last, due to varying state and local laws, we decided not to carry firearms in the RV. Instead, I carry a Leatherman Surge on my person or in my truck, along with a 3″ survival knife in my center console. In the RV, we store a SOG Seal Pup and TenPoint Titan Xtreme crossbow (AcuDraw 50) with a dozen Black Eagle Executioner arrows carrying NAP Thunderheads for defense and hunting if ever required. Hopefully we will never use either, but ultimately they're inexpensive insurance and a useful knife and fun toy.
In conclusion, we believe that we will be able to leverage our vacation and travel vehicle for emergency situations if they arise due to the careful planning we've put into it. We're always interested in hearing what other people do, so leave comments. Hope this gives you some ideas for your own planning.